The menswear must-have's two-in-one utility is being proven anew by a fresh crop of luxe variants
The prospect of a two-for-one deal doesn't typically feature in the minds of men most willing to expend their time and capital acquiring clothing. But with inflation holding steady—and closet space at a premium—stylish guys everywhere are demonstrating a newfound appreciation for the reversible bomber jacket.
The bomber jacket originated in World War I, as the first military aviators required an insulating jacket that could still be worn comfortably in an open-air cockpit. It's not clear when the first reversible model jacket came into play, but Mr Porter style director Olie Arnold says that demand for the option has reached a new altitude.
"We have seen this reversible style become more popular recently as consumers have learned to expect more from their clothing in terms of longevity, wearability, and most importantly, function," he tells Robb Report.
Precisely what that function is will vary from one reversible bomber to the next. Among Mr Porter's present offerings, Arnold highlights a Kapital piece that reverses from sashiko-patterned fleece to water-resistant shell; A nylon/polyester Kenzo bomber that changes from solid to floral-print; and Loro Piana's collegiate-inspired Ivy bomber, a Mr Porter exclusive that transforms from nubby fleece to a smooth cashmere that is made waterproof and wind-resistant thanks to its Storm System treatment.
"Reversible bombers are designed for both function and aesthetic purposes," Arnold continues. "We see a lot of our customers shopping for pieces that can easily be turned from day to night or from season to season and the reversible bomber allows just that."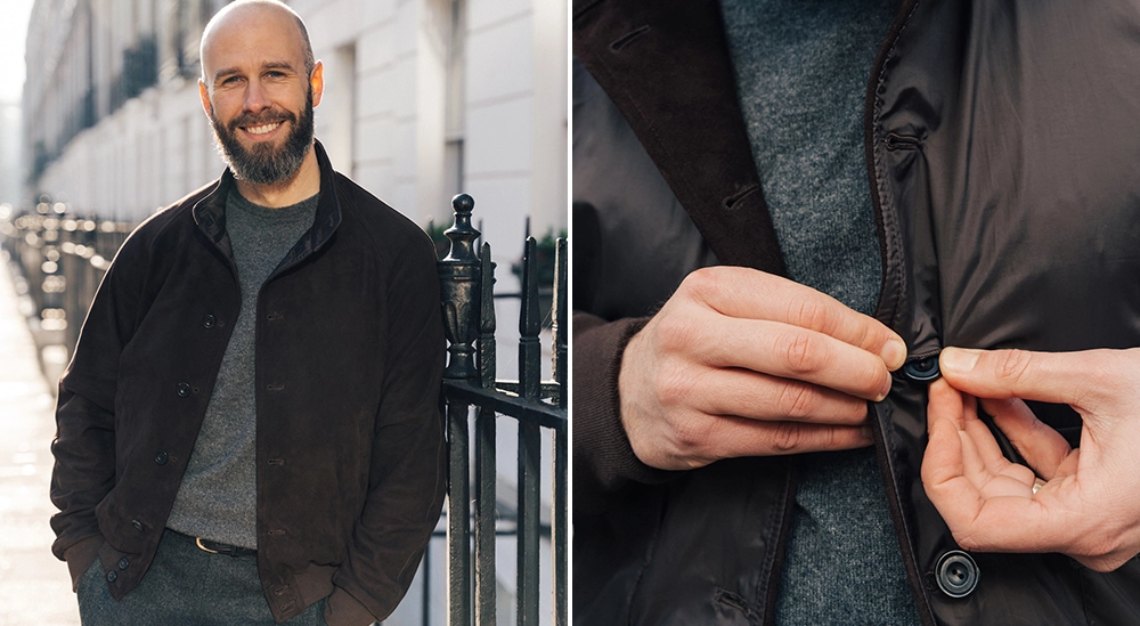 That focus on utility is similarly shared by Permanent Style founder (and Robb Report contributor) Simon Crompton, who recently partnered with Private White V.C. to produce a reversible suede bomber jacket that flips from heavyweight goat suede to water-resistant polyamide, allowing the jacket to act as its own umbrella. In Crompton's thinking, the ability to effectively hide its suede side in inclement weather may neutralise a common hang-up among even style-conscious men.
"Although suede is a lot tougher than people think, many guys are just afraid of getting suede wet—they see it as a fair-weather, luxury piece," he tells Robb Report. "So, the fact that if it does start to rain, you can quickly turn the jacket inside out and have a rain-proof layer there, is really attractive."
It's a scenario straight out of a famous American sitcom—something that is not lost on the English journalist. "I think a few people have that Seinfeld episode in their heads as well, where Jerry's jacket is ruined because he's not allowed to turn it inside out—now you can!"
There were, of course, additional considerations to be made when designing a jacket meant to be worn on either side. While Crompton says that a thicker lining would have improved the garment's performance in the elements, it would have been less comfortable to wear. As a result, it took several samples to find a happy balance.
In addition, pains were taken to guarantee that the garment's buttons would remain functional while the jacket was reversed. To ensure this, they were placed on longer stalks beside duplicate buttonholes, so that they would push through either side with ease.
The US$1,600 bomber—which you can buy through both the Permanent Style Shop and via Private White V.C.—is priced like an investment piece. And thanks to its two-in-one quality, it might prove to be a wardrobe blue chip.
"You can wear it either way round, and it also makes a suede bomber like this into a much more versatile, functional item, not something indulgent or a pure luxury," Crompton says.
The concept of a practical flex feels very 2023—and something that reversible bomber jackets stand uniquely qualified to deliver.