Nominally a mid-tier model, but there's nothing mid-tier at all about this compact notchback's performance
So, let's just get one thing out of the way first. The Mercedes-AMG A35 Saloon isn't a 'real' AMG car. Yes, it might look the part and make all the right noises, but it doesn't have the hand-built engines made by one worker – the hallmark of a 'true' AMG car. 
It plugs the (once cavernous) gap between cars in Mercedes-Benz's regular lineup and the flame-spitting AMG cars without costing too many figurative arms and legs. Tempting then, to think of the A35 as a bit of a lesser car, a hopped-up standard A-Class with a bodykit and more power.
Still, the A35 represents a heaping dose of power (306hp), has the surefooted traction of an all-wheel-drive, is loaded with equipment as standard and at S$225,888, it's set to cost around S$100,000 less than what Mercedes-Benz will inevitably want for the full-fat A45 model. Sounds like quite the deal to us.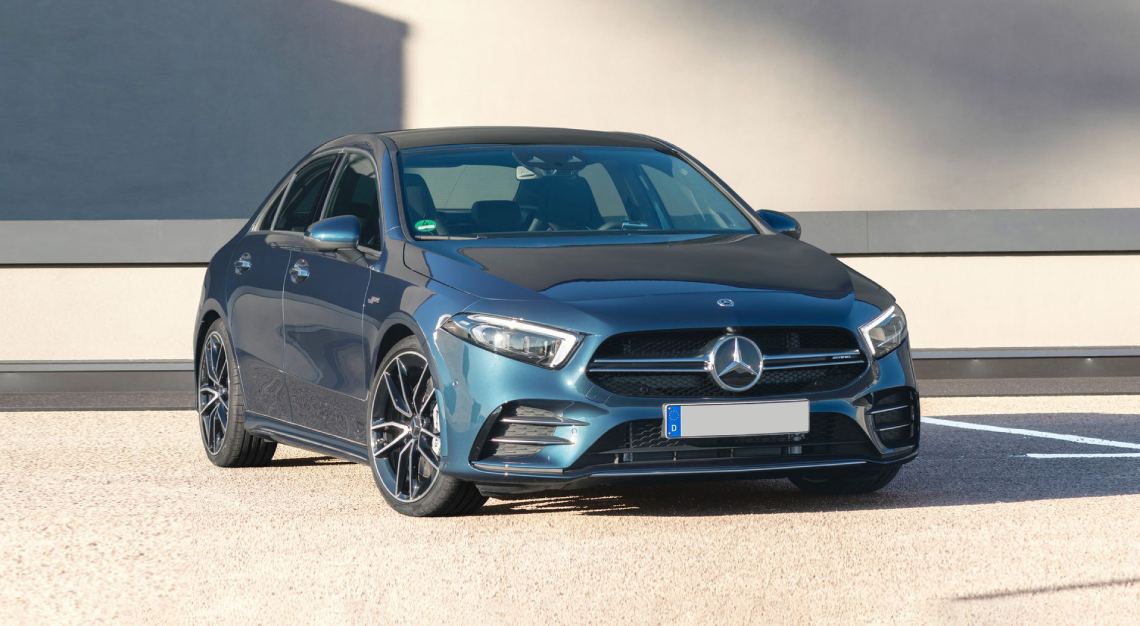 Why you should buy it:
It's more than quick enough
Yes, yes. Cars with a '35' in the badge are 'lesser' AMGs. This, to be fair, is true, but when you consider how completely bonkers a full-blooded AMG car is (the A45 puts out a completely daft 421hp, which is more than supercars from the '90s), even ones that aren't as purebred are still impressive. In the case of the A35, its two-litre turbo motor develops 306 hp/400 Nm, and with the added benefit of all-wheel-drive and a slick seven-speed dual-clutch gearbox, zero to 100 km/hr takes just 4.8 seconds. 
It looks quick, too
As if you'd expect an AMG car to look any less. If you though the standard A-Class Saloon was reedy, the A35 beefs things up considerably. Along with the lowered suspension giving it a hunkered-down look, its front end looks considerably wider and angrier as well. Out back, the A35 is treated to a body-spanning matte-black diffuser with a pair of chromed tailpipes at each corner. And the A35 even contrives to look larger than it actually is, resembling a C-Class with an (arguably) prettier rump. 
It handles like a dream
Supposing we went into this test blind, we'd swear we'd been handed the keys to this model's bigger (and quicker) brother, the A45. Mercedes-Benz hasn't just slapped on firmer springs and called it a day, the A35 also comes with a unique suspension setup enriched with some aluminium bits and components bolted directly to the body for increased directness. The helm is laser-accurate and darty, just how we like our hot compact saloons to feel. It also imparts a sense of invincibility and encourages hard driving, just like an AMG car should.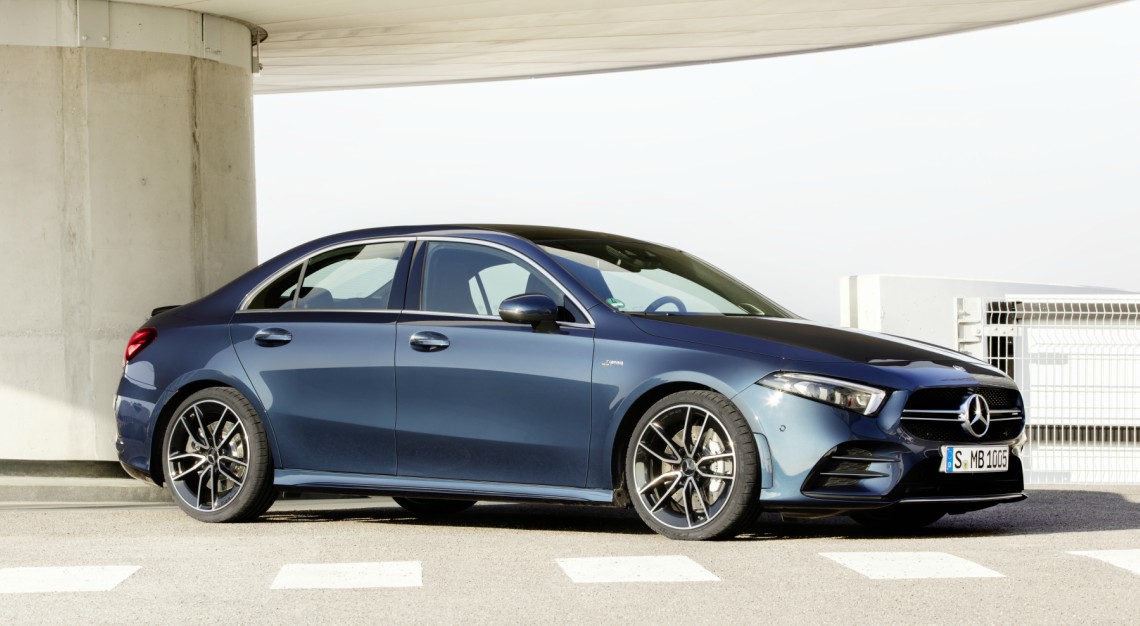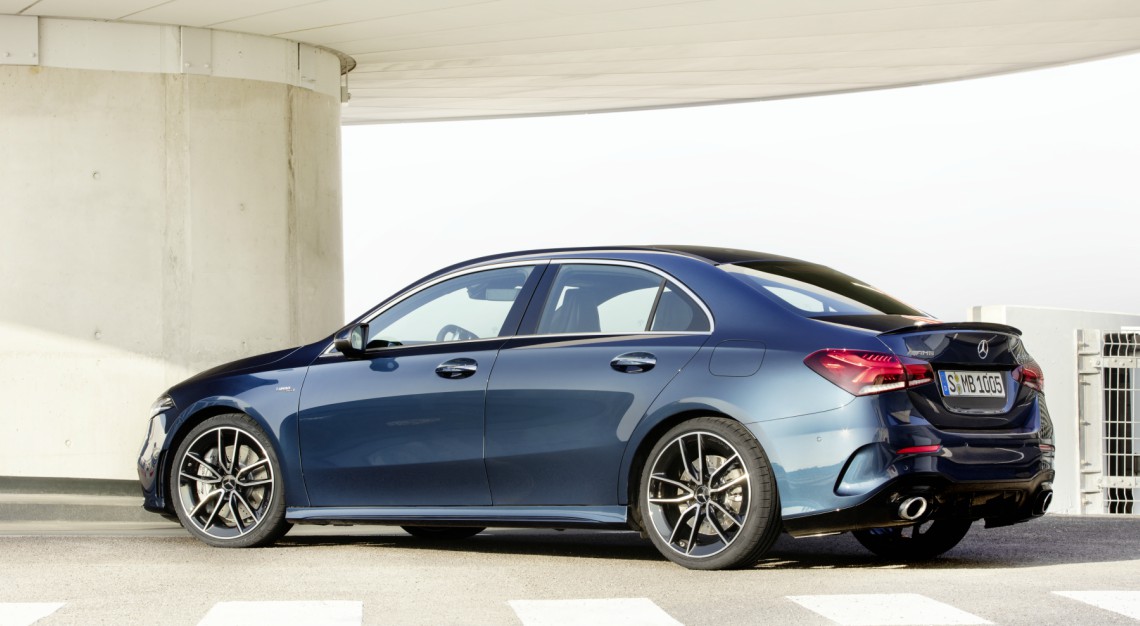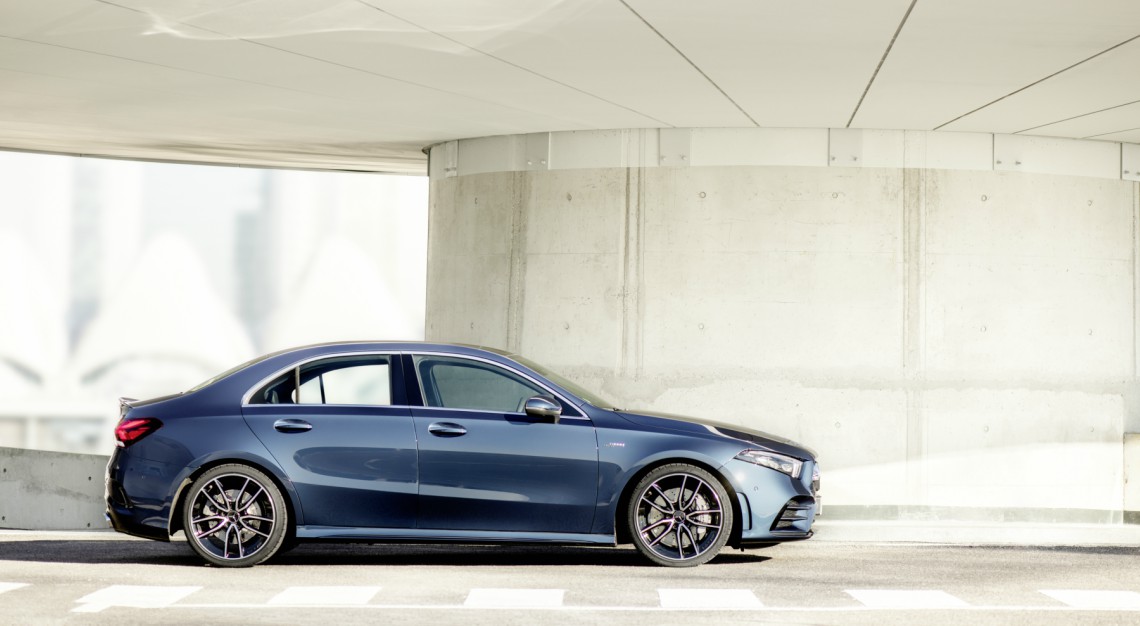 It stops as well as it goes
See those big, silver four-piston brake callipers peeking out from behind the 18-inch duotone wheels? Yes, those things. This makes the A35 stop as well as it goes, which is useful, given how rapid it is. The pedal (a sporty-looking metal affair with raised rubber studs) has fantastic feel too, without too much 'grabbiness' at low speeds. It gets better once speed climbs, and it's the accuracy with which you can meter out stopping power that gets it a gold star in our book. 
It's loaded with goodies
A dashboard-spanning, freestanding vertical display comprising a pair of 10.25-inch screens comes as standard. The left one controls the infotainment system, and of course, it has touchscreen functionality, with the right one forming the instrument cluster. If you so choose to, you can spend another S$11,000 on some Alcantara-upholstered seats that have contrast stitching on the edges, along with a contrasting-coloured seatbelt. Other highlights on the options list also includes adaptive suspension, but that means regular cars are stuck with the standard suspension, our thought on which you can read about below. 
Why you shouldn't:
Its ride is way too firm
The thing about a firm ride is that it really does wonders for handling. You'll corner flatter and harder than you thought possible… if the tarmac you drive on is a race track or could rival a billiard table for smoothness. The ride in the A35 won't rearrange your internal organs, but it does come rather close. It jostles all the time and you'll have to crawl over speed bumps so your passengers (or yourself) don't end up inadvertently hitting the roof.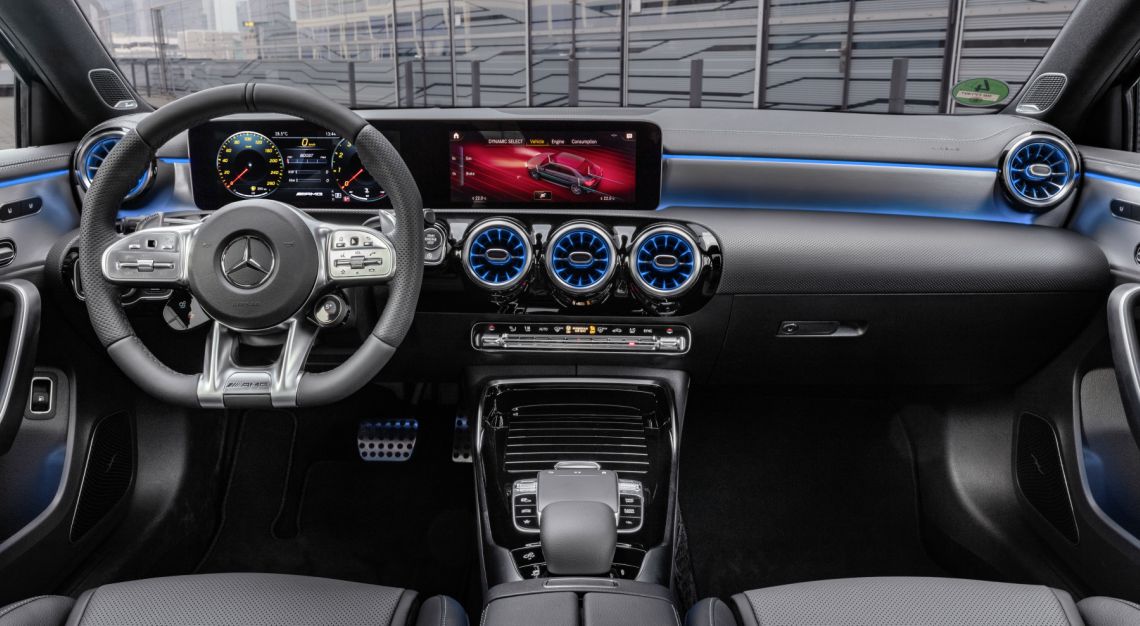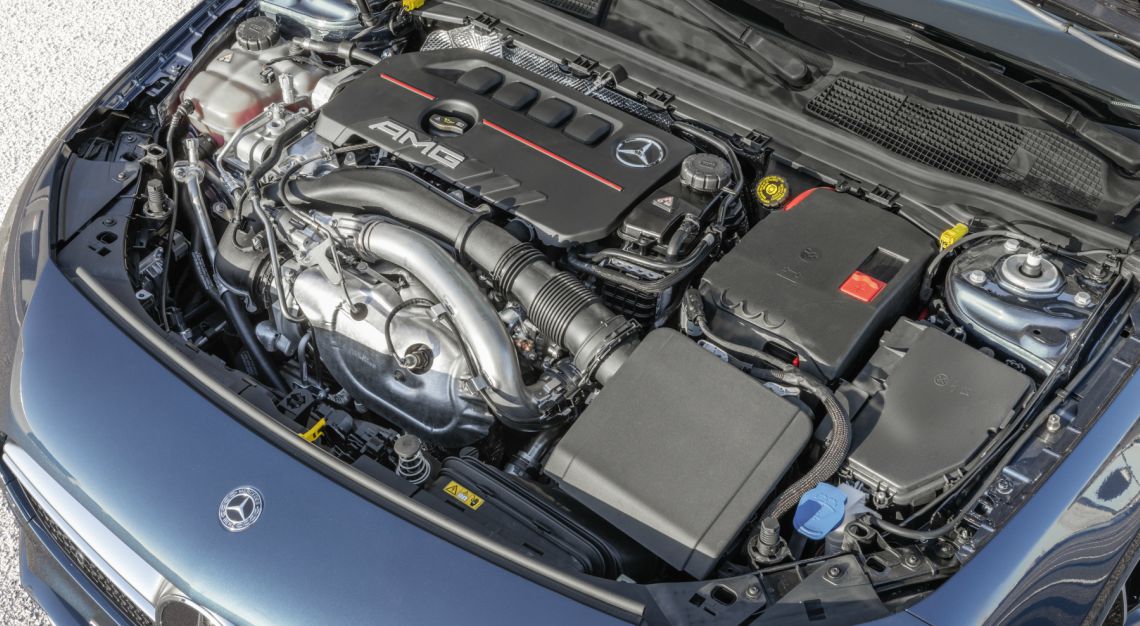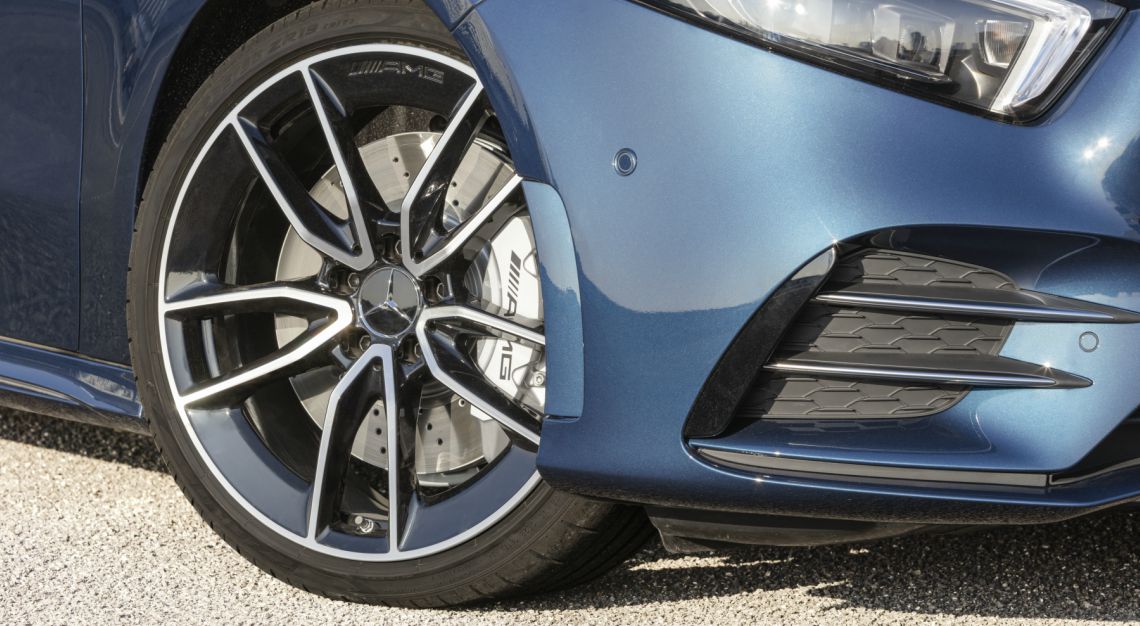 Its gearbox is clunky at low speeds
As with the car's engine, the gearbox is at its best when you're driving it with a sort of wild-eyed abandon. When doing so, it's supremely quick on the uptake, and is lightning quick on both up- and downshifts. When you're not doing so, however, when just puttering along in city traffic, for instance, it can feel rather clumsy. The car sometimes second-guesses itself and either shifts up or down too early. On the bright side, you can get used to it, you just have to learn your way around its quirks. 
Its column-mounted gear lever is pretty geriatric
Yes, we know this is something endemic to most Mercedes-Benz models. And yes, mounting the gear lever on the steering column frees up a huge amount of centre console space, but we can't help but think it's a touch old. Again, this is us quibbling. Having it mounting within easy reach of your hands on the wheels makes it great for parking manoeuvres.