Trust Mercedes-AMG to breathe new life into an iconic, 71-year-old convertible
Editor's note: Read more Test Drive stories here.
When it comes to racing lineage and pedigree, few boast as rich and fervent a history as the Mercedes-Benz SL, first released as the ground-breaking Mercedes-Benz 300 SL race car in 1952 —beating the Porsche 911 by a good 11 years. Yet while the original was lauded for being a trailblazer, subsequent iterations of the Mercedes-Benz SL were gradually watered down over the years, taking on a more languid demeanour that better resembled a grand tourer than a spirited sports car.
All that is set to change with the new Mercedes-AMG SL55 4MATIC+, which seeks to restore the model back to its lofty raison d'etre—SL, after all, means 'sport-leicht' ('sporty' and 'light'). That the reboot has been undertaken by the company's high-performance sub-brand is good indication that more bite and zeal are in store.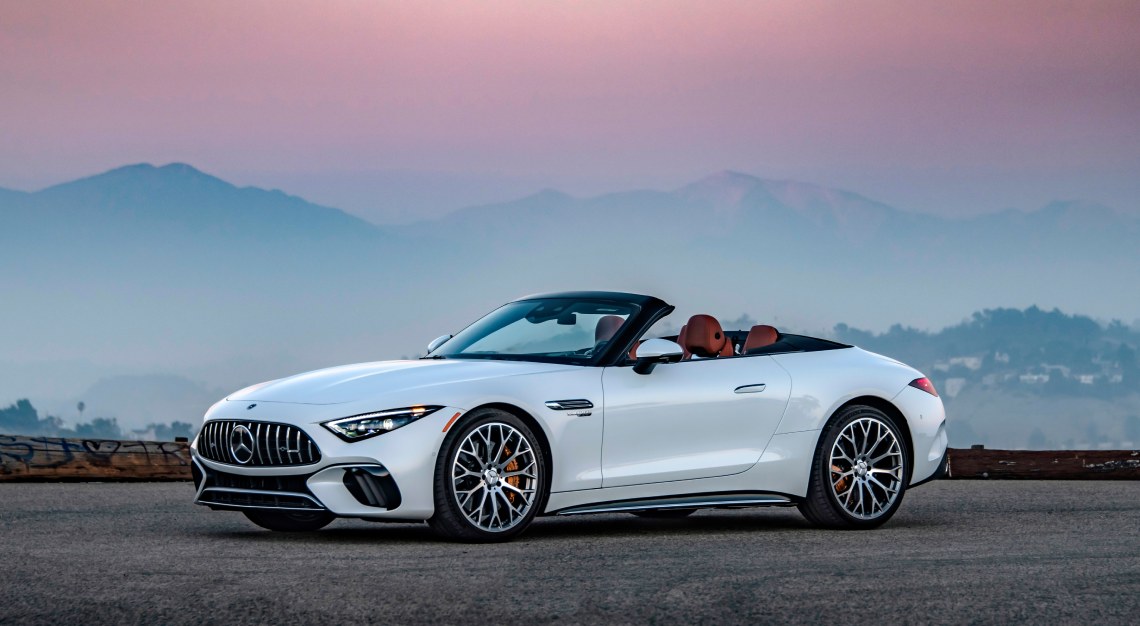 Under the hood now lies a 4.0-litre V8 twin-turbo engine that's mated to AMG's nine-speed automatic, capable of spitting out 476 hp and 700 Nm of torque. Right off the bat, its palpable, throaty growls hint at a fiery ability to get from rest to 100 km/hr within 3.9 seconds. Even when nearing breakneck speeds that top out at 295 km/hr, the presence of AMG ride control suspension with active anti-roll stabilisation means the new Mercedes-AMG SL55 4MATIC+  rarely feels like it's ever breaking a sweat. Owing to a completely redesigned lightweight composite aluminium chassis and aerodynamic components like a retractable rear spoiler for enhanced stability and reduced drag, the new Mercedes-AMG SL55 4MATIC+ tackles sharp corners and twists with remarkable composure and aplomb, feeling incredibly well-grounded whenever the high-performance ceramic composite brakes kick in.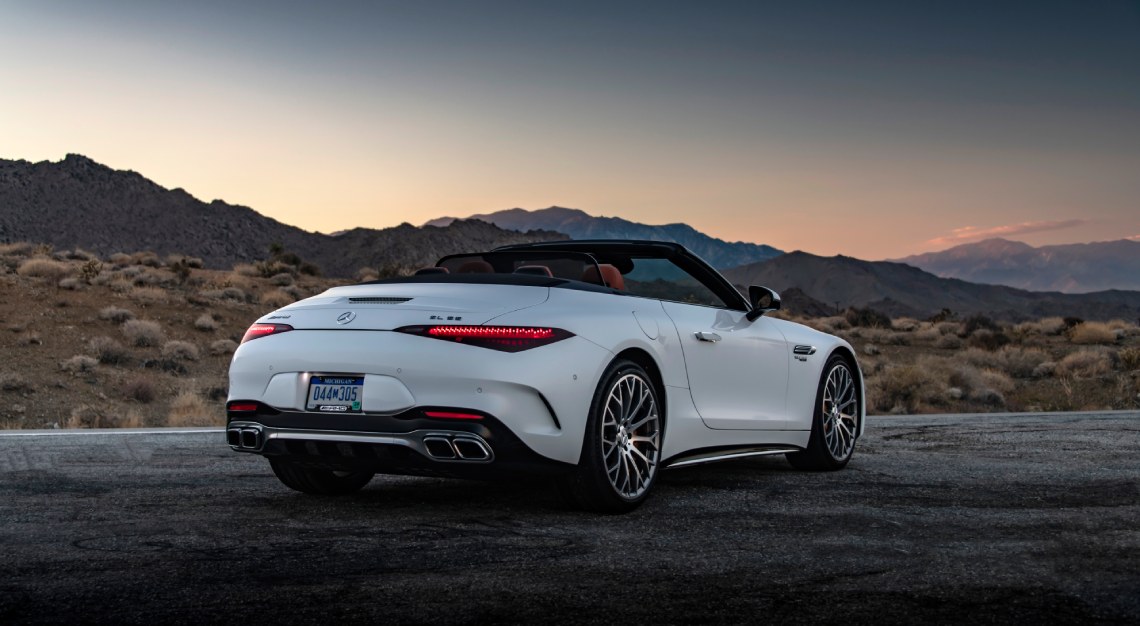 Despite the fact that the new Mercedes-AMG SL55 4MATIC+ has put on a bit of heft—currently standing at 2,320 kg—it most certainly doesn't show, flaunting a long bonnet, sculpted rear and sharply raked windscreen. It's fronted by an AMG-specific radiator grille, flanked by angular headlights for added ferocity. Gone, too, is the bulky hard top of previous generations, in favour of a classier canvas soft top that can be lowered or raised at speeds of up to 60 km/hr. Optional chrome accent and black-out packages are also available for those who prefer an even more imposing, eye-catching façade.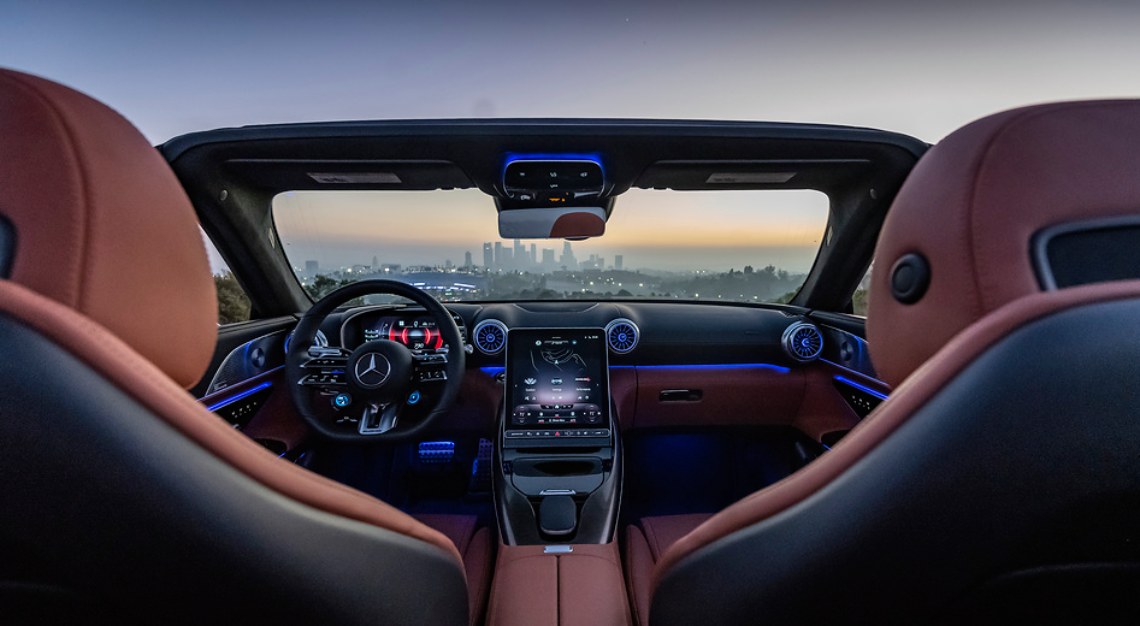 Featuring an unprecedented 2+2 interior layout—implemented for the first time since the Mercedes-Benz R129 SL of the late '80s—it's a wonder the new Mercedes-AMG SL55 4MATIC+ still accommodates enough space to include a 240-litre boot. While those at the rear will inevitably feel squeezed, rest assured that the front AMG massaging sports seats will assuage even the hardest-revving drivers. Its reconfigured "hyperanalogue" design also sees a reduction of physical controls, as in the case of an aviation-style cockpit with a 12.3-inch digital gauge cluster, as well as an 11.9-inch touchscreen that controls everything from the climate and stereo to the navigation and roof, automatically adjusting whenever the top is down to prevent screen glare. On particularly humid days, the galvanised turbine air vents do a stellar job of keeping the heat at bay, ensuring a deeply gratifying and riveting drive—that is, if it's rather lofty price tag, just north of S$1 million, doesn't make you squeamish.