Just as how a good work of art can stir emotion in the soul, in the hands of the right artisans it can also be transferred onto a dial
Connoisseurs will attest that a luxury purchase is not marked solely by its pecuniary value, but by the emotions it evokes. This is especially true for Metiers d'Art watches – what you are buying is not just another expensive watch but rather the craftsmanship of these masters of art.
These creations represent a combination of human creativity and deftness of the hands, resulting in works of art that have an unexplainable emotional appeal. They're not just tools that serve to tell the time. Instead, they serve as a canvas for a plethora of Metiers d'Art techniques, some of which have been passed down from generation to generation.
Here are some examples that should serve as evidence of why you need a timepiece with Metiers d'Art in your watch collection.
Rotonde de Cartier with a lion motif
Form of art: Straw marquetry
What about: The marquetry technique involves cutting materials into various shapes and sizes only to be pieced back together to form a motif ­– it dates back thousands of years, but was adopted by the Europeans in the 15th century. For this particular piece by Cartier, the French maison has appropriated the technique of straw marquetry, one which has its roots in the 1600s.
The master artisan starts by picking out different hues of rice and wheat before painstakingly straightening them and cutting them into appropriate pieces. In order to form the image of the animal, the craftsman had to take note of not only the colour and shape of his pieces but also the way the grain aligns so it fits the final image just right. Additionally, marquetry dials can also be done with wood, feathers and even precious stones all depending on the vision and intended effect.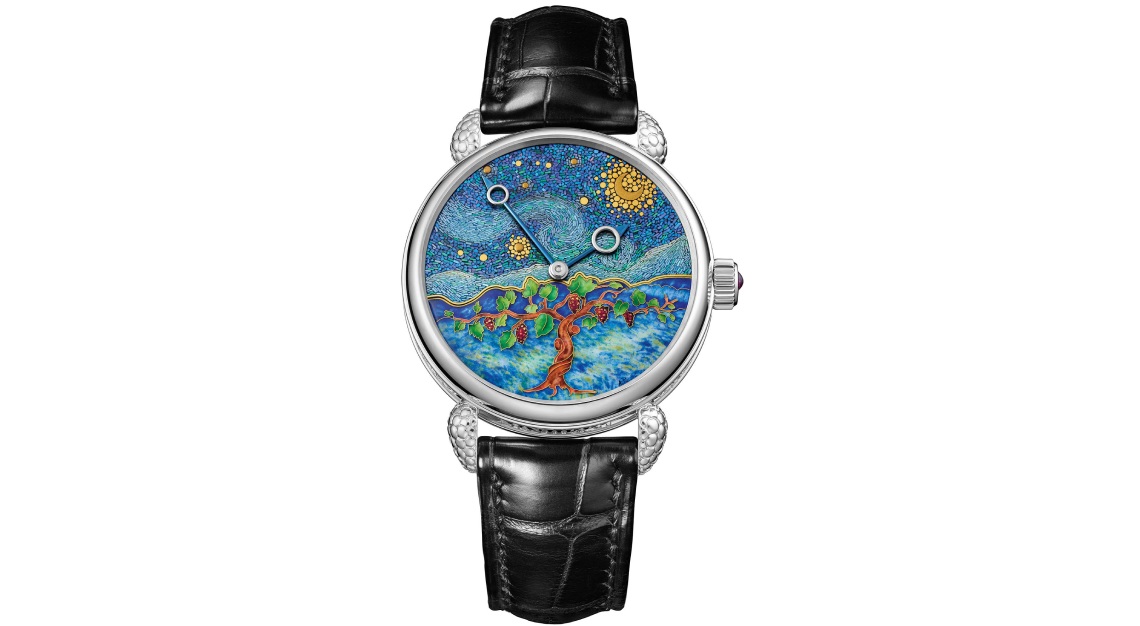 Voutilainen's Starry Night Vine
Form of art: Lacquering
What about: The art of lacquering, more specifically Japanese lacquerware techniques, has existed for hundreds of years. The sap of the Chinese Lacquer tree is treated and applied, usually in layers, on a surface to give it a hard and smooth surface layer once it is dried. This relief of a starry night was done by one of the greatest contemporary lacquer artists, Mr Tatsuo Kitamura, who used kinpun (gold dust), jyunkin-itakane (gold leaf), yakou-gai (the shell of a great green turban) and awabi-gai (an abalone shell from New Zealand) to create this masterpiece by Kari Voutilainen.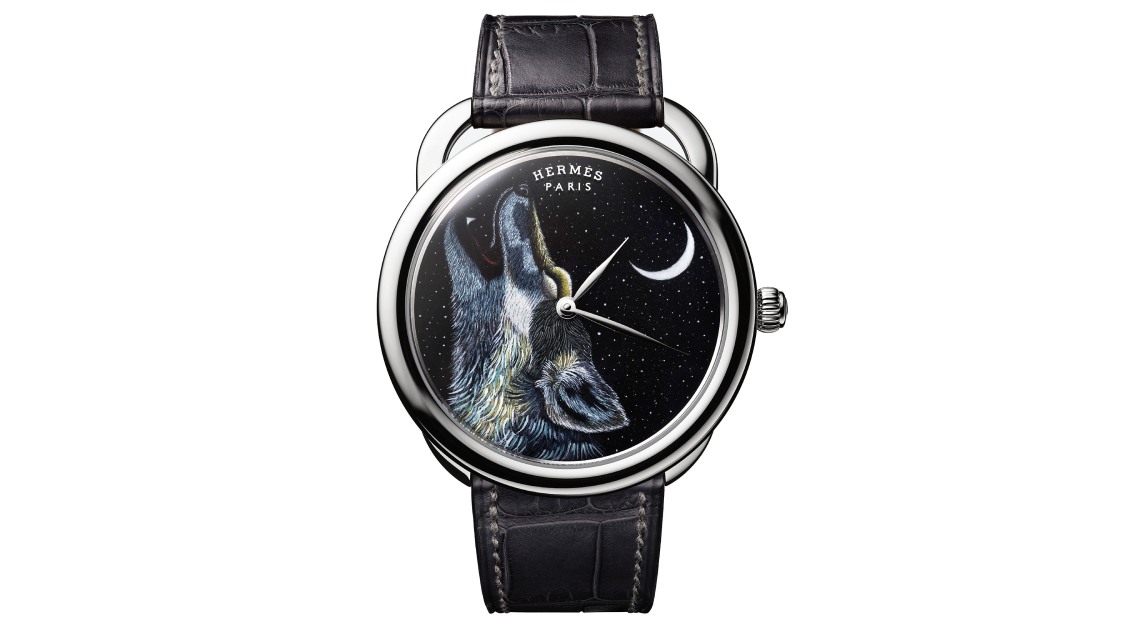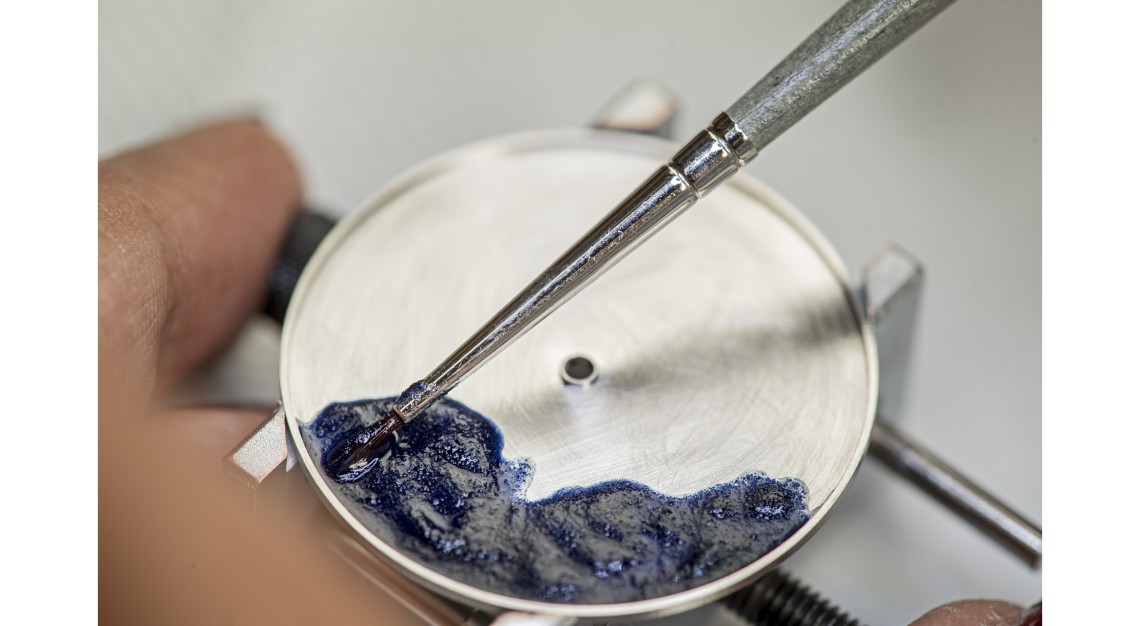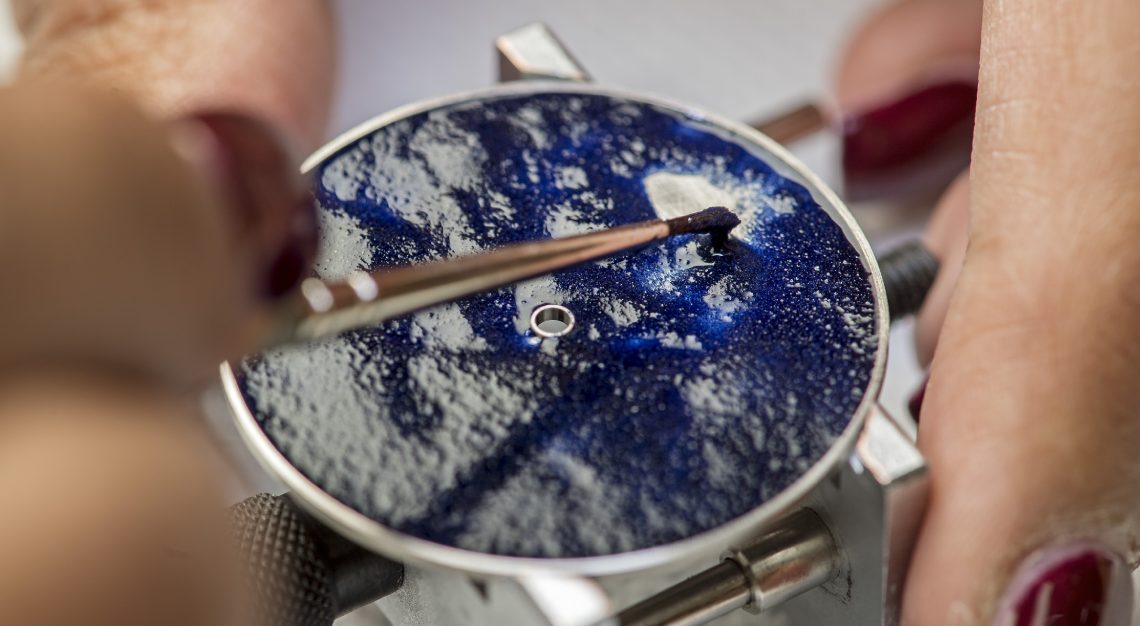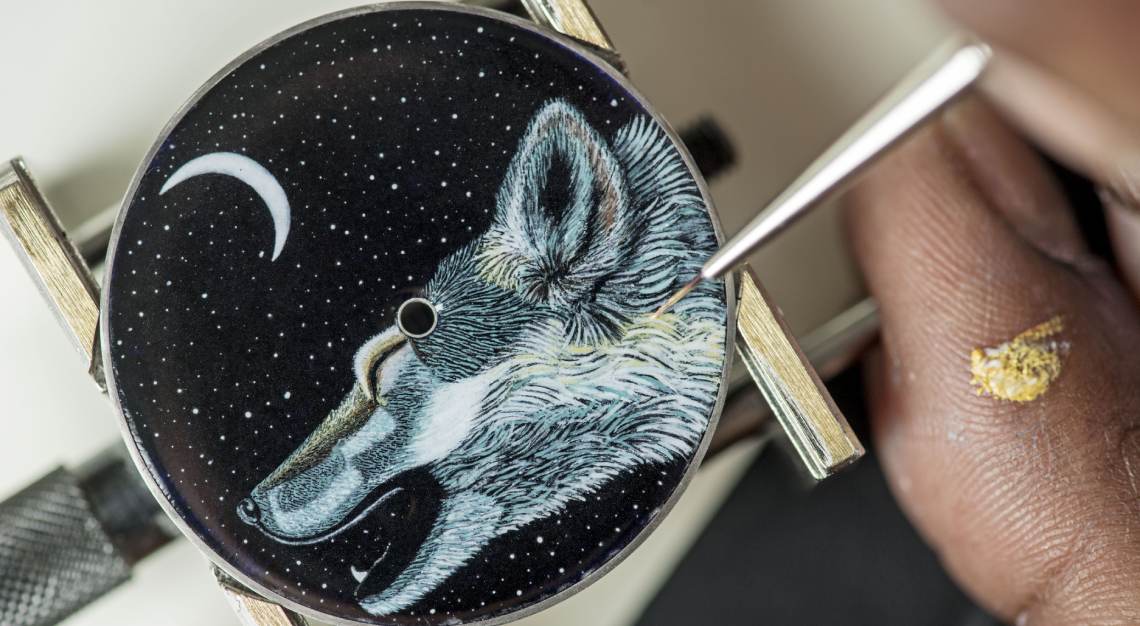 Hermès Arceau Awooooo
Form of art: Enamel painting
What about: An enamel dial is basically made from a powdered silica composite that melts once heated at high temperatures to become a smooth surface. In order to paint with enamel, the artist has to mix this powdered silica with natural oils into a paste. Colour is added to the powdered silica via metallic oxide pigments and then carefully applied to the intended surface. And because of this, the painting has to be done in stages where a layer is painted on, then heated and cooled before the artist is able to continue with the other elements of the painted dial.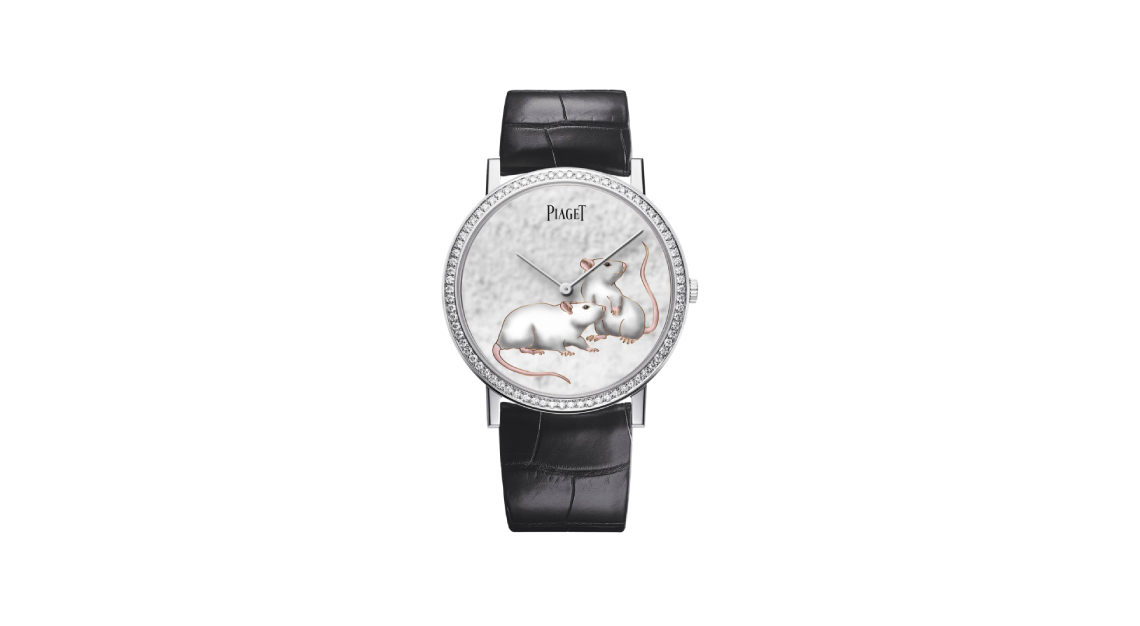 Piaget Altiplano Ref. G0A44540
Form of art: Cloisonné
What about: Cloisonné is an enamelling technique that uses the same powdered silica but this time, a thin gold wire is applied beforehand to contain the enamels in a specific area. In the case of this Piaget Altiplano, the outline of the Chinese zodiac rat is done with the thin gold wire before the enamel is filled in. The dial was created in anticipation of the Chinese New Year and was created by "Grand Feu" enamel by artist Anita Porchet. The "Grand Feu" enamel is a variant that requires a much higher temperature to create.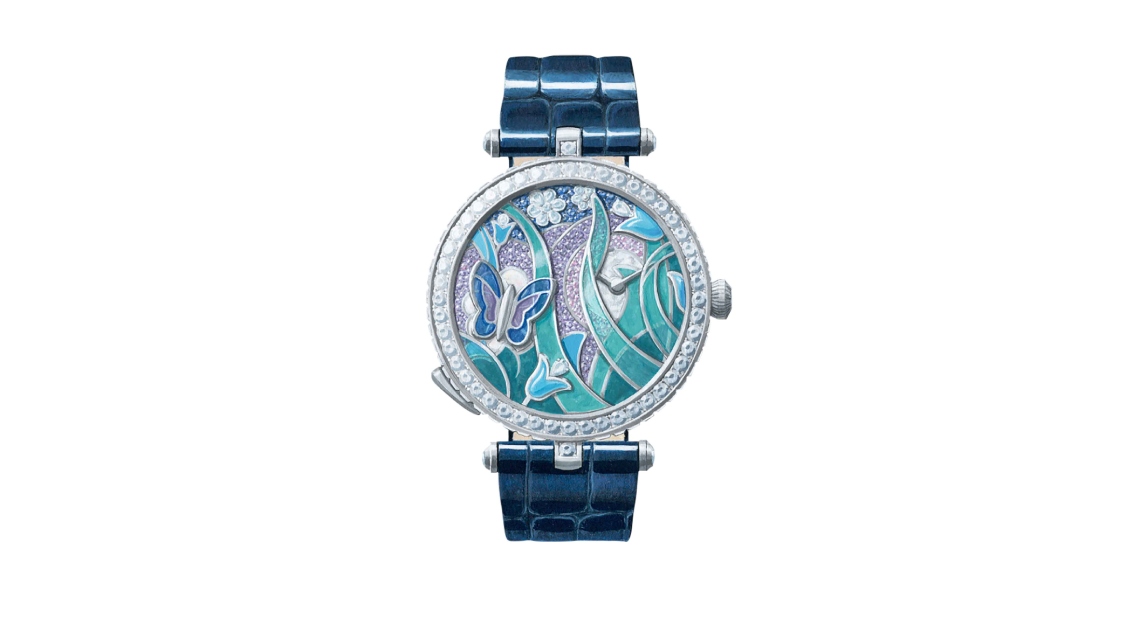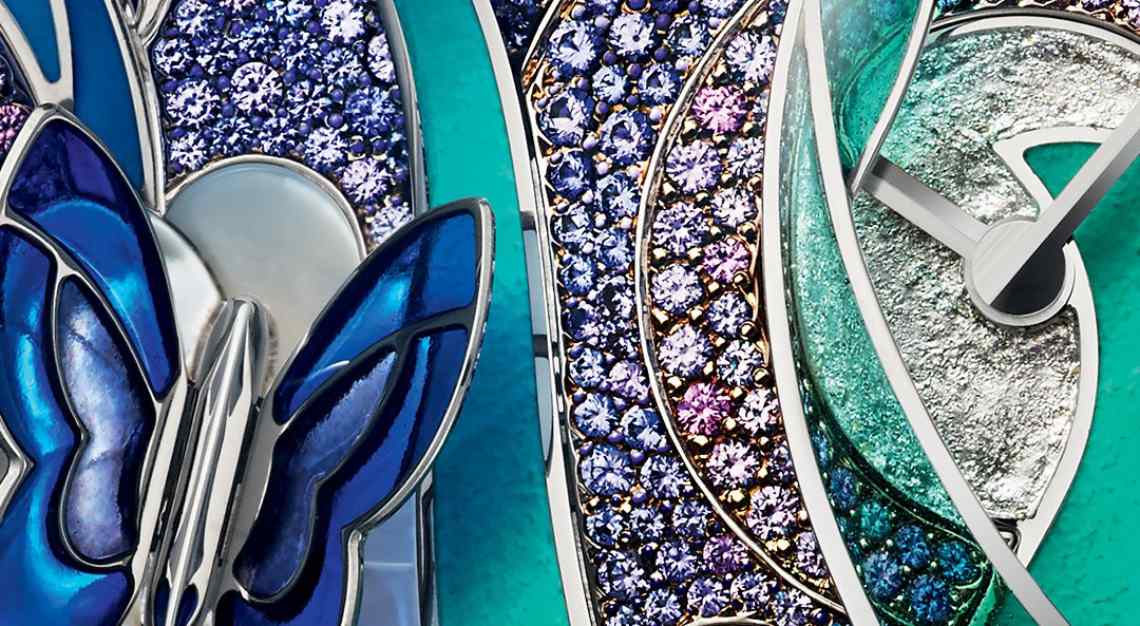 Van Cleef & Arpels' Lady Arpels Papillon Automate 
Form of art: Plique-à-jour
What about: Much like the Cloisonné technique, the plique-à-jour technique also uses barriers to hold the enamel but instead of using solid colours, plique-à-jour uses clear enamels and will eventually remove the backing so the effect resembles the effect of a stained glass window. If you examine this Lady Arpels Papillon Automate watch closely, you will see that the technique is used on the curved blade of grass and also the wings of the butterfly.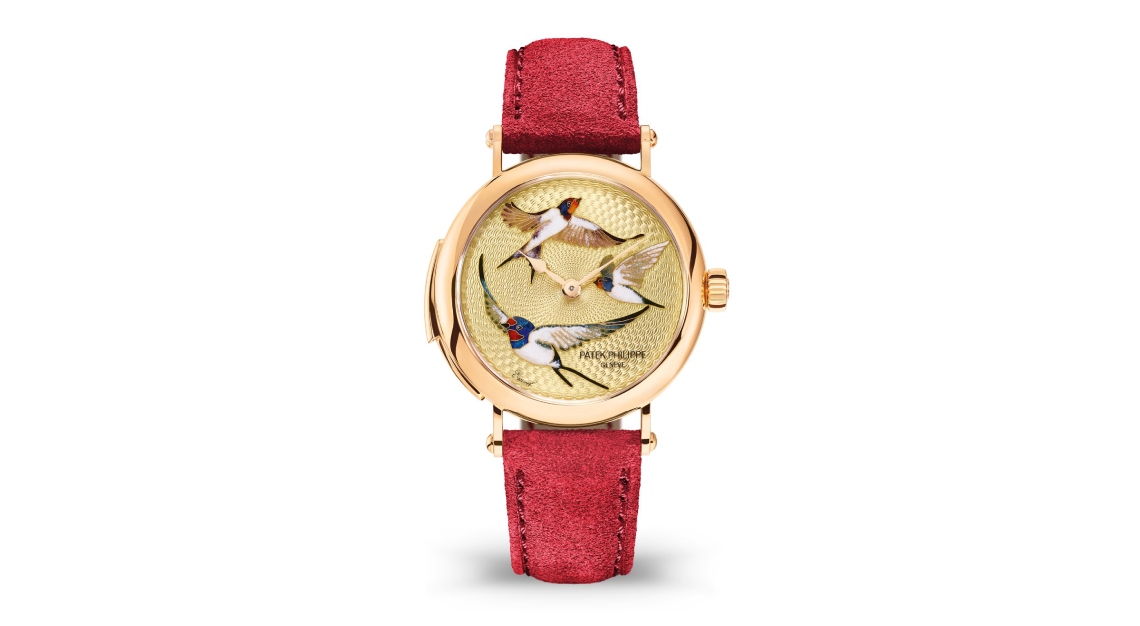 Patek Philippe Rare Handcrafts Ref. 7000/50R-010 Swallows in Flight
Form of art: Guilloché
What about: Guilloché is the art of engraving a repetitive pattern onto an underlying material. And although the actual engraving is usually done with the help of a mechanical lathe, it is the skill of the craftsman that ensures the uniformity in its pattern. This Patek Philippe Rare Handcrafts Ref. 7000/50R-010 'Swallows in flight' offers a hand-guilloched, fine traditional basket-weave pattern that is coated with clear enamel. The swallows are also another fantastic example of the Cloisonné Enamel technique.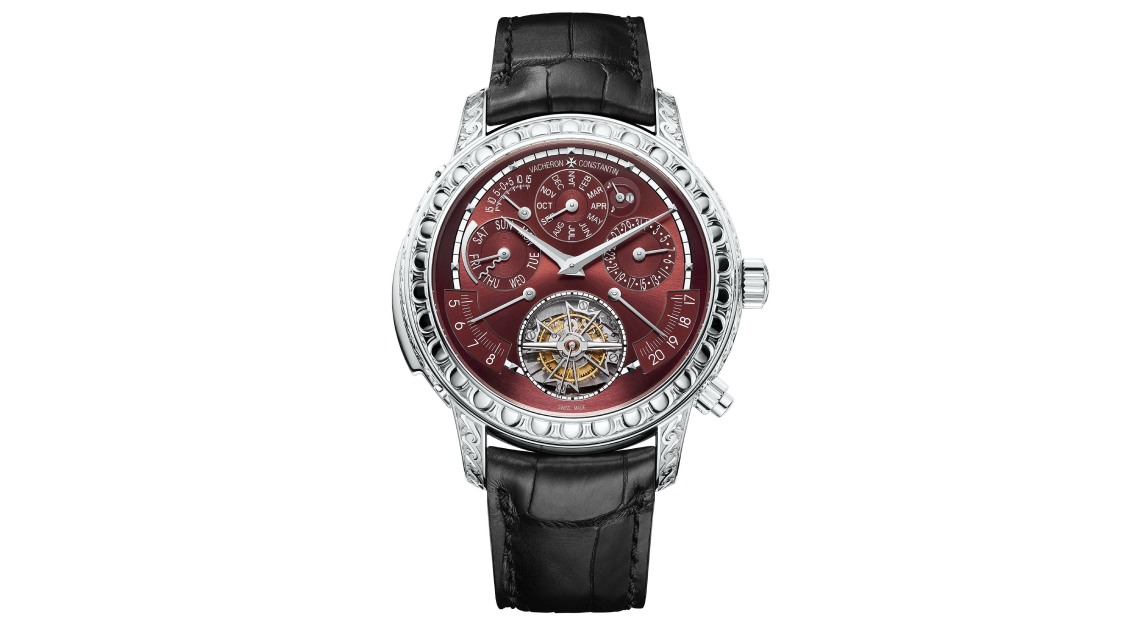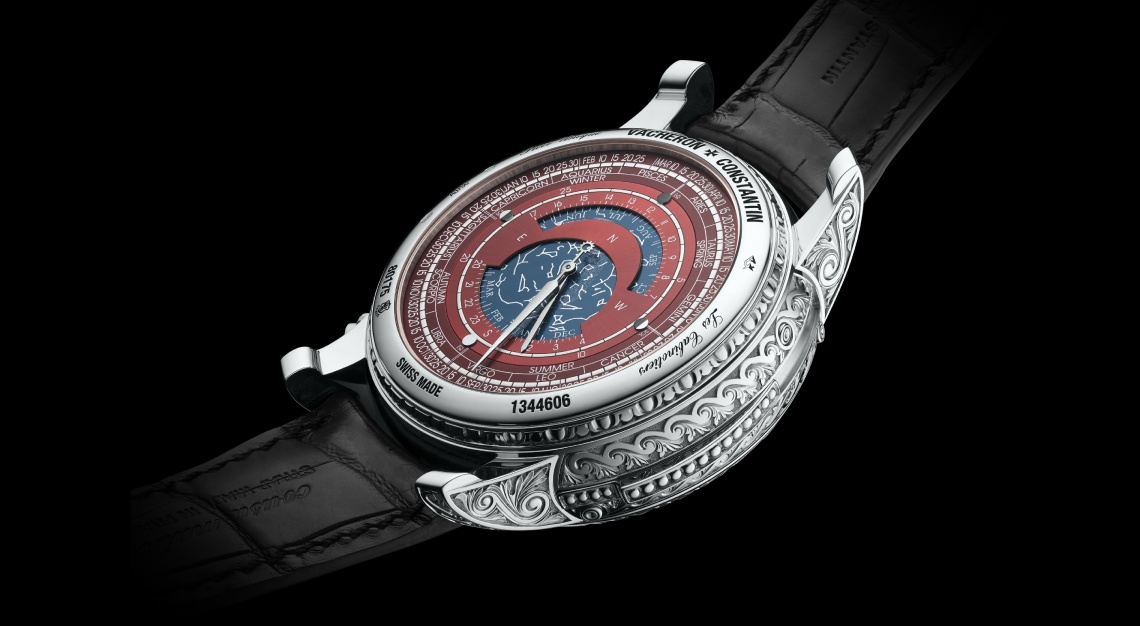 Vacheron Constantin Grande Complication "Ornementale"
Form of art: Engraving
What about: Engraving is the art of removing material from a surface in pursuit of artistic beauty. A beautiful engraving can be done within the dial as demonstrated by the Vacheron Constantin Métiers D'Art Les Aérostiers and the hot air balloon created by an engraving technique called pounced ornament technique. Additionally, engraving can also be performed on the case itself. The Grande Complication "Ornementale" for instance combines pounced ornament and bas-relief techniques with various types of fine line engraving to make its exquisite case.
Click here for more stories on ladies' luxury watches