Rich desserts

Another 'most expensive' accolade has emerged. Curiously, it isn't in Dubai, that perennially ambitious destination, but in the world's other capital of excess, New York City. We've written about everyday items like rice, pillows, tacos and even water. What now then? As cheesy as it sounds, it's now the turn of the cheesecake to claim the spotlight.
Created by chef Raffaele Ronca of Ristorante Rafele in Manhattan's Greenwich Village, this cheesecake costs a remarkable US$5,000 (S$6,570), and has been certified by the Guinness Book of Records as the most expensive in the world. Made by request only, one has to ask: what goes into a cheesecake to justify such a price?
The answer: ricotta cheese from water buffalo in South Italy, flown in fresh. Add to that white truffle from Alba, a generous helping of Hennessy Paradis cognac (which is only, oh, about 200 years old), Madagascan vanilla and 24k gold leaf. The mixture sits on a biscuit base made from homemade Italian biscotti using Ronca's grandmother's recipe. That,and a layer of his own special hazelnut chocolate spread.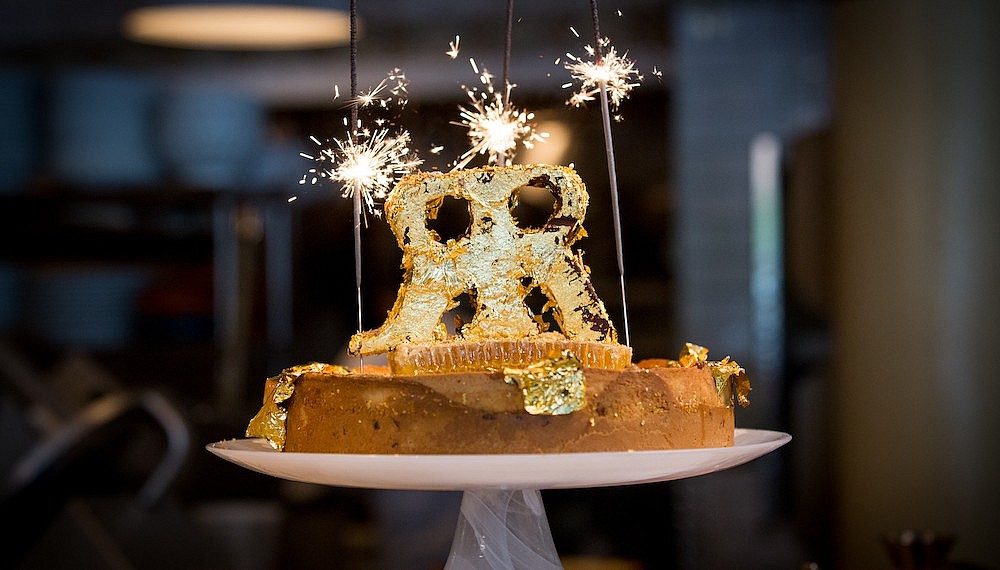 It takes five days to prepare, as ingredients have to be specially flown in from Europe and Africa. When ready, the unassuming looking cake is covered in more gold leaf and fresh honeycomb, topped with sparklers.
To be honest, with that price tag, you'd have expected the chefs to dream up a much more visually attractive piece. Something with a little more finesse and style, something more… presentable. Something that doesn't look like it has been hastily put together, because it wasn't. There are ways to stick 24k gold leaf to Varlhona chocolate, and this definitely isn't one of them. Not sure if Ronca's making a statement here, perhaps you can't just have your cake and eat it?
Oh, did we mention the giant logo on top? RR stands for Ristorante Rafele. We at Robb Report approve, naturally. Just wish they put in more effort to have it look classier.
To satiate your hunt for the world's most expensive items, click on for a read.