Pretentiously unpretentious, and we'll take it. Lovingly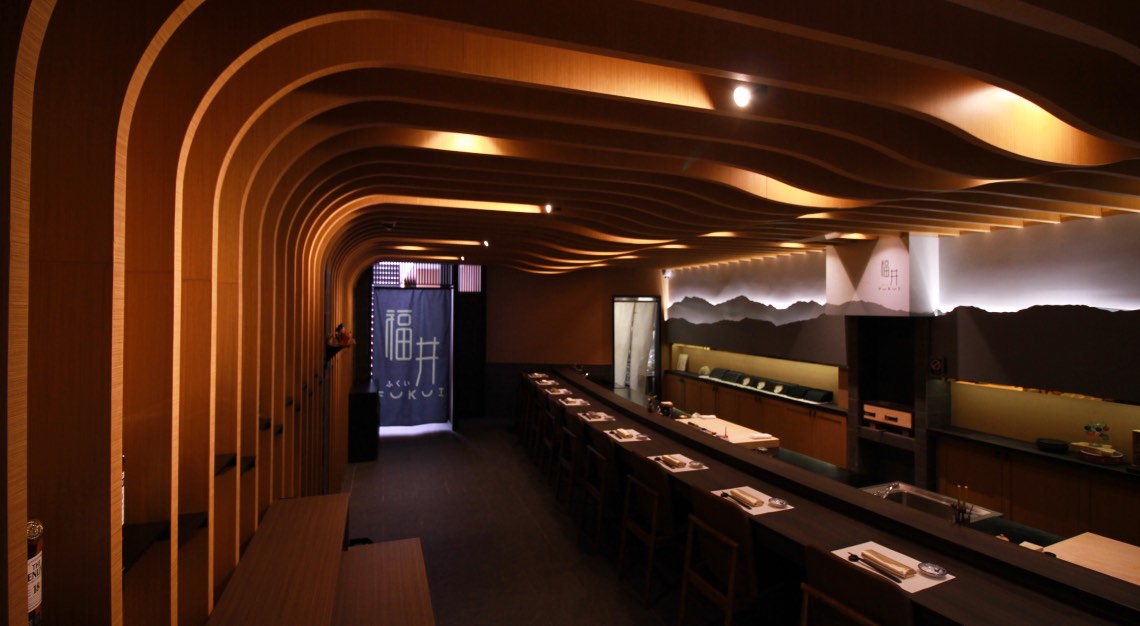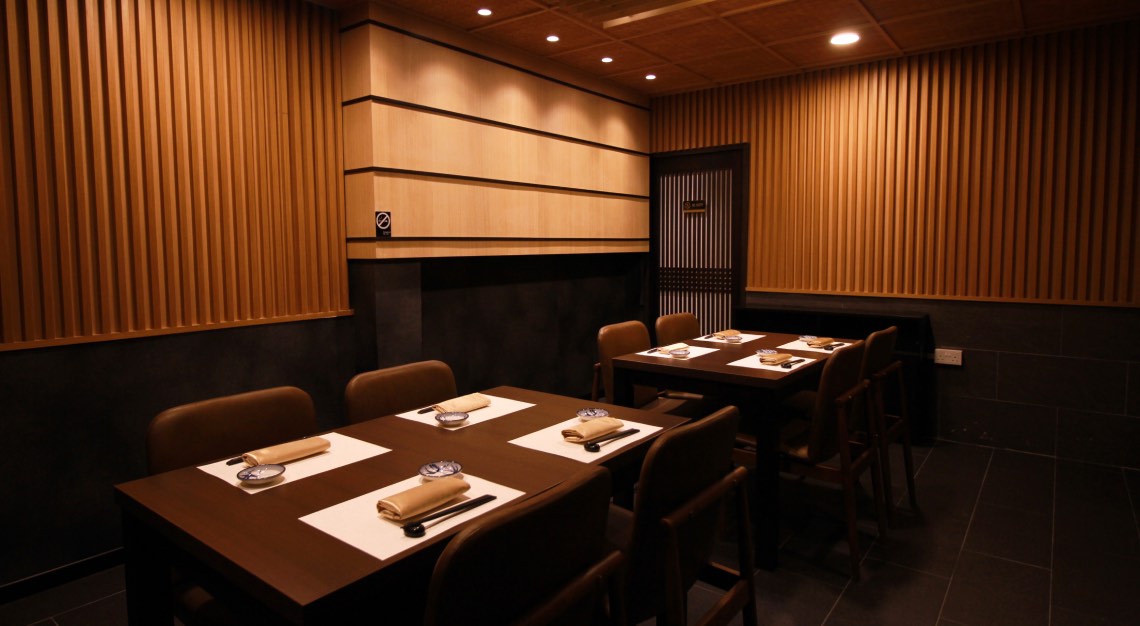 There's a scene in the movie Love Actually, in which Harry (played by the now sadly demised, Alan Rickman) is in a department store buying a Christmas gift. He is with his wife of many years, but the present isn't for her. It's for his rather attractive, newly appointed secretary who has a serious crush on him. He's middle-aged, craggy, and married, so he's flattered by her attentions, and tentatively explores possibilities. Buying her an item of jewellery seems like a good opening gambit.
While his wife is off somewhere else (Christmas shopping), he chooses a necklace at the jewellery counter. Rufus, the floor salesman (played by Rowan Atkinson – without whose cameo no Richard Curtis ensemble film would be complete) asks if Harry would like it gift-wrapped. 
Harry is anxious to "make it quick" (for obvious reasons) in case his wife returns, while Rufus has a job to do, and it's one that he takes very seriously. The wrapping and packaging have to be impeccable, and the process takes a lot longer than Harry would have hoped for. His wife could return at any moment. Every man watching the film who has had an affair, or is contemplating one, would have been squirming, which is entirely the point of the scene, I suspect. 
The box with the necklace was placed into a nondescript plastic bag, after which any number of 'ingredients' were added – rosebuds, heather, cinnamon, holly – and one was wondering what was coming next. Everything seemed to be superfluous, but it was all part of the store's shtick – creating the perfectly presented package. Just when you think that the final element has been 'popped' into the bag, Rufus comes up with another, and then another. And then another.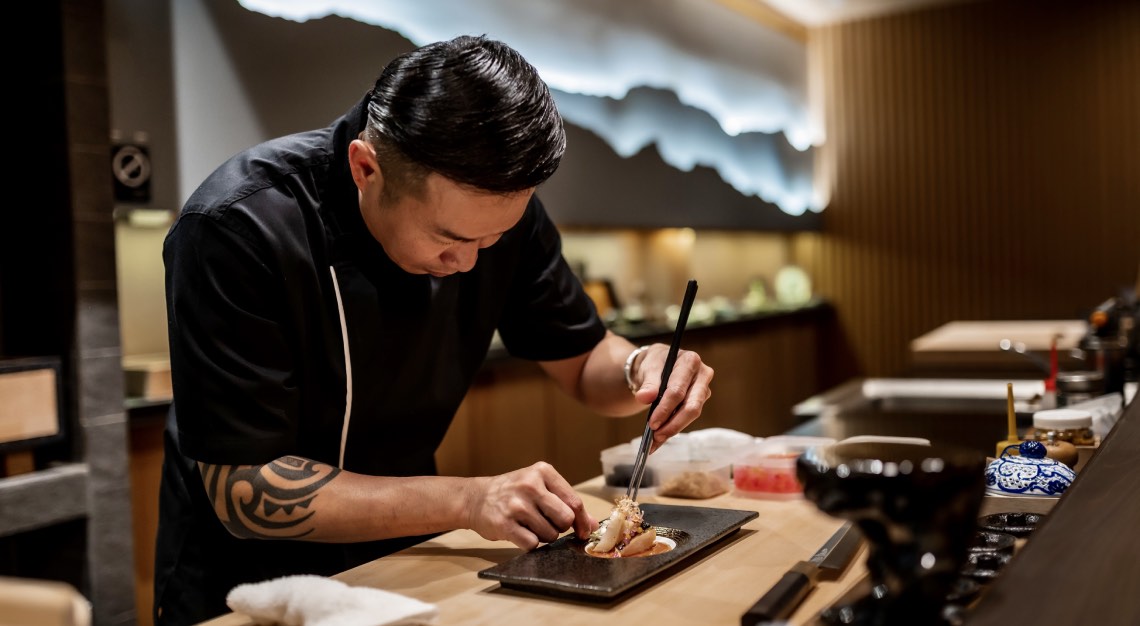 For some reason, I must have been channelling this scene as chef Pa'an, at Fukui, prepared his chirashi course towards the end of lunch. Into the already populated rice bowl went five different kinds of sashimi, ginger, tamago, uni, house-pickled radish, yuzu, shiso, a blue flower, persimmon and… I ran out of space in my notebook. There were several others. 
The rice itself is made up of 10 to 12 ingredients (Hokkaido rice, shiso beads, rice puffs and furikake, to name but four), and that which descends into it, at least 20 more. Watching the process in front of you would have been like Harry watching his bag get filled to the brim. The main differences being that diners at Fukui will pronounce the procedure a joy to watch; no wives would have been harmed in the making of the dish, and not one element is superfluous.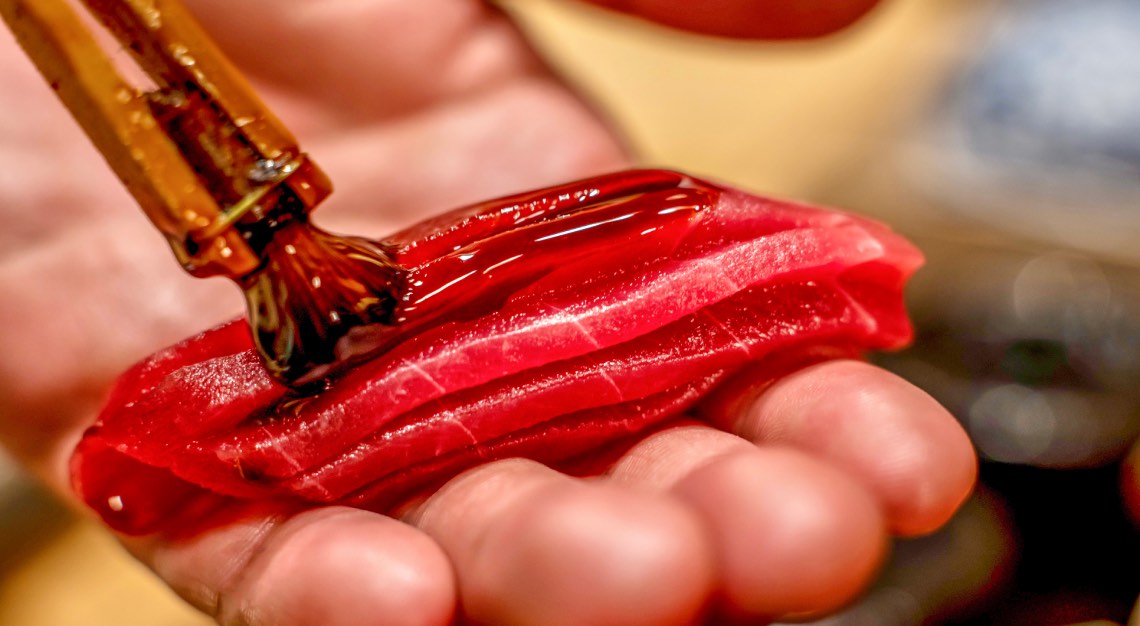 The dish itself is fabulous, since every mouthful is different, and you never know what you're going to be getting with each one. You can pick out your favourite ingredients and combine them with something that you think you like or may go with something else, but ultimately it becomes a bit of a mess and you're on a lucky dip, which is a wonderful experience, because it's never going to be anything other than good. 
You get the impression that chef Pa'an is not exactly making it up as he goes along, but there is definitely an element of improvisation. This is the kind of restaurant in which individual tastes will be catered to and ethnicities taken into consideration, on an ad hoc basis. Japanese diners, for example (and particularly the purists) will be treated to different dishes compared to local clientele. I would never want to generalise, but Singaporeans, I expect, will be quite amenable to this kind of culinary potpourri, while Japanese diners might favour simplicity and a more ascetic aesthetic. 
Either way, there is a flexibility in Fukui that reflects the ethos of the restaurant. It's not too serious – reflected in the prices (you could emerge into the light of the Mohamed Sultan day light (or night light) after a very good meal only S$200 lighter, which is decent value for the food on offer) – and while value for money is never the be all and end all, when there's a tie-breaker, it does come into consideration.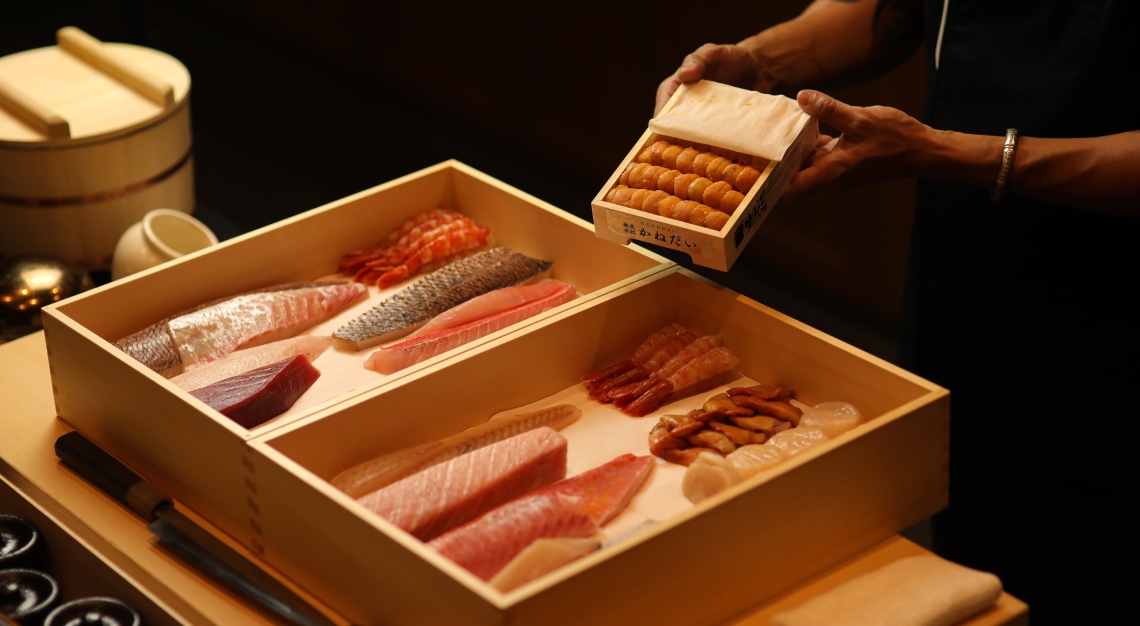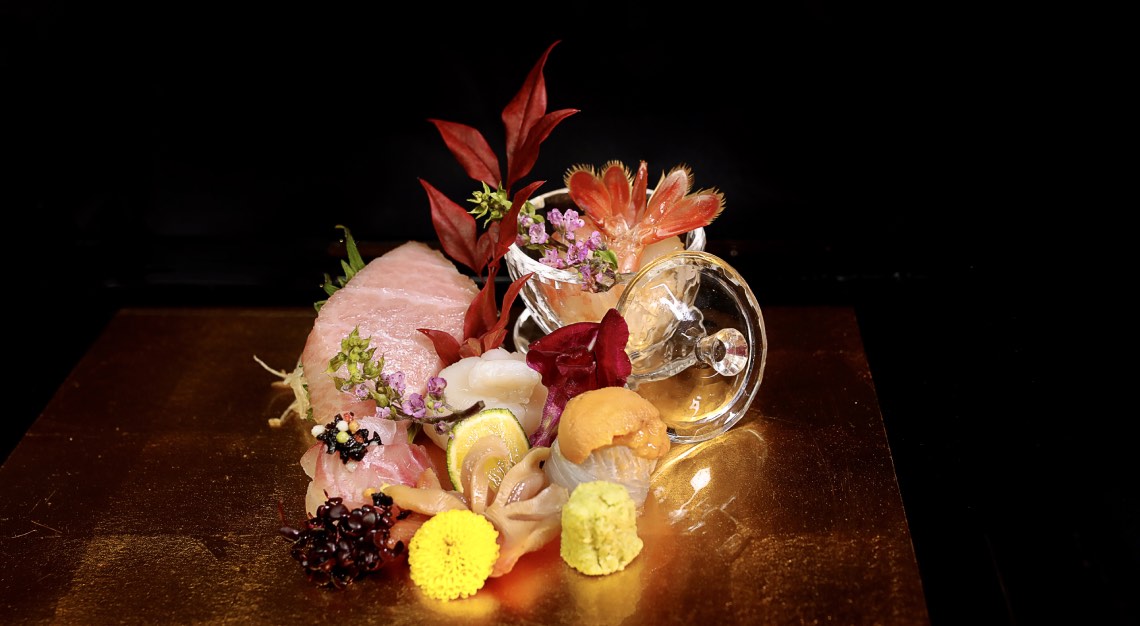 Fukui's sashimi is beautifully presented, and the ingredients are A- (ie. not absolutely top notch, but the best of the best of the rest). There's a mackerel item, sliced, with a bit of ginger and spring onion tucked inside that is very good, and a testament to the understanding that the chef has with ingredients that go together well. The Botan Ebi is as good (and as big) as it gets. The shrimps must have been working out in marine gyms for months before being caught, because they are huge. Surprisingly, in no way does their size affect taste and texture – both of which are nigh on perfect.
The Ootoro also gets a nod for being not too fatty and very clean to the bite, and the Olive Flounder (augmented with uni, rice puff, truffle oil and shio kombu) is excellent. Sashimi offerings will vary according to what's good and what's managed to make the trip down from the market(s) in Japan, but chef Pa'an knows quality, and, more importantly, knows that his customers expect it.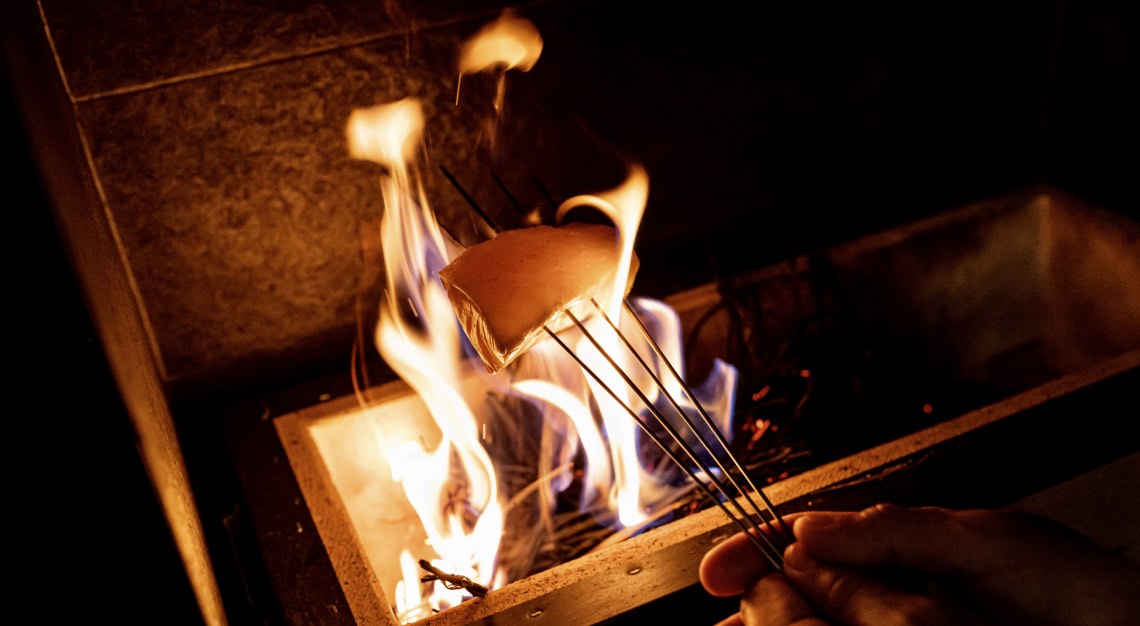 There has to be a final word for the overtures. The Hotaru Ika (firefly squid – all the rage at the moment – ponzu, egg yolk mousse) is terrific, and has a lovely creamy/citrussy balance. The torched Hokkaido Scallop (foie gras, ikura, leek and dehydrated beetroot) on the other hand, needs a little more balance, as the leek vegetality and the sweetness from the beetroot don't quite do enough to counteract the richness. It's still good though. 
There's an excellent Botan Jiru soup (prawn head, miso, tofu, butterscotch mushroom and egg) that precedes the Black Sesame Ice Cream (toasted seeds, ground – providing a great texture) by which time even the most avid diner will be replete and more than satisfied with his or her seven-course, S$138 lunch.
What I like about this place is that it is comfortable and slightly unassuming. The food preparation is not ritualistic (which can be annoying) and the dishes themselves are on point without genuflecting at the altar of provenance. Chef Pa'an knows how to work with what he has and make the best of it, and he seems freed from the trammels of convention and tradition that can hamstring even the best Japanese chef. His Chirashi omnium gatherum is a triumph of imagination, improvisation and the understanding of complementary ingredients, and there is no way in the world that Rowan Atkinson as Rufus in Love Actually could have done a better job while packaging Harry's necklace. Rufus is all about form. Chef Pa'an provides more than enough substance. 
Fukui
25 Mohamed Sultan Road
Singapore 238969
Tel: +65 6509 0909
Editor's note: For more food and drink reviews, click here