The latest Speedmaster model comes encased in a new and proprietary gold alloy but everything else about it is decidedly old-school
When Omega revived its legendary Calibre 321 in 2019, it also reopened one of the most exciting chapters in watchmaking—and spacefaring—history. Dating back to the '40s, this high-precision chronograph movement powered the very first Omega Speedmaster watch made in 1957, as well as the set of Speedmaster references ST105.003 and ST105.012 acquired, tested, and finally worn by NASA in the '60s for the Gemini and Apollo missions.
While the vintage calibre remains deeply revered by Speedmaster aficionados today, the arrival of a modern counterpart brings along new and ever more covetable tributes of prestige and luxury befitting the watch that went to the Moon, such as this deceptively understated model cased in the manufacture's very own Canopus Gold.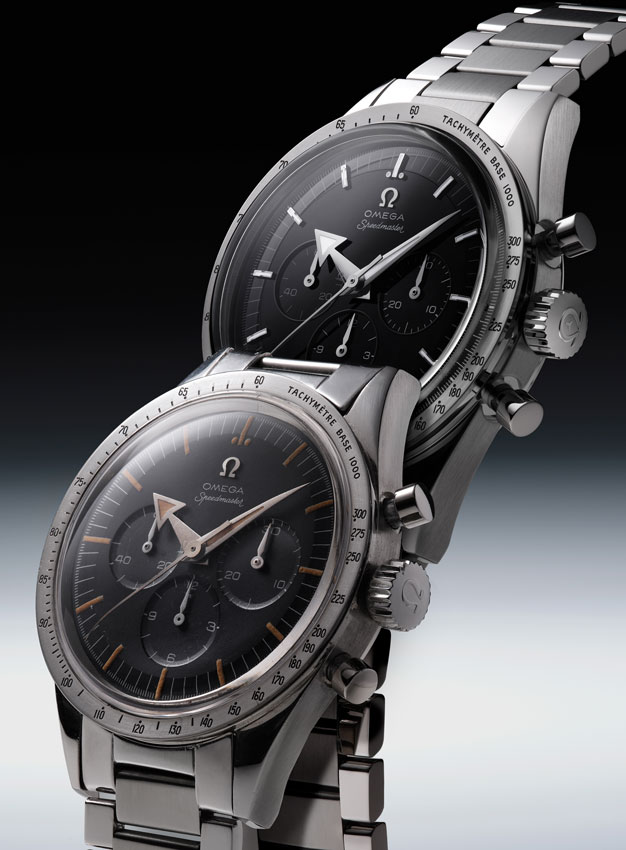 Dedicated to the OG, the very first Speedmaster also known as CK2915-1, this new timepiece marks the collection's 65th anniversary, raising a toast to the day the world saw its first wristwatch chronograph with tachymeter scale on the bezel rather than the dial.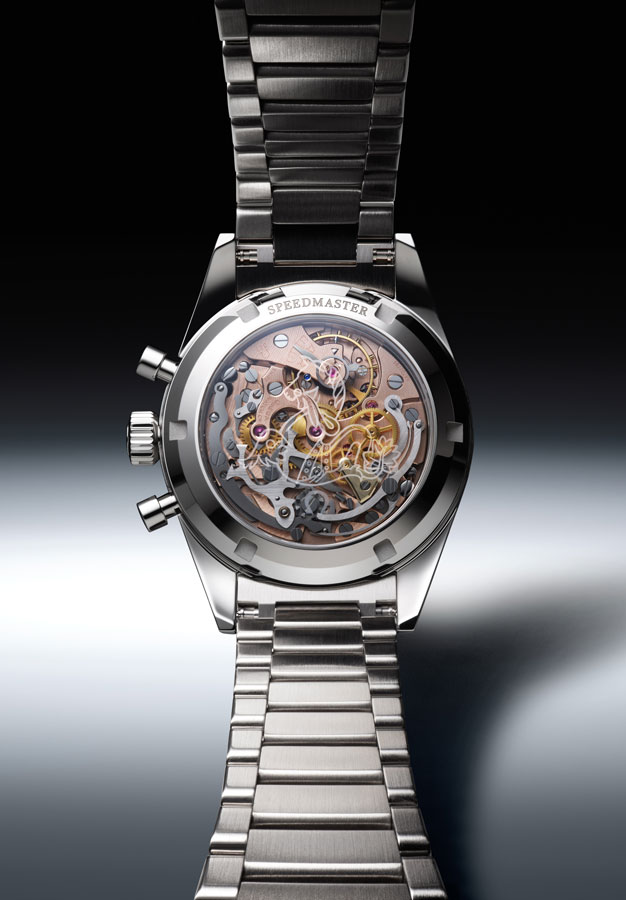 It is also the third modern Speedmaster running on the new Calibre 321—the first being a platinum piece with lunar meteorite sub-dials and the second, a steel-on-steel classic model that pairs a subtle front with a glorious sapphire back.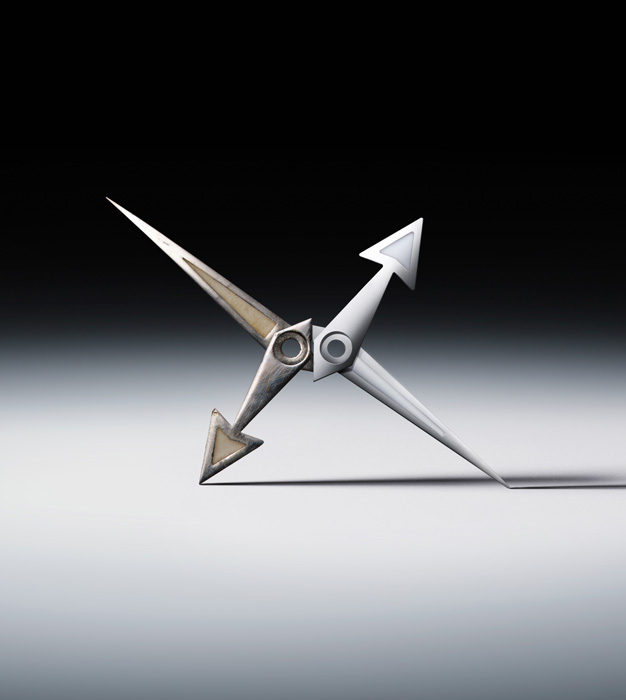 But with all three watches dressed in a monochromatic black-on-silver palette, how do we distinguish one from the other? Luckily, this Canopus Gold model can be identified, easily, by a host of vital details starting with those exquisite broad arrow hands which are—hands down—the Speedmaster 57's most prominent and beloved feature.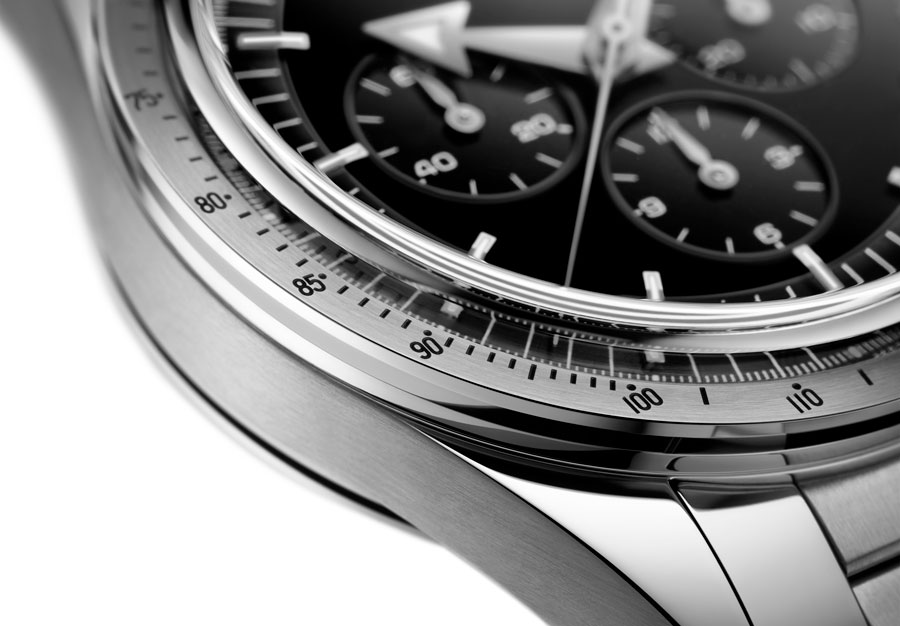 Next to those hands, the bezel is what makes this model stand out. Instead of polished black ceramic, here it's done in the same material as the case, but with the tachymeter scale filled in with black grand feu enamel. Rest assured, Moon Watch stans, as Omega has duly retained the famous dot over ninety and dot diagonal to seventy in this timepiece.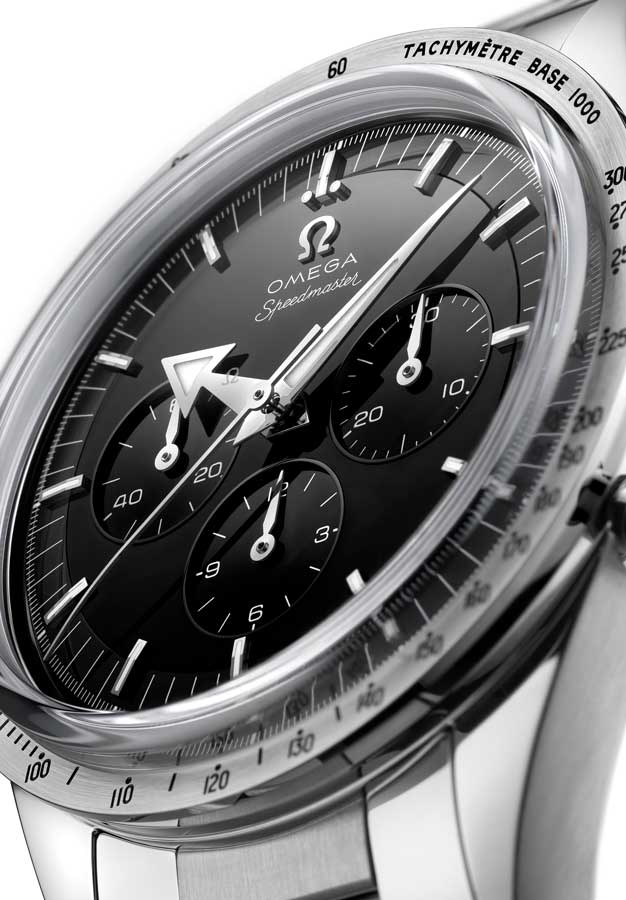 In addition, that jet-black dial gets its rich tone and soft glow not from ordinary lacquer but natural black onyx—although nobody will disagree it's what's inside the watch that makes it so special.
Flip it over to admire Calibre 321's intricate design and discover one final surprise in this celebratory timepiece: the precious blue sapphire eye of the Omega Seahorse set on the underside of the exhibition case back. The Omega Speedmaster Calibre 321 in Canopus Gold is priced at S$118,750.