Patek Philippe's Watches and Wonders revelations were striking—in more ways than one
The oldest independent, family-owned Genevan watch manufacture is famously tight-lipped when it comes to what will be culled from its collections and what will appear in place—so informed observers were surprised when Patek Philippe announced, days before Watches and Wonders, that it would be welcoming some exciting new novelties into the Calatrava family—its new white gold varieties applying a contemporary, graphic new aesthetic to its iconic, dressy, round wristwatch line.
Those sneak preview additions to the line feature a black dial whose distinguishing feature is an embossed checkered pattern in a smaller circle at the centre, which juxtapose elegantly with the flashes of yellow, sky blue, or red (depending on which you opt for) found on the counters, seconds hands and strap stitching.
Also unveiled in Geneva, as part of Patek Philippe's Rare Handcrafts 2023 collection being presented at its Salons in Geneva from until 15 April 2023, was a pocket watch featuring a leopard, rendered in marquetry. The piece involved the assemblage of 363 tiny veneer parts and 50 inlays, and a palette of 21 species of wood of different colours, textures, and veining.
But there's more: much more. Introducing its new watches in Geneva—the home city of the Stern family—for only the second time, Patek had a few more surprises up its sleeve. Here's what else they unveiled this time around.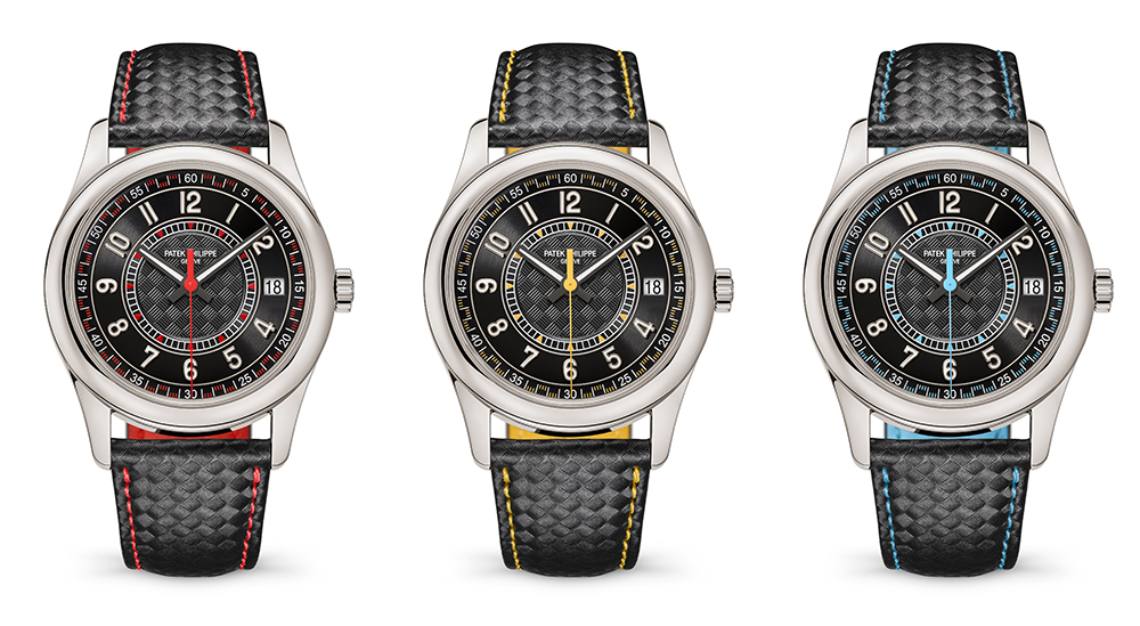 Calatrava in White Gold (Refs. 6007G-001, 6007G-010 & 6007G-011)
Patek Philippe's three new Calatrava references have white gold cases, ebony dials, and their own accent colours: red, yellow, or pale blue, applied to the seconds track, seconds hand, indexes, and the stitching of the matching leather strap. The intriguing dials feature a crosshatch pattern reminiscent of carbon fibre, which matches the treatment on the strap, giving each of the three a distinctly sporty feel.
Case Size: 40mm
Materials: White gold, leather with yellow, red, or blue stitching
Calibre: Self-winding calibre 26-330 S C
Power Reserve: 45 hours
Price: US$37,850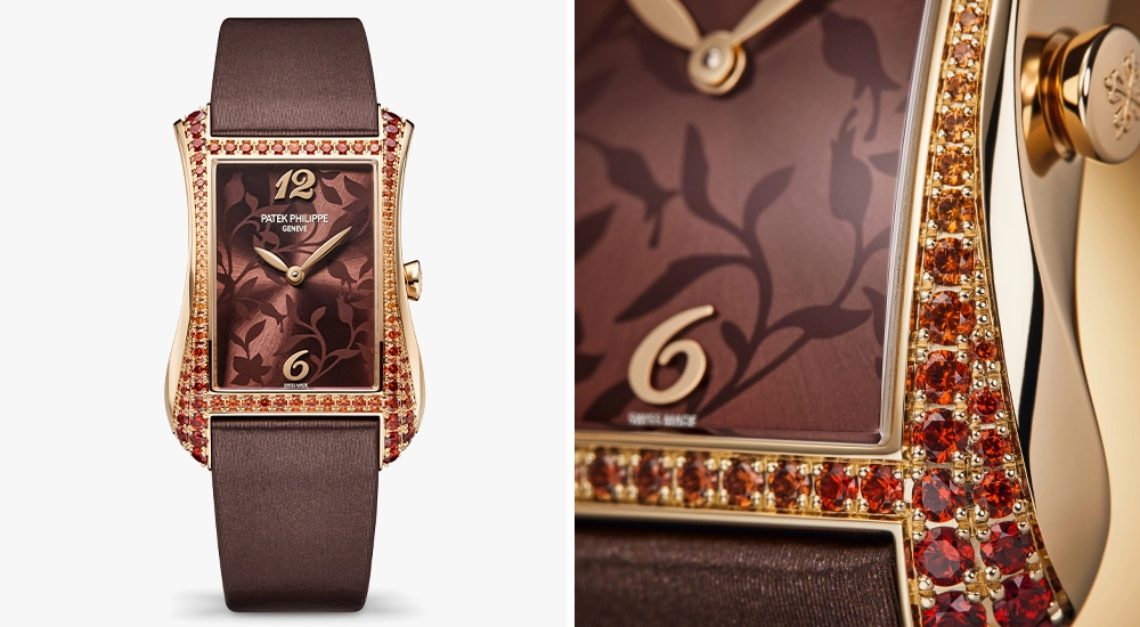 Gondolo Serata in Rose Gold (Ref. 4962/200R)
Featuring a witty inversion of the tonneau watch shape, this new iteration of the Gondolo Serata has a brown-lacquered dial whose floral decoration is created by a matte/polished contrast. Breguet numerals and a chocolate brown calfskin strap complete the effect.
Patek Philippe is rightly very proud of its line named after a boutique in Rio De Janeiro, Gondolo from which roughly a third of the watchmaker's output was purchased during World War II—and this addition to the family, whose case is set with 94 brilliant-cut spessartites, will surely enhance that pride. These create a two-tone effect (Patek refers to the colours as "cognac" and "mandarine"), complementing very the first watchmakers (a group also comprising Piaget and Omega) to delve into electronic timekeeping's potential back in the late 1940s, and here a Quartz movement carries out its tireless work behind a solid case back.
Case Size: 40.85 mm
Materials: Rose gold and calfskin
Calibre: Caliber E 15
Battery life: About three years
Price: US$40,216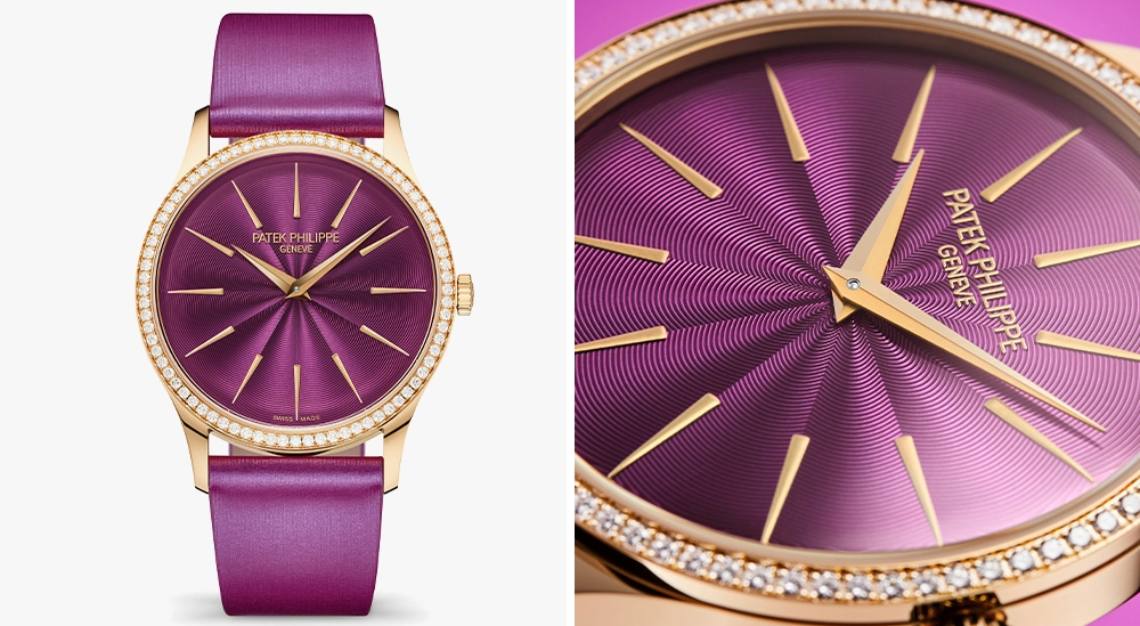 Self-Winding Calatrava in Rose Gold (Ref. 4997/200R)
Arguably the most striking of the new models bolstering the Calatrava lines, this self-winding model is housed in a rose-gold case and has a strap and dial in purple (the latter packs impressive visual depth, thanks to its pattern of concentric waves being made up of more than fifty layers of translucent lacquer).
This stunning facade is surrounded by rose-gilt powdered hour markers flanked by 76 diamonds.
Case Size: 35 mm
Materials: Rose gold and calfskin
Calibre: Caliber 240
Power Reserve: 48 hours
Price: US$38,441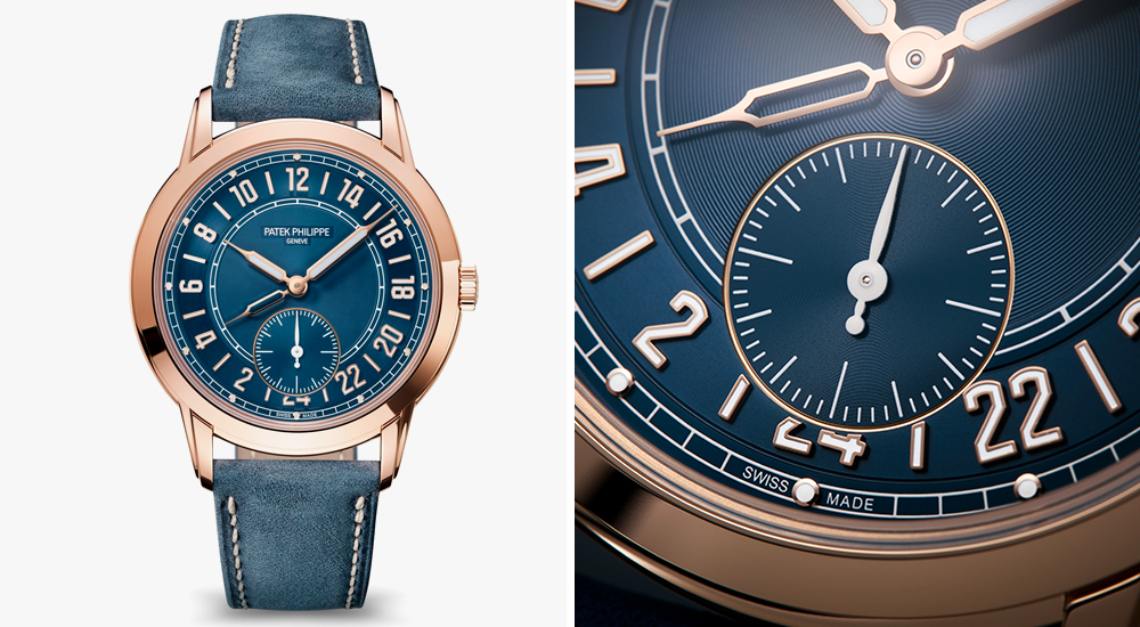 Calatrava Travel Time in Rose Gold (Ref. 5224R)
Another rose gold, self-winding addition to the Calatrava collection—which, since its launch in 1932, has become widely considered the gold standard when it comes to dress watches—bolsters Patek's repertoire when it comes to travel watches, thanks to its 24-hour display.
The case is afforded an imperious flourish by its curved, two-tier lugs whilst the traditional local time correction pushers on the left side of the case band now have a patented crown-operated correction system.
The navy blue dial with hand-laid rose gold appliques, enhanced by contrasting finishes, received no little praise in Geneva, as did the piece's overall legibility and usability.
Case Size: 42 mm
Materials: Rose gold and calfskin
Calibre: 31‑260 PS FUS 24H
Power Reserve:  48 hours
Price: US$57,366
Aquanaut Luce Annual Calendar in Rose Gold (Ref. 5261R)
The sport watch as we know it today—many watch buffs would argue—was effectively invented in 1972, when Audemars Piguet introduced the Royal Oak. Two more major milestones in the sports watch narrative came in 1976 and 1997, though, when Patek launched the Nautilus and the Aquanaut respectively.
Those lamenting the lack of updates to the former will be buoyed by intriguing additions to the latter line, including this Aquanaut Luce model with a patented annual calendar. Encased in rose gold, with a blue-grey dial and strap, it really bolsters the options Patek aficionados who favour non-gem-set models of the type traditionally aimed at women.
Case Size: 39.9 mm
Materials: Rose gold and composite material
Calibre: 26-330 S QA LU
Power Reserve: 35 hours
Price: US$61,506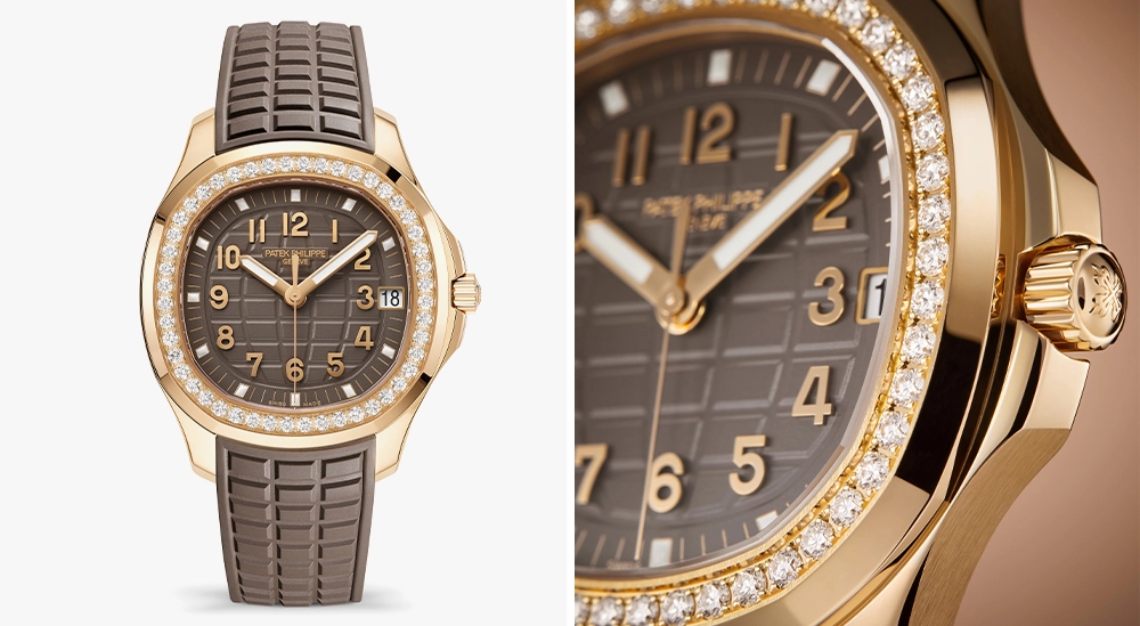 Aquanaut Luce in Rose Gold with Taupe Dial (Ref. 5268/200R)
An aesthetic reimagining of Patek's existing self-winding Aquanaut Luce line, this piece's rose-gold case contrasts elegantly with the moody alloy of brown and grey found elsewhere. Another pleasing contrast is that of the polished finish on the top and the satin-brushed finish on the sides, with the whole affect (literally) rounded off admirably by a rounded octagonal bezel whose polished bevels are brought to life by a row of 48 diamonds.
In another strike for user-friendliness, the self-winding movement has been furnished with a "stop seconds" function so that the time can be set to the nearest second.
Case Size: 38.8 mm
Materials: Rose gold and composite material
Calibre: 26‑330 S C
Power Reserve: 35 hours
Price: US$53,818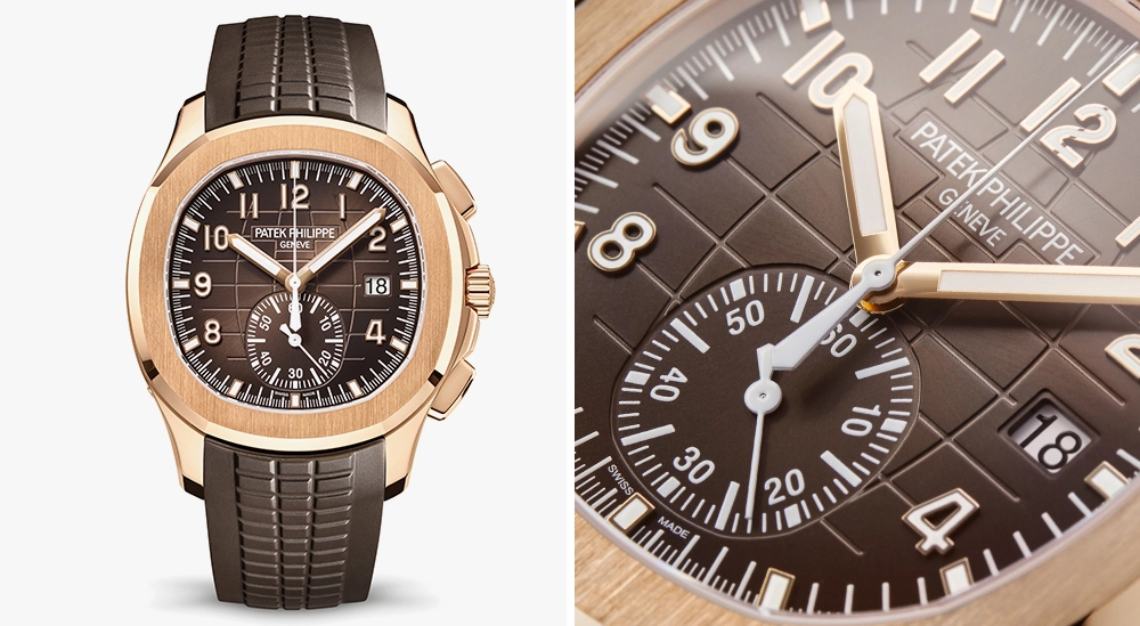 Self-Winding Flyback Chronograph with Annual Calendar in Rose Gold (Ref. 5905R)
Marrying two of the complications most enjoyed (or coveted) by Patek Philippe aficionados—the self-winding flyback chronograph and annual calendar—this piece's sunburst blue dial gives a modern spin on a timeless flagship chronograph.
Its patented annual calendar function automatically takes into account 30- and 31-day months, making the end of February the only time you'll need to correct it (a pleasing ritual for doting owners, no doubt).
Case Size: 42 mm
Materials: Rose gold and alligator leather
Calibre: CH 28‑520 QA 24H
Power Reserve: 55 hours
Price: US$75,108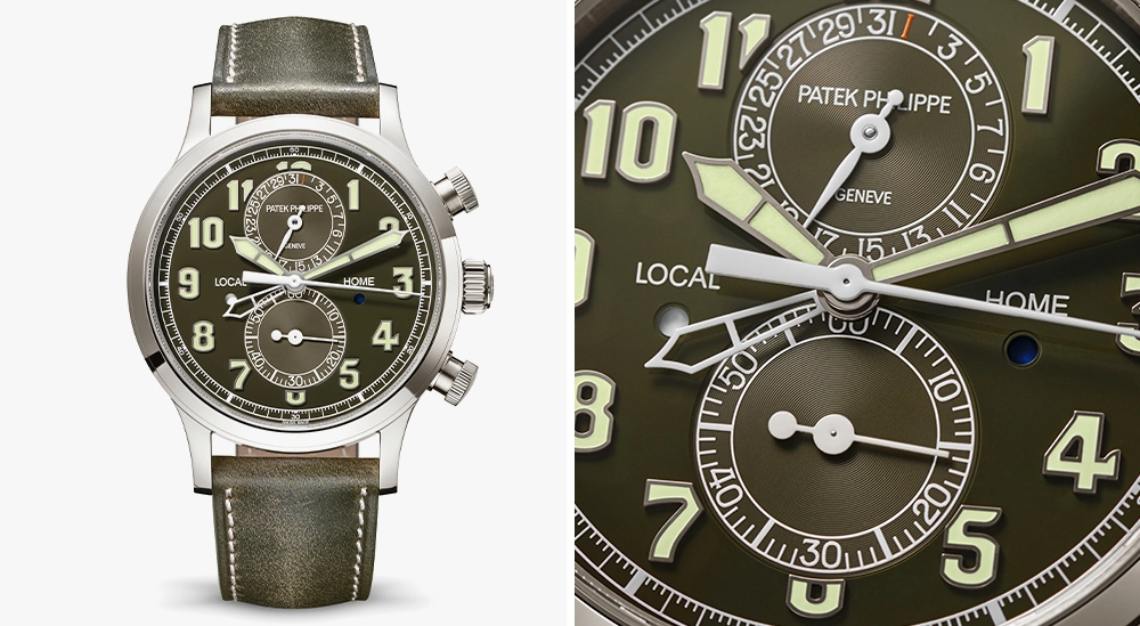 Self-Winding Chronograph 'Pilot' with Travel Time Function (Ref. 5924G)
The talking point in Geneva with this piece was the fact that a chronograph was being delivered as part of Patek's Pilot line for the first time. A Travel Time function and date indication by hand married to a local time capability make this self-winding addition to the Patek canon—one which comes in white gold with a sunburst blue-grey dial and a grained navy blue calfskin strap—is not just another addition to Patek's burgeoning white gold repertoire; it's an aviation watch that truly flies!
Case Size: 42 mm
Materials: White gold; Khaki green with vintage finish or navy blue calfskin
Calibre: CH 28‑520 C FUS
Power Reserve: 55 hours
Price: US$75,699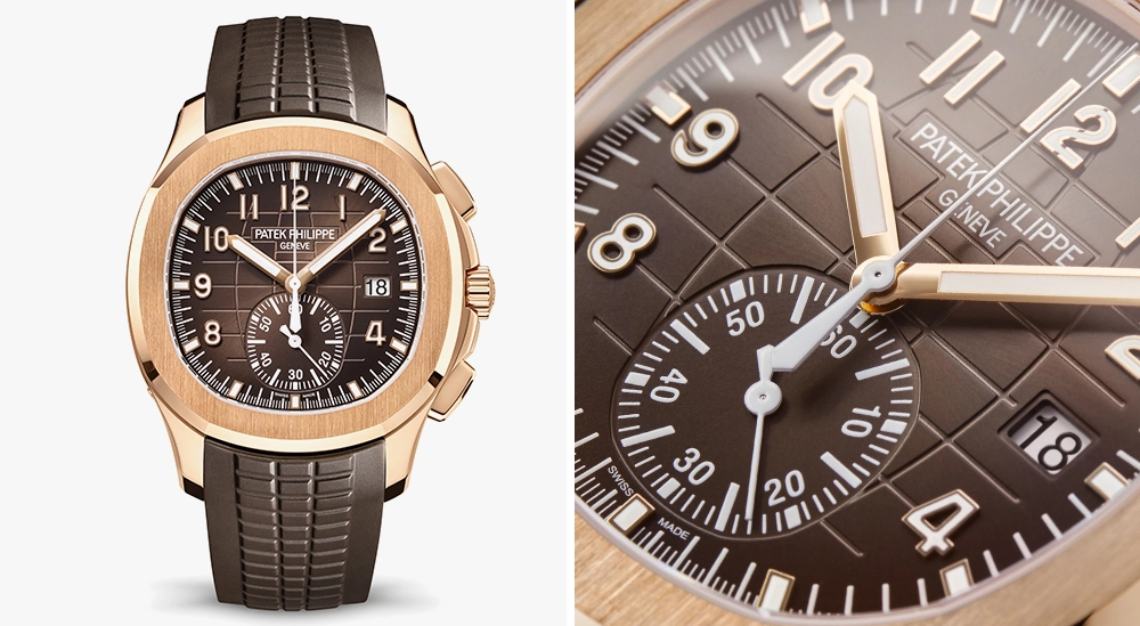 Aquanaut Chronograph in White Gold or Rose Gold (Ref. 5968R)
This self-winding Aquanaut chronograph—aimed at what would traditionally be deemed masculine tastes, hitherto available in steel and in white gold—now exists in a rose-gold case with a sunburst dial in a gradient of brown to black.
Again, a quirky interplay between polished and satin-brushed finishes provides the finer brushstrokes when it comes to visual appeal. As for the mechanical prowess Watches and Wonders have come to anticipate with wild abandon on their flights to Geneva, the self-winding flyback chronograph movement here combines a conventional column wheel drive with something more edgy: a vertical disk clutch which—and this is a USP for the serious micro-engineering geeks—involves almost no wear on the intricate parts involved.
Case Size: 42.2 mm
Materials: Rose gold and composite material
Calibre: CH 28‑520 C
Power Reserve: 45 hours
Price: US$75,699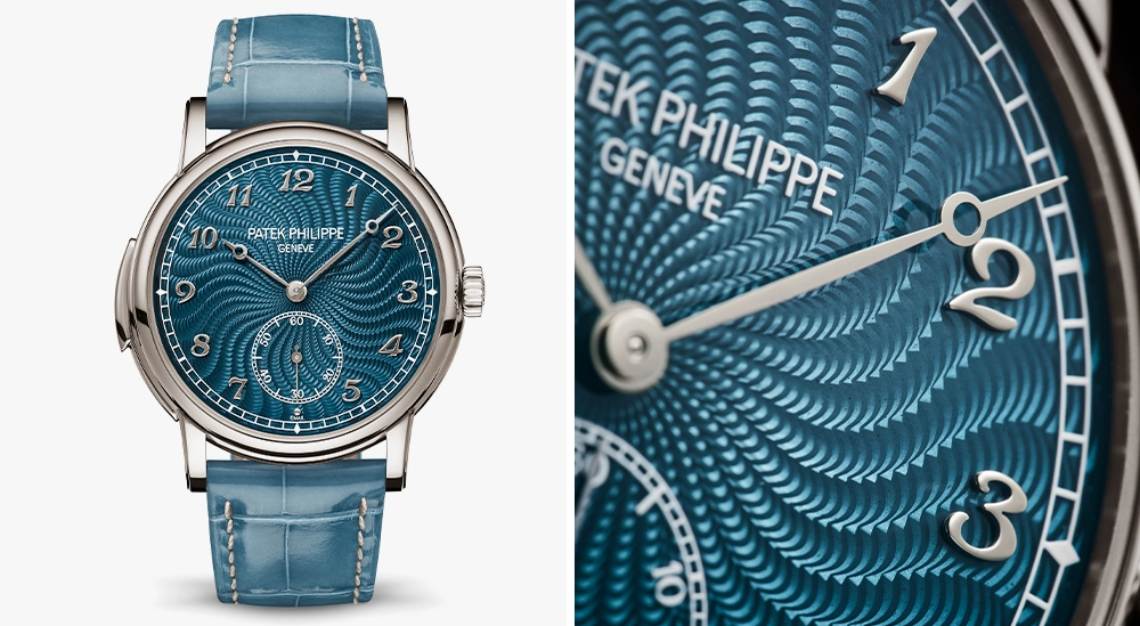 Grand Complications Minute Repeater (Ref. 5178G)
Patek's repertoire, which currently hovers at around 150 references, has always involved exceptional ambition when it comes to complication combos: as exemplified in 2014 when it unveiled the Grandmaster Chime which, with more than 20 complications, went into the history books as the most intricate wristwatch ever created.
This piece—whose aesthetic arsenal is made up of a hand guilloched swirling pattern dial beneath a Grand Feu blue transparent flinqué enamel with gold applied Breguet numerals and a 18k gold dial plate—contains a self-winding mechanical movement with two "cathedral" gongs: Take it from us, it resonates in a literal as well as a figurative sense.
It's another addition to the canon with a white gold case, which has interchangeable solid and sapphire crystal case backs, plus two interchangeable alligator straps in peacock blue and orange.
Case Size: 40 mm
Materials: White gold and alligator leather
Calibre: R 27 PS
Power Reserve: 43 hours
Price: Price on request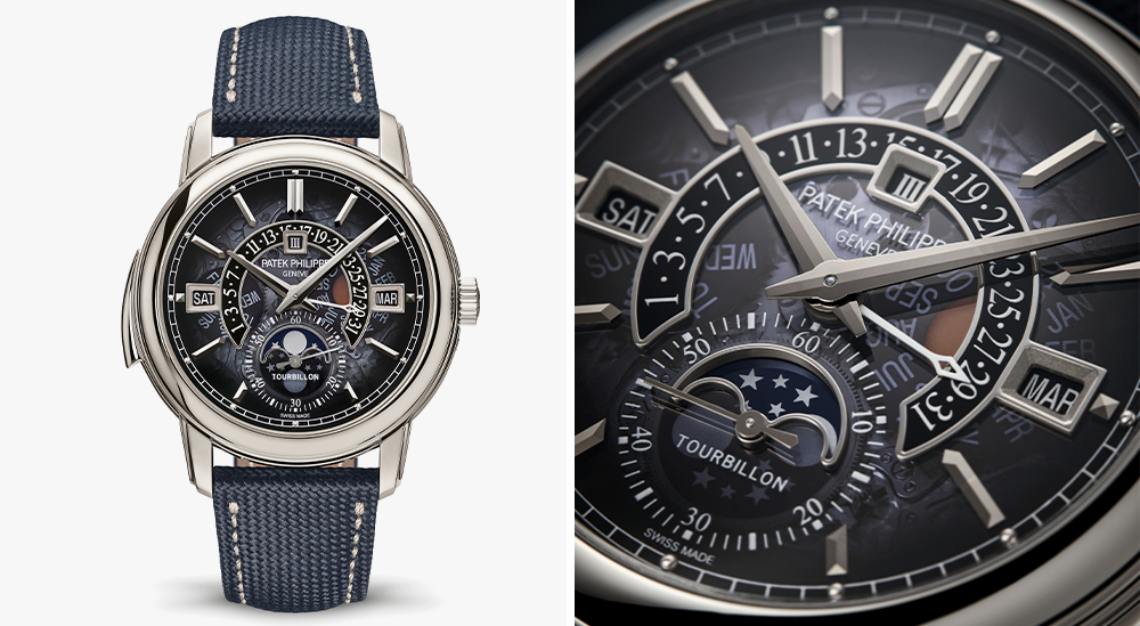 Grand Complication with Blue Metallised Sapphire Crystal Dial (Ref. 5316)
This new interpretation of a piece launched six years ago unites a minute repeater, tourbillon, perpetual calendar and retrograde date hand and a moon-phase indicator: definitely one for those tuned in to the techier/micro-engineering side of watchmaking.
Its platinum case and blue metallised sapphire crystal dial with a black-gradient rim ensure that the aesthetics match up to the intricacies of goes on beneath the surface.
Case Size: 42.2 mm
Materials: Platinum and calfskin
Calibre: R TO 27 PS QR
Power Reserve: 38 hours
Price: Price upon request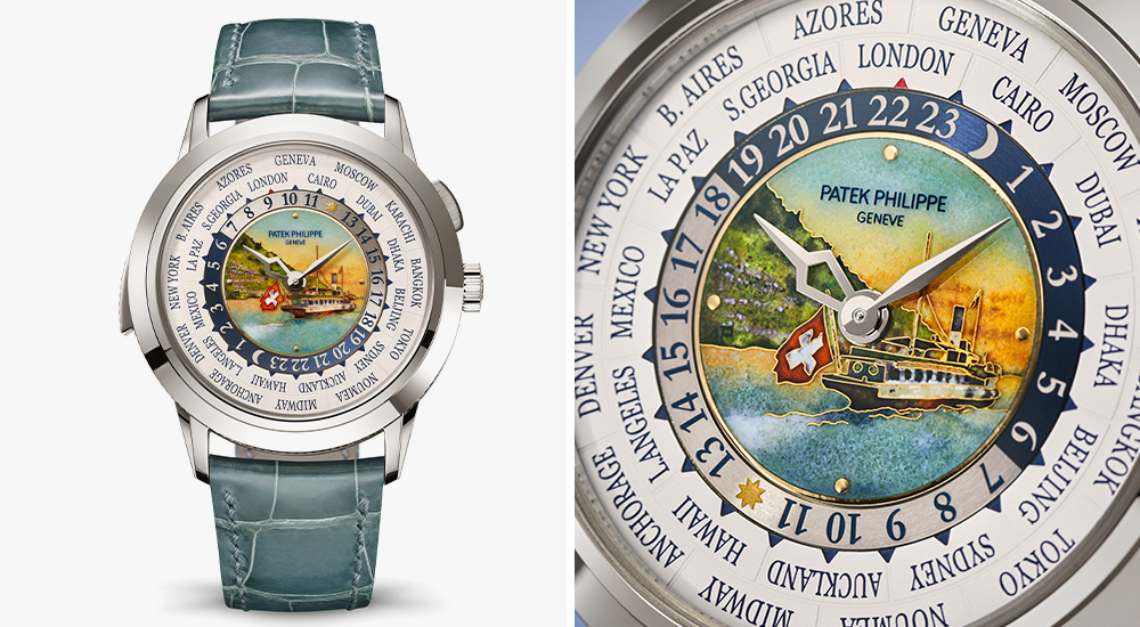 World Time Minute Repeater in White Gold (Ref. 5531G)
Part of Patek Philippe's "Rare Handcrafts 2023" collection being presented at its salons in Geneva from 1 to 15 April, this piece is the first world time minute repeater in white gold.
The new Grand Feu cloisonné enamel scene at the centre of the dial depicts one of Lake Geneva's steamboats—a nod to the Belle Époque fleet that still graces those waters today.
Case Size: 40.2 mm
Materials: White gold and alligator
Calibre: R 27 HU
Power Reserve: 43-48 hours
Price: Price on request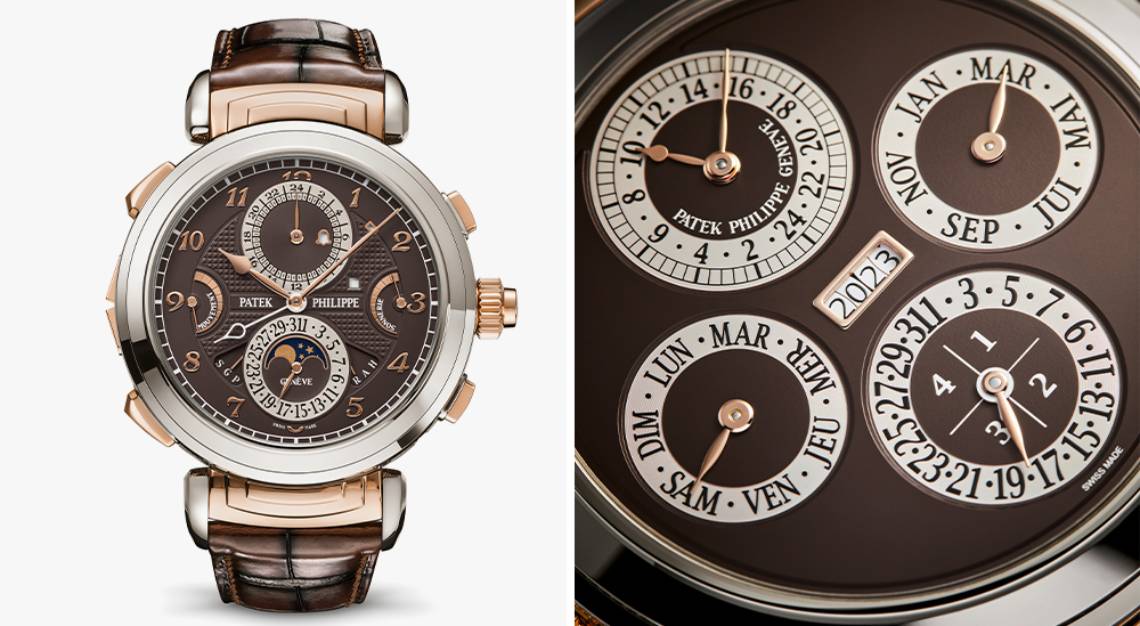 Grandmaster Chime in White Gold (Ref. 6300/403G)
Patek yet again peacock displays—and why not?—its ability to alloy haute horlogerie with haute joaillerie with a piece which shimmers with 118 baguette-cut emeralds and 291 baguette-cut diamonds, set against two dials in ebony-black opaline, with a hand-guilloche hobnail pattern.
A shiny black alligator leather strap with emerald-green hand stitching does immense justice to Patek's reinterpretation of its most complicated wristwatch in white gold.
Case Size: 49.4 mm
Materials: White gold and alligator leather
Calibre: 300 GS AL 36‑750 QIS FUS IRM
Power Reserve: 72 hours
Price: Price on request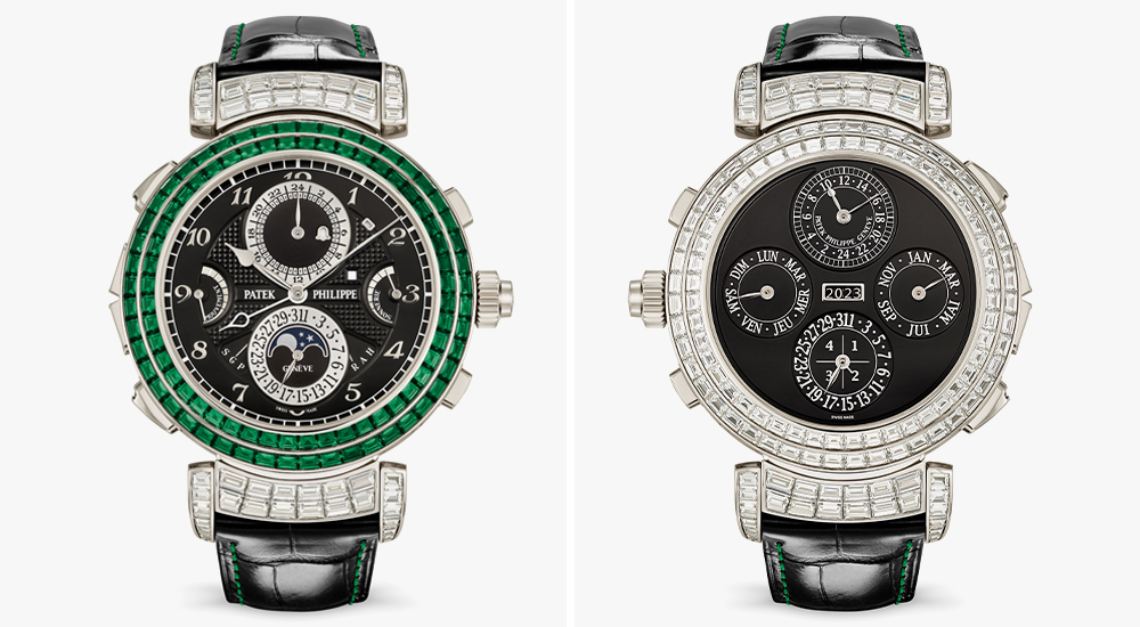 Grand Complications Two-Tone in White and Rose Gold (Ref. 6300GR)
Horological aesthetes witnessing this unveiling at the Palexpo convention centre in Geneva enthused about this piece's appearance—the interaction with the white gold and rose gold with its brown opaline dials.
The more tech-minded onlookers, meanwhile, found themselves engaged with the piece's 20 complications, including five acoustic functions (two of which are patented world exclusives: an alarm sounding the programmed time and a date-repeater striking the date on demand).
Another major talking point proved to be its reversible double-sided case, singled out in the horological arena by its patented swivel mechanism (which means it can be worn with either dial visible).
Case Size: 47.7 mm
Materials: White and rose gold, alligator leather
Calibre: 300 GS AL 36‑750 QIS FUS IRM
Power Reserve: 72 hours
Price: Price on request
This article was first published on Robb Report USA