The towering, white St. Regis is now a plant-filled Hawaiian hideaway that blends into the green landscape
What does US$300 million look like? Head to Hawaii to find out.
Travellers familiar with the grande dame of Hanalei Bay, the St. Regis Princeville, won't recognise the longstanding resort following its April grand reopening. Not only has it seen a complete design overall but it has also rebranded as the new 1 Hotel Hanalei Bay.
Here's a look at where all that money went.
Sense of Place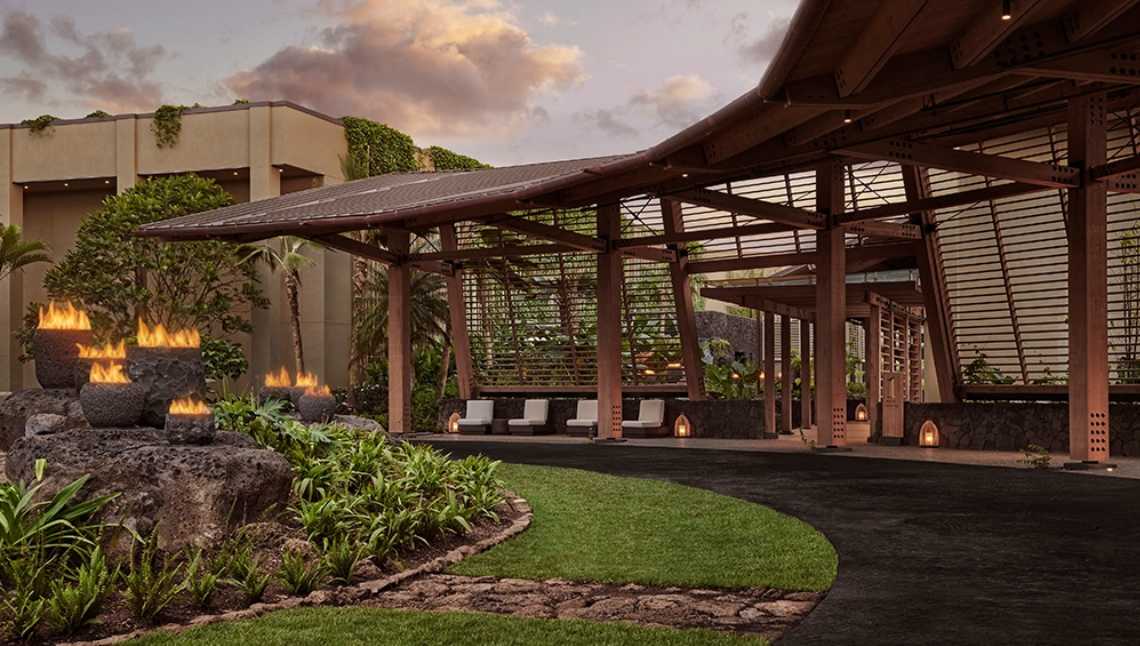 Towering and white, the resort's redesign aimed at blending it into its verdant surroundings, where it has always stood out.
Plants now cover much of the beachfront facade, and the resort's biophilic design adds 30 per cent more outdoor space to the 252-room property (including 51 suites, three with private terraces). Roofs were removed from the lobby, the ballroom, and other areas and transformed into lush outdoor lounges with streams, native ferns palms, kukui nut trees, and responsibly sourced teak and puka lava rock for a calming effect. Rooftop gardens help to cool the carbon-neutral property and supply its three restaurants with fresh vegetables and micro-greens.
It's a similar story inside, where 1 Hotel's Nicole Hollis–designed interior feels distinctly Hawaiian, with its handwoven lighting fixtures, reclaimed wood ceilings, basalt flooring, local artwork, and traditional punai daybeds. These daybeds, framed by oversize openable windows, provide the perfect place to take in the liquid-gold sunset over Mount Makana, also known as Bali Hai. Guests can also grab a cocktail or dinner at its in-house Japanese restaurant Welina Terrace or local Kauai cuisine at 1 Kitchen and gaze out over the crescent beach at the world-class view.
The Setting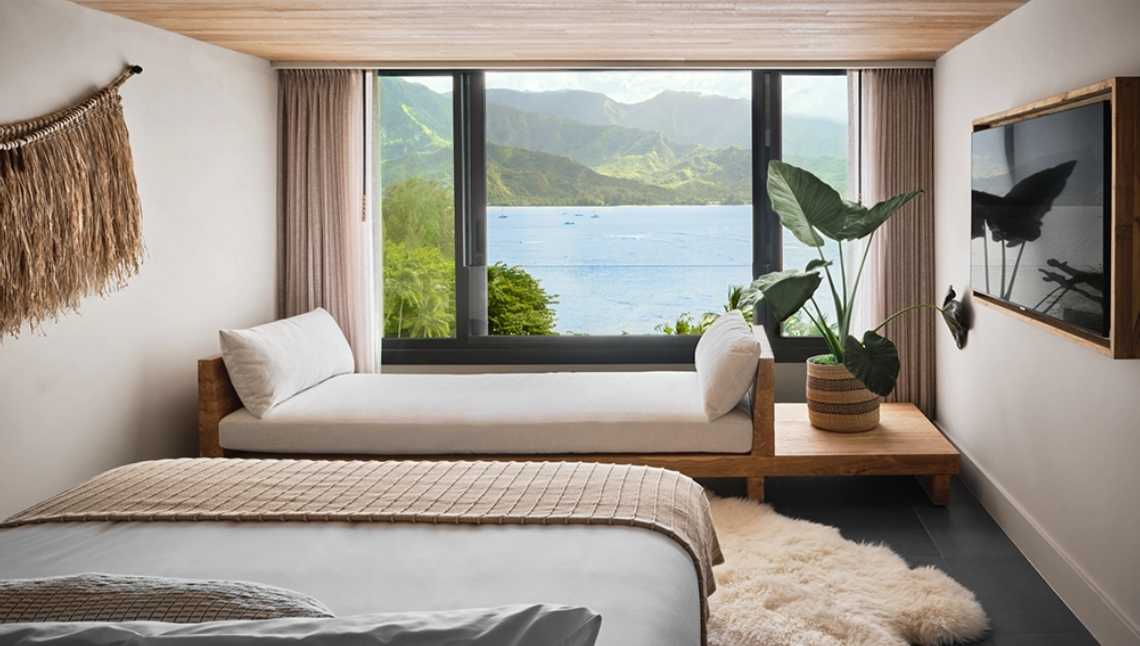 The resort has the best location on Kauai's North Shore, with a swimmable beach directly in front, a popular surf break a short paddle away, access to great hiking trails, as well as to nearby Anini Beach, known for its sea turtles and easy snorkeling. Now guests can check out one of the resort's Audi e-trons and drive five miles to the quaint town of Hanalei for shopping or a local bite, such as margaritas and tapas at Bar Acuda or a local-favourite poke bowl at the Dolphin Restaurant.
Activities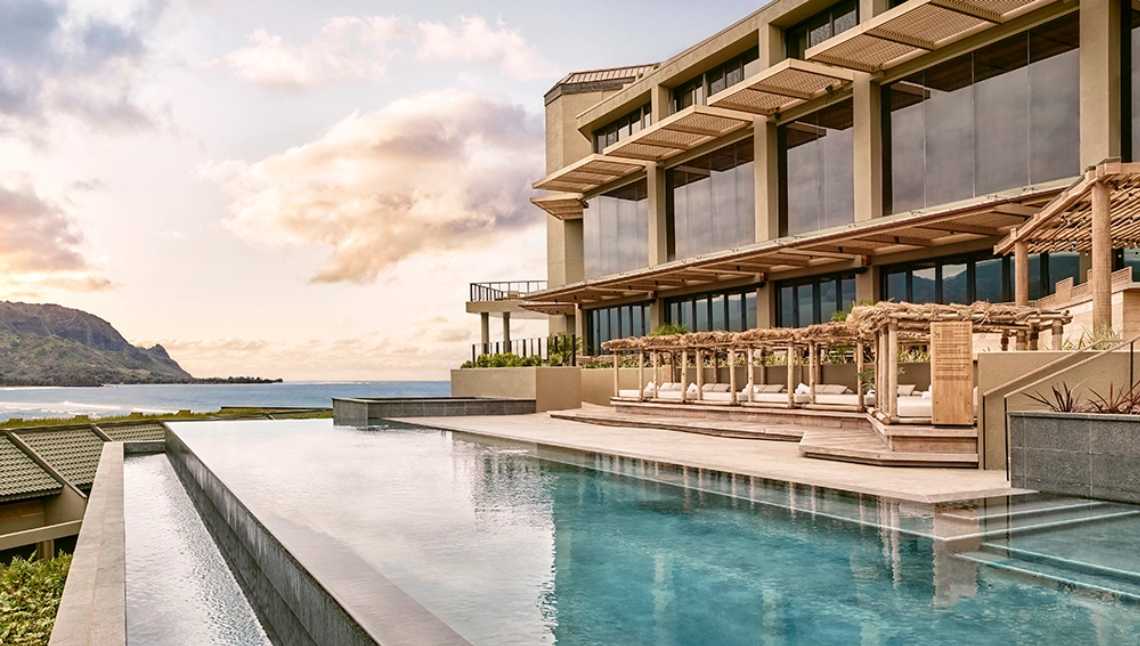 There's more to do inside the resort than other properties on the Garden Island. In addition to its two stunning pools, 1 Hotel has levelled up its exclusive spa, fitness, and mind/body programming in this new flagship Resort guests can book a wide variety of included activities from guided waterfall hikes and e-bike tours to crystal healing meditations, rum tastings, and mai-tai mixology. Kids have their own crafts, sandcastle building, and wildlife activities at Seedlings, the kids' club. Other experiences such as outrigger canoe excursions and surfing lessons can also be arranged.
The Spa
Those that prefer not to be in the water all day will enjoy the Bamford Wellness Spa, which in this location incorporates native Hawaiian medicinal plants such as comfrey and noni into some of its treatment rituals, facials, and massages. There's a sensory deprivation tank, hyperbaric oxygen therapy, meditation pods, and more touchless therapies on offer, in addition to a 929-square-metre Anatomy gym and an outdoor free weight setup by the beach made of invasive Albizia wood taken from a local forest. Its Vitahealth integrated medicine program, providing hormone balancing, nutrition counseling, and other health assessments is set to open later this summer.
"This property really sets the bar for what the 1 Hotels Brand is about, and more than others brings wellness front and center with immersive transformational experiences," says Alexis Eaton, director of marketing and programming for the resort.
This story was first published on Robb Report USA