From barneys (surfing newbies) to seasoned surfers who're thinking of joining surf camps, here are the best waves and beaches to hit during your next holiday
There's a surf break for every kind of surfer in Southeast Asia (even those who don't know yet that they're surfers). From the first-time beginner to the sport's most talented, there's a wave breaking somewhere right now that has your name on it. Surfers first began exploring the Asian continent in the 1960s, discovering breaks they tried to keep secret. But the word got out — now surf breaks all across Indonesia, the Philippines and the Maldives are part of surfing folklore. Others in countries like Sri Lanka are well on their way there — while others, in countries you probably didn't even know had waves (like Malaysia, Thailand and Vietnam) are still secret.
Beaches For Barneys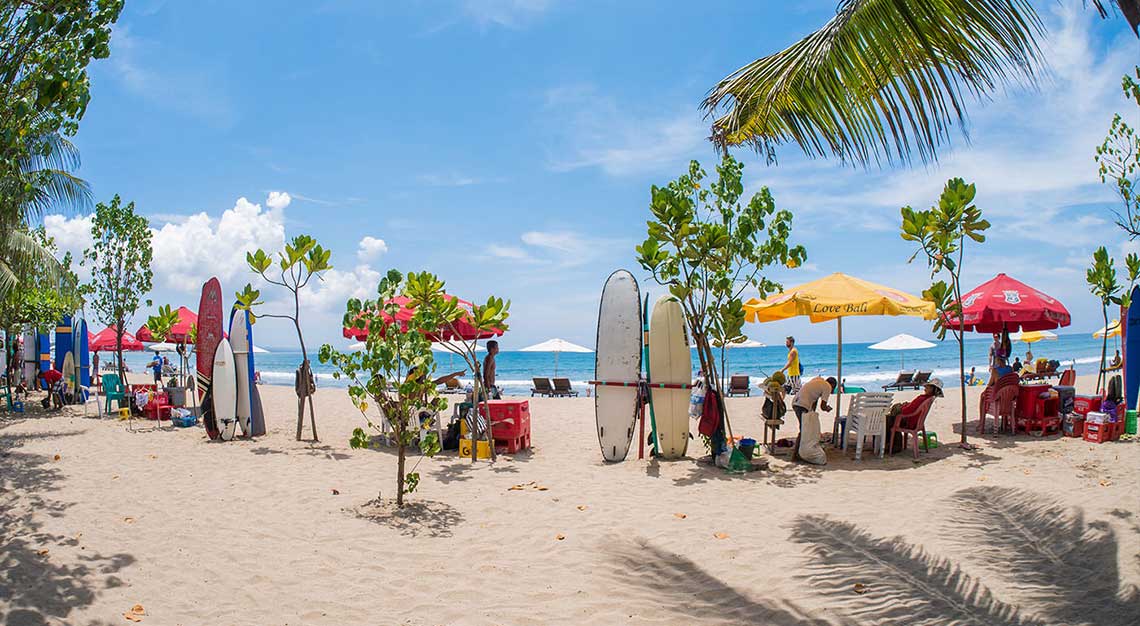 Kuta Beach, Bali, Indonesia
Sure, it might be crowded now and over-developed with resorts, cafes and shops covering most sections of the beachfront — but there's no better place in Asia to learn to surf. There are over 15 surf schools (all with English-speaking guides) spread across eight kilometres of sand-bottom beach (most of Bali's surf breaks have a reef bottom) split into three main areas: Kuta, Legian and Seminyak. The waves are dependable year-round and there's some of Bali's best luxury hotels only a few hundred metres from the sand, with some like Anantara Seminyak-Bali Resort offering pool villas looking out on the waves.
Kata Beach, Phuket, Thailand
What, Thailand has surf? You bet, though it's really only for beginners as most of the swell coming up from the Indian Ocean is blocked by Sumatra in Indonesia. So what comes through are smaller, less powerful waves breaking onto soft sand — making the waves here in Phuket perfect for beginners. Kata Beach, just north of Patong, is the surf epicentre of Phuket, though it's not usually crowded. November to February is the busy time for tourism, but the best waves break between April and October. Luxury hotels include Trisara, Akyra Beach Club, The Residences by Anantara and Sri Panwa.
Bai Dai Beach, Phu Quoc, Vietnam
While Indonesia receives the most plaudits for its surfing, Vietnam slips completely under the radar. But there are waves all along Vietnam's 1,500-km-long east coast, with decent surf breaking between October and April. The best place to learn is at Bai Dai Beach on Phu Quoc island. While domestic flights are available, you can also hop on a ferry from Ha Tien or Rach Gia. The Shack Vietnam offers lessons and beach parties with live music when you dry off, and to kick back and relax, we'd recommend putting up at JW Marriott Phu Quoc Emerald Bay.
Cherating, Pahang, Malaysia
Another country that's entirely unheralded for its surfing opportunities, Malaysia's east coast actually offers some of Asia's best waves on the right day — including long, breaking point ride waves of 500m. But most of the time, the area's better for beginners — especially at Cherating, 30km north of Kuantan. Once just a tiny fishing village, now there are surf-style cafe, bars and Cheratingpoint Surf School, which offers group and private lessons, accommodation and surf trips along the coast. The school's only open during monsoon season between October and April, though waves do break year-round.
You've Learnt To Ride The Waves, Now What?
The Maldives
While the waves can be over three metres high when storms from Africa send swells north, the Maldives is generally considered a safer proposition for surfers than the death-defying waves of Indonesia. Higher costs attract older, hot-shot surfers and executives on surf holidays. The best way to get a feel of the country's waves is to hop on a liveaboard boat charter, taking surfers to over 100 quality breaks across hundreds of tiny islands. Or stay in an overwater bungalow on the southern atolls such as Como Maalifushi, with a boat and personal surf guide taking you to deserted breaks nearby.
Unawatuna, Sri Lanka
Sri Lanka's only now gaining notoriety as a surf destination, which means it's still easy to find perfect waves with few territorial locals and visiting surfers. The best waves can be found below tourist hotspot, Galle, on Sri Lanka's south coast. Unawatuna is five kilometres south of Galle, and surfers can find waves rarely above 1.5m high. There are lots of breaks here, so even at busy times it's always possible to find your own wave.
La Union, The Philippines
With over 30,000km of coastline, the Philippines is the most under-rated surf destination on the planet. While Siargao Island is the destination for advanced surfers, all you need do is drive five hours along the coast from Manila to La Union. Here you'll find some of the most affordable surf schools in Asia, and surf breaks ideal for beginner to intermediate surfers. It's also got a vibrant beach scene – with hip cafes, bars and hotels catering for everyone from luxury travellers to backpackers.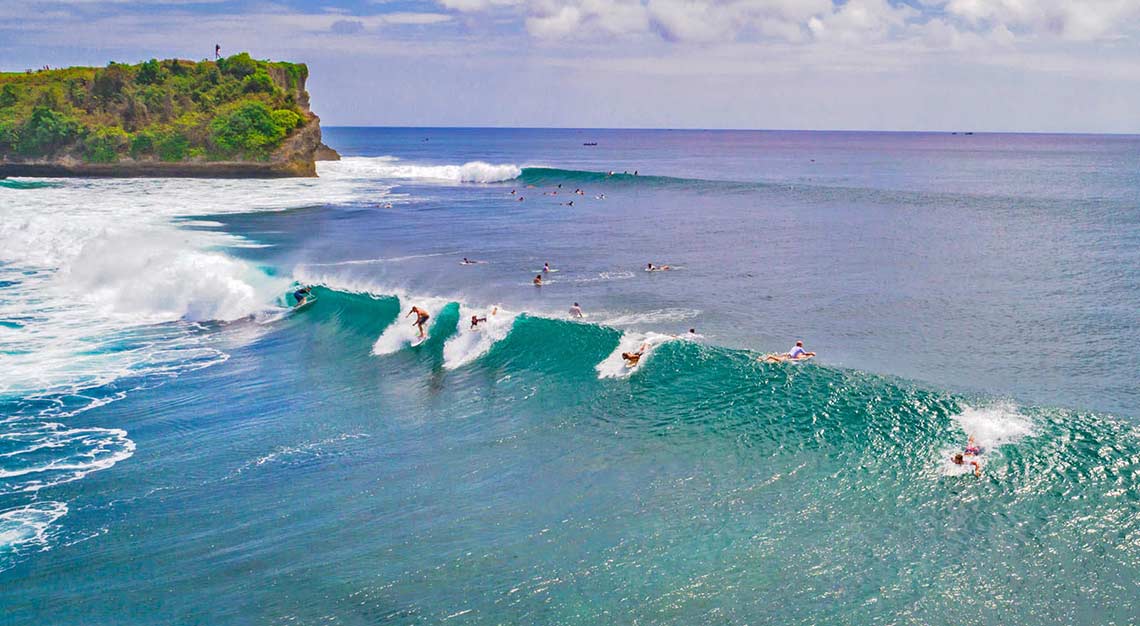 Bali's East Coast, Indonesia
While Keramas on Bali's east coast hosts the world's best surfers on the World Surf League each year, the wave is mostly ideal for intermediate surfers (except when huge swells hit the coast). Waves break across dead coral so you won't get as cut as at other breaks across the Indonesian Archipelago; and the resort here, Hotel Komune Bali is one of the best family surf resorts on Earth. You'll walk through organic gardens to get to the surf, and massages are available afterwards. But there's far more options nearby for intermediates, this lesser known side of Bali still has plenty of secret surf breaks (on black sand beaches) that are less intimidating than most other breaks in Bali.
Go Pro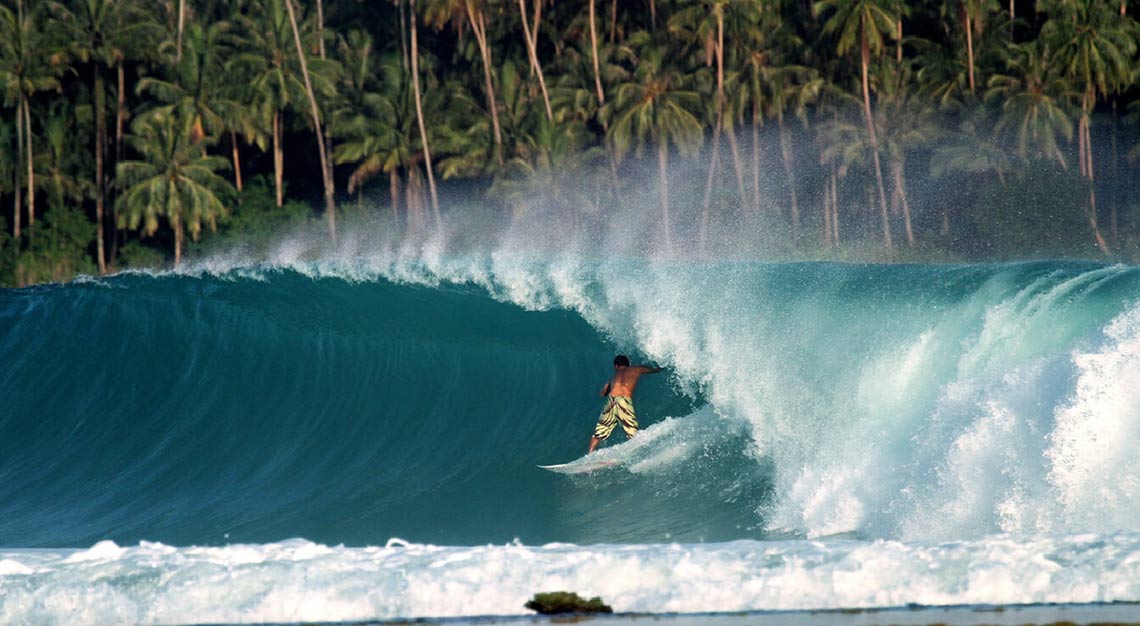 Mentawais, Indonesia
There's no more consistent — and powerful — waves in all of Asia than here. Check out the photo of your favourite pro surfer in any surfing magazine and chances are it was taken in the Mentawais.  Located off the southwest coast of Sumatra, most surfers who come here travel on liveaboard boats between over 50 of the best breaks on Earth (there's no more higher rated waves in one region anywhere else on the planet). There are waves all year round but the best time to visit is between March and November, when the average wave size is two metres. There are also land surf camps that'll whip you into shape, like Kandui Villas.
Uluwatu, Bali
This stretch of coastline on Bali's southwest corner is where big wave-riding first started in Asia. Australian and American surf pioneers came here in the early '70s and discovered bay after bay of perfect tubing surf breaks. These are still some of the best breaks on Earth, with Uluwatu itself the premier ride. Beware; waves can reach upwards of four metres, and the reef can be very shallow — surfers have died here. There are waves all across this strip of coastline so you can choose how brave you feel (some breaks are less challenging than others). It's one of the genuine surf hot-spots on the planet — there're surf bars and surf resorts all along the coast, including some of Bali's best luxury resorts, such as Bvlgari Resort Bali.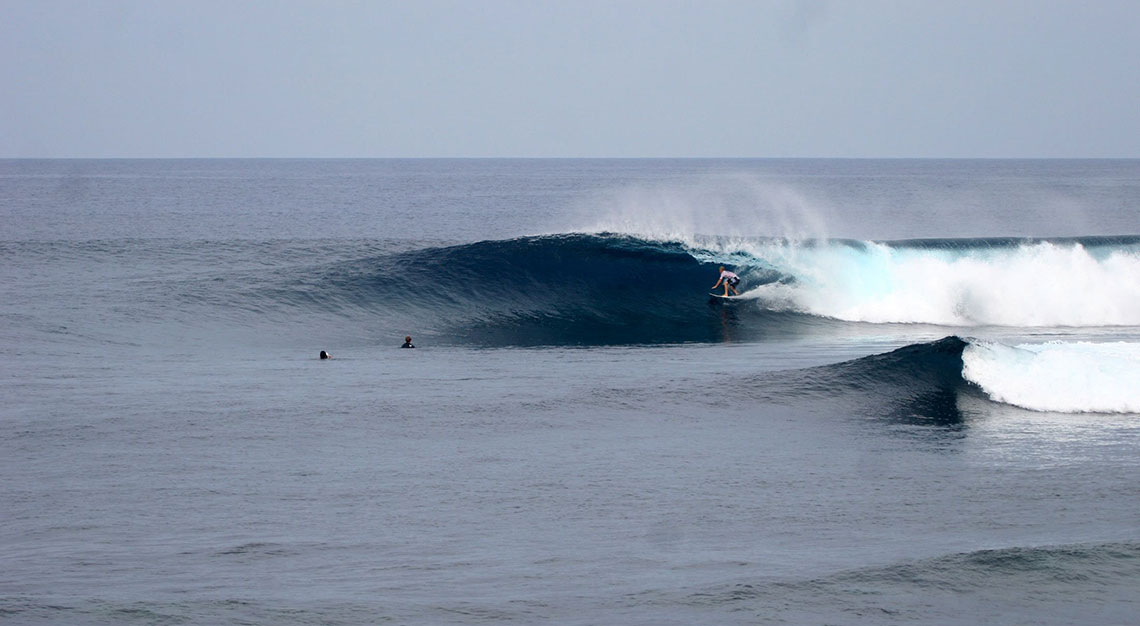 Cloud Nine, The Philippines
Cloud Nine is the Philippines' most famous surf break — but it still's a mystery to many of the world's surfers. Found on the island of Siargo in the country's far southeast, you can't fly here direct from Manila, effectively keeping the destination off-the-map. Take note though, the reef is shallow and sharp, and the best swells hit between August and November. Surf guides are relatively inexpensive, and it's worth hiring one to show you the island's other secret surf spots, as Cloud Nine can get crowded.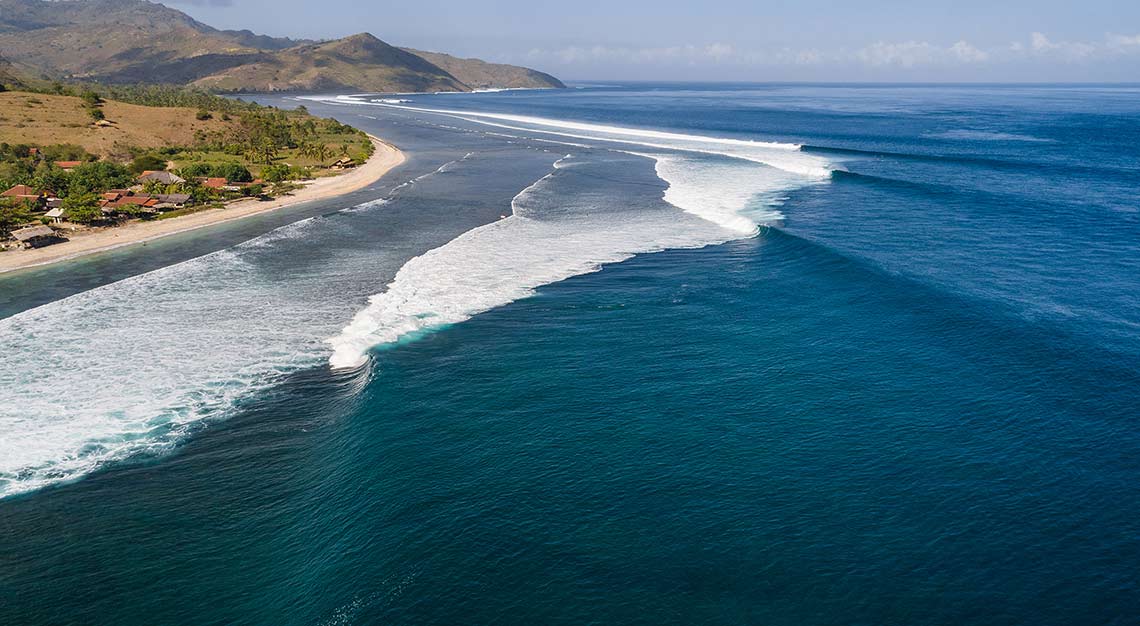 Desert Point, Lombok, Indonesia
Pack your antiseptic because when the waves are on at Desert Point, no wave claims more skin on Earth. Located on Lombok's remote south-west coastline, it was discovered by wave-crazy, Australian surf explorers 30 years ago. There's still not much here and accommodation is simple at best, so don't expect internet or TV. But when the forecast predicts big waves, you'll find every famous big-wave surfer on Earth here. It's notoriously fickle, but there are also waves nearby along Lombok's south coast, near Kuta.