At the Montblanc Haus, you'd find exhibits dedicated to its history, charting its growth from one of many in the crowded, early-20th century heyday of fountain pens
Hamburg, Germany's second largest city, is a renowned cultural destination with numerous museums, theatres, and music venues—and it now has one more destination in Montblanc Haus. A 20-minute drive outside the city centre, Montblanc Haus is a permanent exhibition sited next to Montblanc's manufacture and headquarters. After five years in the making, it opened with the aplomb expected of a major brand milestone: Maggie Gyllenhaal, Daniel Bruhl, and Oscar Isaac were amongst the celebrities present, while Michelin-starred chef Heinz O Wehmann handled dinner and Jamie Cullum the entertainment.
The Montblanc Haus takes the form of a three-storey, 100m-long edifice, courtesy of the architect Nieto Sobejano, latterly based in Berlin. It is quite deliberately box shaped—of the kind that may hold a pen, in fact—bold and black and wrapped in a motif of the Mont Blanc massif, the famous mountain range of the Alps and from which the company Montblanc takes its name. This image has featured on Montblanc packaging since the 1920s, but is reinterpreted here in dynamic, contemporary fashion; the Montblanc Haus pattern is made up of narrowly spaced vertical lines and triangles, suggesting pen-strokes. The building is especially impressive at night, when this motif is lit up—as is the iconic, six-sided Montblanc logo.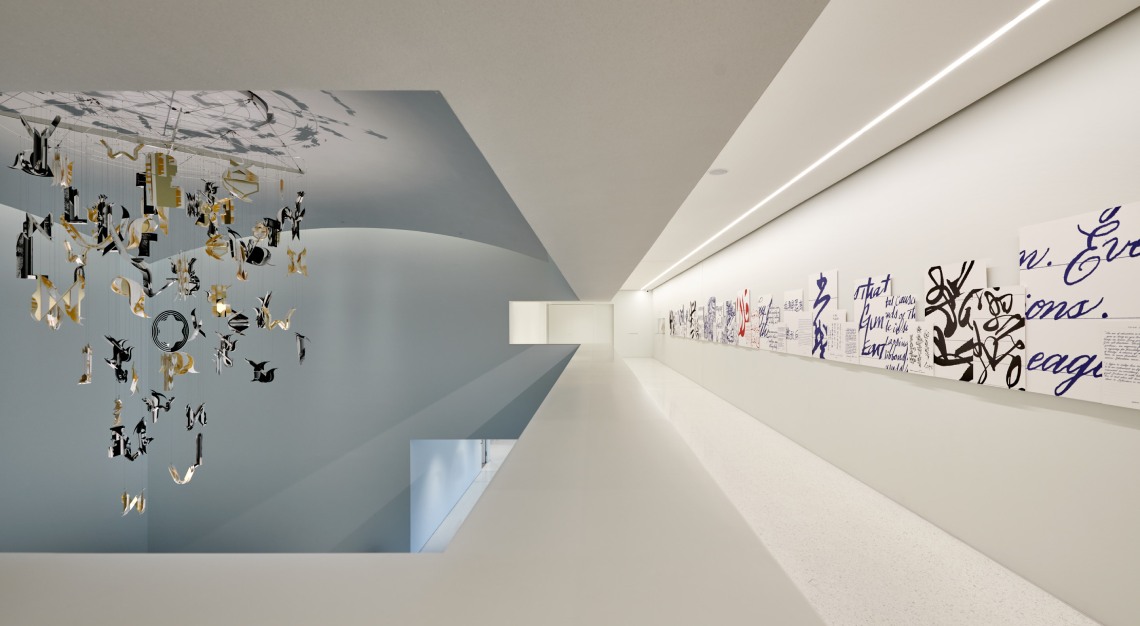 While Montblanc is indelibly associated with the fountain pen, it has been expanding its purview since the 1990s. In a modern-day boutique, surrounded also by watches, luggage, fragrances, headphones, and all manner of leather goods and accessories, a newcomer may be forgiven for not knowing where the brand comes from. A visit to Montblanc Haus, however, will leave no doubt as to its roots—that as a penmaker, founded in 1906.
Within its 3,600sqm space are exhibits dedicated to Montblanc's history, charting its growth from one of many in the crowded, early-20th century heyday of fountain pens, to the inception of the Montblanc name and branding in the 1920s and the birth of the Meisterstuck range, and how it cemented its reputation as a luxury icon by the 1950s.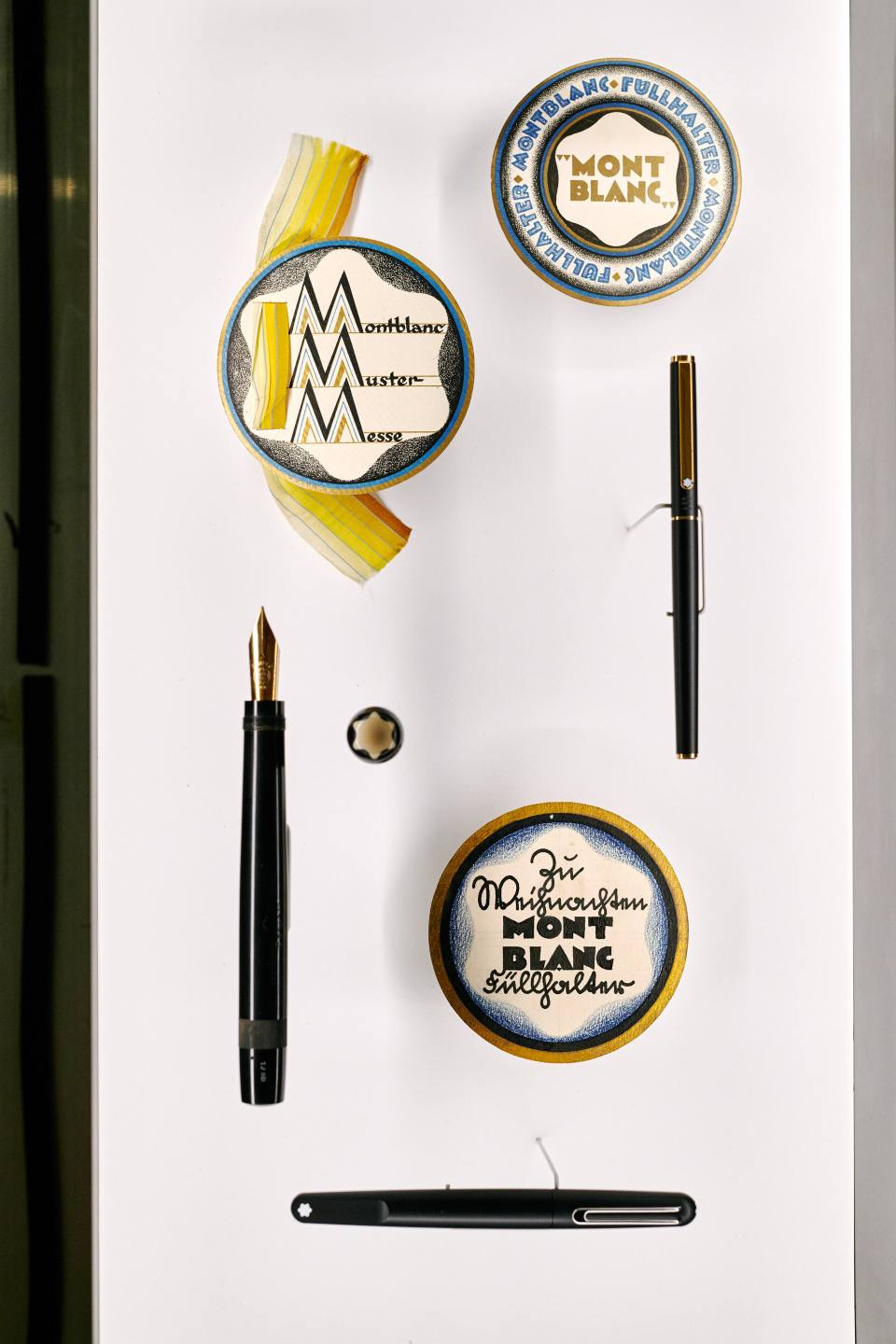 Montblanc has the benefit of a surprisingly well-preserved set of documents and archives, as Alexa Schilz discovered. As Montblanc's director of brand heritage, culture and sustainability, she took the lead on the Montblanc Haus project. "We were lucky that in the past, a lot of old colleagues collected things and put them in boxes… everything was quite nicely preserved," she relates. She and her team of museologists searched through these for the key elements that defined the Maison Montblanc.
The results are on display in Montblanc Haus: exhibits of old plans, drawings, photographs and the like. Montblanc was something of a forerunner in advertising, with a daring and aggressive campaign even during the early years—impactful posters in the trendy Art Deco and Bauhaus styles of the era, branded cars and biplanes and enormous prop pens that served as store signs. There is a collection of vintage products as well, pens and ink bottles of all shapes and sizes that reveal the design trends of their respective decades.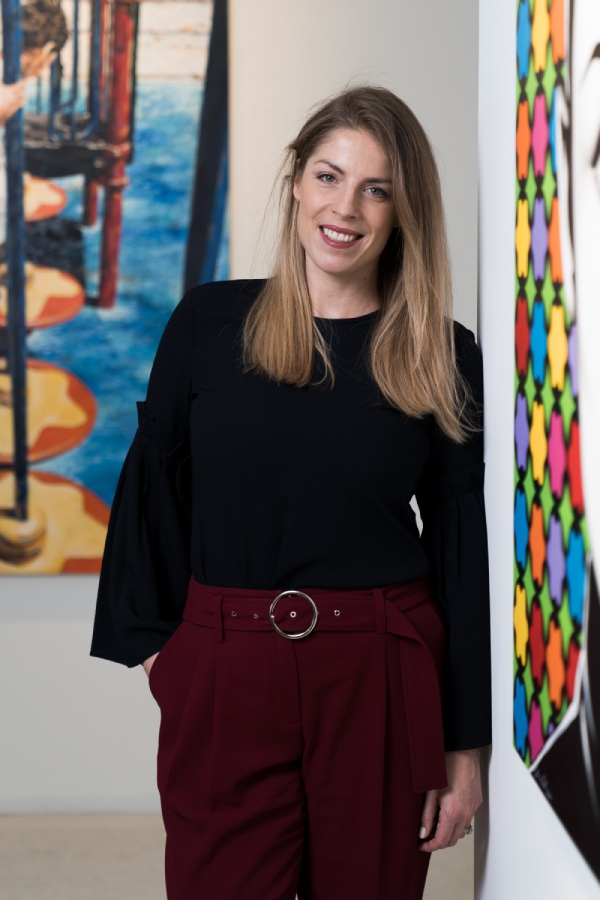 A consistent message, even from this early era when fountain pens were everyday tools, was that of exceptional products and luxury. Alessandra Elia, director of category management writing culture, speaks about a particular advertisement that caught her eye. "I remember… some of them were mentioning it being your 'Sunday pen.' Back then, they were already positioning it as something that you can do in your free time, for enjoyment. So they were positioning Montblanc as a true luxury object," she relates. It is this attitude that has served the company well as technology marched on and fountain pens became objects of desire rather than essential tools.
Other exhibits communicate the craftsmanship of today's Montblanc, like the many-step, multi-week process it takes to create each gold nib. The full range of nib sizes and styles is quite a sight, from the standard round to exotic, flexible calligraphy nibs of limited availability. There is also a sample of Montblanc's bespoke nib service and its near-endless possibilities. Showcased also are examples of the brand elevating the pen into pieces of art; currently this is an exhibit of its recently concluded Patron of Arts series, a 30-year endeavour which combines precious materials, painstaking handcrafting, and remarkable storytelling. Other displays are full of enthusiastic examples of writing, with the Correspondence Wall a standout—here, from around the world, are letters and artwork in varying scripts, styles, and languages, all created by fountain pen. It is enough to prompt a visitor to go to the postcard station, pick up one of the available pens, and mail someone a handwritten memento.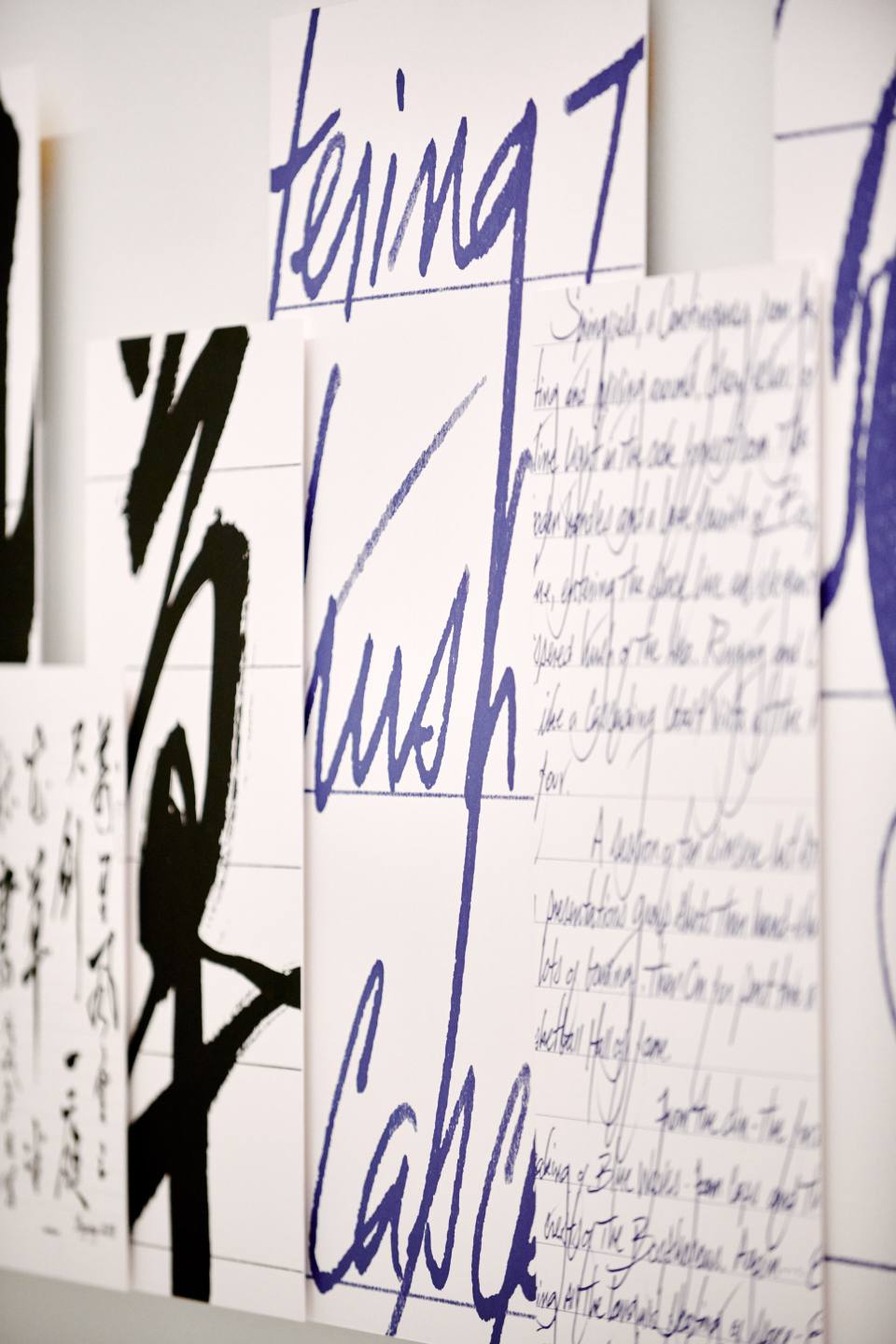 There is one room not open to the general public, and that is the Archives. It is a room of special meaning to Schilz, as it stores those documents and inspirations that enabled Montblanc Haus. "This is what made everything possible in the project," she says. "I'm really in deep love with this part of my work, where I can be visionary and where I can be creative, and in order to be so… you need a starting point. And this is what the archive is." The room is a meditative one, round and windowless with floor-to-ceiling drawers and a single table at its centre. It will be available to certain exclusive visitors, but it is also a place for Montblanc's creatives across its many departments—those who are driving the future of the brand, and who need a reference point for its heritage. After all, as Elia explains, writing is still at the core of everything the brand does. "If there's something that really makes us unique, it's writing. There are a lot of watch brands, a lot of leather goods brands," she says, noting that the new Meisterstuck leather collection drew heavily upon the nib as an iconic element. "Writing is really the source of everything. More than ever, I would say."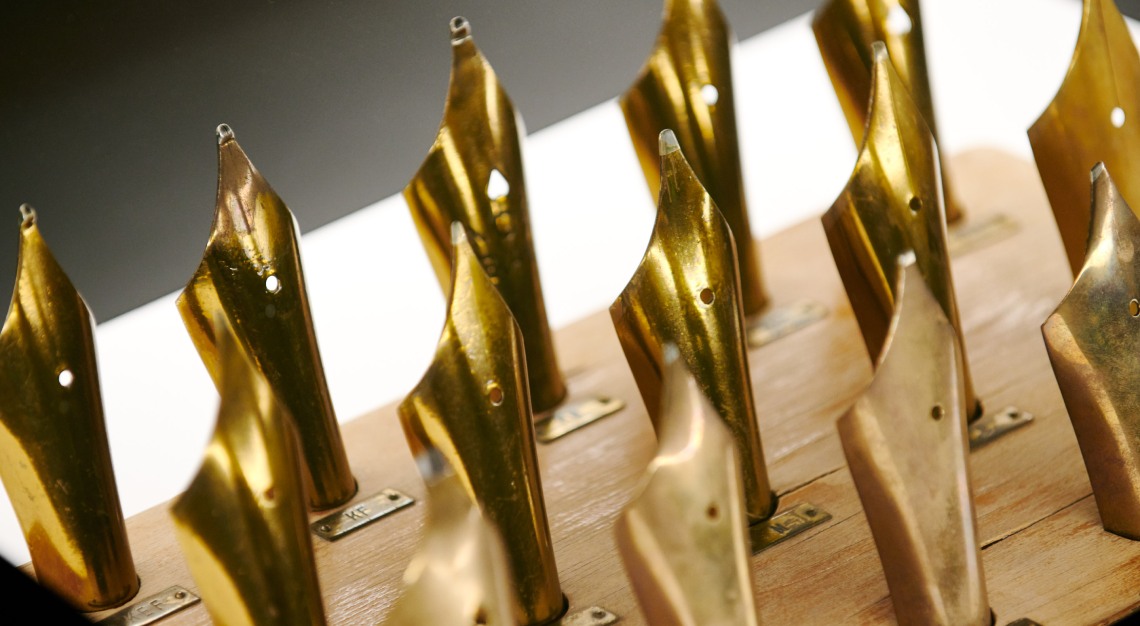 Montblanc Haus is thus not just a showcase of Montblanc's history, it also cherishes a piece of culture that was key to its founding. "The ultimate objective is to inspire writing," says Schilz. "Not everybody finds it natural to use a writing instrument day-to-day. And we want to showcase how valuable it is to put aside the laptop and phone, and just put pen to paper. To detox, or to manifest thinking, or to connect to somebody—to find the joy in writing."
"When you're writing by hand, there is something that connects you almost spiritually with what you're doing," Elia says. "It's a sensorial experience, especially with the fountain pen. The sound, what the instrument is doing when you open and close it, the way you fill it and clean it—it's a ritual, you have to take the time. And you know, luxury for me is about taking the time to enjoy an experience."