If you're visiting the country's capital, this swanky accommodation can't be beat
Editor's note: See other Escape Plan stories here.
Raffles might have a reputation for old-school luxury hospitality, but the brand's newest outpost in Doha is flipping tradition on its head, taking up residence in one half of Qatar's newest iconic building, the crescent-shaped Katara Towers. (The other half is home to a new Fairmont hotel.) The fact that the structure's design is based on the crossed scimitars of the Qatari national coat of arms will be lost on most visitors, but the drama of the eye-catching architecture as it dazzles in the desert sun won't be.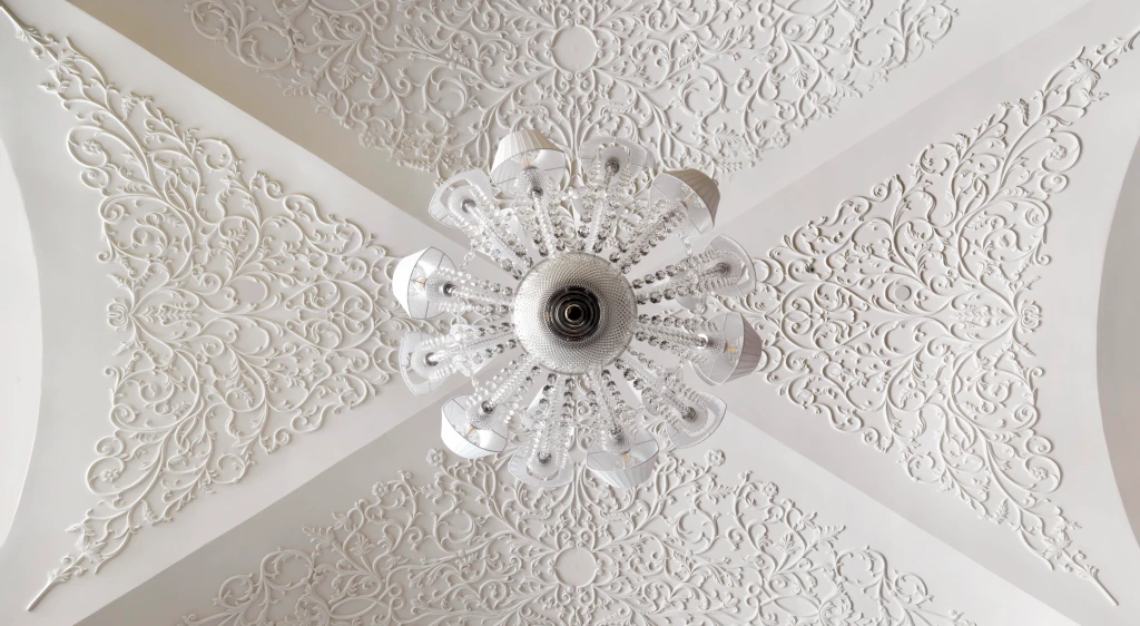 This is an all-suite hotel, and even the smallest of the 132 accommodations measure more than 65 square metres. The Marcel Wanders design gives the suites—and the rest of the property—a sense of whimsy, being chic without straying into kitsch. Vaulted ceilings are covered in swirling foliage reliefs; arched windows look out on to balconies and the waters of Lusail Marina; and a gorgeous geometrically carved "treasure box" in each suite houses a walk-in mirrored maxi-bar, effectively a room-within-a-room, with a sink, a high-tech kettle and a proper coffee machine, as well as a fridge stocked with a good blend of serious beverages and zero-proof fizz.
Opt for the Parisian Suite, spanning the entire 30th floor, if you want your own mini-cinema and beauty salon or the Raffles Suite for a cigar room, complete with a humidor and a barber corner. But the "best" is the two-bedroom Royal Suite, sprawling over two floors with its own internal elevator, indoor pool, games room, hammam and hair salon.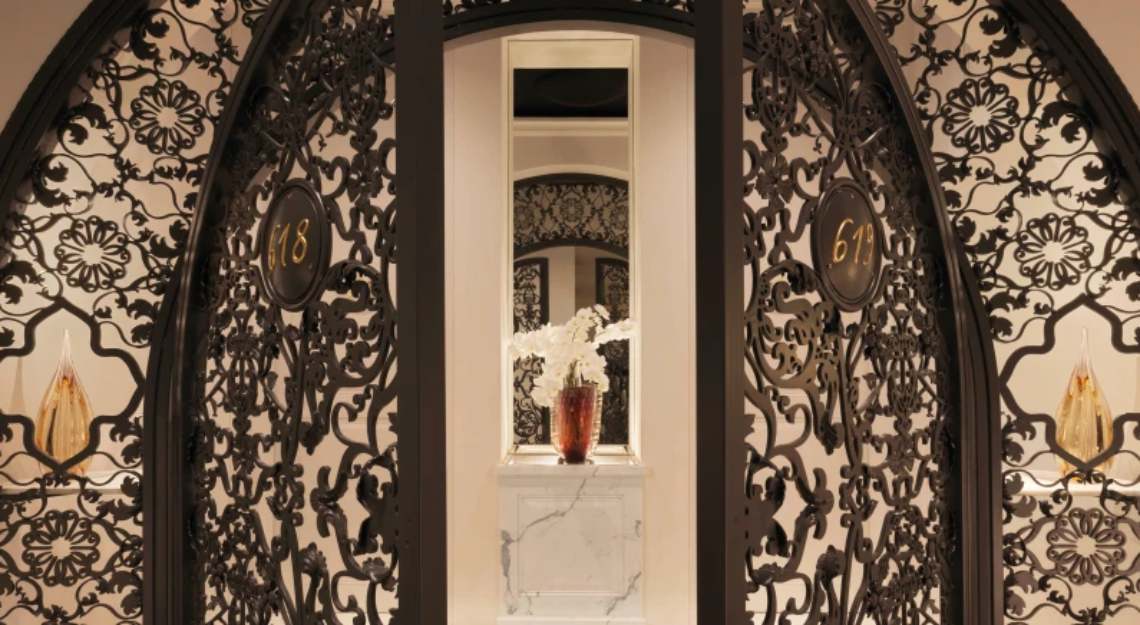 The rundown
Greeted by name at check-in? Yes, and with big smiles, too. The only reason I didn't head straight up for in-suite check-in was that I was momentarily transfixed by the kaleidoscopic atrium. Constantly moving images of blue skies and clouds are projected onto the mirrored walls by day, with starry scenes at night.
Welcome drink ready and waiting? Yes and yes. Two of them, in fact. A pretty pink non-alcoholic blend of artisanal rose cordial, fresh pomegranate juice and hibiscus essence served in an elegant coupe on arrival and a grown-up version—the Thirsty Traveller, with an added helping of gin—waiting in the suite in a rose petal-encrusted glass bottle.
Private butler in the room? Yes, two of those, as well. The delightful Paola Azúcar and Nerissa Settie welcomed me with genuine enthusiasm and left thoughtful touches and notes around the room during my stay. The Raffles butlers will unpack and repack your bags for you, arrange shoeshine by the John Lobb–trained in-house team and have the impressive skill of being there whenever you need them and not hovering when you don't.
Sheet thread count 300 or higher? Absolutely. "Regular" suites have double that count at 600 threads, the sheets feeling simultaneously crisp yet silkily soft. Once you get up to the very top suites—Parisian, Designer, Raffles and Royal—it's a whopping 1,000.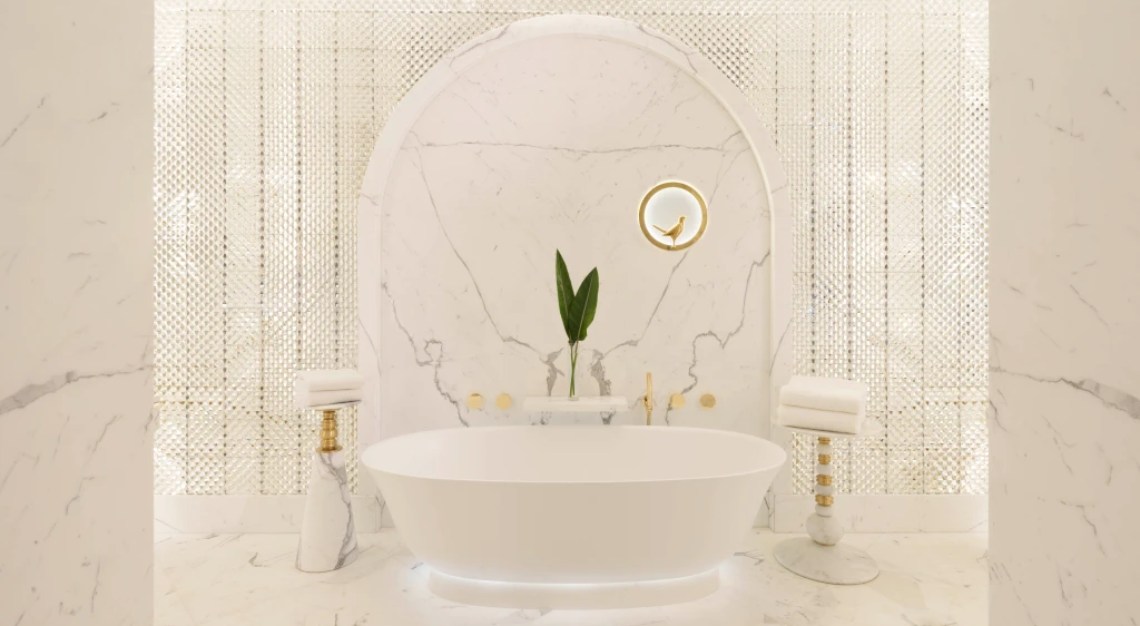 Heated floor in the bathroom or a bidet? Or both? No heated floors here; in one of the world's hottest countries, it's unlikely you'd need one. But there is an elegant, sculpted towel-warming stand next to the bathtub and a heated toilet seat, cosy on those days when you've turned the AC up too high. The Japanese-style toilet also has a bidet function with an adjustable jet, temperature control and a drier. This being the Gulf, you can find a wall-mounted spray hose, known as a shataf, next to the bathroom.
Are the toiletries full-sized? Yes, toiletries come in full-sized refillable ceramic containers and feature the Cologne Indélible scent by Frédéric Malle. The shaving kit on offer is a collaboration with Truefitt & Hill, the world's oldest barber shop, and you can call on your butler to prepare a bath with your choice of aromatherapy oils.
Private pool for the room's exclusive use? The Royal Suite has its own four-metre indoor pool, which won't be large enough for laps but perfect if you just want a soak and splash. For more room to stretch out, as well as a fair bit of poolside glamour, grab a cabana at the 55-metre infinity pool. Or wait until June, when island club Privée, a floating platform shaped like the building's silhouette that invites lounging, swimming and water sports, will open.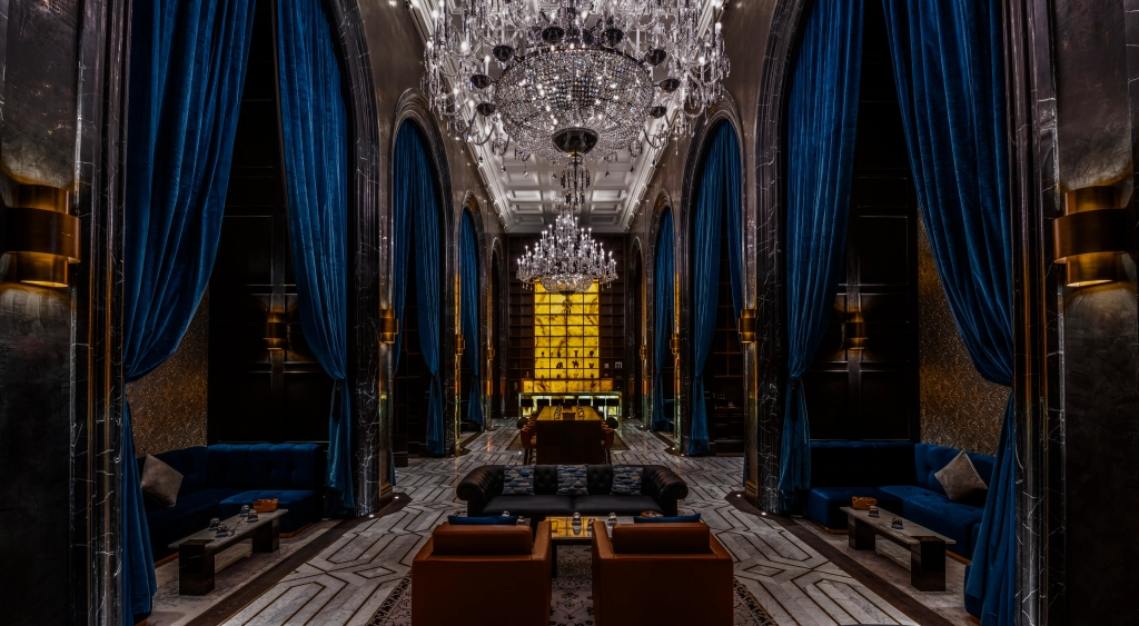 Worth spending Friday night in the lobby bar? Absolutely. While its name may be Blue Cigar, this space is much more than a place for smokers, and it's large enough that those not keen on cigars can avoid them completely. The bar is also, perhaps unexpectedly, a sort of heaven for bibliophiles, with a collection of 6,500 vintage books lining the walls, including many rare first editions. There's a copy of Robinson Crusoe dating back to 1778 and a 1707 edition of Homer's Odyssey, among others. And the best thing? They're there to be read—with gloves and a magnifying glass—alongside the literary-themed cocktails and their zero-proof counterparts.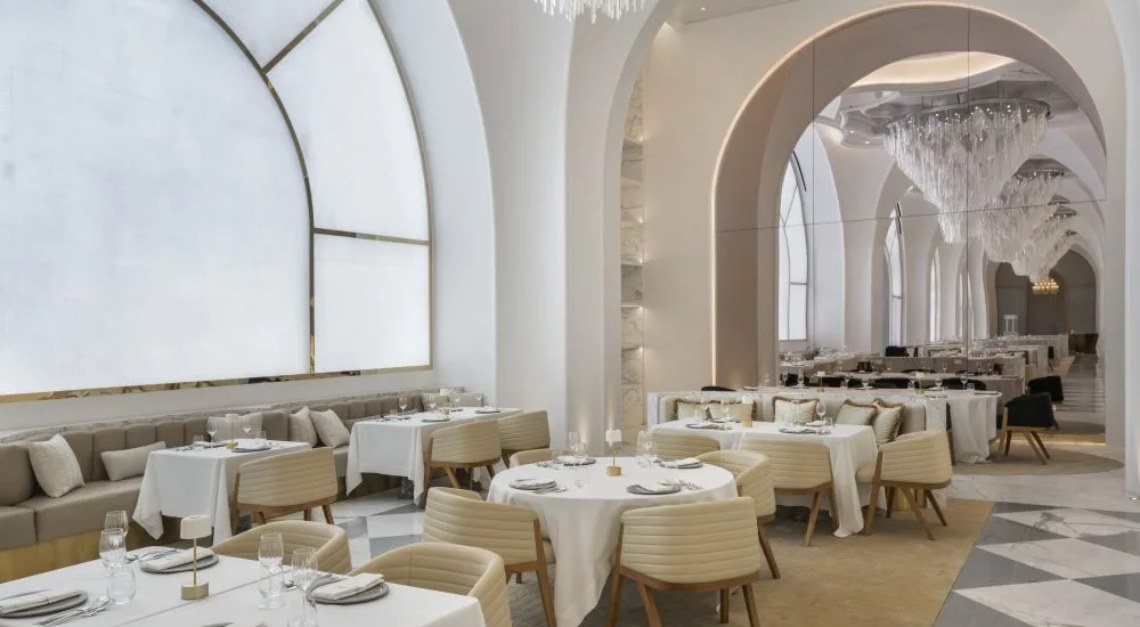 Caviar on the room-service menu? Of course. Premium Beluga Caviar from Kaviari is available 24/7, accompanied by blinis and condiments. But why limit yourself to the room-service menu when Raffles will arrange dishes from any of its restaurants to be delivered in-suite? If you feel like a sea urchin spaghetti from three-Michelin-starred chef Enrico Crippa's Alba or a full-blown afternoon tea from Malaki, just give your butler a call.
Would you buy the hotel if you could? Yes, along with all the staff uniforms, too. They're practically couture and irrepressibly chic, with every piece tailored to the individual, from the flame-coloured sequin jumpsuits in rooftop music bar Acoustic to the dresses made from nearly nine metres of pleated fabric in the Malaki tea lounge. Though considering that the building playing host to Raffles Doha is a shiny new symbol of the nation, it's unlikely anyone will be selling it any time soon.
This article was first published on Robb Report USA