From stunning mountain ranges to breathtaking beaches and increasingly vibrant cities, Oman offers visitors a luxurious respite with plenty to do in the middle east
Images of Middle East travel frequently conjure up the glitzy environment of destinations like Dubai where money is seemingly no object. One spot continuing to buck this perception, however, has always done things at its own pace and in its own unique style. That country is the Sultanate of Oman.
As a travel experience it's full of wonder, giving impressions of a throwback to an earlier age of authentic Arabian discovery where desert dunes vie with fascinating cultural learnings.
While that is still very much the case, there is much more besides. From stunning mountain ranges to breathtaking beaches and increasingly vibrant cities, these luxurious experiences allow you to truly personalise your trip.
Muscat Musings
Things kick off with Scott Dunn in the capital of Muscat, the entry point for the vast majority of visitors. The city's brand new airport only opened in March and now rivals other Middle Eastern hubs with its calm efficiency and gleaming lines.
But you'll want to make as much time as possible at The Chedi, the swish beachside resort property that sits just 25 minutes' drive away.
Beautiful landscaping, green spaces and water features make it an oasis of calm in every sense. Meanwhile, generously-sized rooms, a sizeable spa but most of all the longest pool in the Middle East – at a whopping 103 metres – make it an Instagram dream and the perfect place to kick back with beach time.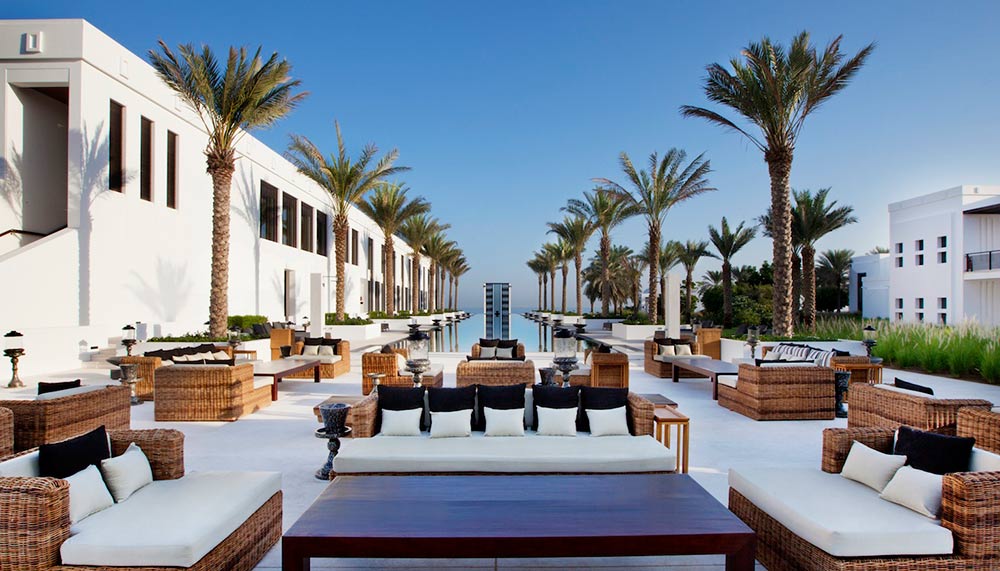 When you do tour Muscat, like many, you'll risk quickly falling under its spell. It's a remarkably laid-back place with no sense of hurry, gentle, friendly people and a wealth of sights.
First on the list has to be the Grand Mosque which defines breathtaking through its scale, beauty and sense of peace. The men's prayer hall features the world's largest handmade carpet and a stunning eight-tonne Swarovski chandelier.
The fish souq is full of local characters reflecting the city's diversity, as well as some extraordinary catches from the warm waters of the Gulf of Oman, Arabian Sea and Indian Ocean.
The souq proper should be avoided when cruise ships are in town, but otherwise offers gold, frankincense and quite possibly myrrh too, along with trinkets and keepsakes.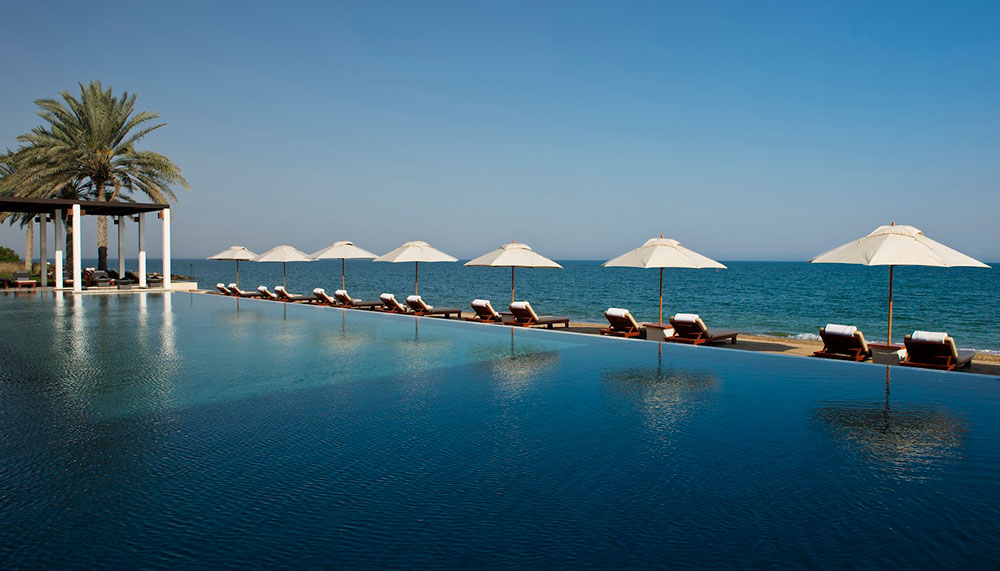 Luxury Omani perfumier Amouage is a much more high-end and exclusive stop where helpful staff navigate you through the expensive but remarkable collection of fragrances that have won celebrity fans around the world.
Sixteenth century forts reflect an era when Portugal was a dominant global power, but the very much contemporary Royal Opera House shows a confidence in the country today.
Its line-up of international acts in beautifully-crafted surroundings shows the very best of global workmanship and materials in a style that can best be described as Omani-Italian.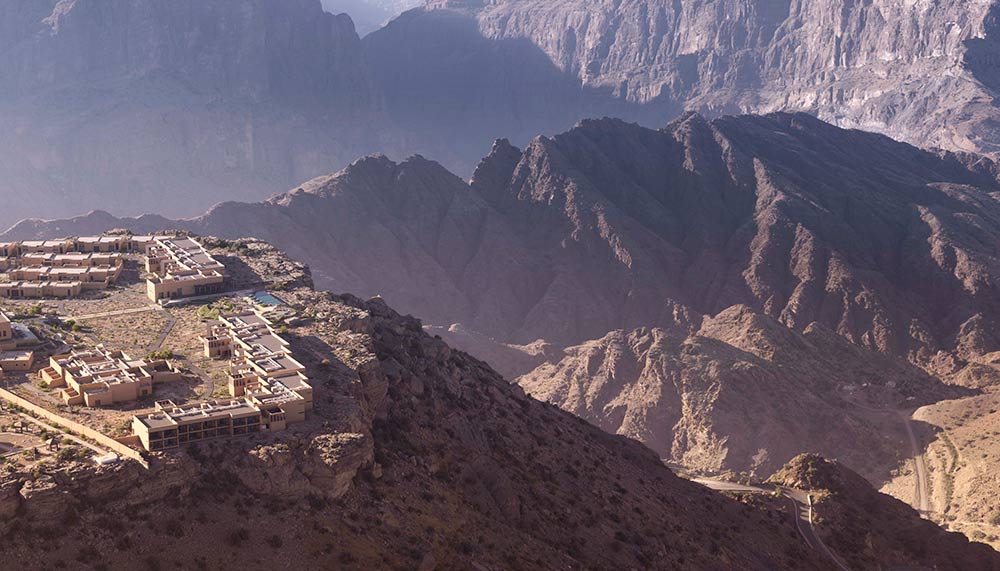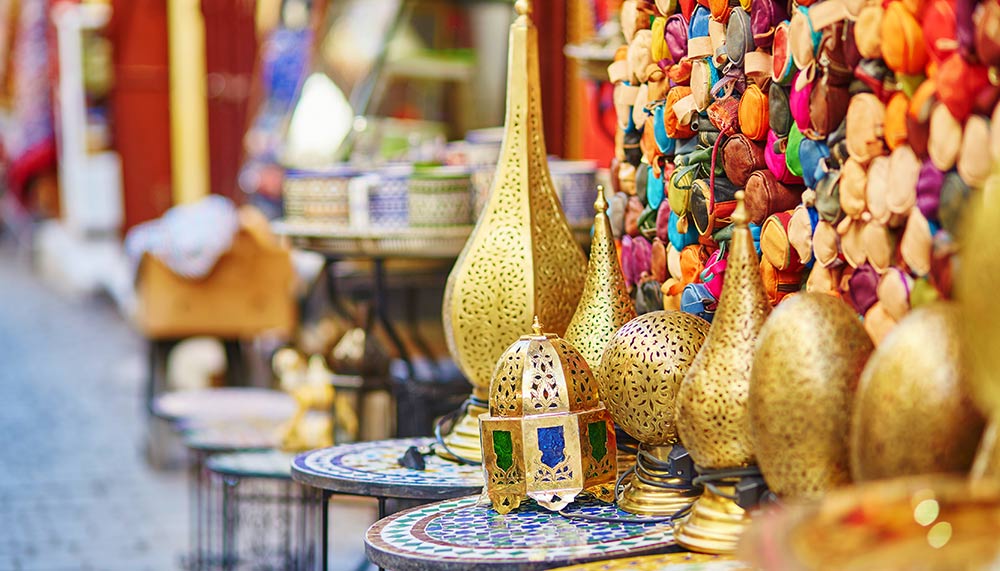 Of Forts, Markets and Mountains
Away from Muscat, the former capital of Nizwa is a very popular draw, thanks to its unique collection of markets, some of which have run for more than 1,200 years.
Don't miss the goat and cattle markets which provide amazing experiences and photography field-days, while the fresh produce and local specialties such as halwa are well worth bringing home.
Nizwa's fort is legendary and worth a climb up to the ramparts that overlook the date palms, old town and unique ancient irrigation systems called aflaj that appear all over the country.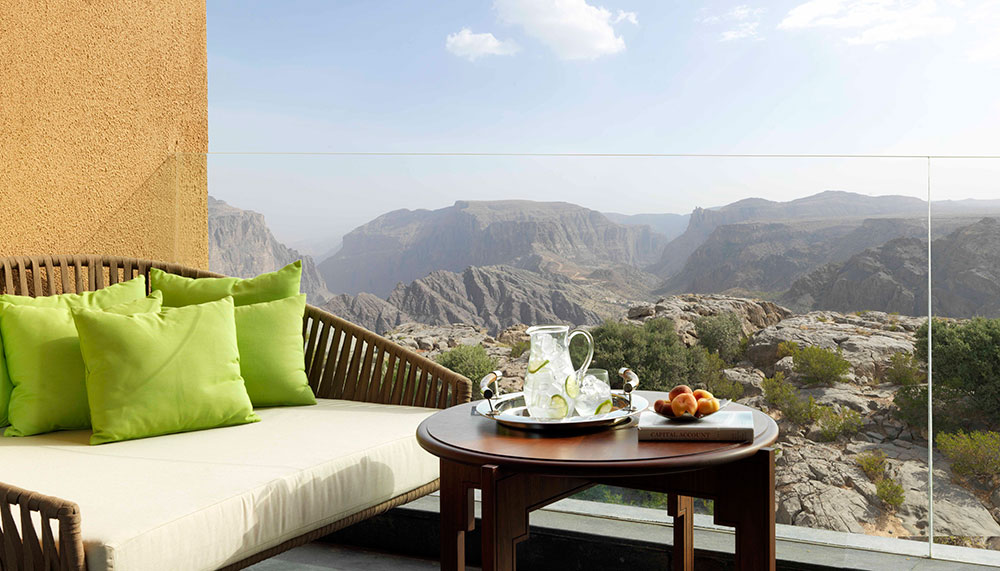 The town also serves as a stop off before reaching the mountains, including towards the Anantara Al Jabal Al Akhdar resort.
Its name, something of a mouthful, translates as 'Green Mountain' with good reason. It's a very special spot with views that stop even the most seasoned global traveller in their tracks.
Seven thousand feet (2,133 metres) up, the air is cool and filled with bougainvillea, frangipani, but most of all roses which grow both wild and cultivated in the picturesque ridged terraces lining the vast, deep canyons.
In one of the excellent series of cultural experiences offered by Anantara, a walk through the hillside villages includes a stop in the home of an 80-year-old maker of rosewater.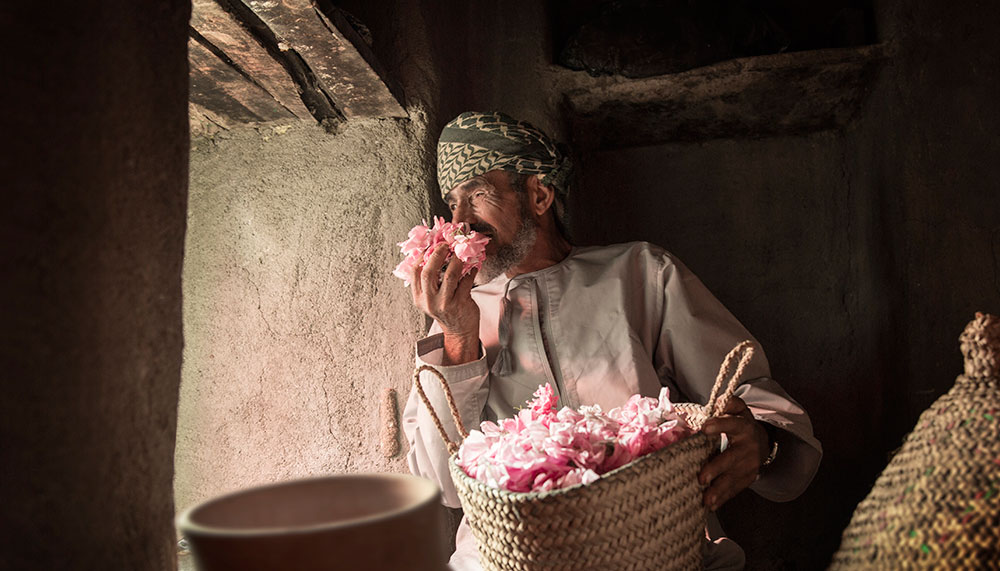 The alchemist has spent more than half a century extracting the precious liquid using seemingly ancient techniques and equipment. It's a humbling, remarkable opportunity to watch him at work.
Back at the resort, the beautiful, spacious suites allow for total privacy and views that you simply can't turn away from.
If you have to, their spa means still more relaxation, while their 'activity wall' is not for the faint of heart as it snakes 300 metres across the mountain while you hang off it. Sunsets are not to be missed, nor is morning yoga on their deck at a spot known as Diana's Point where the late Princess famously looked out and stargazed on a trip in 1986.
Amidst very good culinary options, their 'Dining by Design' initiative stands out as a way to customise private group dinners in the resort's jaw-dropping Royal Mountain Villa suite – if you're not already staying there, that is.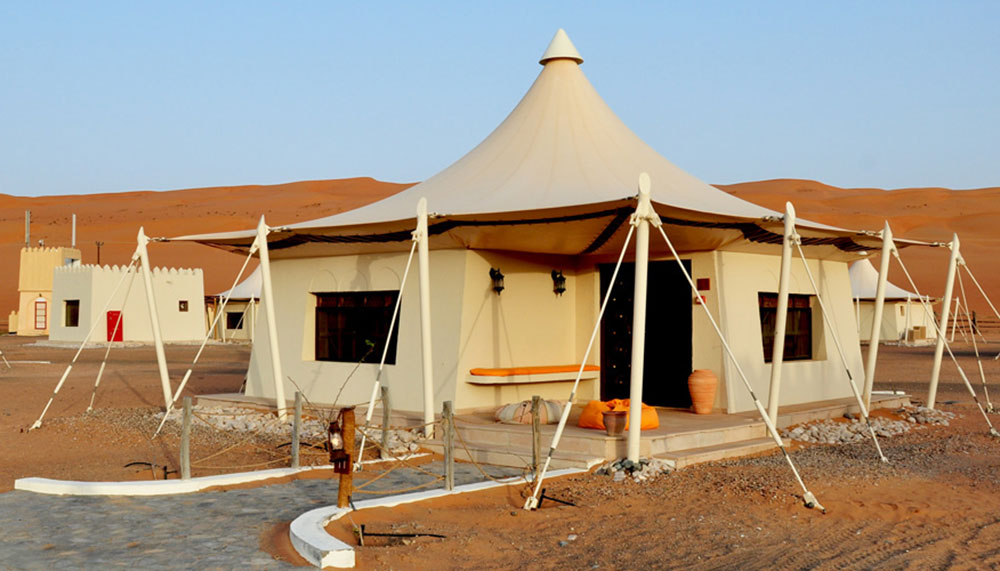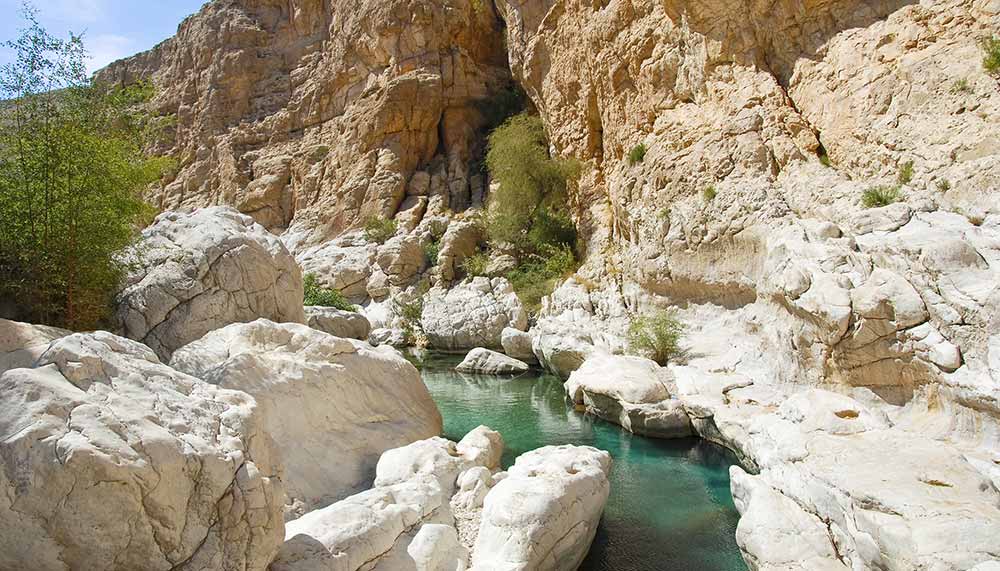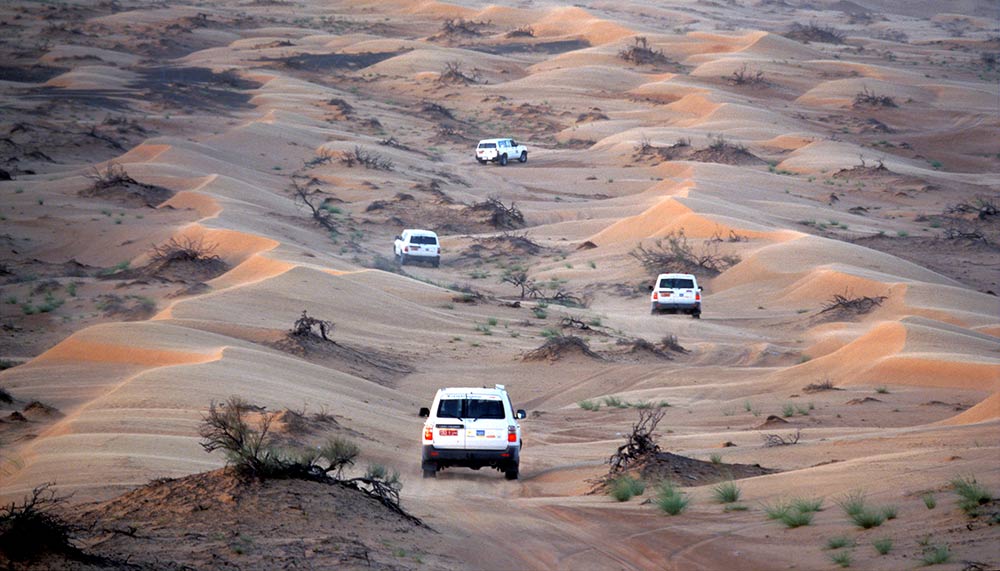 Oases in the Desert
Away from the mountains, Oman continues to surprise and beguile.
The oasis of Wadi Bini Khalid allows for swimming in turquoise waters amidst a date palm-filled valley, while of course there's no shortage of desert wilderness options for thrill-seekers to get their kicks dune-bashing in 4x4s or even dune-surfing.
Overnight camps such as Desert Nights are a good option to indulge and also create your Lawrence of Arabia shot on the towering dunes.
We move from sand to water to finish our look at Oman, namely the country's endless beaches such as Fins Beach where the aquamarine sea makes you think you're in Tahiti.
The nearby Bimah Sinkhole is a spectacular limestone crater where if you're lucky – or maybe unlucky – you'll get to see sharks in the blue-green waters below.
There are few destinations currently as culturally compelling as Oman and with luxurious experiences there on the up, it makes for a perfect combination for the curious global wanderer.