It's always a joy to see the automobiles on display at the Cannes Yachting Festival, and this year's no different. Bentley unveiled its stunning Continental GT Convertible Galene Edition, and if you ask us, it sure looks like a yacht on land. The limited-edition Galene, named after the Greek Goddess of calm seas, was designed by Mulliner and Princess Yachts, which explains the nautical feel to it.
Mulliner, Bentley's bespoke commissioning division, worked side by side with Princess Design Studio to create Galene, a convertible inspired by Princess Yachts' M-Series superyachts. The white exterior has a sequin-blue stripe on its brightwork that mimics a Princess hull's glistening water line. The darkened front and rear lights resemble the tinted windows on its superyachts, while the dark-blue hood completes its sporty, ocean-going look.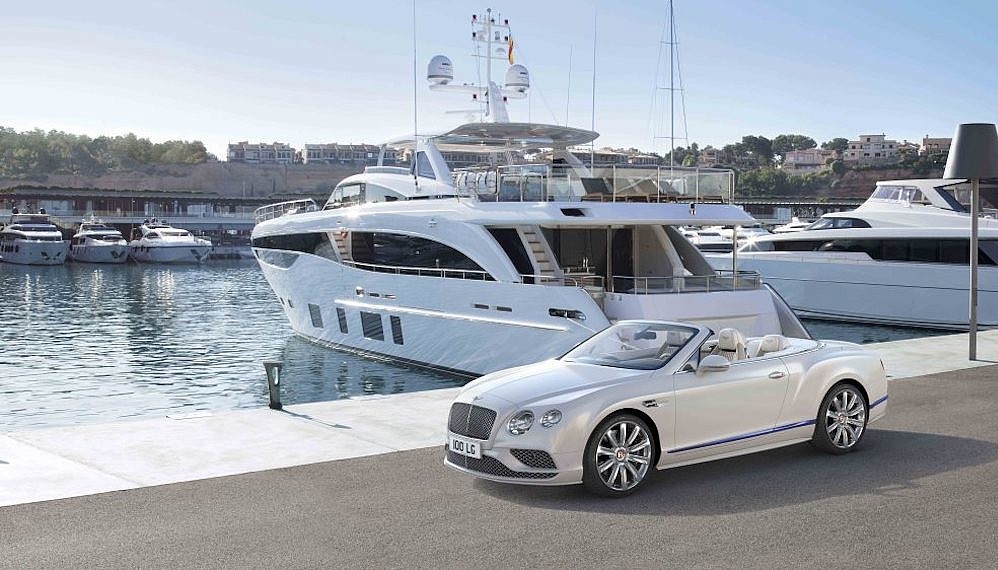 The nautical design cues continue throughout Galene's interior. Mulliner created an entirely new material finish — a pinstriped walnut veneer — to give the sense of being surrounded by teak decks. The carmaker has also commissioned renowned artist Jaume Vilardell to illustrate the interior fascia panels with a bespoke drawing of a Princess yacht. You'll find coordinates of Princess Yachts' shipyard in Plymouth if you look closely enough. Plus, the car comes with hand-stitched seats and door panels, providing the perfect accompaniment to the console.
The collaboration between these two iconic British brands is not particularly surprising. Princess and Bentley Motorsport announced a three-year sponsorship deal earlier this year that brings the worlds of yachting and motor racing together at racing events where Bentley's Continental GT3 will be competing.