The new Defender gets the V8 treatment, with Jaguar Land Rover's familiar five-litre supercharged V8 crammed under the bonnet
We have to admit, this is one we didn't really see coming. You see, the good people over at Land Rover headquarters in Coventry have seen fit to cram the five-litre supercharged V8 they had lying around the factory into the new Defender – both in three-door '90' and five-door '110' guise.
The last time that engine saw service in a Land Rover product was with the Range Rover Sport SVR, and yes, it was glorious and hilarious in equal measure.
In the Defender, said V8 produces 525hp / 625Nm, powering all four wheels (of course, it's a proper off-roader, after all) through an eight-speed automatic gearbox. That drivetrain is good for a 5.2 seconds century sprint time and a top speed of 240 km/hr, impressive numbers by any stretch of the imagination, especially considering the Defender, as with its legendary predecessor, also has some serious mud-munching potential. Though whether or not you'd really want to, given how it's shod with 22-inch wheels is another matter.
Underscoring that further is the Dynamic setting for the Terrain Response driving mode selector, which brings with it a firmer setting for the adaptive dampers and a new electronic yaw controller that manages the vehicle's lateral movement at the limit of grip. All that, along with some uprated hardware including larger anti-roll bars and stiffer suspension bushes promise to make this the "most engaging production Defender ever".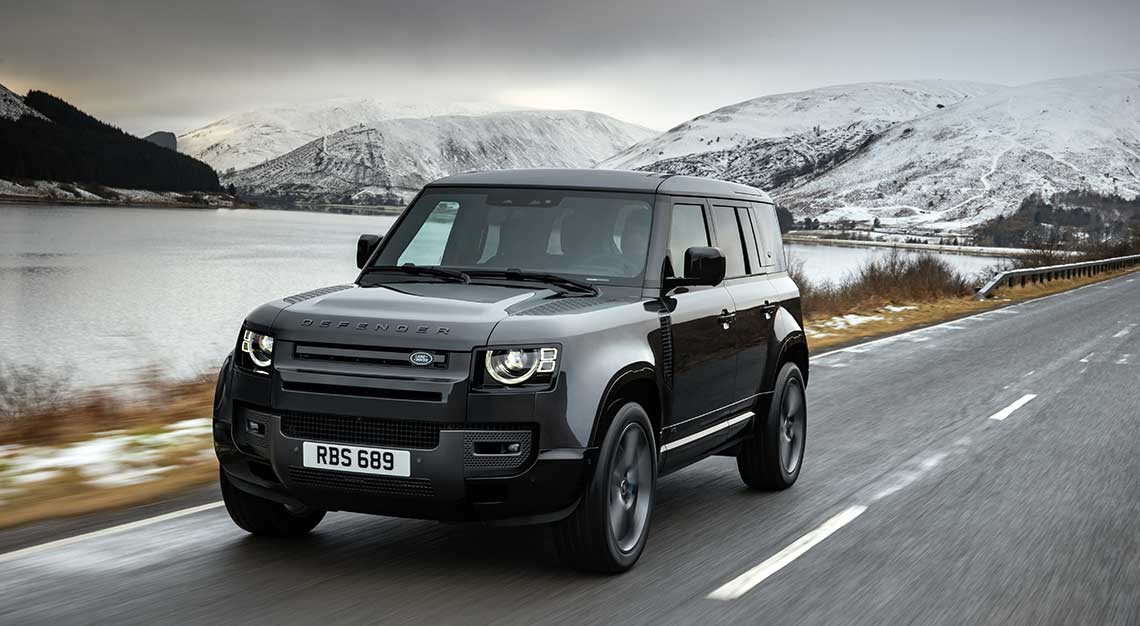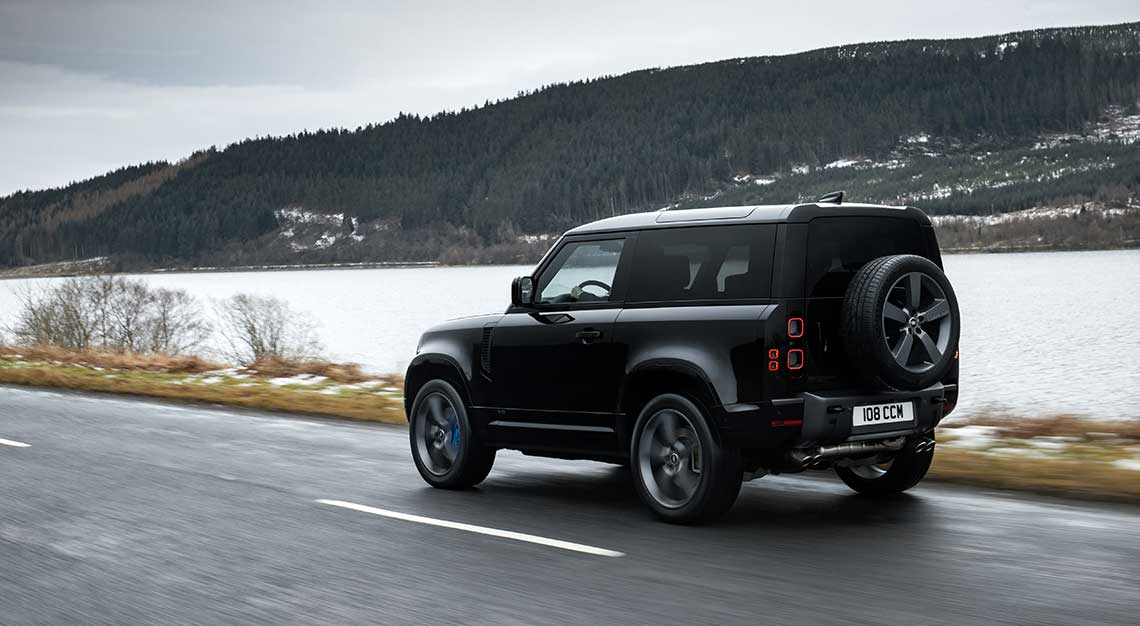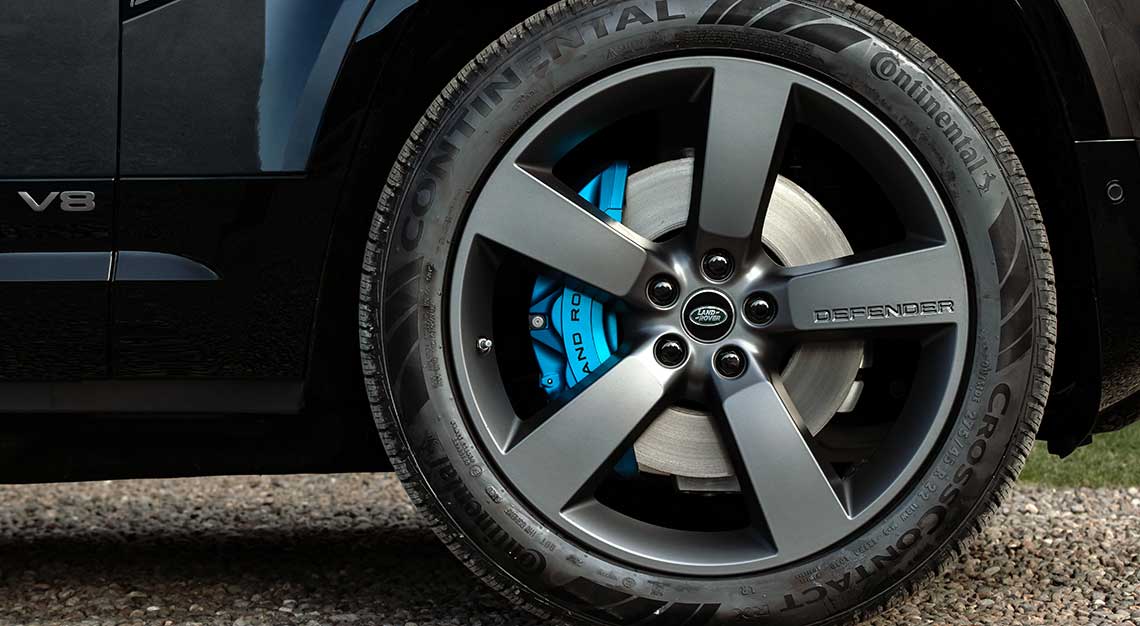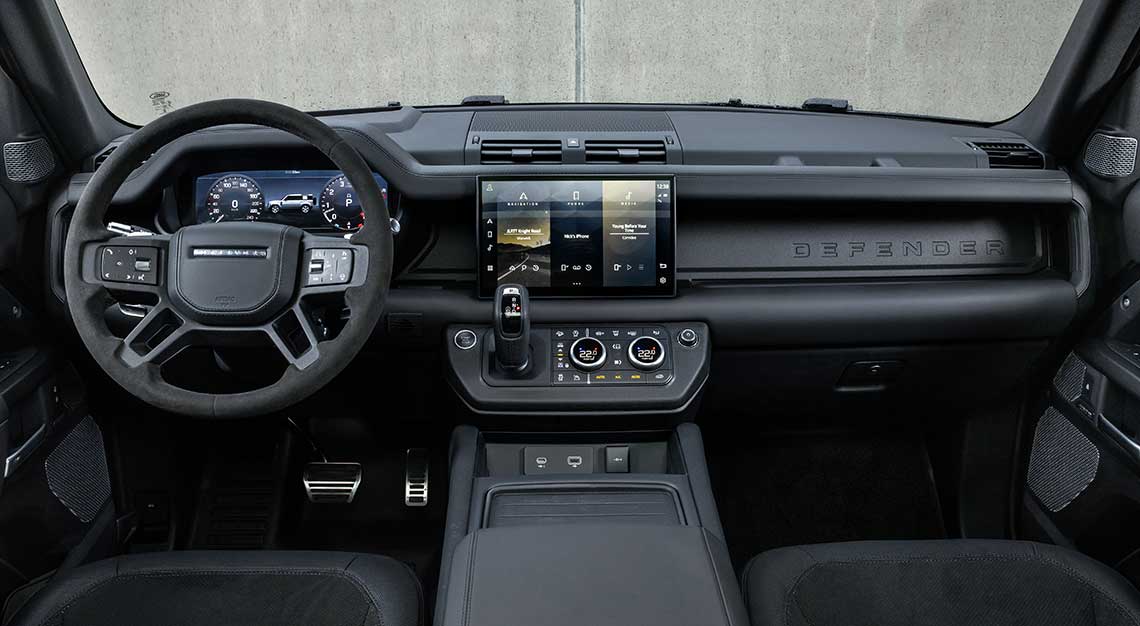 Not that you'll be able to tell just by looking at it, however, because what Land Rover has done with the V8-powered Defender is to keep things subtle. Available in just three exterior colours (grey, white and black) with a contrasting black roof, badging is limited to a discreet 'V8' one located on the bottom section of the front doors and treadplates. A quartet of exhaust pipes round out the look out back.
On the inside, there's a lot of black. Virtually every surface or accent is finished in tones of black or grey, including the seats, exposed cross-beam and steering wheel. Subtle, though if you ask us, all black everything has a shouty quality of its own. Except in reverse, a subsonic scream, if you will.
If it's a little more exclusivity you're after, the Defender V8 is available in a Carpathian Edition that features blacked-out towing eyes and (massive) electric blue brake calipers. Oh, and a few Carpathian Edition badges if that sort of thing appeals to you.
The biggest news with the Defender V8 isn't the weapons-grade engine underneath its bonnet, or that it could be argued that an off-roader with this much power is a touch excessive. It's that it's more than likely this will be one of the last times we see an outing for Jaguar Land Rover's venerable supercharged V8, which will surely go down in history as one of the greatest, most underrated modern powerplants ever.
At any rate, the Defender V8 can be bought through local dealer Wearnes Automotive, though only on a special order basis.