Quality kicks for pros and novices alike.
Editor's note: See another Top 10 story here.
The average length of an 18-hole golf course is approximately 6,600 yards, which equates to 3.75 miles and approximately 8,000 steps if you walk the entire round. The average course length on the PGA Tour is even longer at 7,200 yards, with some courses eclipsing 7,500 yards.
Playing golf is certainly a good way to achieve your daily step goal. Even if you ride a cart—which they can't do on the PGA Tour, by the way—you'll be on your feet a lot, from searching for a stray drive to strolling through the green. Also remember that while you may be walking more than six football fields during a given round, golf courses are designed to be challenging with various slopes, obstacles, and undulations, which can be unforgiving on your feet, ankles, and legs if you aren't wearing the best golf shoes.
Ensuring your feet are comfortable, supported, and protected, and not heavy, soggy, or sore is of the utmost importance—more so than picking which animal print polo to wear. Nothing can ruin a round more than not physically being able to play because your dogs are barking. 
Like a trusted caddie, we're here to help you find comfort, confidence, and success on the golf course. Thanks to advancements in technology and materials, there are golf shoes of all kinds, footwear for scratch golfers, for novices, for those that need extra arch support, and for those that have wide feet. 
If you're teeing off in the Pacific Northwest, putting through passing showers in the Caribbean, or blasting out of bunkers in the desert, there is an ideal option for you. Here are our recommendations for the best golf shoes: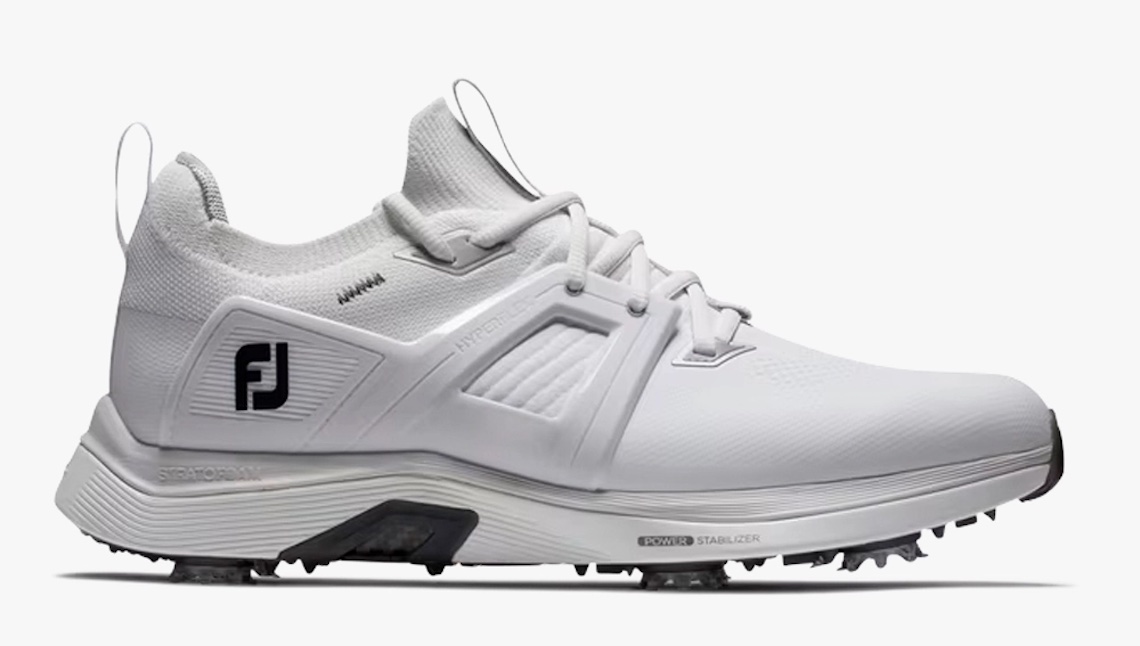 Best overall

FootJoy HyperFlex Carbon Shoe
There's a reason why FootJoy is the No. 1 shoe in golf, and the new HyperFlex Carbon only reinforces that. Featuring a custom-moulded carbon fibre plate to help stabilise your swing and maximise energy transfer—as well as features tuned for walking, including cushioning, added ankle padding, and a waterproof performance knit upper—this golf shoe will keep your feet comfortable and dry all day no matter what Mother Nature throws at you.
Materials: Performance-knit mesh, StratoFoam, and FTF+.
BOA System: Yes.
Spikes: Yes.
Waterproof: Yes.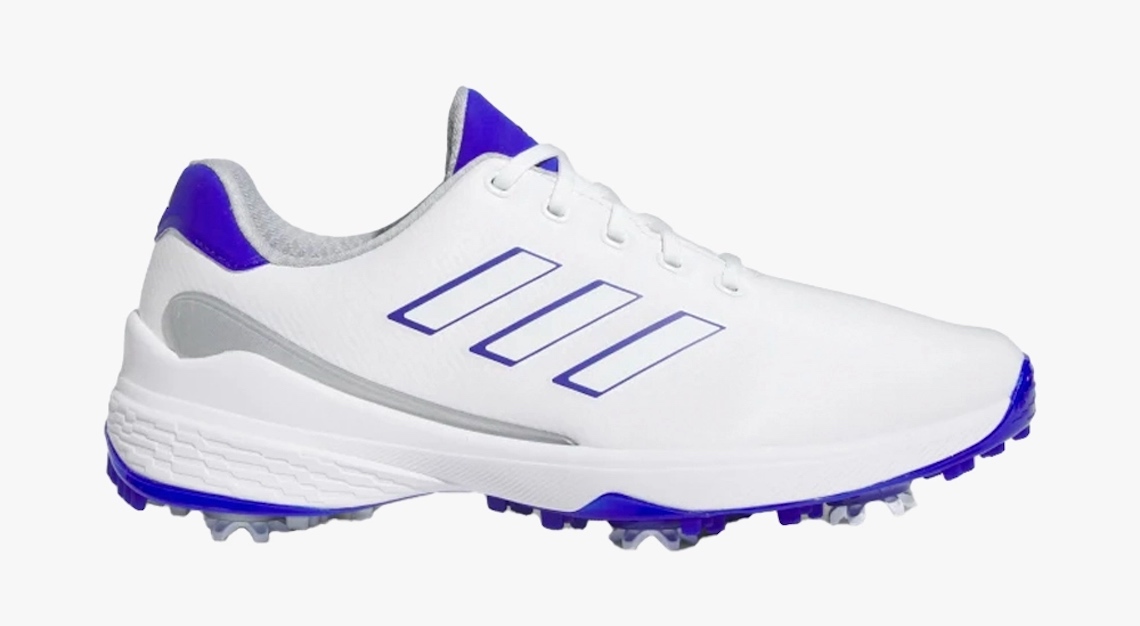 Most lightweight

Adidas ZG23 Shoe
Building on the ZG21, one of the more popular spiked golf shoes in recent years, Adidas unveiled the ZG23 early this year. Thanks to the introduction of Adidas's Lightstrike and Lightstright Pro cushioning systems found in the brand's basketball and running footwear, the ZG23 offers a completely redesigned outsole and upper for increased traction, stability, and comfort. Also featuring one-year waterproof protection, this shoe is as lightweight as it is comfortable. What's more, the upper features at least 50 per cent recycled content as part of the brand's efforts to help reduce plastic waste.
Materials: Synthetic.
BOA System: Yes.
Spikes: Yes.
Waterproof: Yes.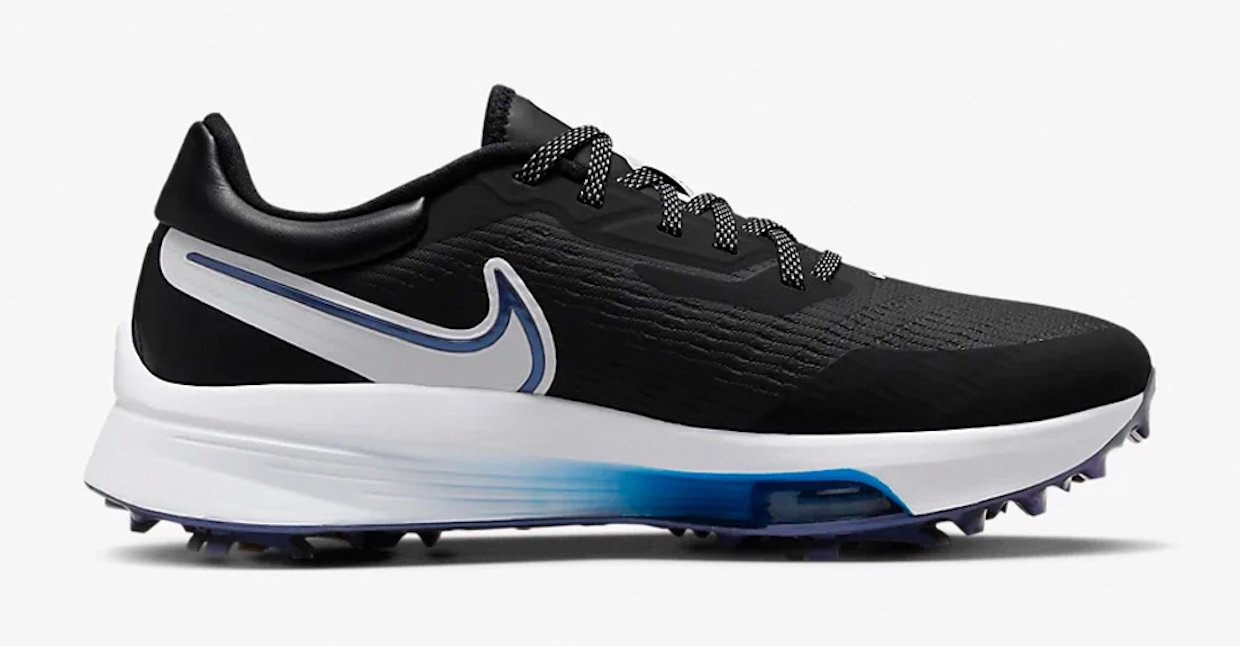 Most sporty

Nike Air Zoom Infinity Tour NEXT% Shoe
Similarly to what Adidas did with the new ZG23, Nike listened to customer feedback regarding its Infinity Tour to develop the Air Zoom Infinity Tour NEXT%. Not only did the brand increase the overall volume to give your foot more room—though, they still recommend ordering a half size up—Nike also updated the front cushioning to include two Zoom Air units for even more energy transfer during your swing. Available in nine colours, these sporty and fashionable golf shoes are comfortable, waterproof and lightweight.
Materials: Leather, mesh, and suede.
BOA System: Yes.
Spikes: Yes.
Waterproof: Yes.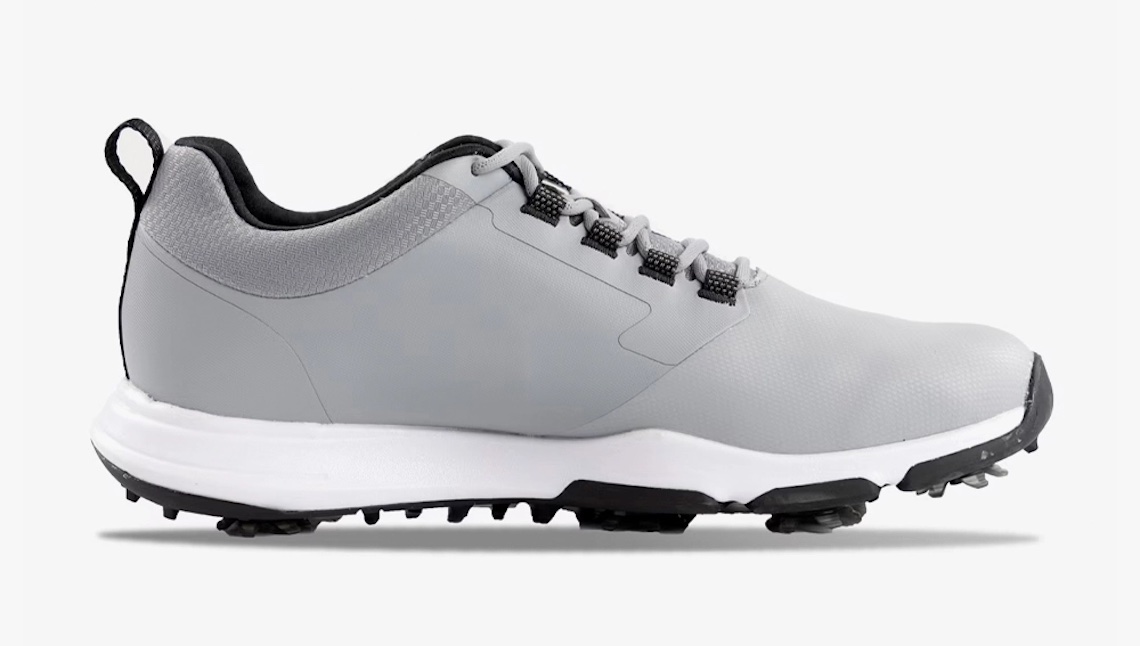 Most comfortable

Cuater the Ringer Shoe
Delivering unmatched comfort thanks to a SweetSpot Cushioning System—as well as breathability and moisture management via its air-mesh lining—the Ringer is Cuater's premium performance golf shoe. With removable Softspikes and waterproof construction, this golf shoe imbues versatility and athleticism. If you still need more convincing, world No. 1 Jon Rahm wore these shoes to win the 2023 Masters.
Materials: Nylon.
BOA System: No.
Spikes: Yes.
Waterproof: Yes.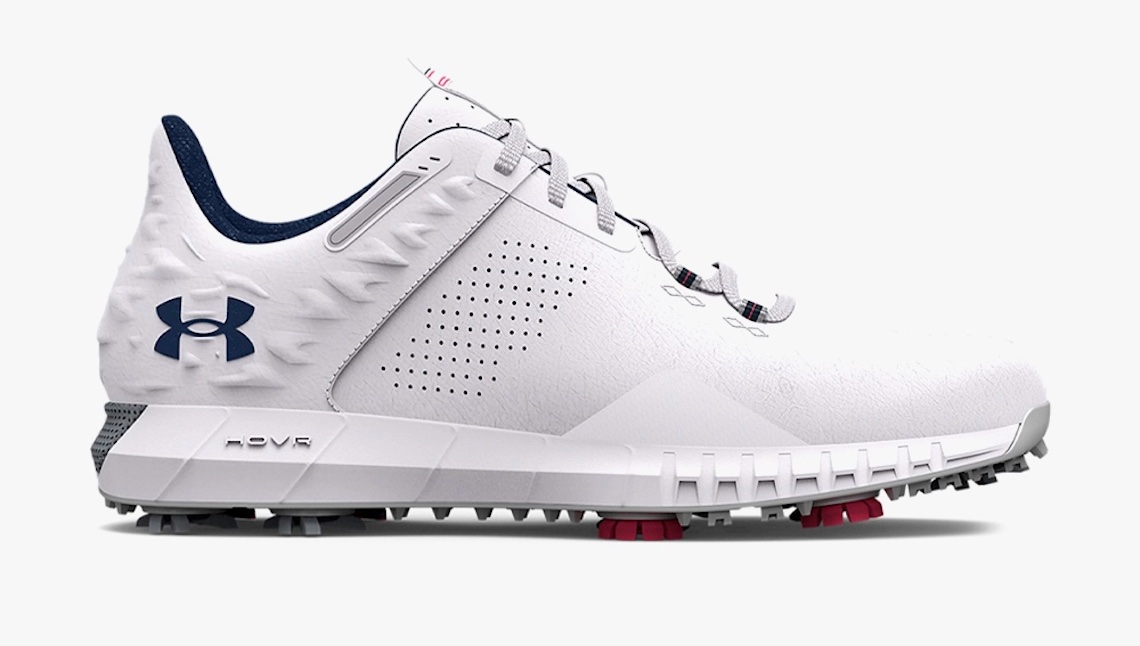 Most technical

Under Armour HOVR Drive 2 Shoe
A favourite of three-time Major champion and 13-time PGA Tour winner Jordan Spieth, the Under Armour HOVR Drive 2 is littered with technical features that will help you stay comfortable throughout your round and even return energy during your swing. Also, the UA HOVR cushioning supports the natural motion of the foot during your swing to help eliminate impact, the strategically placed 3D print toe guard adds durability and protection, and the lower-profile UA Rotational Resistance spikes lockdown horizontal traction as you swing.
Materials: Microfiber and TPU.
BOA System: No.
Spikes: Yes.
Waterproof: Yes.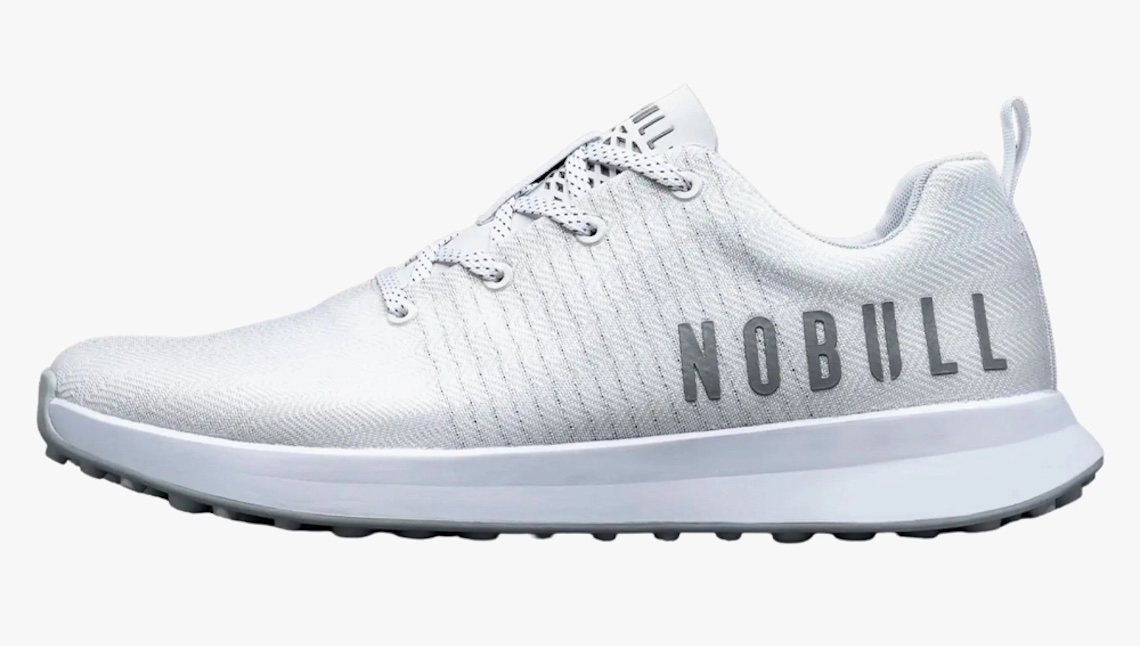 Best for casual golfers

NoBull Matryx Shoe
Founded in 2015 by two Reebok veterans, NoBull is billed as "a brand for people who work hard and don't believe in excuses." Popular among the CrossFit community, NoBull ventured into golf by signing pro Scott Stallings, as well as becoming the official training apparel and footwear brand of the PGA Tour and PGA Tour Champions. Looking more like a trainer than a golf shoe, NoBull's sporty Matryx features durable, breathable, and wicking- and abrasion-resistant materials woven from synthetic fibres. This water-resistant shoe is comfortable, lightweight, and versatile, able to be worn on and off the course.
Materials: Synthetic fibres and rubber.
BOA System: No.
Spikes: No.
Waterproof: No.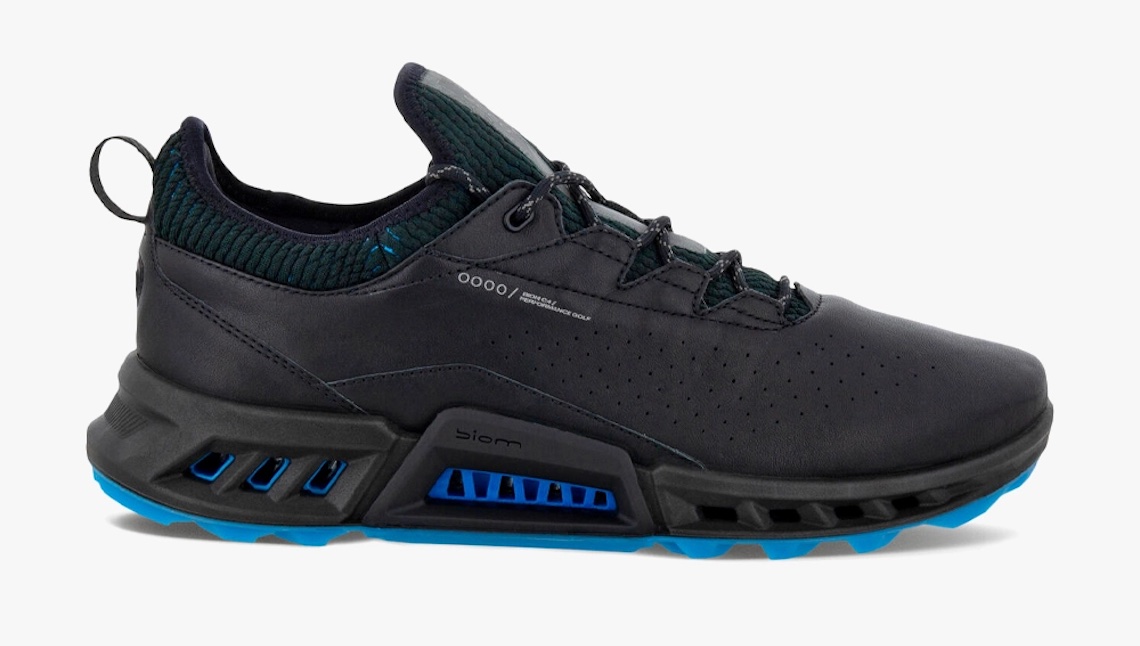 Most breathable

Ecco Biom C4 Shoe
Like the aforementioned NoBull Matryx, at first glance, it's hard to tell if the Ecco Biom C4 is a sneaker, running shoe, or golf shoe. Featuring the brand's Exhaust Grid technology that directs airflow toward your sole to keep your feet cool, Gore-Tex Surround for 360-degree waterproof protection, and a removable Ortholite insole, the comfortable Ecco Biom C4 has been heralded as one of the most breathable golf shoes on the market today.
Materials: Performance leather.
BOA System: Yes.
Spikes: No.
Waterproof: Yes.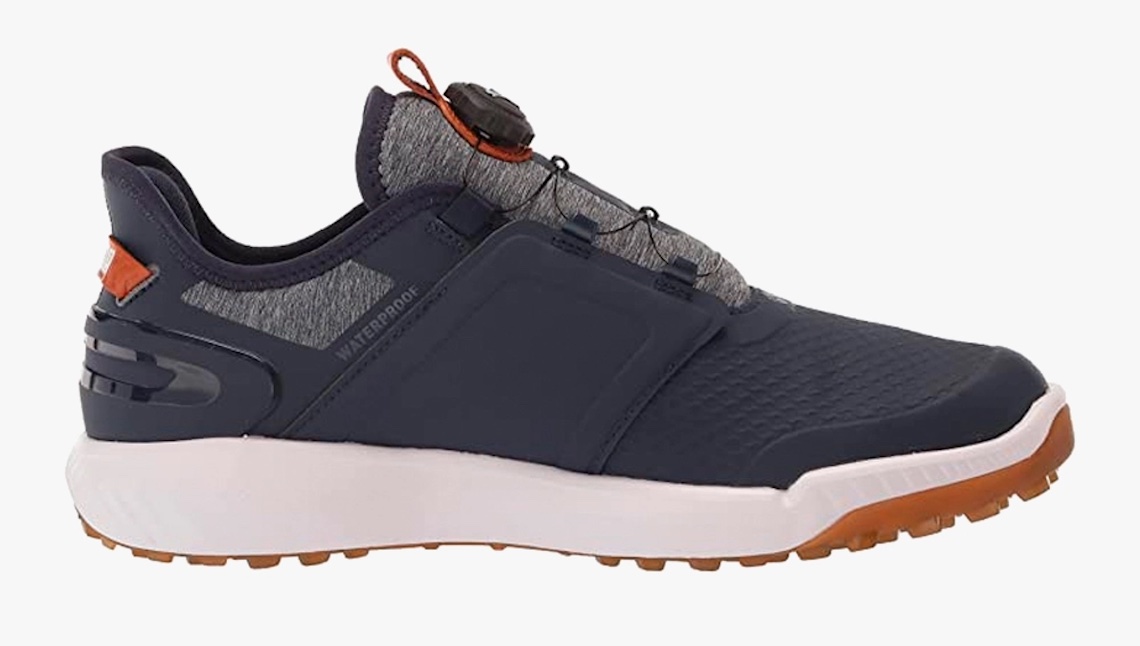 Best spikeless

Puma Ignite Elevate Shoe
Released early this year, the Elevate is Puma's latest iteration of its Ignite collection. Featuring the brand's proprietary Ignite Foam cushioning in the midsole that provides as much comfort as it does energy-return for reduced foot fatigue, the shoe's structure is backed by an ExoShell design that combines engineered mesh uppers with TPU film underneath. Coupled with Puma's strong and lightweight PWRFRAME and PWRCAGE technology for further support and stability, the shoe's spikeless concentric traction pattern provides a greater grip in any direction.
Materials: Mesh and TPU film.
BOA System: Yes.
Spikes: No.
Waterproof: Yes.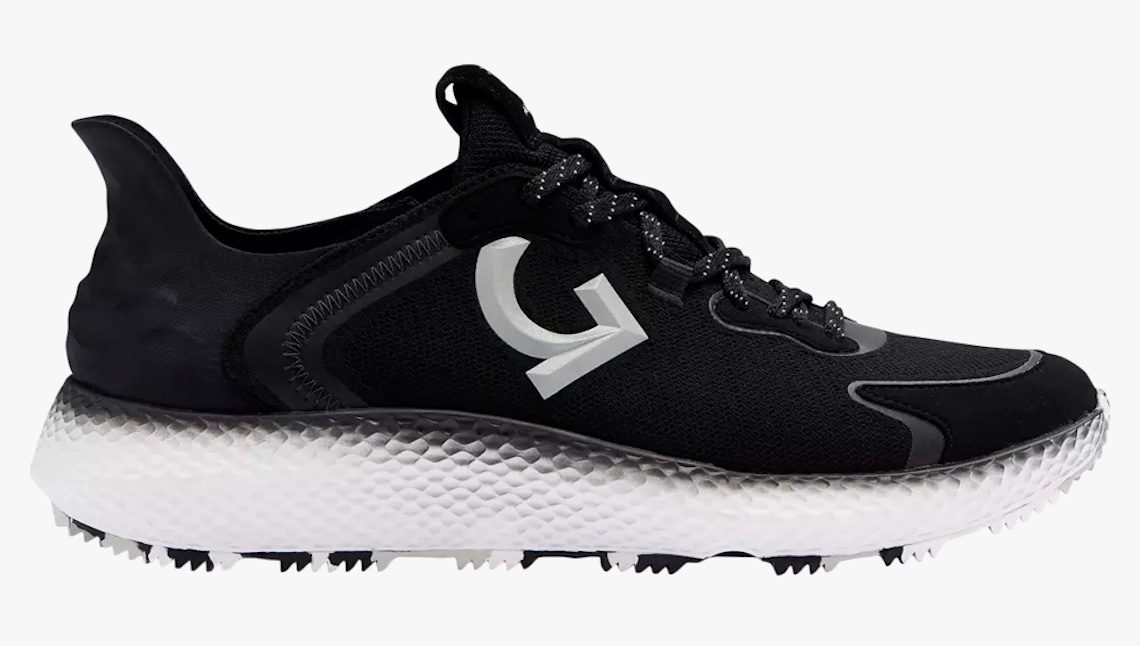 Best crossover golf shoe

G/Fore MG4x2 Shoe
Cross-training and golf combine in the versatile G/Fore MG4x2, which can be worn on and off the course. It features a G/Dry upper constructed with water- and stain-resistant engineered stretch knit along with internal waterproof lining, a reinforced toe overlay that keeps feet dry and protected, and a 360-degree moulded heel cup that prevents heels from slipping when walking or swinging. A sawtooth sole traction pattern keeps you in control whether you're playing in wet conditions or walking from the clubhouse to the car.
Materials: Polyester knit mesh, TPU, and leather vamp.
BOA System: No.
Spikes: No.
Waterproof: Yes.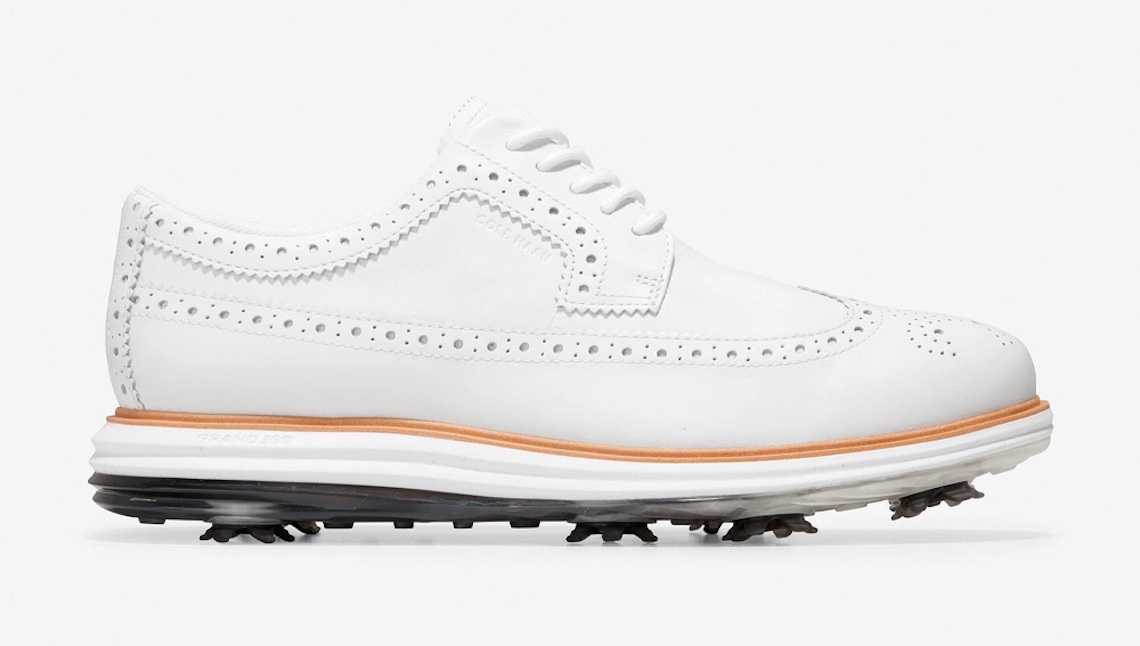 Best classic golf shoe

Cole Haan OriginalGrand Tour Shoe
Boasting an iconic golf shoe silhouette in a time where more cross-training, sneaker-like footwear is gaining popularity, the Cole Haan OriginalGrand Tour is made of waterproof leather sealed to the seams to keep you dry on the course. The shoe's performance traction pattern outsole keeps you grounded when walking or swinging, while a performance footbed foam and moulded sock liner provide extra support and cushioning. Last but not least, it features welt detailing that's customary in traditional golf shoes.
Materials: Waterproof leather, TPU plate, and EVA midsole.
BOA System: No.
Spikes: Yes.
Waterproof: Yes.
---
What to Consider Before Buying the Best Golf Shoes:
Golf is a game of personalisation. While rooted in the same similar mechanics, golf swings and speeds differ from person to person—what works for you might not work for someone else. The same goes for the equipment you use and the clothes you wear. Golf shoes are no exception. With models ranging from classic leather silhouettes to hybrid spikeless cross trainers, there is an option for everyone with plenty of factors to consider, including but not limited to price, material, waterproofing, the BOA Fit System, and the biggest question surrounding golf shoes today: spikes or spikeless?
Material: Golf shoes can be made from a variety of materials, including leather, suede, mesh, nylon, and so on. And what they're made of is directly linked to the style. A cross-training, athletic, hybrid shoe, for example, is usually comprised of synthetic fibres, similar to the trainers you'd wear off the course, while a more traditional golf shoe will be made of leather or thicker stuff. These different materials have varying weights, features, and properties, so be sure to do your due diligence when finding the right one for you, your game, and your needs.
Waterproofing: Going hand-in-hand with your shoe's material is its ability to repel water while keeping you comfortable and dry for all 18 holes. There's nothing worse than having wet, soggy and heavy shoes and socks when you're trying to not only play your best golf but, more importantly, have fun. Thankfully, these days, many golf shoes are 100 per cent waterproof, with many brands offering one- or two-year waterproof warranties. Also, be mindful of where you play: a golfer in Phoenix probably doesn't need 100 per cent waterproof shoes, whereas someone in Seattle would.
BOA System: Remember learning the "bunny ear" method for tying your shoes? Like learning cursive and long division in school, lacing may no longer be a life necessity thanks to technological advances and new silhouettes, including slip-ons, velcro, and the BOA Fit System. Replacing traditional laces, BOA is a closure system composed of stainless steel wires connected to a turning knob that can be tightened or loosened to keep your foot in place. More and more golf brands are embracing this technology, offering BOA versions of their golf shoes. Plus, you never have to worry about a stray untied lace affecting your swing.
Spike vs. Spikeless: As golf shoes and their technology continue to evolve, traditional silhouettes with replaceable outsole spikes are battling for supremacy with lighter, versatile, spikeless styles. While both types offer great traction, spikeless golf shoes have gained popularity due to their cross-functionality on and off the course. Like determining whether you need a 100 per cent waterproof shoe or something water-resistant based on where you play, the same scenarios should be assessed when determining if you need greater grip with a spiked golf shoe or would benefit from the versatility of a spikeless one.
This story was first published on Robb Report USA.