Hans Graf is a man with little left to prove, but still seems hungry for more.
Andrew Leci sits down with the maestro of the Singapore Symphony Orchestra (SSO) for a lengthier-than-expected chat
Editor's note: Catch the Temasek Foundation's SSO Hans Graf Inaugural Concert this 28 and 29 July 2022. Tickets here.
"Traduttore, traditore," says Hans Graf. "The translator is a traitor."
The Singapore Symphony Orchestra's chief conductor (and now music director) relished the sentiment when he produced it. In perfect Italian, naturally. We were discussing books, and he mentioned that he never read anything in translation. "Traduttore, traditore," he proclaimed again. 
I found this interesting. As a conductor, Graf is, in so many ways, translating a language. The language is music, and on a sheet. He is the man responsible for turning it into symphonic goodness with the resources at his disposal. To wit, an orchestra made up of supremely talented musicians whose sole aim in life is to make sounds that move souls and appeal to the spirit of humankind. This is why orchestras were invented, and also why they remain as relevant today as they were 550 years ago when, apparently, some bright spark in Denmark had an interesting idea.
While Graf reads all his literature in its original language—it would be traitorous to do otherwise, after all—he has the advantage of being fluent in five of them. 40 per cent are romance languages, which may give us a clue as to what lies in and at his heart. He doesn't believe in reading anything in translation, and yet that's exactly what he does in his day job. He takes the work of great composers and turns it into what he wants it to be and how he wants it to sound. This is not a criticism. This is what great conductors do, and at 72 years of age, Hans Graf would like to consider himself among the greats.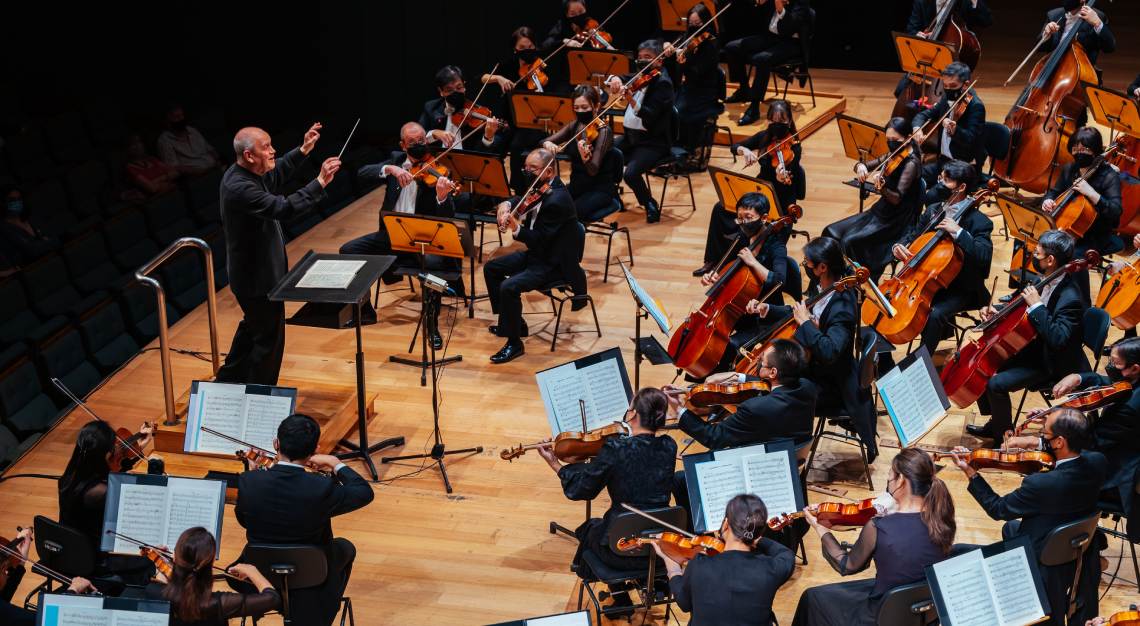 For my interview with Graf I was asked to submit questions—way ahead of time. While I understand the need for this as far as the PR gurus and his handlers are concerned, I didn't, don't and will never love it.
To be fair, everyone was quite nice when I mentioned that I reserved the right to go off on tangents; not ask all the pre-written questions, and maybe, just maybe, ask a few that weren't scripted, mentioned or prescribed. 
I desperately wanted to get political, especially seeing as the soloist the previous evening at the Esplanade Concert Hall was Nikolay Didenko, a Russian. We agreed to defer such talk, focusing instead on Didenko's remarkable performance. 
Despite one or two voice cracks the previous day during rehearsals, Didenko didn't just perform Shostakovich's Verses by Michelangelo, he pretty much owned it, expertly and masterfully bringing out every nuance and inflection (and then some) in a piece that makes extraordinary demands on an opera singer. It wasn't always perfect, but my goodness it was quintessentially human, befitting the wrought, emotional and highly charged poetry of someone who suffered for his art. 
But I digress. 
The man responsible for not only bringing Didenko to his full potential, but also wringing an almost faultless performance from Singapore's best-loved classical orchestra, was the man who sat opposite me, clutching, initially, a stack of papers that contained not only my questions but the answers to them. Plot spoiler: they weren't written by him. Suffice it to say that Graf didn't look at his 'notes' even once. I will never be sure of the extent to which he was encouraged to stay 'on brand' or 'on message'—two stultifyingly trite phrases that I hope never to mention again—but he wasn't interested. He backed himself in being able to parry and counter-thrust whatever was thrown at him, and why wouldn't he? Graf has been in the business for more than half a century and is absurdly (almost annoyingly) articulate in the five different languages (as mentioned above) that he can both converse in and read—without translation. Why would he need a spickzettel?
That's 'cheat sheet' in German, in case anyone was wondering. 
Graf is every inch the modern maestro. Eschewing the tyrannical approach in favour of the conciliatory and collaborative, he's spent many years working out exactly how to get the best out of the individuals wielding instruments beneath him. 
This is because he both loves and understands music, having started out as a concert pianist and then (much earlier than most) realising that his abilities lay in being able to see the bigger picture—imagining the orchestral rather than being content with potential virtuoso fireworks. His 'transition', if it can so be called, occurred when he was 17 at the commencement of his conducting career.
"I found an ocean in musical possibilities as a conductor," he says, reflecting on his secular conversion from a concert pianist. "It was more attractive to me than the arrogance of youth in a piano repertoire."
I ask him, somewhat mischievously, whether one can be a great conductor without being a great musician and his response is, "can you think of any great names who were not great musicians?" 
Graf is good at turning questions around. The direction may have been on his spickzettel, but maybe not. "How did the concert go last night?" I ask. "You tell me." is his instant retort. I like him so much already.
Becoming a conductor at such a tender age wasn't easy. "Back then," says Graf, "you had to be the son of somebody to be given an orchestra." Despite a solid, redoubtable musical background, he didn't quite fit the bill—his father was a violin teacher who "had no pedagogical interest in me", but still managed to "make me love music." 
Presumably wanting to get away from the influences of his father, he took up the piano, and certainly hasn't lived to regret it. Show me a percussionist or a timpanist who has gone on to become a great conductor and I'll highlight a rare exception. Spoiler alert: there hasn't been any. Failed/frustrated/bored pianists, however, who have made the grade wielding a baton… They are legion.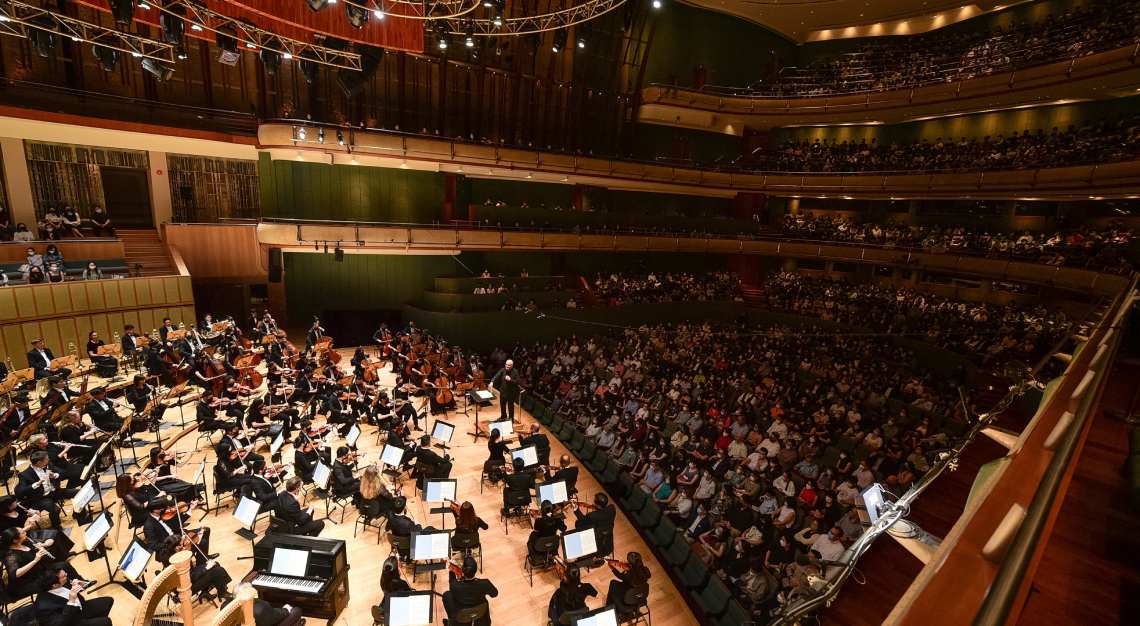 As a conductor, Graf dictates with a velvet glove rather than an iron fist. He knows when his musicians may be going off the rails a tad and draws them back—subtly and with kindness—recognising, perhaps the musician he used to be and the temptation of unnecessary virtuosity. Graf sees the panorama, while at the same time taking in and appreciating the finer details, and his orchestras always have to be so much more than the sum of the parts, translating beautiful works on paper into spellbinding sensory experiences for audience members.
In the safe, moving (but never ostentatiously so) hands of Hans Graf, the SSO has every right to consider itself, as indeed should the man himself, world class. As music director, his artistic reach is considerable—aiding and abetting in planning and executing the SSO's future programmes. As Shostakovich's Verses by Michelangelo bears testimony to, Graf never shies away from a challenge, nor creates a 'playlist' based on populist appeal. 
He's earned the right to pick and choose, but every decision, one suspects, is based on the strengths of his orchestra as well as his own personal affinity. This is why, perhaps, we can all look forward to the Temasek Foundation's SSO Hans Graf Inaugural Concert this 28 and 29 July 2022—featuring artist-in-residence, violinist, Chloe Chua, and the arrival on our shores in August of the outstanding Vadim Gluzman, who'll be joining forces with Graf and the SSO for a spot of Beethoven and Shostakovich. 
As with many musicians around the world, the easing of restrictions relating to the pandemic has signalled a new dawn for performers who translate the language of music into aural sensations. With the irrepressible Graf at the SSO helm, guiding the orchestra through its next exciting phase, Singaporean ears are in very safe Hans.