look up
The appeal of a window seat in planes is that it affords the passenger a (limited) view of the vast sky and boundless terrain that unfolds at 10,000 metres above sea level. There have been many attempts to expand this peeking privilege – notably in the recent Boeing Skyview, due in 2018. Now, there is another. Italian supercar manufacturer Automobili Pagani has teamed up with Airbus Corporate Jets to expand viewing space from a window to the entire ceiling. This is the Infinito custom cabin design, available for owners of the new Airbus ACJ319neo corporate jet.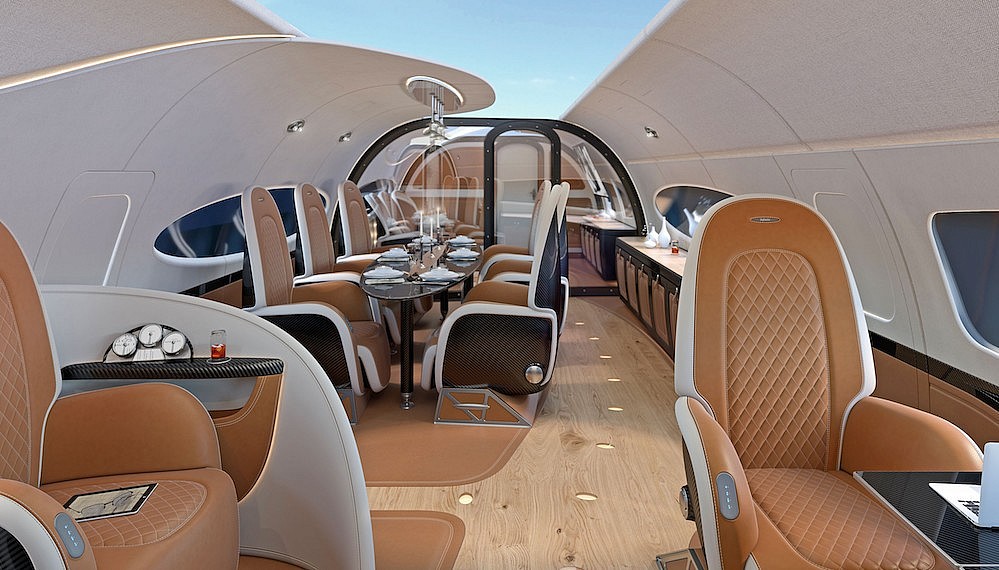 It isn't an actual hole in the ceiling of the plane, and neither is it a structurally-challenging transparent glass roof. Instead, the entire ceiling of the jet doubles as a screen that projects a live view of the sky above the aircraft – whether it is blue skies, stormy clouds or twinkling stars. If the sun is particularly bright, then tone the screen down, and luxuriate in the plush interior Pagani has created. Designed to mimic the look and feel of one of Pagani's supercars – like the Huayra – the interior is a stylish mix of sculpted metal details, soft leather on seats and carpets, wooden floors and touches of carbon fibre. Split into multiple segments – which include a cinema, dining area and lounge – space can be demarcated or dissipated by dividers that turn transparent or opaque at the touch of a button. Airy and breezy, it feels like a leisurely cruise while in a yacht, rather than a tiny plane in a vast sky.
The new ACJ319neo can fly eight passengers for up to 12,500km (or 15 hours) non-stop, with a base price of US$87 million (S$118 million). The Pagani Infinito is a separate, custom request. For those that get a little queasy at the thought of the live sky feed, the ceiling can instead display images or video on demand. Those that love the thought of this new perspective in flying should hope that Airbus and Pagani will eventually consider designing a video screen floor – all the better to see the Alps, the Sahara and the city of Paris with.