These future classics define 21st-century watchmaking from the inside out
While the Audemars Piguet Royal Oak Jumbo remains one of the watch industry's greatest obsessions, the Maison is by no means defined by one timepiece only. Look back at its history and you will see some of the most beautiful high and grand complications ever made, as well as some of the most unique timepieces ever designed. Putting the spotlight on its haute horlogerie savoir-faire this summer, Audemars Piguet released a quartet of complications that exemplify the best of 21st-century watchmaking.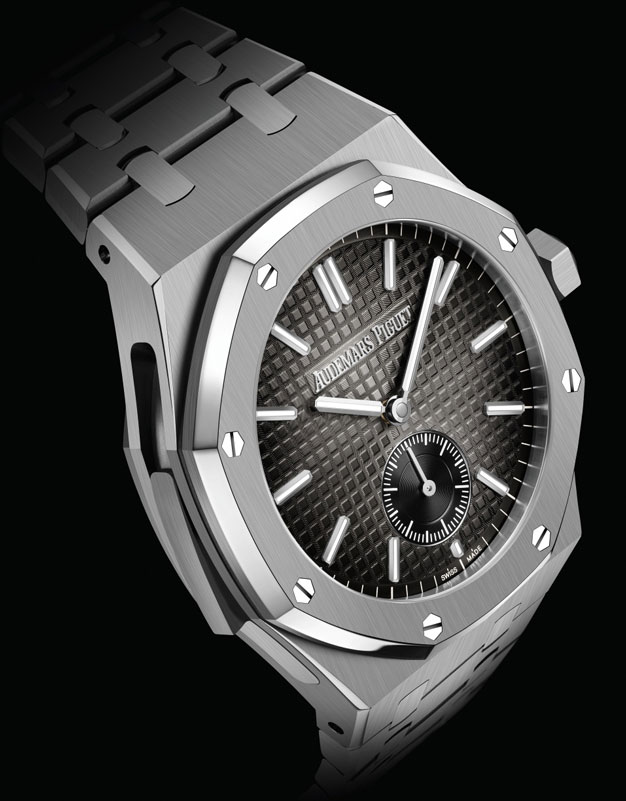 Royal Oak Minute Repeater Supersonnerie
Audemars Piguet's expertise with chiming complications go back to the 19th century. Some of its oldest timepieces ever made were repeaters, but of course those had been pocket watches before wristwatches came to be the norm. Which is why the manufacture always had an ear for the most beautiful and sonorous chimes, and why it was motivated in 2016 to create the Supersonnerie. Calibre 2953 features patented gongs, case construction, and striking regulator, together with the improved chiming sequence and strikework isolator, making it the most ground-breaking chiming complication made by Audemars Piguet to date.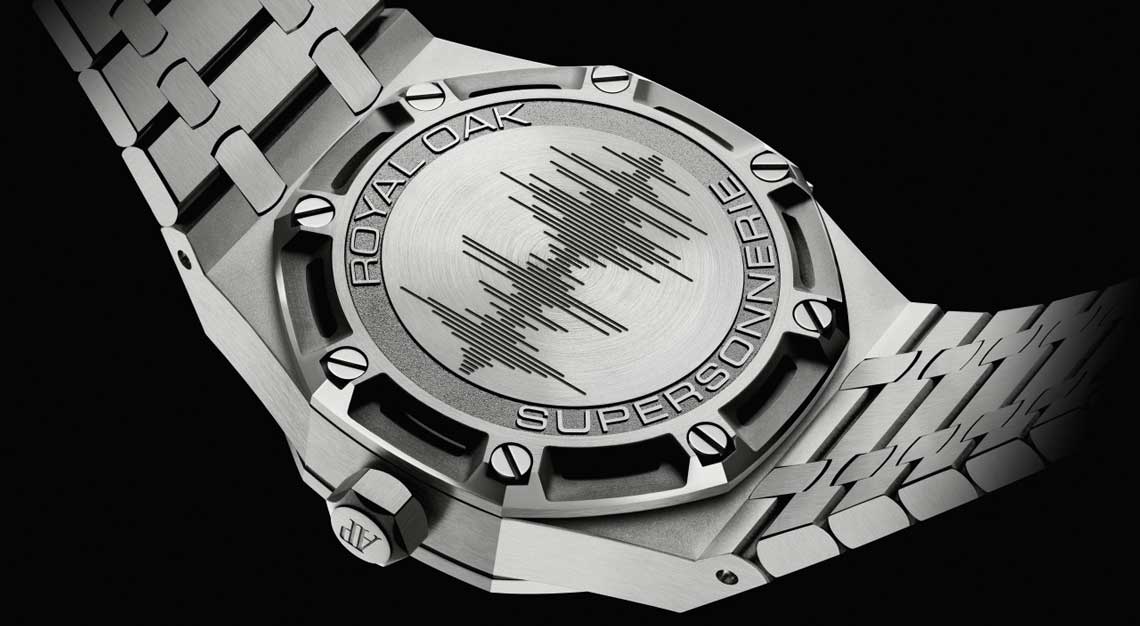 In the latest iteration of this limited production watch Audemars Piguet went with titanium, arguably the most exciting material ever for a chiming complication. Low-density titanium has the ability to transmit crystal clear chimes in addition to being ultra lightweight and therefore extremely comfortable on the wrist. Finished to perfection with alternating satin-brushed and polished surfaces, it oozes pure elegance despite the large 42mm diameter. Audemars Piguet also updated the classic Grande Tapisserie dial with a smoked grey effect, giving this timepiece a resolutely contemporary aesthetic.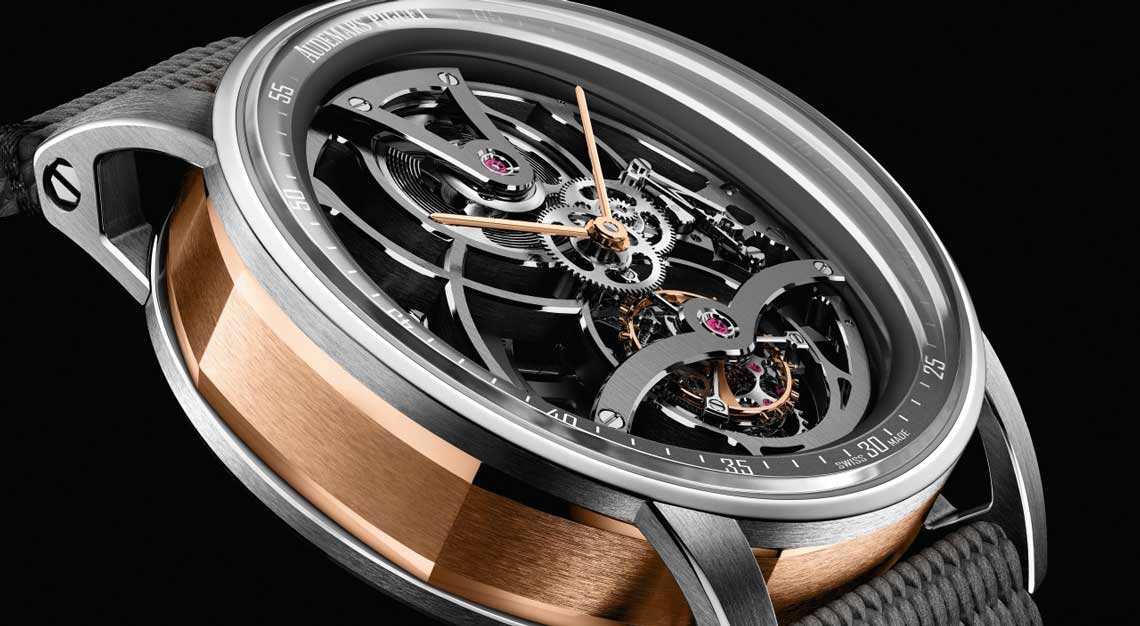 Code 11.59 Tourbillon Openworked
Skeletonisation is one of traditional watchmaking's most theatrical complication. It is no less challenging to achieve and to perfect than, say, a tourbillon or a perpetual calendar. Yet it serves no purpose; it's purely aesthetical. And very often in luxury haute horlogerie, this aesthetic tends to exude a highly traditional vibe, with gilt bridges and curlicue motifs. Well, not this time. Audemars Piguet deftly updated the art of skeletonisation with 21st-century sensibilities, a design ethos that also defines its latest watch collection, the Code 11.59.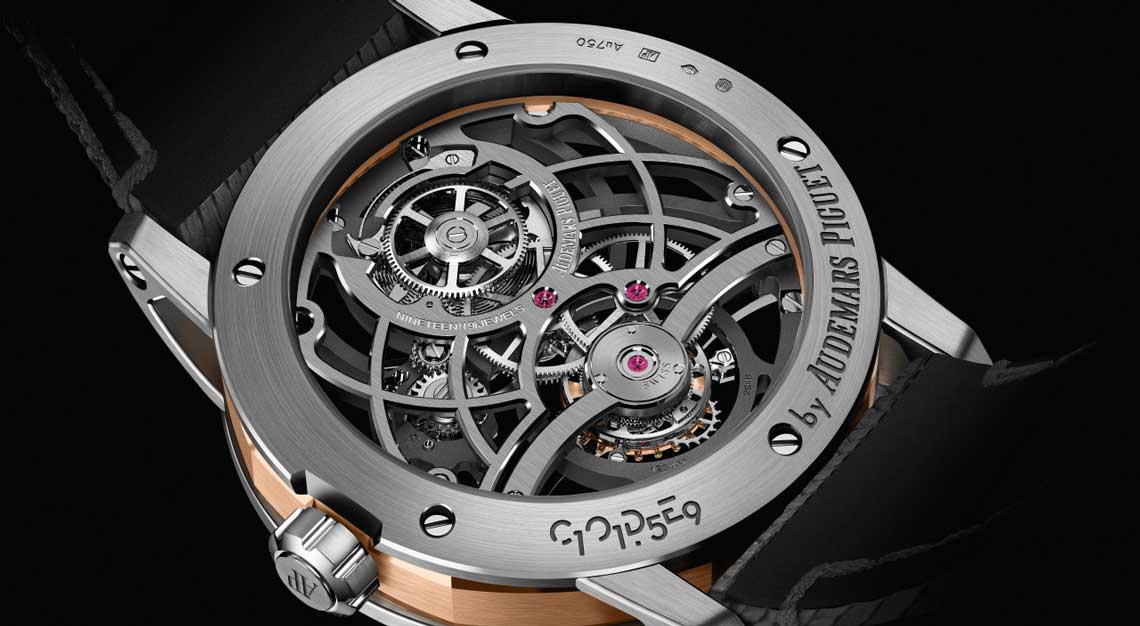 The fully skeletonised Calibre 2948 comprises openworked plates and bridges in industrial-chic slate grey. Visible on both front and back, these clean lines with elegantly bevelled edges and delicately vertical satin-brushed surfaces sweep all over the dial, while keeping the movement components in clear view. And the presence of sharp interior angles tells us that all the bevelling had been done by hand. At six o'clock, the classic one-minute tourbillon oscillates meditatively under a wing-shaped bridge. This watch is cased in two-toned pink and white gold, a material combination that highlights its unique case construction.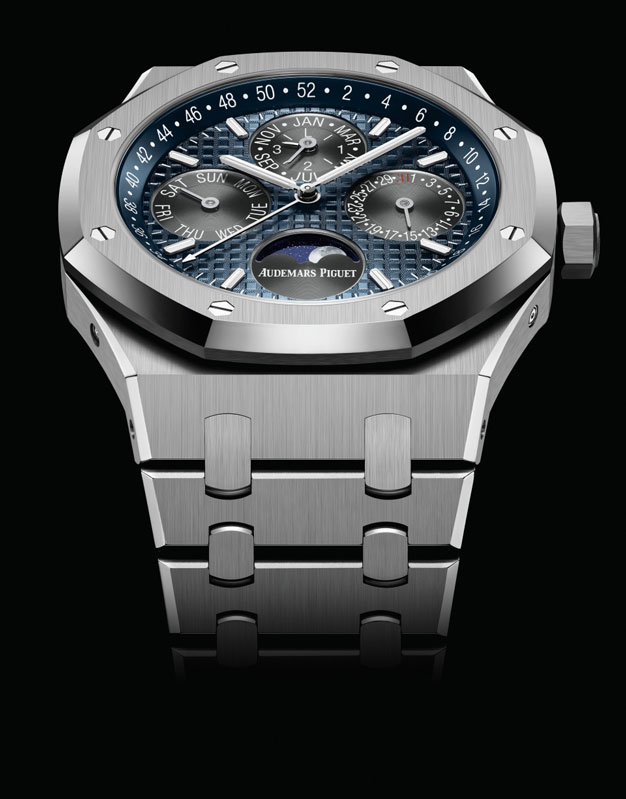 Royal Oak Perpetual Calendar
One of fine watchmaking's oldest complications, the Perpetual Calendar exists in numerous styles but the classic four-counter design with moon phase display might be the most balanced one yet. While things could get a little busy here, order could still be maintained when you get the proportions right, just like what Audemars Piguet has done with its Royal Oak Perpetual Calendar. Heck, the Maison has even managed to throw in a week-of-the-year display, doing so cleverly by arranging the numbers around the edge of the dial.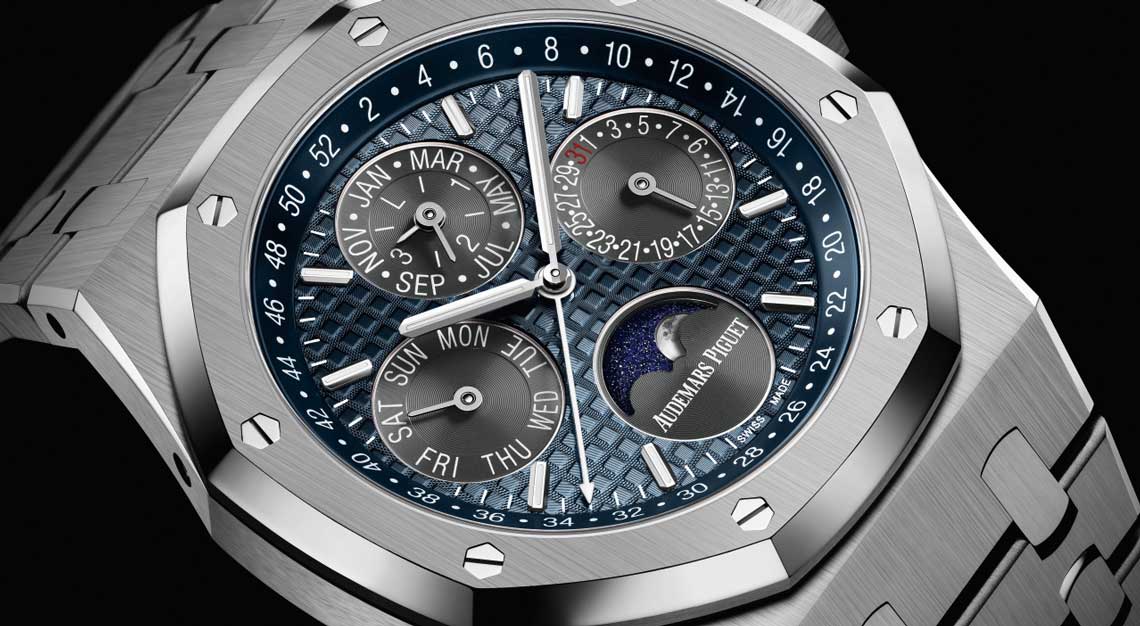 Audemars Piguet has made several iterations to date, in a plethora of materials and colours, but there's something unwaveringly modern about this new one and we think it has to do with the manufacture's choice of material: titanium. A nod to Audemars Piguet's predilection for high-tech materials, titanium offers unequalled strength and lightness, while showcasing the Maison's manufacturing prowess. Echoing the contemporary spirit of this timepiece is the blue Grande Tapisserie dial with its grey counters in perfect harmony with the elegant hue of the case and bracelet.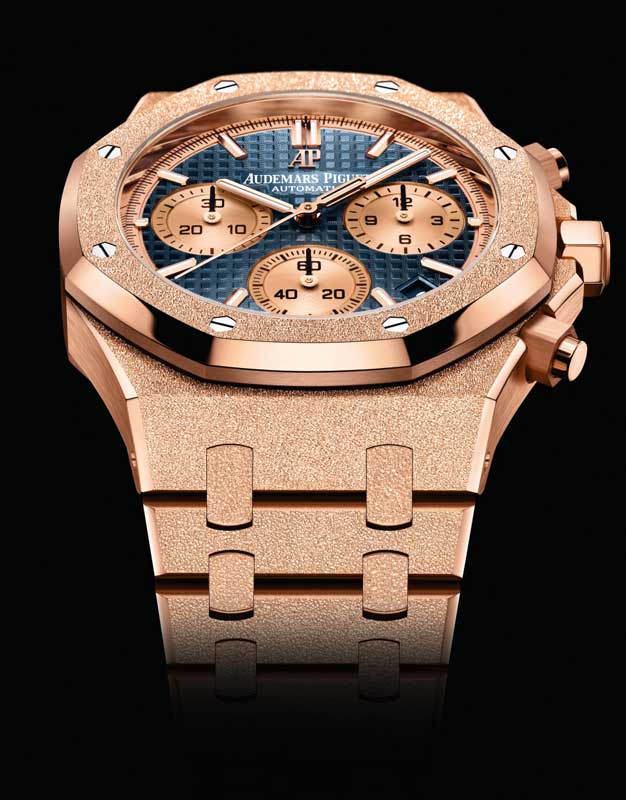 Royal Oak Frosted Gold Selfwinding Chronograph
Men's chronographs often fall into two distinct camps: Ultra sporty or dressy elegant. With the Royal Oak Frosted Gold Selfwinding Chronograph, Audemars Piguet blurred the lines between those two universes, establishing a new style of men's sporty timekeepers for the wrist. Frosted Gold is the Maison's proprietary aesthetic where solid 18K gold is covered with a shimmery sparkle achieved by leaving tiny indentations on the gold with a sharp diamond-tipped tool. Adapted from an ancient Florentine jewellery technique, the effect is akin to diamond dust, or freshly fallen snow, hence the name.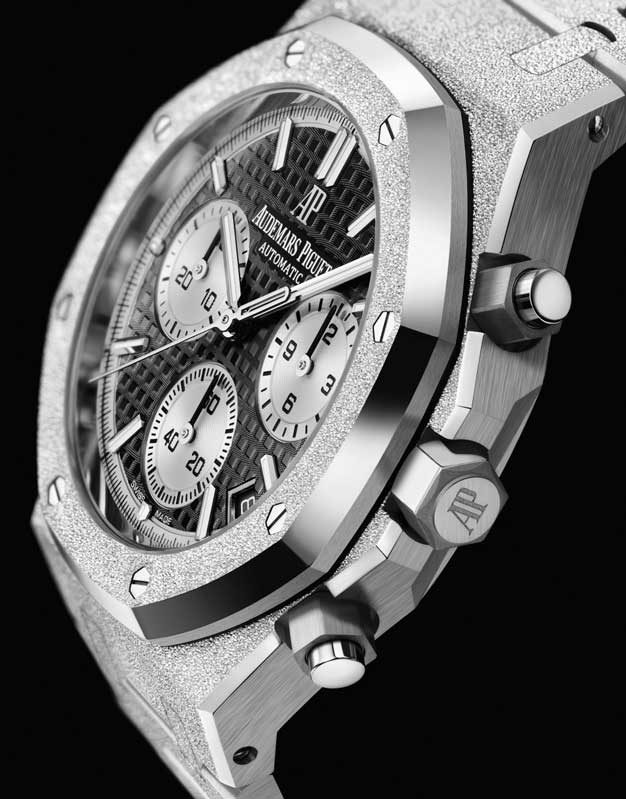 Glamorous without being loud, this new chronograph comes in two versions, pink gold with a blue dial and white gold with a black dial. Contrasting chronograph counters are matched to the colour of the case while also providing increased legibility. Its bezel, case, and bracelet are highlighted by elegantly polished bevels. The case back is completely see-through so you may admire the Audemars Piguet in-house Calibre 4401, and the so-called "dance of the hammers" which is when the hammers hit the chronograph heart-piece cams to bring the chronograph hands and wheels back to zero.