In One For The Road, we speak with the best bartenders and spirit guides to get to know them better. Julia Momosé of Kumiko takes the hot seat
It was Julia Momosé's first time in balmy
Bangkok
as she mixed
cool drinks
and traded in warm conversations with patrons. Over three nights in May, Momosé work the bar at Jack Bain's Bar at
137 Pillars Suites & Residences Bangkok
and we were treated to some of the drinks from the driving force behind Kumiko, (last year's recipient of last year's
The World's 50 Best Bars
list). We sat with Momosé in the morning after her shift to touch on her collab with Jack Bain's Bar, spiritfree drinks and, of course, that last drink that she'll have for the road.
How long did it take for you to come up with the menu for Jack Bain's Bar?
It started on paper first. I was in the USA at the time and asked [the people at Jack Bain's Bar for a] list of available ingredients. I wanted to respect how they operate and the standards that they have set here. It's one thing to be in my apartment writing recipes for other countries but I haven't actually seen, smelled or tasted what Thailand had to offer. I needed to be there to create the drinks.
How did you come up with New Leaf Martini, one of the two new drinks created for the pop-up?
I love martinis in general. I do sake-forward martinis at Kumiko so I wanted rice to be that important shared element of both Japanese and Thai culture. I added pandan to it because [137 Pillars] grow it on their roof garden. The flavour profile that you get is a little grassy, vanilla and a little bit of earthiness… those complement the botanicals, the gin and the softness of the sake.
On the day when we arrived to test the recipes, it was hot and the air conditioning was broken. They brought me a young coconut to drink. It was cold and had just been cracked open; it was my first time having coconut water that fresh. It was amazing. I incorporated it into the drink because it would go well with the pandan.
I shifted the martini direction a little bit: I combined all the ingredients and stored them in the freezer. When the drink is ordered, I'll pour that over ice for just a moment and then pour fresh coconut water on top for the dilution. Instead of a long stir, we're adding coconut water to it. And instead of a lemon peel, it's garnished with a curry leaf because the cocktail is cold, which to me is very blue but when you smell a curry leaf, it is very orange, yellow and red; warm colours. I wanted to bring that kind of contrast to the drink.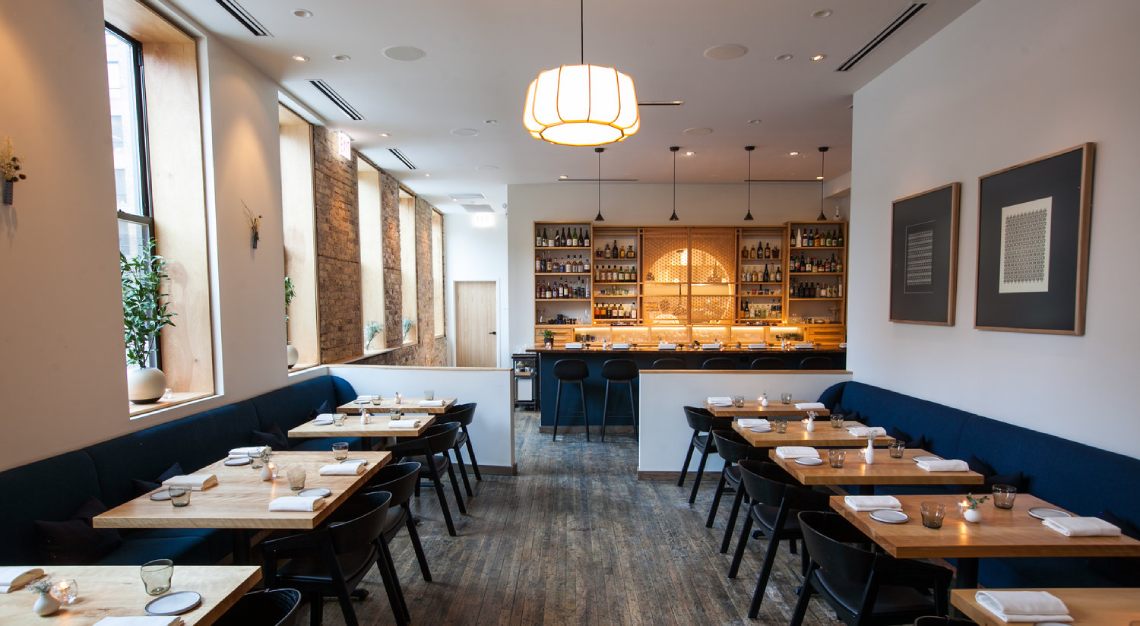 There's a very synesthetic approach to this. I'm looking at your name and I don't come across many Japanese names with diacritics over the 'e'.
Yeah, I started using that in America because people will pronounce 'Momosé' incorrectly like 'mou-mousse'. And holding on to [my Japanese side] and the proper pronunciation is really important so I added [the diacritic] a couple of years ago, which has helped people say it right. My dad has a twin brother and my dad moved to Japan after getting married, so my brothers and I were all born there. So we were used to being called the 'Momosés' and my dad's twin family lives in Pennsylvania and they're called the 'Momoses'.
What's writing The Way of the Cocktail like?
It was an incredible learning experience for me. I'm just a bartender and have never published anything before. I just write random captions for Instagram. The publisher actually reached out to me wanting to publish a book on Japanese cocktails. The real discussion was the deadline. With those deadlines, I'm running my bar every day for service. They suggested getting a co-writer, who could match my voice and I got to work with Emma Janssen, who is an American spirits writer who wrote her Mezcal and she's interviewed me several times.
The Way of the Cocktail won the James Beard Award.
For me, awards in general, are very weird. James Beard was massive.
And Kumiko got on the list of The World's 50 Best Bars 2022 and you won the Chicago Exceptional Cocktails Award in that same year as well. The awards are indicators of excellence.
I don't want them to define me or Kumiko. Before the awards, we were doing what we do before there was any notice or recognition. For me, the most important recognition is the ones from your peers. When other bartenders come up to me and say, I love what you do or I really look up to you. That is huge for me. Peer-to-peer recognition. Peer-to-peer respect.
There's something about the word 'mocktail', there's a stigma attached to it. The way that people would look when they ordered one because they would be made fun of by their friends or be a little bit embarrassed or be worried to be told 'no' by the bartender—I wanted to take away that stigma and that fear. And because my parents don't drink, the next time when they visit me, [I can give them] a beautifully well-thought-out experience instead of something on the fly.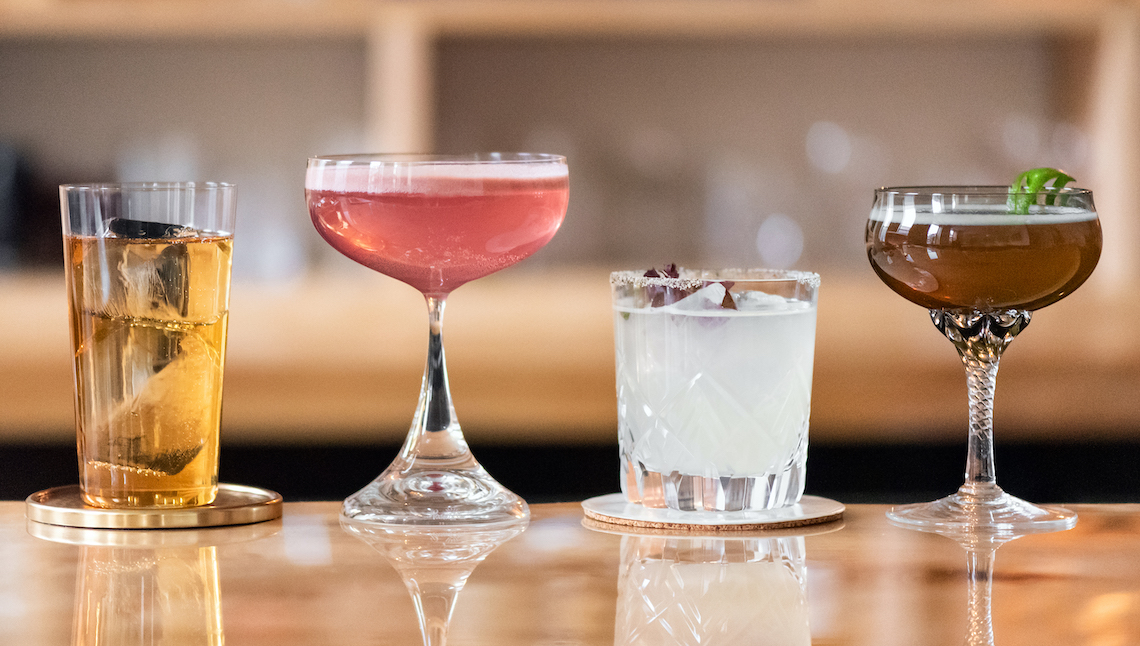 How do you go about making a non-alcoholic cocktail?
My whole philosophy on making a spiritfree is to think about the purpose of the drink and the way that the flavours are supposed to meld together. In a way, we start from zero to get there instead of starting with a finished cocktail and taking out the alcohol. It's like a bottom-up approach instead of top-down.
Do you think the general mindset about alcohol-free cocktails has shifted?
It felt glacial at first because I wrote that Spiritfree manifesto in 2017; that was after a couple of years of putting non-alcoholic drinks on the menu and having a section for them. Everyone who read the manifesto either loved it or don't; it's one or the other.
But after the pandemic, with everything getting shut down, people were either: I just want to drink everything right now or I want to focus on how I want to be healthy—y'know, to actively work out, change my diet, cut down on drinking. So this whole low- and no-alcohol style of drinking became popular. Even big brands got on it and people were making non-alcoholic versions of a Campari like a 'nogroni'.
Am I right to assume that for your pop-up, one can request a non-alcoholic alternative to what's on the collab menu with Jack Bain's Bar?
Yeah. Actually, last night someone asked for a spiritfree cocktail. It was funny because when we composed the menu, I was looking at the ingredients and I thought I could make fun non-alcoholic drinks with this. There's a non-alcoholic Safflower Spritz that I tweaked a little bit.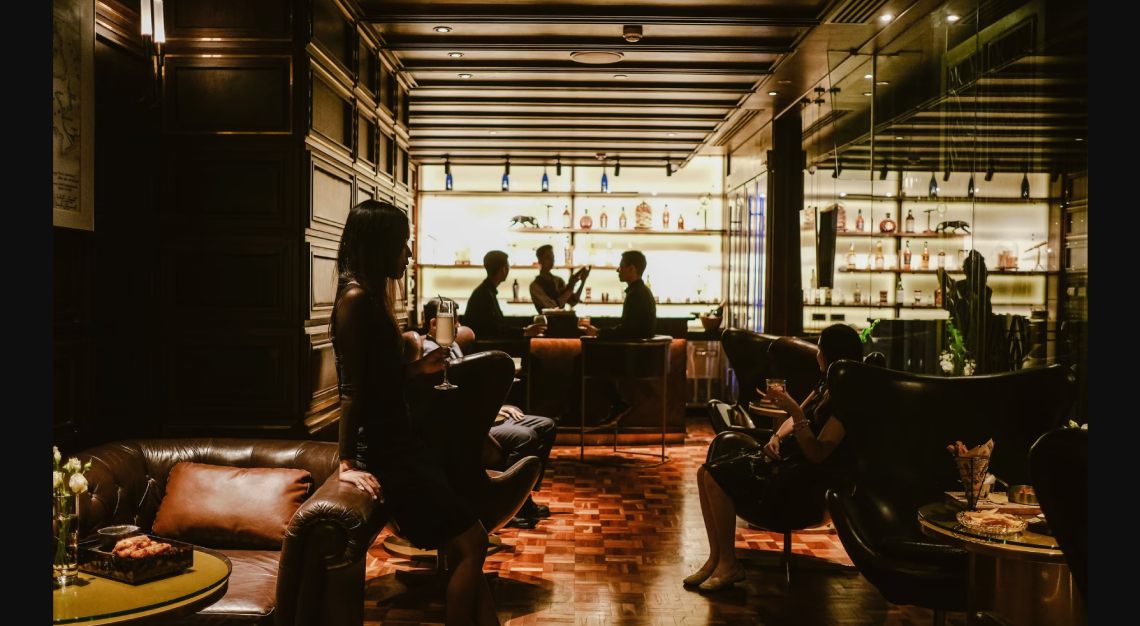 Have your parents tried your spiritfree concoctions?
My dad was excited about the Uméboshi Swizzle (shiso-pickled umé, brown rice vinegar, lemon and Japanese seven spice over crushed ice). There's a little bit of salinity to it. You take the uméboshi, remove the seed and blend the flesh with water and sugar to make a syrup out of it. You then bring that together with a little bit of a lemon cordial that we make after we juice the lemons and boil with Japanese seven spice so it gets this luxurious texture—a little bit of savoury and a little bit of spice. That's combined over crushed ice with a sparkling umé soda. My mom was excited too because they eat uméboshi all the time. They never had a fun drink.
Do you want to open up another bar?
I absolutely think about it. It's an interesting time as a business owner navigating all of the changes since the pandemic and through it. We're still figuring it out. There's been some drastic changes in the industry and a lot of people leaving to do other things. Kumiko is very much my baby and I want to always make sure it's okay. It's hard for me to step away. Earlier, I was texting the team—they're probably annoyed with me—about Kumiko, just keeping an eye on the business.
The idea of opening something somewhere else is pretty much there. I would love to. I don't know when. I feel like I need to set a goal for myself and do it. Otherwise, I will just be at Kumiko forever and be really happy.
I want to find someone whom I can trust 100 per cent. Someone who can be there and do things how I would do them. And they need to be happy, that's the biggest thing. If the team isn't 100 per cent happy and satisfied, then I want to be there to make sure that I'm supporting them in keeping up my vision. Because it's very selfish: this is my vision, this is what I want and yes, I'm paying them. It's their job but I want someone who wants to do it too. If I can find that kind of person to run it, then I'll feel comfortable stepping away for a while.
It's late at night and you need one last drink for the road. What will it be?
Man, it's either… a whiskey highball or a martini. If it's a whiskey highball, it's for an easier, softer night; maybe for a longer trip home. A martini is for when I'm going home, straight into bed. [laughs] More often than not, I'd say whiskey highball.