In this year's Best of the Best 2020 awards, we recognise the brands that have pushed boundaries in design and innovation, and those that have made significant contributions to alleviate the pandemic. Here are the best six within the yacht category
Glass has marked progressive architecture since Joseph Paxton displayed his Crystal Palace at London's Great Exhibition of 1851, transforming the world's skylines from Dubai to Manhattan. At sea, the craze for crystal has consumed the superyacht world, with several groundbreaking projects having released this past year.
Excellence, an 80m beauty from Abeking & Rasmussen, uses a complicated series of panes for its stunning open staircase. The 80m Artefact has glass walls – and 60 tons of the material overall – as well as windows designed in new shapes.
It's not just design whim fuelling the surge of glass on board. It's technology, which has advanced to the point where glass has become thinner, lighter (a must for the seafaring world) and stronger. Yacht designers capitalised on that trend and made a shift from mere windows to full walls, incorporating ever-larger panes and new forms in ambitious ways, like Silver Yachts' 85m Bold. Its full-beam winter garden is ringed by glass, which can be folded and tucked into hidden storage spaces.
"Glass technology is opening the design space," says naval architect Philippe Briand, who has included large, transparent fields on his boats. "We're finally able to use glass as a structural element."
Gigayacht Dar wins the prize for the most creative and practical use of glass. She has 400sqm of floor-to-ceiling mirrored panels. "The clients wanted to see the water from their salon through a sheer wall, with no bulkheads or metal," says designer Luiz de Basto, speaking on board Dar at the Monaco Yacht Show. "From the exterior, the glass looks black, but there's no sacrifice in interior light and no distortion. You can see Monaco, but Monaco can't see you."
Underwater examples are also becoming more common. As the material becomes stronger still, it will be increasingly used below the waterline, which means you'll get to see marine life while staying dry.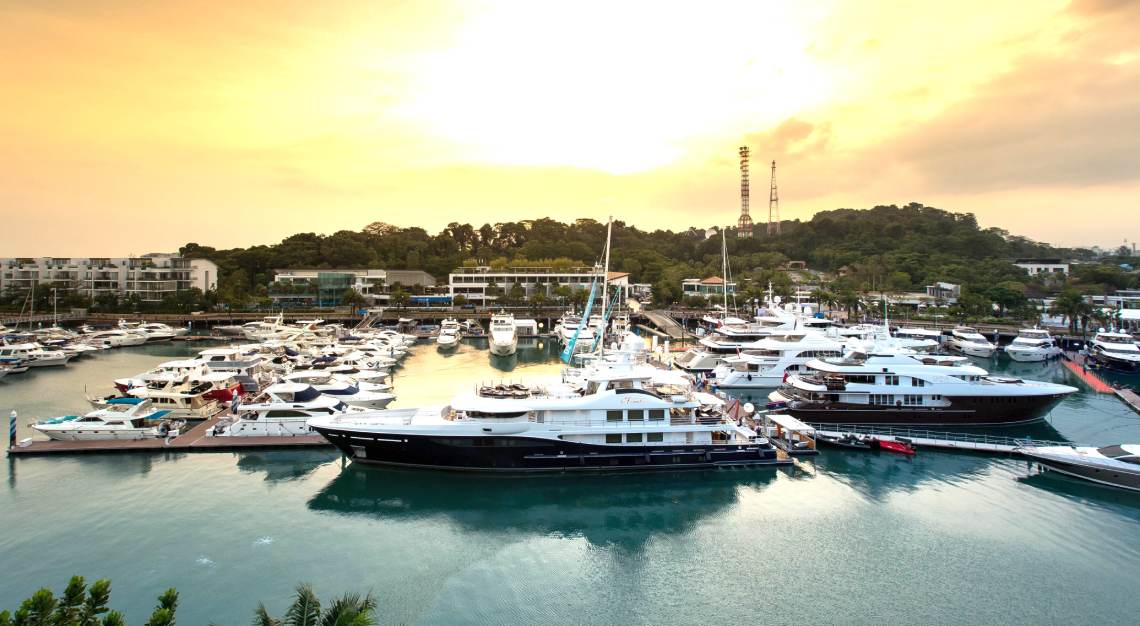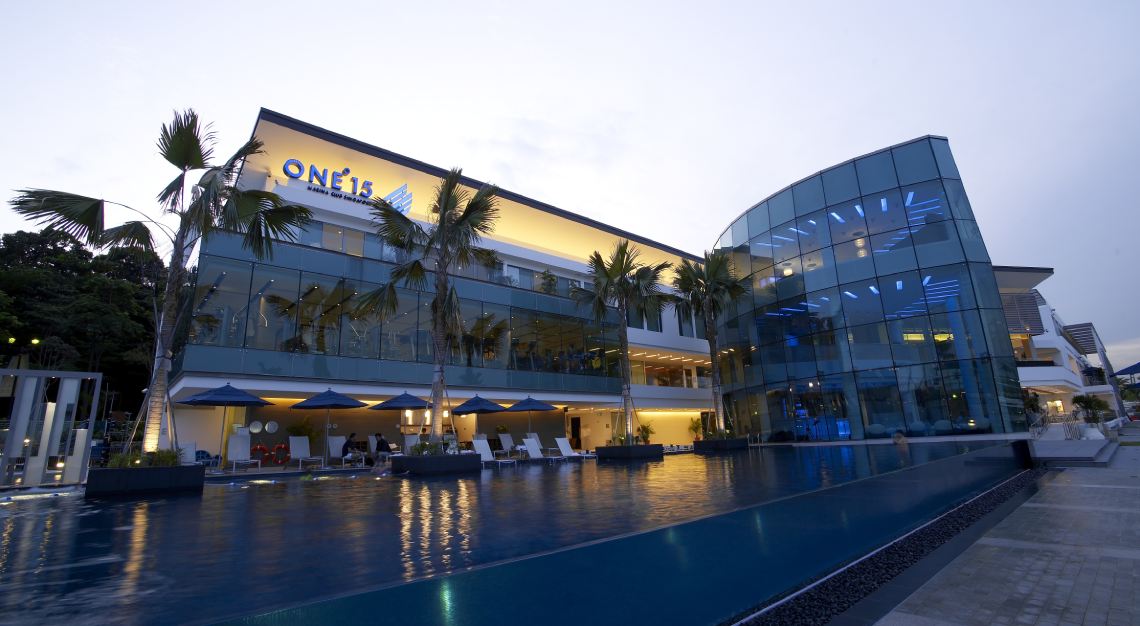 Best marina: One°15 Marina Sentosa Cove
Ask any yacht owner in Singapore which marina they'd pick to berth their precious getaway vehicles, and the unanimous answer would be One°15 on Sentosa.
Of the four main marinas in Singapore, One°15 best encompasses the values of yachting and life at sea.
The atmosphere is laid-back – you will rarely find a crowd, even on weekends – the club's entrance offers direct access to the marina, and staff will see to your every need while remaining discreet.
The marina offers more than 250 wet berths, including 13 for megayachts up to 67m, which provides owners with some flexibility, particularly when deciding to purchase larger vessels. Then comes the convenience of leaving Singapore's waters.
Owners can clear immigration directly at the marina – it started doubling as a customs, immigration and quarantine facility late last year – instead of doing so at Sisters' Islands.
Member facilities are aplenty, with two restaurants, four bars, a tennis court, fitness centre and infinity pool. Clubhouse suites and spas are also available for booking, though admittedly, most would opt for the nearby W Singapore – Sentosa Cove and Capella Singapore resorts.
But for a lifestyle to truly sell, its surroundings need to be just as strong. And it's in this regard that One°15 knocks it out of the park as it shares the same address as Sentosa Cove, a prime residential district dotted with luxurious apartments, bungalows with eight-figure price tags, three stand-alone islands – Treasure, Coral and Paradise – and a host of waterfront dining establishments. Just a stone's throw away sits Sentosa Golf Club and its award-winning Serapong Course. Then, there are also the aforementioned resorts, making the marina, and by extension, the island, a truly well-rounded, world-class facility.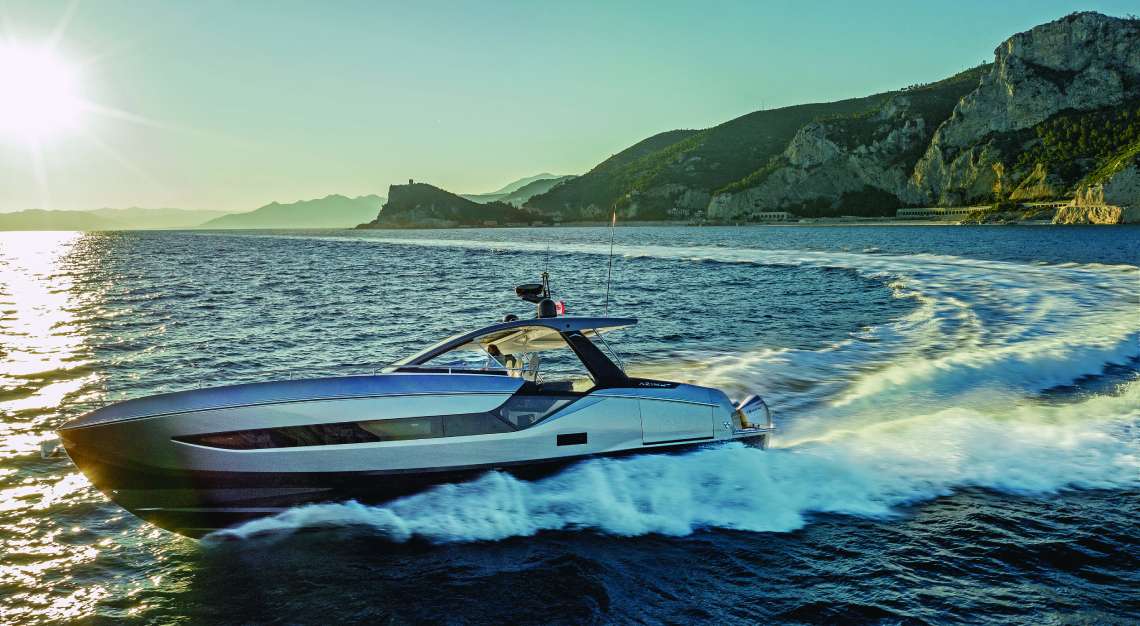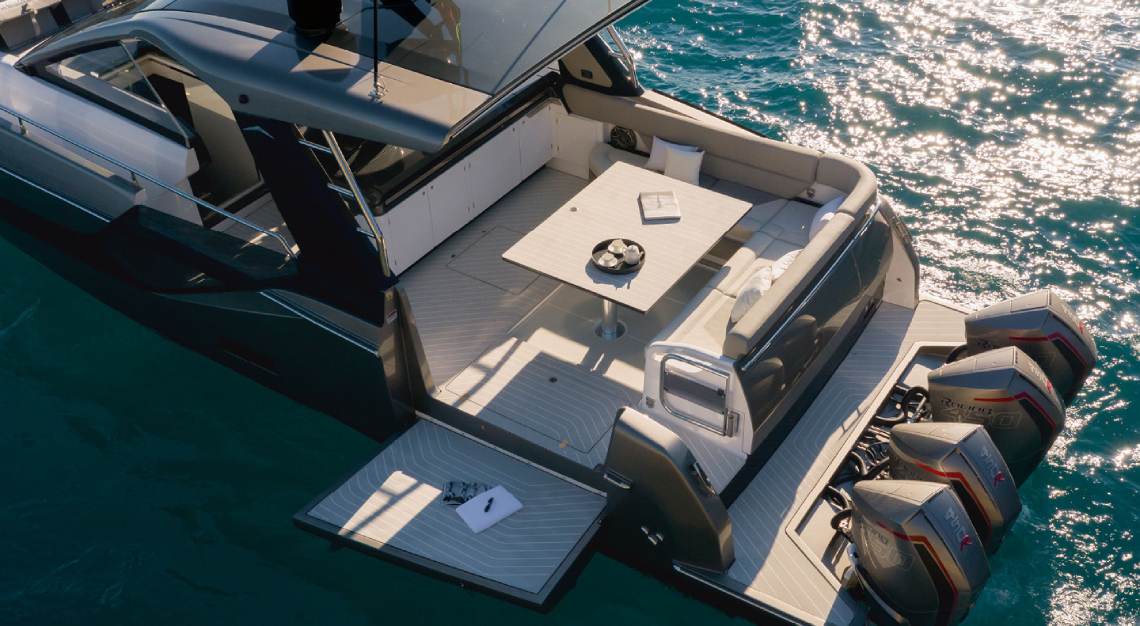 Best day cruiser: Azimut Verve 47
Azimut calls its Verve 47 an "American beauty with a Mediterranean heart". This outlier in the brand's fleet retains its Italian sensibility, thanks to performance hulls, designed the boat to navigate large ocean swells, even at 100km/hr.
Besides being seaworthy, Verve 47 is just plain fun. Struglia made the most of the space by maximising its features. A fully recessed platform rises to become the cockpit dining table, while the port bulwark can be folded out as a swim platform. An outdoor kitchen and flat- screen TV also help to improve the deck experience. On the technology front, glass panels in the hull sides do double duty as Verve's artistic signature, while letting the driver read the water. Such innovative details are what make Verve stand out from its centre-console competitors. While the creative cockpit design indicates this is an undisputed day boat, Verve 47's surprisingly large cabin includes two staterooms, a dinette/salon and – in line with its Italian heritage – wine storage. performance hulls, designed the boat to navigate large ocean swells, even at 100km/hr.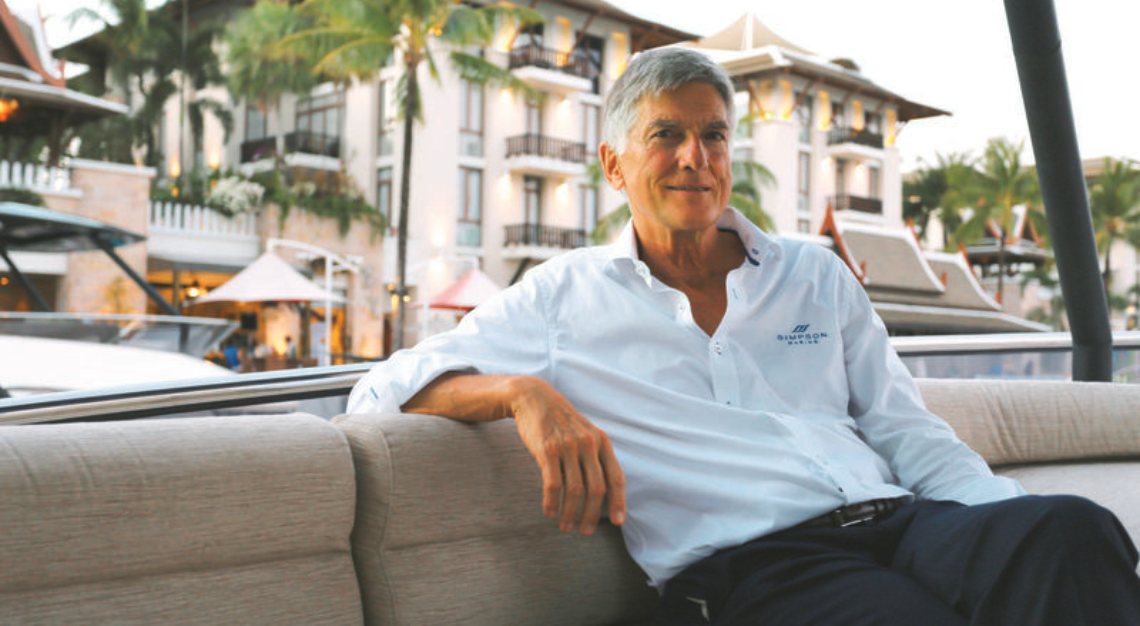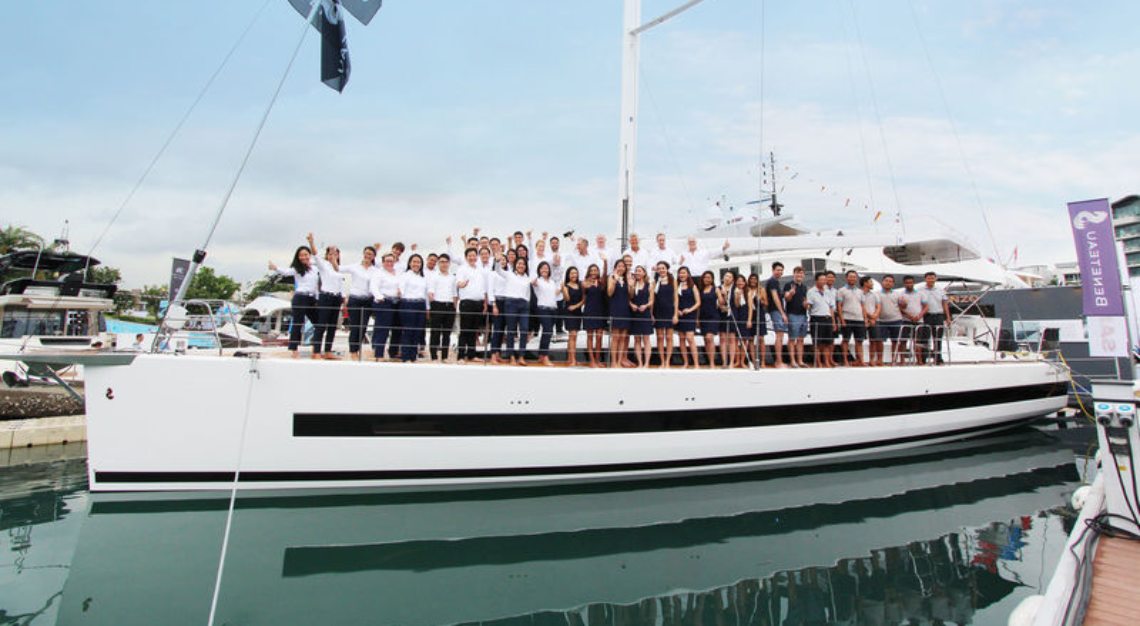 Best yacht management: Simpson Marine
Founded in 1984 by Mike Simpson, Simpson Marine is one of the largest yacht dealers in Asia. But what's the secret behind its success? It's a simple two-prong approach: anticipating the needs of its potential customers, and providing reliable, after-sales support to its clients.
Simpson, who hails from England but has resided in Hong Kong for the past 40 years, started by observing Asian customers. He noted that unlike clients in the west who would spend months 'window shopping' for a yacht, Chinese – and Asian, to a larger extent – clients preferred going to just one company that would see to all their needs from beginning to end.
Today, Simpson Marine is one of the biggest players in Asia, functioning as a full-fledged yacht management company and brokerage that helps customers learn about the various aspects of yachting and choosing one that would suit their lifestyles. The company also offers superb after-sales service, which includes managing the crew, along with administrative and maintenance aspects.
But its strongest selling point is no doubt its team, which tailors services to each owner to ensure that their investment pays off. New owners can get a taste of yachting life through chartering – Simpson Marine has an extensive list – and learn how each yacht handles at sea. Keeping their preferences and risk appetite in mind, it will then give the owners options, which could range from purchasing a pre-owned build to a custom hull.
Brands under its belt include Beneteau, Bluegame, Aquila, CNB, Lagoon, Fairline and Sanlorenzo. Bluegame – an extension of the Sanlorenzo brand – is a brand to watch and is filling a niche within Simpson Marine's spectrum. The yacht brand offers multipurpose uses in its outdoor spaces and a higher level of customisation that's usually only found on larger yachts.
To fully showcase the brand's versatility, Simpson Marine will be bringing the BGX70, the newest flagship of the Bluegame family, to Asia this year.
It's also worth noting that this year, Simpson Marine extended its Fairline dealership from Hong Kong to the rest of Asia, even bringing in the F//Line 33 sports cruiser to Singapore, which has proven popular for clients who've been taking day trips to nearby islands given that international borders are still closed. Going back a little further in May, and owing to strong sales in Asia, Sanlorenzo Asia opened an office adjacent to Simpson Marine's. Safe to say, the company has a proven track record with both clients and brands. Perhaps in time to come, each dealership under Simpson Marine's wing will set up shop in neighbouring spaces, furthering the brokerage's foothold in Asia.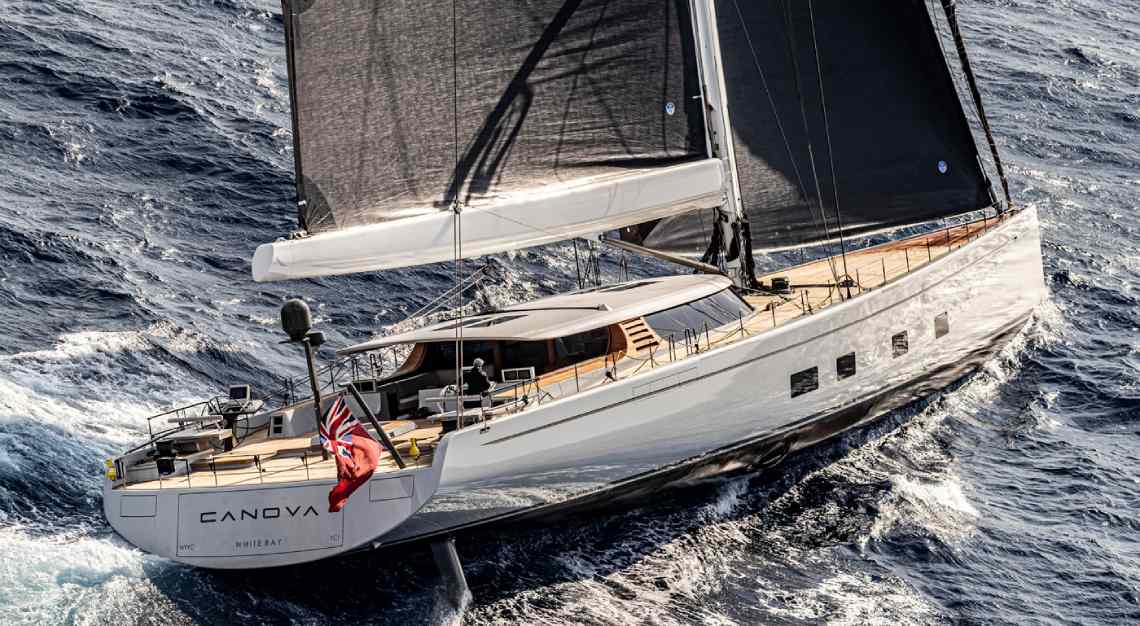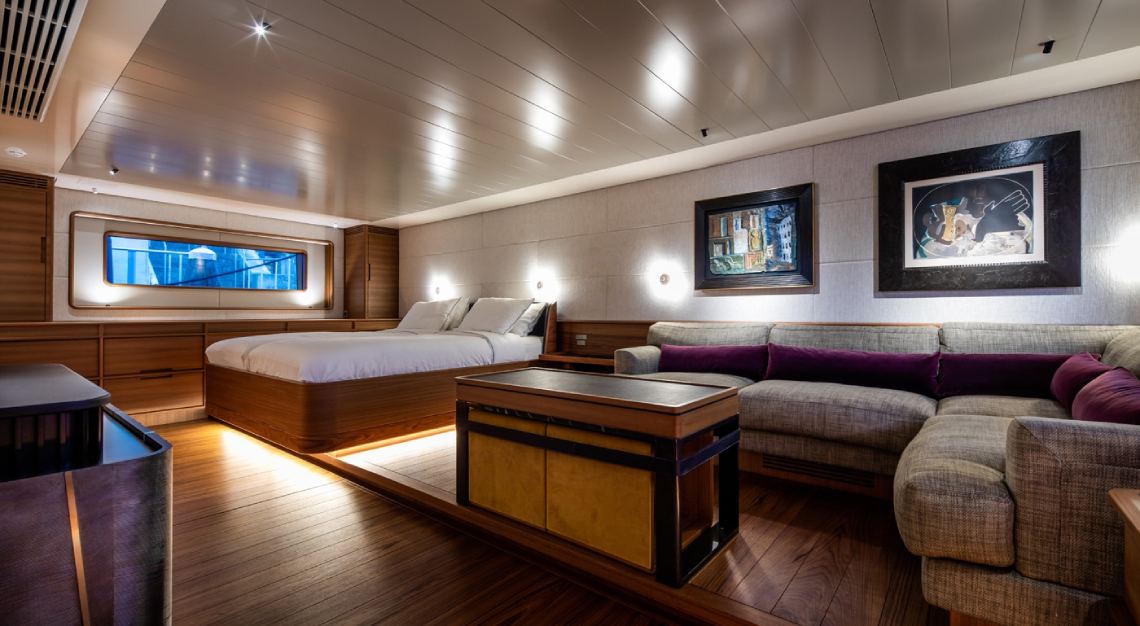 Best sailing superyacht: Canova
The 42m Canova from Baltic Yachts has some of the most sophisticated technologies seen on any 30m-plus sailing vessel. It also scores highly for her natural beauty on the water.
Lucio Micheletti's balanced design includes a long, lean hull, a low-profile cabin and a vertical bow. Accommodation options include a roomy owner's suite, three guest staterooms and quarters for up to four crew. The yacht is equipped with powerful electric winches that allow for shorthanded sailing.
When not powered by wind, Canova uses hybrid propulsion; apart from its diesel-electric engine combo, the hydrogeneration system uses the yacht's momentum to recharge her battery bank. Canova can then operate in silent mode for up to nine hours, bolstering fuel economy and reducing emissions. Based on calculations, Canova could theoretically cross the Atlantic under sail without ever having to charge the batteries from the diesel engine.
Beyond her hybrid power, Canova has an even more impressive secret. Her Dynamic Stability System foil, a transverse sliding board that runs beneath the water's surface, is the first to be fitted on a yacht of her size. The foil, found on much smaller racing yachts, minimises heeling and pitching, so she offers a much smoother and faster ride than conventional sailing vessels.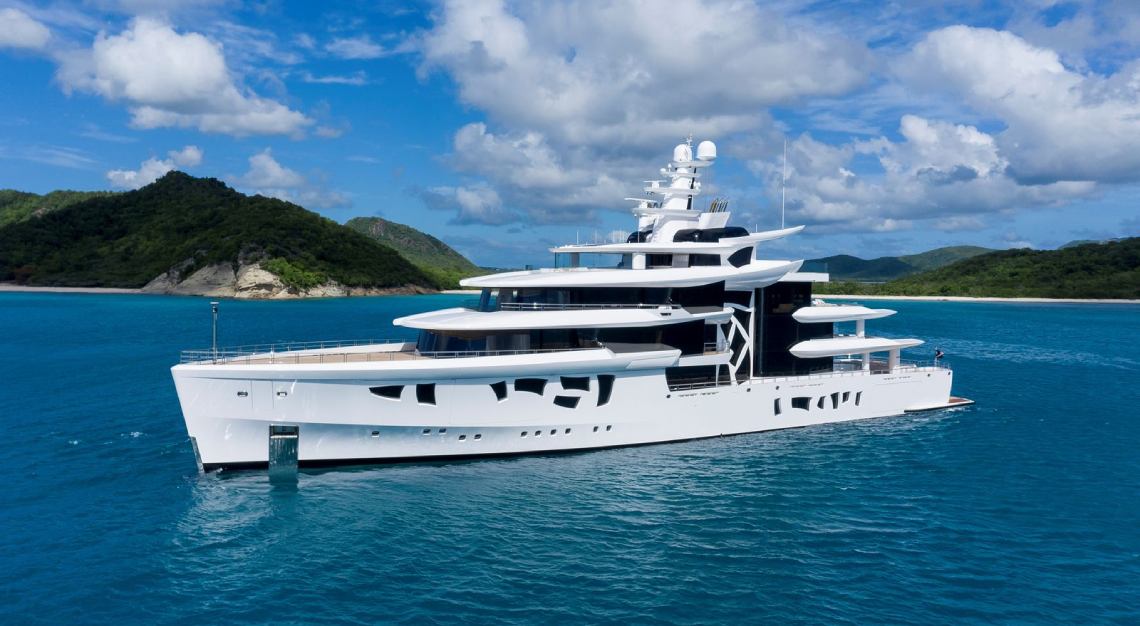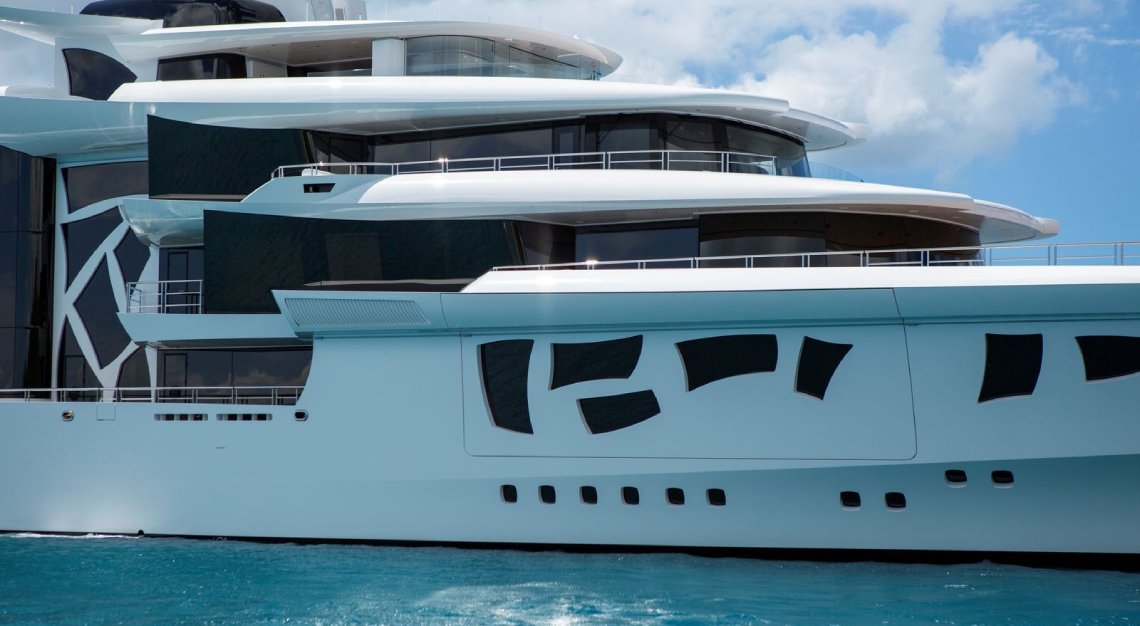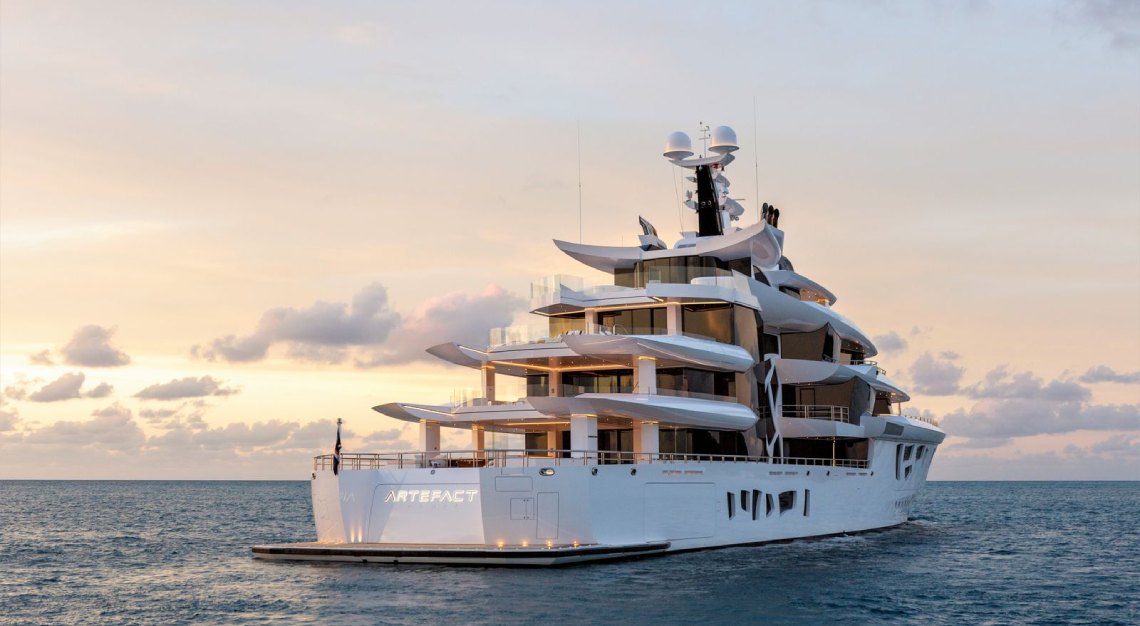 Best superyacht: Artefact
One of 2019's most important launches, Artefact has a strong, flamboyant character. The custom 80m, built at Nobiskrug's yard in Germany, is unlike any other yacht on the water, with a multistorey glass wall in her midsection, jigsaw-puzzle windows in the lower hull and balconies that define her profile.
Inside is her alter ego: a hybrid propulsion system that dramatically reduces emissions and operates silently for hours on battery power. Other eco-friendly features include 76m of solar panels, diesel-electric Azipods, wastewater recycling and a dynamic- positioning system.
While Artefact's technical prowess alone could justify this year's award, her innovative design assured it. "It's our coolest project," says Gregory Marshall, the Canadian naval architect behind the boat's standout look. "This is the owner's first yacht but not his first large custom project. He brought an uncommon mindset for creating something original and unique."
The exclusive details include 740sqm of glass, which provides exceptional water views. The master suite has been relocated from its typical forward placement to the rear area that would normally serve as the main salon. Marshall also rethought the arrangement of other key elements. "Balconies are featured across the yacht, positioned for privacy and wind protection, and grand public spaces are balanced with intimate private ones."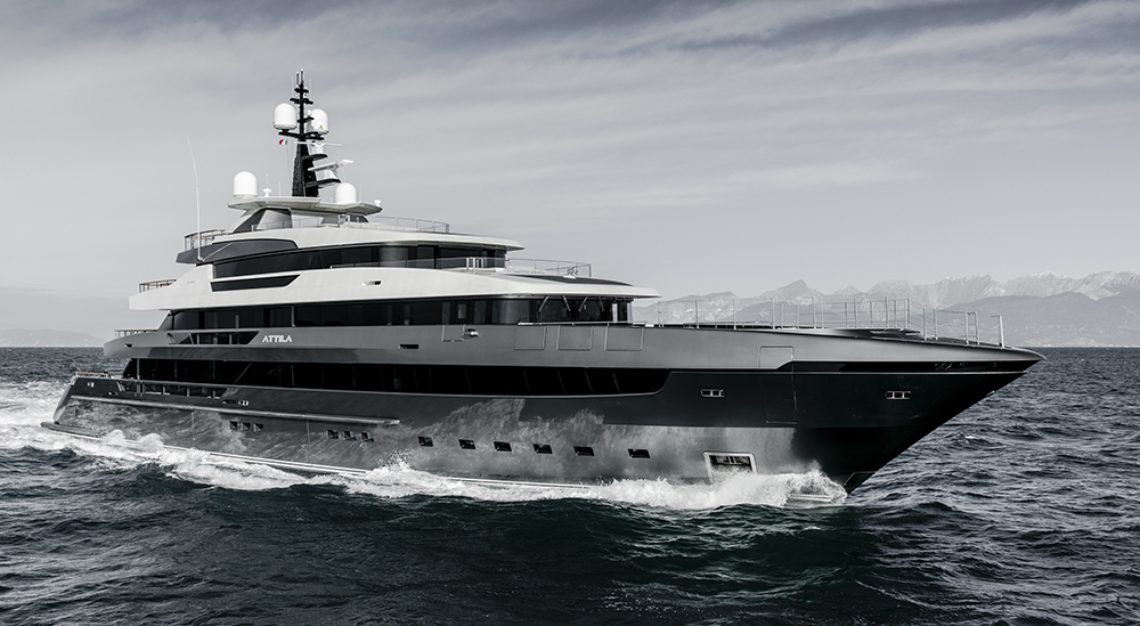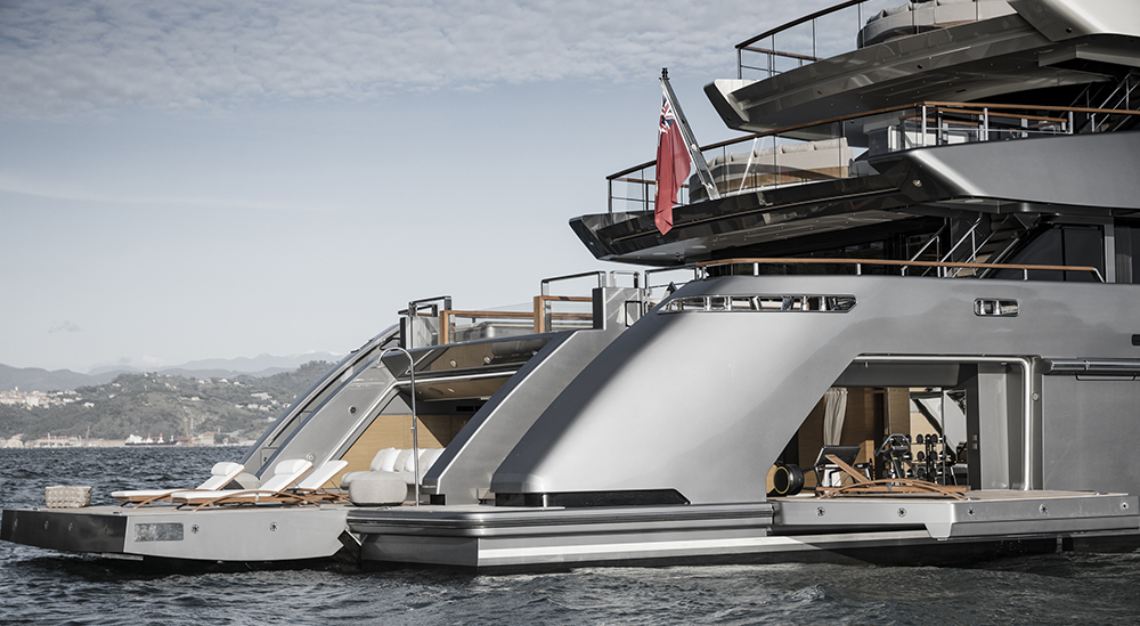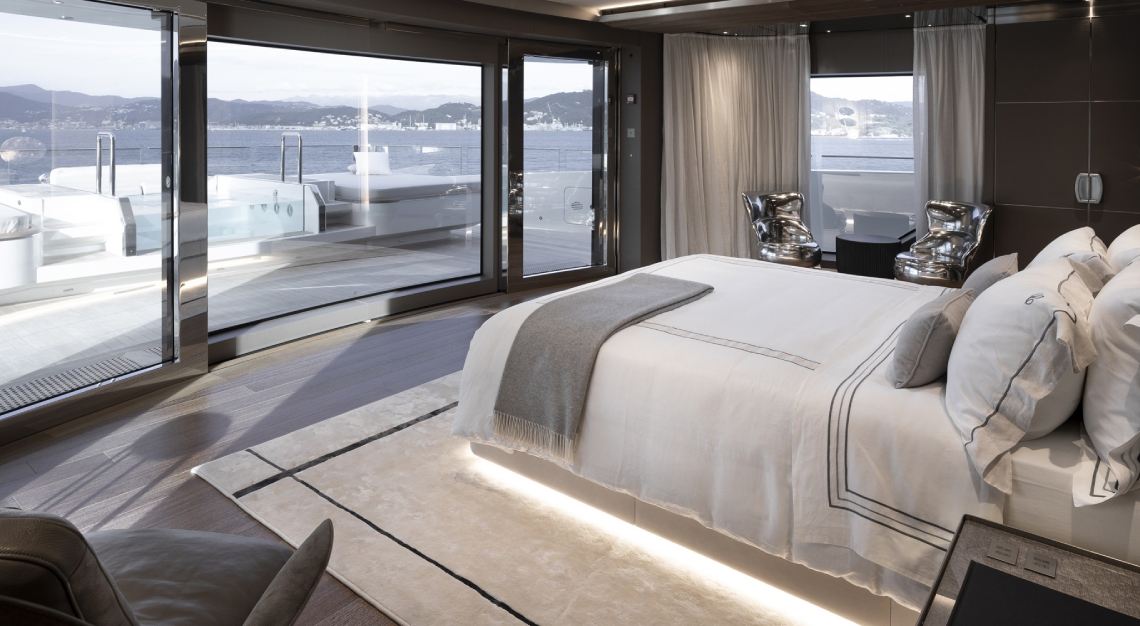 Best beach club: Sanlorenzo Attila
When the beach club became a must-have 20 years ago, it changed the lonely stern to a sought-after swim platform and fitness hub. Designer Francesco Paszkowski's reinterpretation of the beach-club interior on the 64m Sanlorenzo Attila shows how that area can be designed to reflect an owner's passions. "He loves to spend time with friends and cook at home," says Paszkowski. "The goal was to reproduce that on the boat."
The designers, which included Officina Italiana Design for the exterior, accomplished that by connecting the lower club with the main deck in every way possible, physically with stairways from both sides of the swim platform, and then visually via a glass-bottomed pool that serves as the beach club's ceiling. A third internal staircase, creating a double-height atrium, forms visual links between the beach club and owner's galley on the deck above, where he is often found preparing meals and chatting with guests at the bar. The yacht also has wine cellars and meat fridges, along with a larger, more elaborate galley, on the lower deck.
To dress the open, light-infused beach club, Attila's owner wanted a "cosy and contemporary" look. Paszkowski used glass and teak, accented with a Galusha-topped table, a Calacatta-marble-topped bar and onyx walls along the internal staircase. Beach-club accoutrements were not ignored. Attila also has a fitness area plus a massage room and spa with mosaic tiles.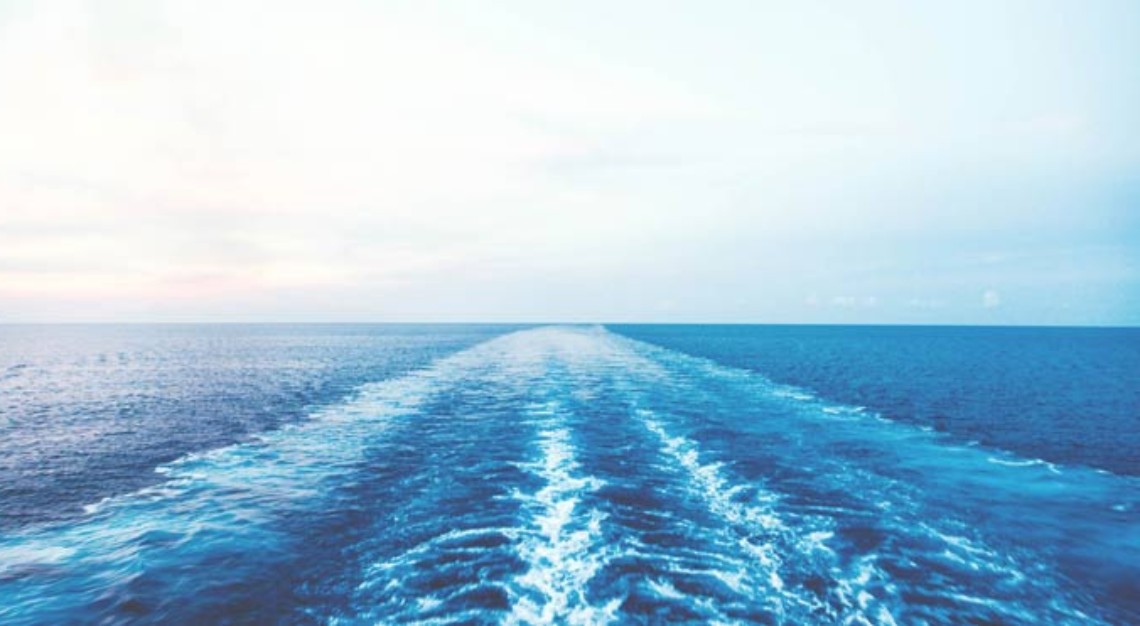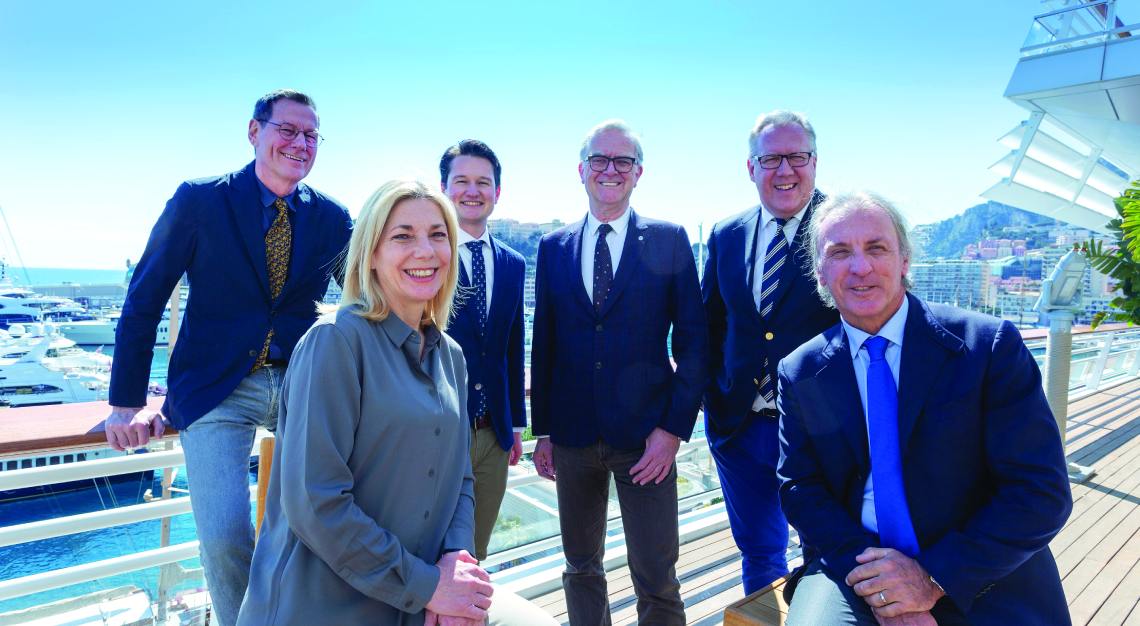 The leaders of sustainability: Water Revolution Foundation
"Clients ask us what new developments can help them be more environmentally conscious, more sensitive," says Peter Lürssen, fourth-generation leader of his family's German shipyard, which builds some of the world's largest superyachts.
Lürssen's clients aren't an anomaly. While learning about fuel efficiency, solar energy and eco-friendly generators, clients often realise that they have the power to do their bit for the environment without compromising on comfort and pleasure pursuits.
As such, Lürssen, together with Henk de Vries, the fourth-generation head of Feadship, and other executives across the yachting world, formed the Water Revolution Foundation. The mission is clear and ambitious. "We are determined to protect the oceans from degradation, to support ocean conservation and to leave the oceans in better shape than before," reads its code of conduct.
Water Revolution Foundation stands out, not because of its lofty goals, but rather because the group is in a unique position to positively effect change. Its superyacht owners are among the world's most affluent citizens and, according to the code of conduct, have the "power to drive sustainability and make a truly positive impact".
This kind of extensive call to action has never been delivered from the highest levels of the superyacht world. The group understands the urgency of declining ocean health and, because it's self-funded, can take the long view to finding solutions. Lürssen says his clients are ready to invest in new, eco- friendly technologies, and the group is already finalising a Yacht Assessment Tool that allows yacht builders to make smart, sustainable choices during the build process.
Our full list of Best of the Best 2020 winners here