Vela is a traditional wooden phinisi, hand-built in Indonesia, but with a modern interior that its thirty-something owners mandated for living the good life. We step aboard
Vela is a sea wolf in sheep's clothing. It might look like an early 19th-century wooden phinisi used to transport spices and textiles across the Indonesian archipelago, but the vessel is an eclectic mix of traditional and modern. The ironwood hull and off-white gaff-rigged sails are mated with smart "frosting" glass and a Nitrox dive centre. Vela, as we discovered during a week-long cruise around Komodo National Park, is a yacht where old meets new, and east meets west.
Handbuilt by Sulawesi craftspeople to an authentic Indonesian design, Vela (meaning shoreline) is a labour of love. The two hotelier owners', Dimitri Tran and Adrien Porter, first stepped aboard a liveaboard phinisi in 2016 during a family charter to the Komodo National Park. Two years later, they cruised the crystalline waters of Raja Ampat, yet both charters left them underwhelmed and feeling like they could do it better.
"We realised that most high-end phinisis lack a quality of finish and attention to detail," Tran told Robb Report. "We wanted to build a boat that feels like it belongs in Indonesia but to standards that are more comparable to a superyacht in the Mediterranean."
At 164 feet in length, Vela is one of the largest phinisis on the water. It is also one of the narrowest, with an elongated sleek hull and double keel that gives the boat weight under the waterline. Designed by naval architect Tresno Seery—son of the late Patti Seery who is credited with pioneering the luxury phinisi charter industry—Vela is hydrodynamic, efficient and stable.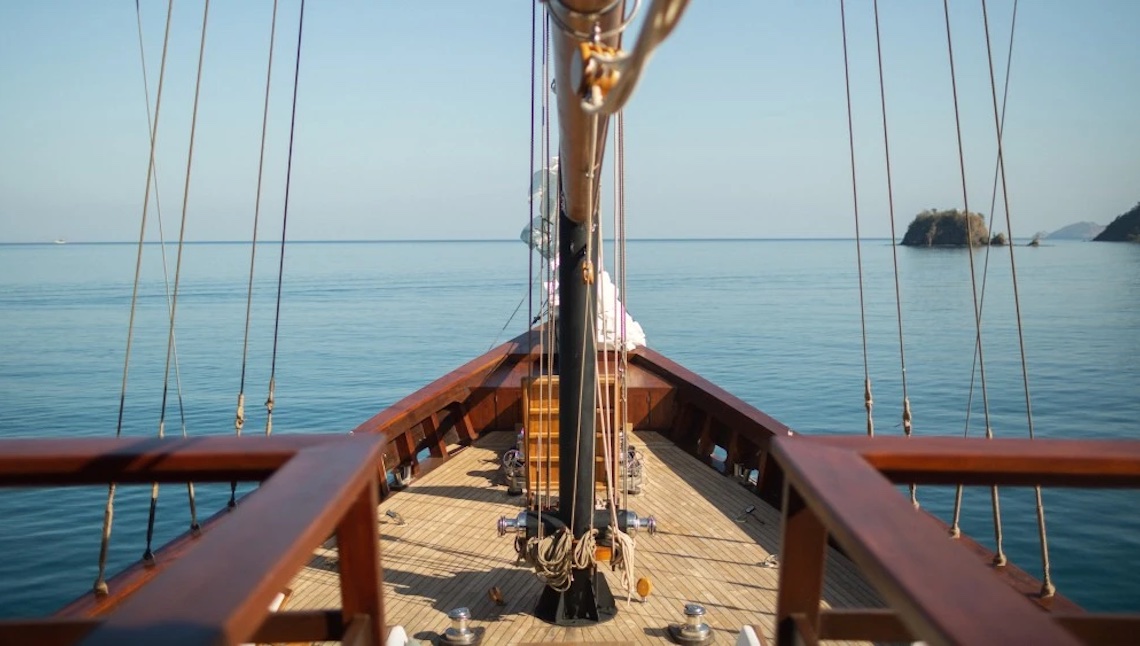 "We held a lot of respect for Tresno from the beginning," says Tran. "The two boats created by his mother, Silolona and Si Datu Bua—the second of which he spent a year living in Sulawesi following the progress of the build—are hugely impressive. He has hands-on experience of indigenous craftsmanship and yet is an American-educated naval engineer."
Vela's weight and stability are reinforced by its masts and rigging, among the tallest of all phinisis, while boasting the largest sail surface of nearly 7,000 square feet of sail.
"Modern phinisis are powered by an engine with the sails kept for their aesthetic beauty," says Tran. "We wanted Vela's sails to be more than just decoration and for the boat to be able to sail whenever we wanted."
While the owners' approach to design pushes into the contemporary, their choice of the build process was wholly authentic, eschewing modern shipyards in favour of the traditional Bugis-Makassar boatbuilding technique. Vela was custom-built by hand on the beach in South Sulawesi with only limited tooling. Once complete, the boats are pulled by hand into the water using chains. It took one month to splash Vela.
"When you build a wooden boat in the west, the ribs are constructed first and then you add the skin," says Tran. "In Indonesia, they build the outer skin first and add the ribs. The technical skills required to balance the boat and ensure port and starboard sides match exactly, without having the ribs to guide your work, is incredible."
Indonesian teak is used for Vela's decking, ironwood for the hull and the traditional twin masts are made from carbon. Typically, phinisis don't feature a boom for the main sail, yet Vela bucks the trend, doubling as a convenient crane to lift the yacht's toys and tenders in and out of the water.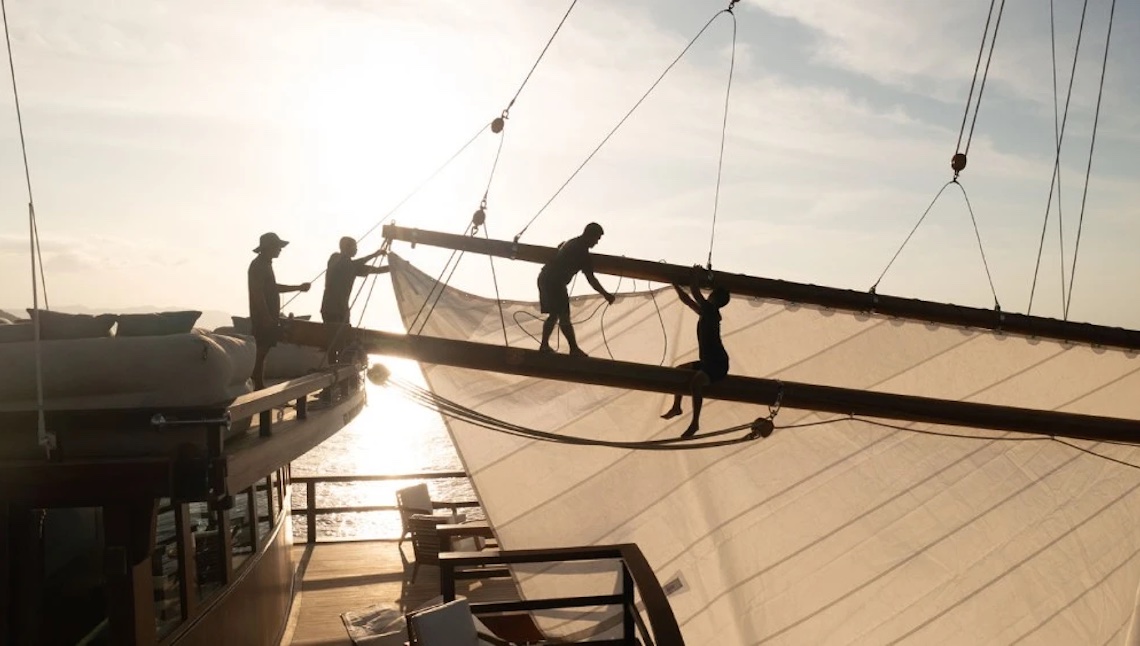 Inside is a refined and contemporary interior. A formal salon is the yacht's only indoor dining option, with nearly all meals taking place outdoors on the main deck forward and aft. Two master suites on the main and upper decks are joined by four generously sized guest cabins on the lower deck, all with ensuites that feature white marble and green tiles made by Balinese ceramics specialist, Gaya. White linen and fabrics by Italian brands, such as Dedar and Rubelli, are paired with hand-woven plant fabrics, traditional kimonos and decorative throw pillows made from natural plant-based indigo.
For the 15 pieces of art on the walls, the owners collaborated with three of Indonesia's leading contemporary galleries. "Our mandate was to showcase up-and-coming talent and highlight what Indonesian contemporary art is today," says Tran.
Vela adopts a zero-plastic policy on board, providing guests with personal water bottles, sustainably sourced toiletries and bamboo toothbrushes. The yacht cruises throughout Indonesia, where guests can make the most of the onboard Nitrox compressor and 14 sets of diving gear, under the expert guidance of Vela's dedicated diving instructor.
In calm waters when the yacht is at anchor, guests gather on the top deck—or "stargazing deck"—where low balustrades and lounging sofas connect them with the beauty of Indonesia's cruising grounds.
Since recently taking delivery, Tran and Porter have enjoyed a 10-day Indonesian cruise with friends, with fireworks and beach barbecues to celebrate. As Vela is built with charter in mind, the pair now have their sights set on more phinisi builds, smaller in size to accommodate couples and families, but always striking a careful balance between the old world and the new.
This story was first published on Robb Report USA