The brand's 2023 novelties embodies its commitment to exquisite craftsmanship and innovation, while offering a little something for everyone
Having enjoyed six years of independence from former parent company Seiko, Grand Seiko has been hitting its stride in continuing to build upon its reputation as a watchmaker known for nature-inspired aesthetics, obsessive attention to detail and a relentless pursuit of timekeeping precision.
Its 2023 novelties run the gamut of modern design and utility, but there are three models in particular that perfectly embody the multi-faceted appeal and diverse talents of this Japanese horologer.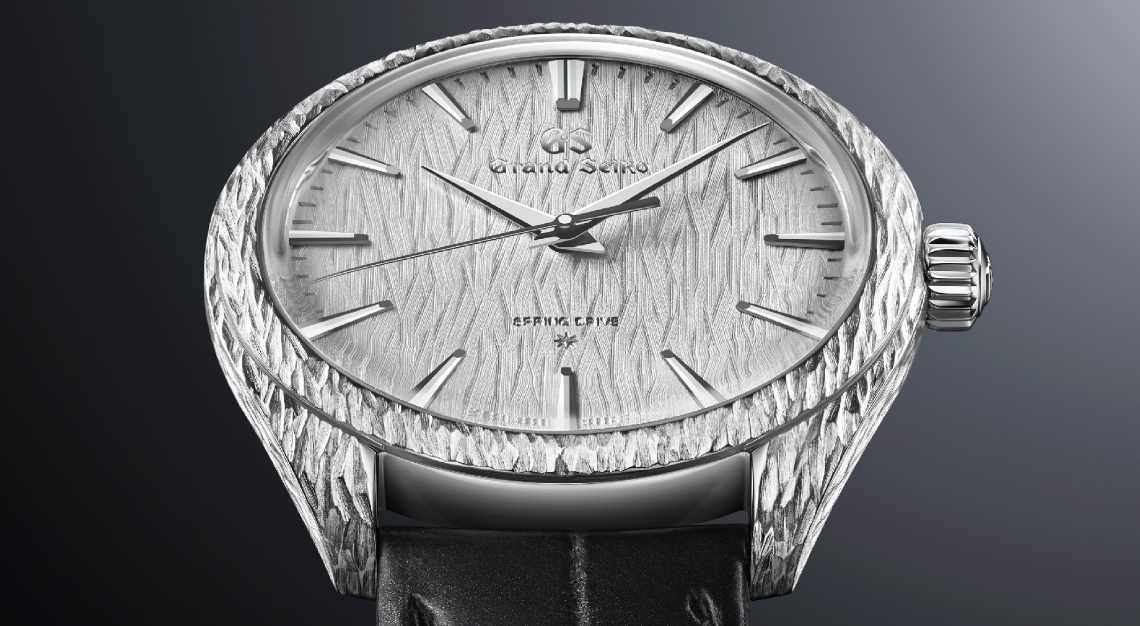 The first is the Masterpiece Collection Spring Drive Limited Edition Majestic White Birch SBGZ009, which is limited to 50 pieces. The Masterpiece watches represent the pinnacle of what Grand Seiko is capable of: blending technical virtuosity and artistic expression through intricate hand-decorated textures and exceptional complications.
These rare watches are made by a small team in the Micro Artist Studio in the brand's Shinshu Watch Studio in Nagano prefecture. Its location in Shiojiri means it is blessed with serene views of the white birch forests at the foot of Yatsugatake Mountains, from which the SBGZ009 takes inspiration.
The dial pattern echoes the forest in winter. While similar white birch-inspired dials have appeared in other models like the steel SLGH005 and SLGA009, the SBGZ009 extends the hand-engraving to the 38.5mm platinum case. The hands and applied hour markers are crafted in 14k white gold, but the minute track, text and logos are carved into the dial, further demonstrating the skill of Grand Seiko's artisans.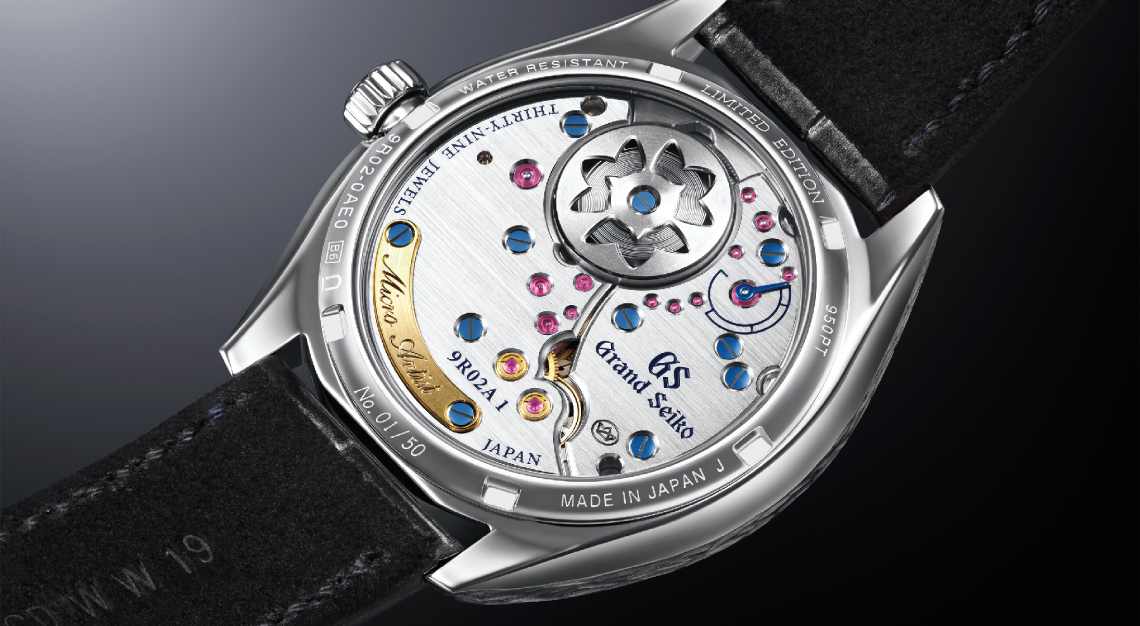 Under the artistry beats the manual-winding Spring Drive calibre 9R02 with 84 hours of power reserve. Grand Seiko's Spring Drive technology blends the beauty of traditional mechanical movements with the accuracy of quartz timekeeping using a combination of mechanical, electronic and quartz elements. Indeed, turning the watch over reveals a beautifully finished movement with polished bevels, a barrel cut in the shape of a bellflower (the symbol of Shiojiri) and a hairline brushed finish on the surface.
Even more exclusive is the Masterpiece Collection SBGD213J, limited to just eight pieces. The third jewellery watch to pay homage to the brand's lion emblem since the premier of the Masterpiece Collection Spring Drive 8 Days Jewelry Watch SBGD205 in 2020, the SBGD213J takes on a wintry palette this time with diamonds, blue sapphires and blue mother-of-pearl.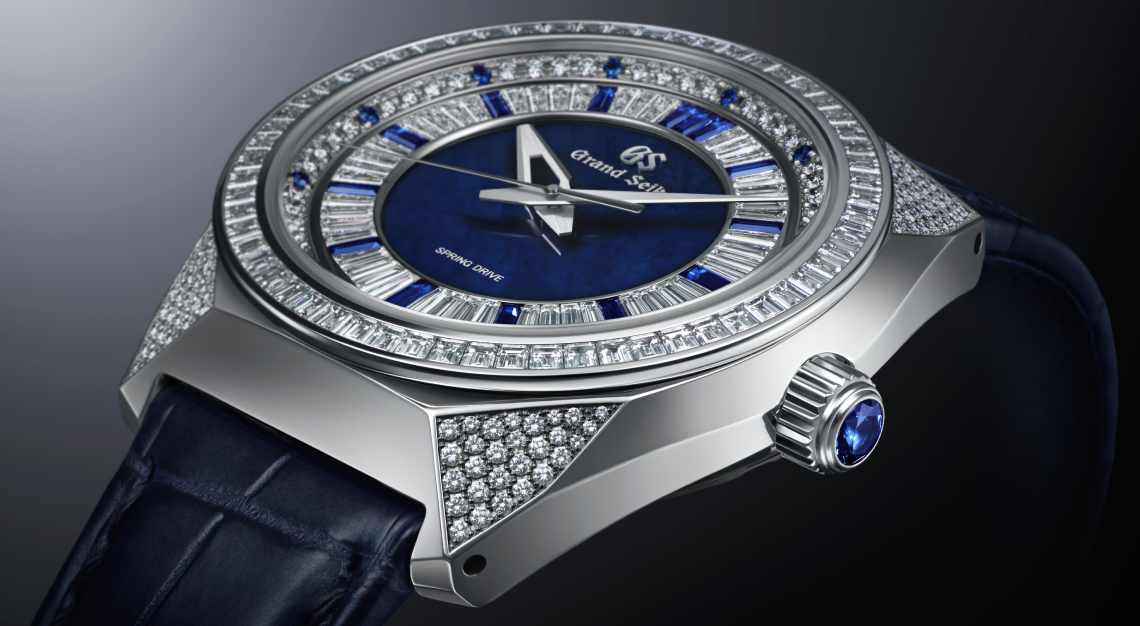 The 44.5mm platinum case is adorned with 112 diamonds on the case and another 60 baguette-cut ones on the bezel. The outer ring of the dial is set with 48 diamonds and 12 sapphires, while larger stones serve as the hour and minute markers and are set between thin 18k white gold rails.
The entire watch boasts 5.62 carats of diamonds and 1.25 carats of sapphires (including a brilliant-cut sapphire on the crown), all of which have been painstakingly set by hand. Like the SBGZ009, this bejewelled beauty runs on a manual-winding Spring Drive movement, but the calibre 9R01 will continue to beat under all that bling for a full eight days before it runs down.
The sporting spectrum
Grand Seiko's non-limited watches are equally covetable, as exemplified by the Evolution 9 Collection Tentagraph SBGC001. It marks the brand's inaugural foray into a fully mechanical chronograph, powered by the calibre 9SC5 instead of a Spring Drive movement.
With a high-frequency tick rate of 5Hz, or 10 times per second, hence its Tentagraph moniker, this automatic movement underwent rigorous 20-day testing to meet Grand Seiko's exacting standards of +5/-3 seconds per day. Notably, it boasts an impressive three-day power reserve, possibly the lengthiest among high-beat chronographs.
Its design is ruled by the nine codes that distinguish the Evolution 9 collection, and these include details like multi-faceted hands, flat dials, deeply grooved indices and a curved side profile for the case.
The result is a straightforward but handsome 43.2mm chronograph with a traditional tri-compax layout with date window and a dial engraved with a blue sunray-style pattern inspired by Mount Iwate, which can be seen from the Grand Seiko Studio Shizukuishi in Iwate prefecture. Encased in high-intensity titanium, with a black ceramic bezel, and complemented by a lightweight titanium bracelet, it exudes a sporty vibe while offering 100m water resistance for adventurous pursuits.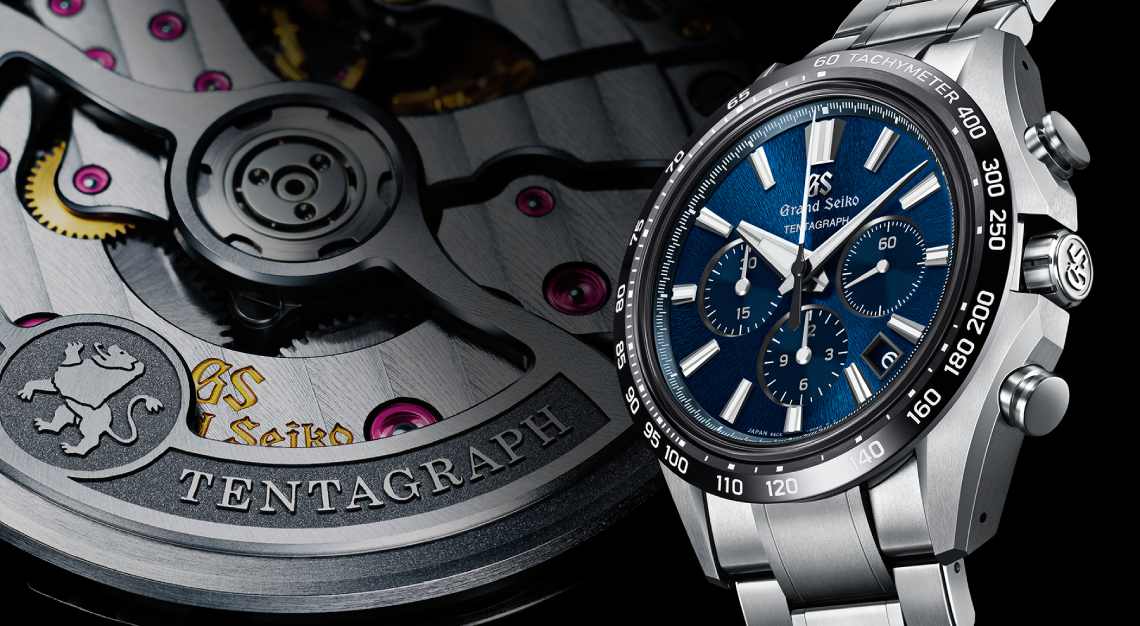 In their distinct ways, these three novelties exemplify Grand Seiko's commitment to delivering exceptional timepieces that cater to a diverse range of tastes while demonstrating its exceptional and varied takes on modern-day horology.