Channelling the rush of the vintage car rally, Chopard's Mille Miglia watches take you on a trip like no other
They all made it: the drivers and their spectacularly storied cars, racing 1,000 miles through bucolic Italian country roads and ancient squares at a legendary rally. But they always do at Mille Miglia (Italian for, well, '1,000 miles'), the legendary open-road endurance race that has been repurposed as a glamorous vintage car rally since 1977. While there remains a keen sense of competition with these men and their machines (the drivers are ranked, and the competing cars have to be the same year, make and model as those that ran in the original 24 races between 1927 and 1957), soaking in the local colour and enjoying the camaraderie are also top priorities. At the end of the race, the cliche holds assuredly true: it is the journey, not the destination, that matters.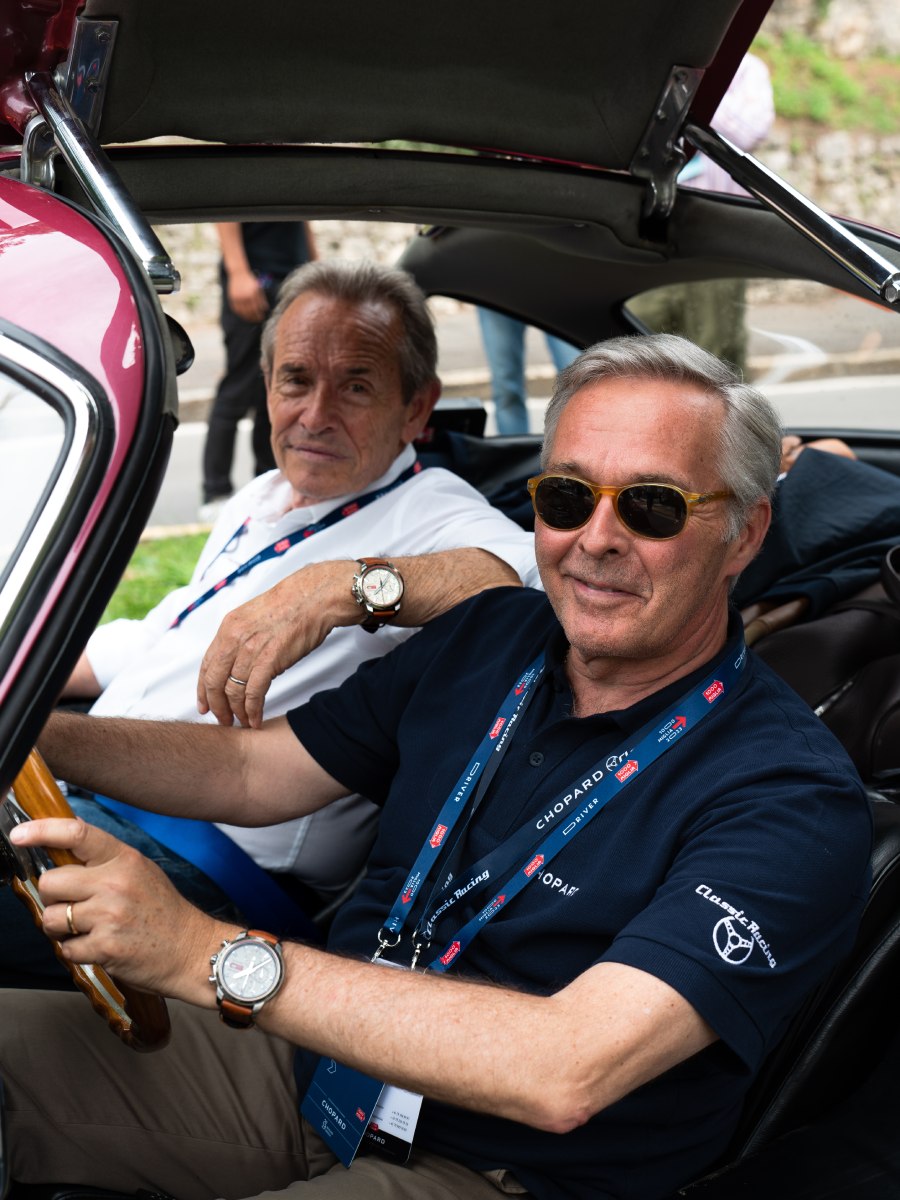 Just ask Karl-Friedrich Scheufele. A huge car enthusiast, the president of Chopard has been racing at Mille Miglia since 1989 and is showing no desire to slow down. At the 2023 rally, Scheufele partnered Formula One legend, Jack Ickx, as he always does, co-piloting his Mercedes 300SL Gullwing. Meanwhile, Scheufele also supports the rally in a professional capacity. Chopard has been Mille Miglia's official timekeeping sponsor since 1988, making it the world's most enduring partnership between a watch manufacturer and a motorsport event.
A sentimental partnership
When Scheufele first participated in Mille Miglia, the race didn't have an official watch sponsor. His horological instincts kicking in, Scheufele suggested that Chopard partner the rally and, to mark the collaboration, create a watch for its participating drivers.
This year's version, the Italian Limited Edition Mille Miglia GTS Chronograph, comes encased in 44mm steel and features a beige dial spiked with green and red. More than how they look or perform, however, we imagine that like all precious watches tend to do, these limited editions will evoke priceless memories and emotions of their owners' respective journeys.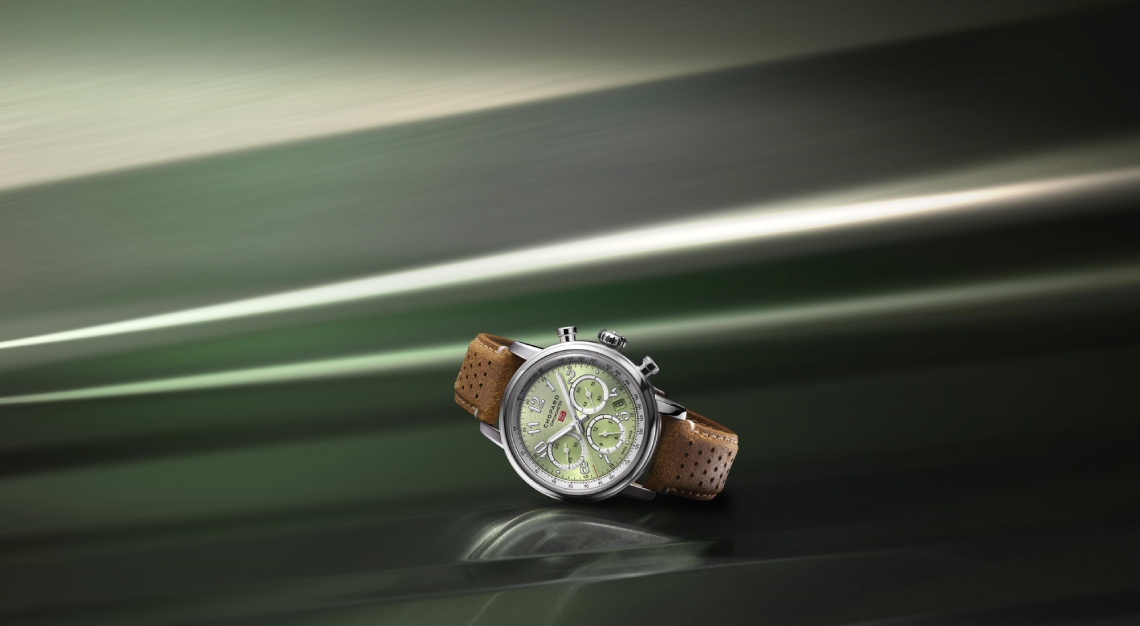 More than three decades on, the tradition to hand out exclusive Mille Miglia drivers' limited editions continues. However, right from the beginning, Scheufele, had also been quick to discern that demand for the watches would stretch beyond the confines of the rally. After Chopard made those commemorative timepieces for drivers, it quickly followed up with a commercial run of the Mille Miglia collection.
Taking on the race's personality and panache with vintage-like designs, the watches are also imbued with Scheufele's experiences of the race. All Mille Miglia watches, for instance, are distinguished by the race's red arrow logo on the dials and their Dunlop-style tyre straps, which are inspired by the Dunlop tyres on Scheufele's vintage Porsche, which he drove during his maiden Mille Miglia race in 1989.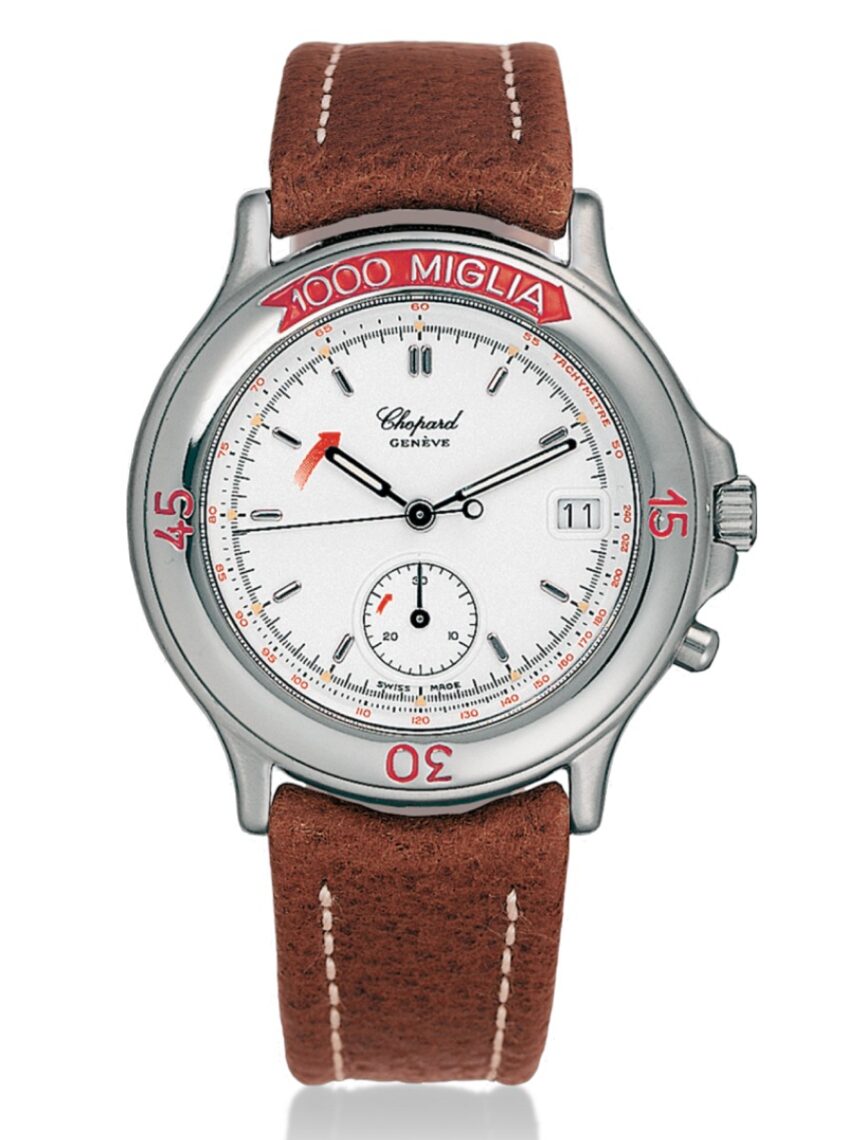 Interestingly, the latest Mille Miglia watches, too, suggest a strong longing for nostalgia. There is an unmistakable retro quality about the new Mille Miglia Classic Chronograph: a combination of its sensibly sized 40.5mm case in Lucent steel (Chopard's exclusive alloy produced with recycled metals), old-school pushers, traditional threecounter chronograph display on the dial, and a domed 'glassbox' sapphire crystal case that evokes the look of watches from the 1960s.
Whether you are partial to the classic version with black dial, or something more showy, such as the options with burgundy, lime green or blue dial encased in bi-metal yellow gold and steel—all inspired by classic cars' bodywork—there is no escaping the watches' throwback allure.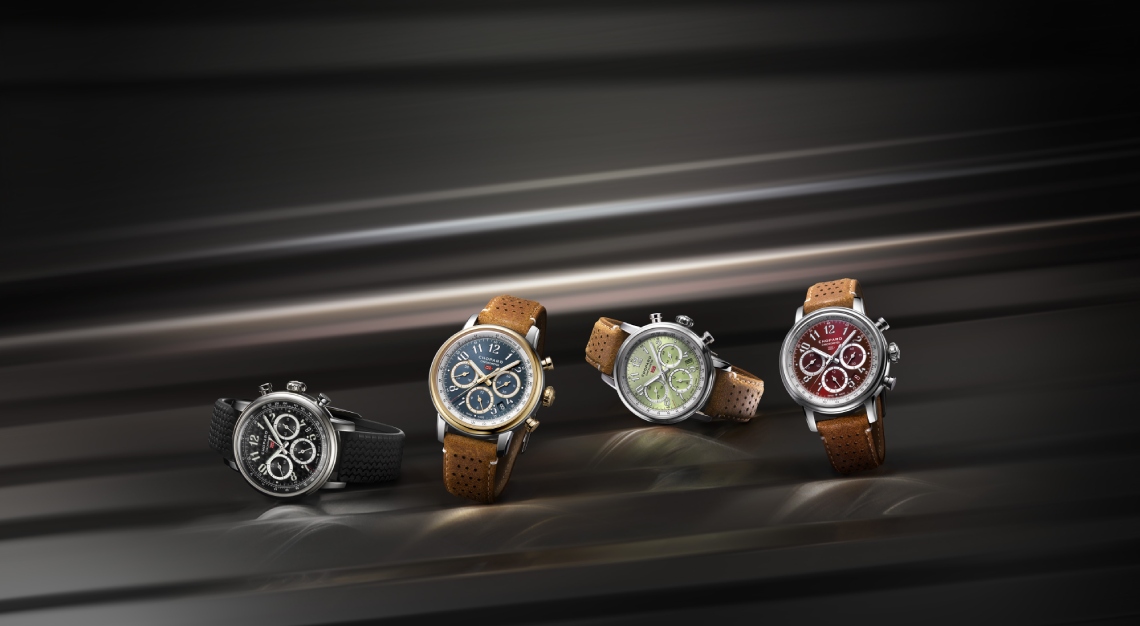 For a more contemporary option, there is the Mille Miglia GTS Power Control Bamford Edition Desert Racer. A collaboration with Bamford Watch Department, this 50-piece edition is sleek and dashing, clad in titanium, and fronted by a frosted black dial with a power reserve indicator designed to look like a fuel gauge.
While it comes as no surprise for Chopard to hail the watch's performance—it is driven by a chronometric-certified automatic movement—the Mille Miglia GTS Power Control Bamford Edition Desert Racer has also been field-tested by the founder of Bamford Watch Department, George Bamford, who wore it during Norra 1000, a desert rally in Mexico.
Billed as the off-road cousin to the regular Mille Miglia collection, this iteration certainly exudes a similar motor racing machismo, albeit in its distinctive style. Perhaps like the rallies they take inspiration from, the new Mille Miglia watches show that there is always more than one way to enjoy a race.