ASEAN Summit
Last weekend, Christie's Asia held a preview of their upcoming Autumn auction in Singapore. The Asian 20th Century & Contemporary Art Evening Sale will take place in Hong Kong at end-November (details below). It will feature many Southeast Asian heavyweights, including pioneer Singapore artists like Cheong Soo Pieng and Chen Wen Hsi. Plus important works by Indonesian and Filipino masters.
In our Facebook Live broadcast, we got Nicole de Silva, a junior specialist from the Southeast Asian Art department, to give us a quick introduction of the seven top lots. Check it out here:
Checking out Christie's Asia Autumn auctions preview at Artspace@helutrans! It's on this weekend from 11am to 7pm.

Posted by Robb Report Singapore on Friday, 3 November 2017
Here are the seven top lots again, for your viewing pleasure.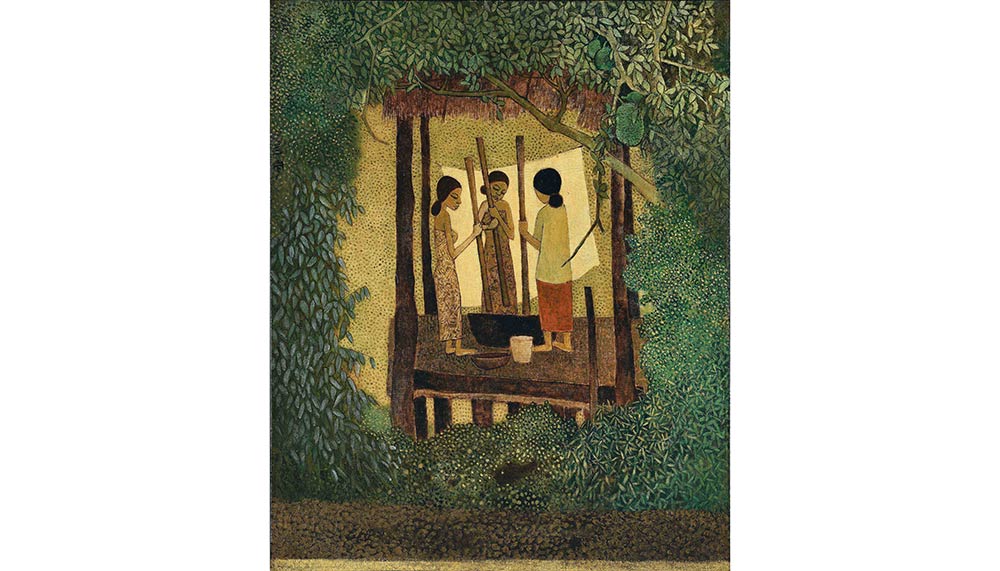 Ploughing, 1977, By Cheong Soo Pieng
Estimate: HK$1.2 million – HK$1.8 million (S$209,000 – S$314,000)
According to de Silva, this oil on canvas work by pioneer Singapore artist Cheong Soo Pieng has an unusual composition and a great sense of perspective. "Cheong Soo Pieng is known for his figures of ladies portrayed alone. Here, he shows a communal gathering – the kampong spirit – and frames it in lush foliage. This draws the eye inwards and gives the painting depth. You get the impression that you're peering in on them."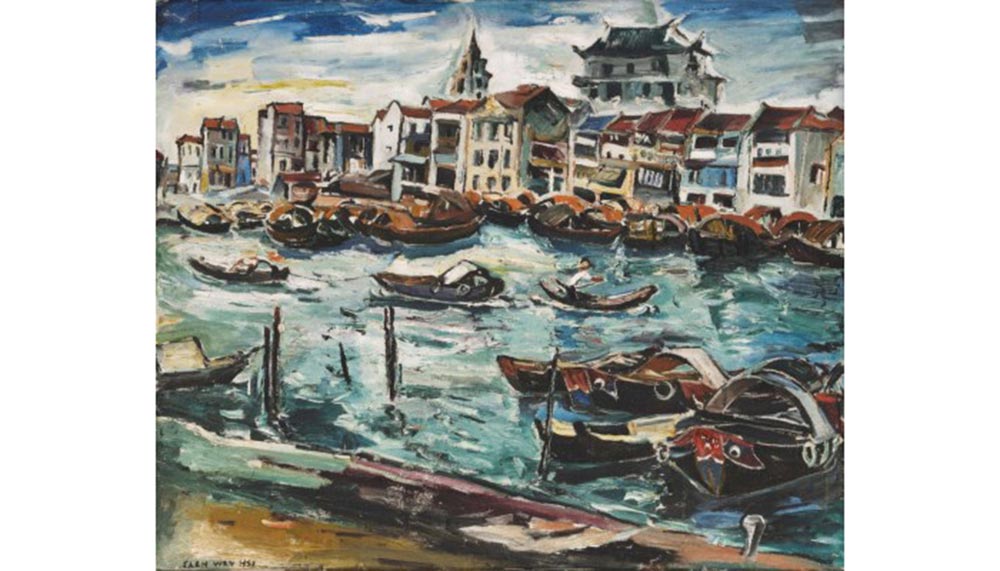 Singapore River , 1949, By Chen Wen Hsi
Estimate: HK$1 million – HK$1.8 million (S$174,000 – S$314,000)
Pioneer Singapore artist Chen Wen Hsi is known primarily for his works on paper, portraying animals like gibbons and sparrows. This, on the other hand, is an oil on canvas, and a sizeable one at that (H87 x L104.5cm). "We rarely see such large oil works from Chen Wen Hsi," says de Silva. "The subject matter is also very realistic – another rarity. The piece also has great provenance: it belonged to the former Permanent Secretary of the Ministry of Foreign Affairs in Thailand. In 1949, the Permanent Secretary invited Chen Wen Hsi to live with him for four months to teach his daughter to paint. While there, he painted the work and left it with the family, where it has remained to this day."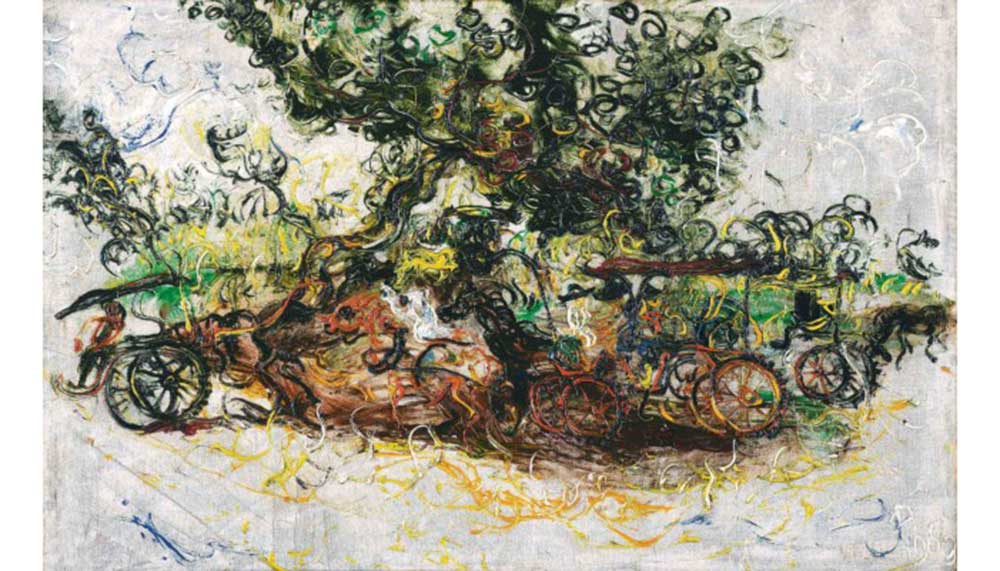 Andong, 1969, By Affandi Koesoma
Estimate: HK$1.8 million – HK$2.5 million (S$314,000 – S$436,000)
Affandi Koesoma is a key Indonesian modern master who often painted along his travels. This painting is of andong (horsecart) drivers at rest near the artist's hometown of Jogjakarta. "Affandi typically paints 'fuller' compositions where the paint fills the entire canvas. Here there's negative space that allows you to focus on the subjects. The subjects themselves are at rest but there's a lot of movement in his brushstrokes. He also uses the technique of squeezing paint directly out of the tube, which gives a lot of texture to the work," explains de Silva.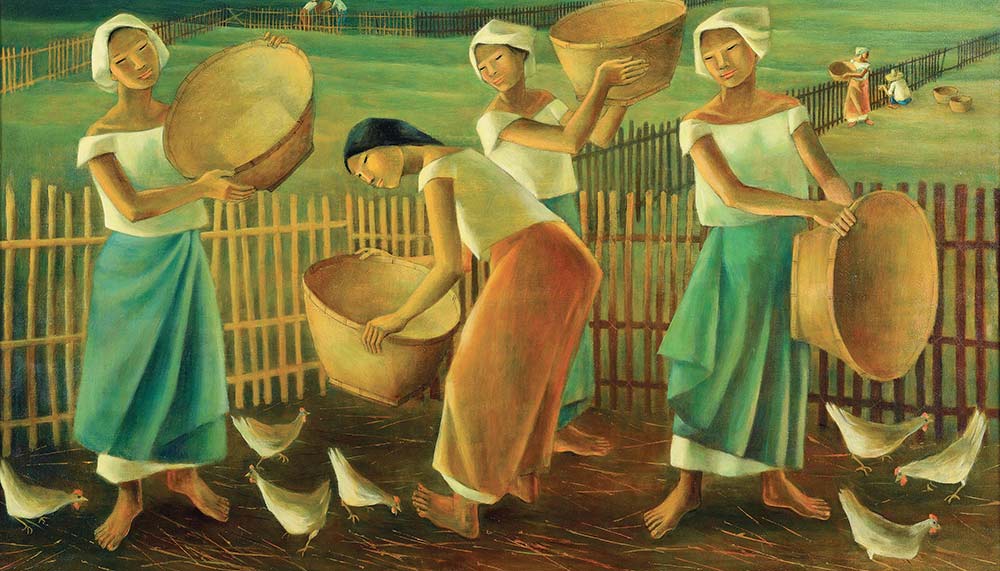 Women Feeding Chickens, 1979, By Anita Magsaysay-Ho
Estimate: HK$4 million – HK$6 million (S$698,000 – S$1,046,000)
Anita Magsaysay-Ho's works always celebrate the Filipina sisterhood and the work that the women do. "Painted during her green period (in the 1970s), this piece shows the strong Filipino connection to their land and country. The painting is not crowded with trees that push the subjects to the foreground. Instead, the background opens up and you can even see figures in the distance. It showcases the vastness of the landscape," says de Silva.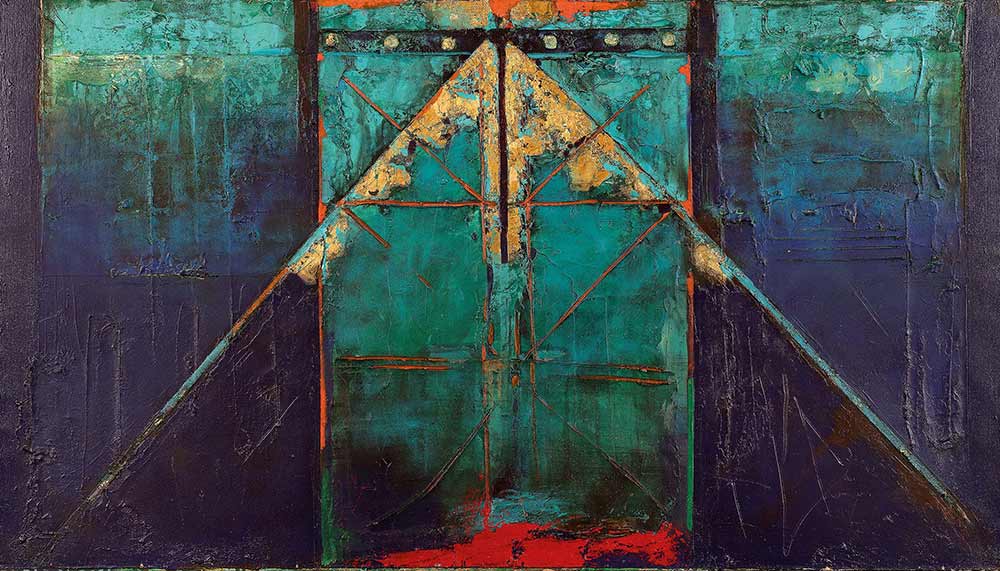 Komposisi Segitiga Bernuansa Biru (Triangle Composition in Blue), 1981, By Ahmad Sadali
Estimate: HK$700,000 – HK$900,000 (S$122,000 – S$157,000)
This painting, by Indonesian master Ahmad Sadali, is notable for its unusually large scale (H99 x L176cm), as well as its abstract expressionism. "In contrast to the social realism portrayed by artists of the Jogja school (Affandi, Hendra Gunawan etc), artists of the Bandung school were more exposed to Western techniques because of the teachers in school. As a result, a lot of abstract expressionist influences can be seen in their works," explains de Silva. "Ahmad Sedali was a devout Muslim, and the triangle shape represents the gunungan (mountain). Gold leafing is applied at the summit – the point that God touches the Earth. The triangle also represents the relationship between nature, God and the artist."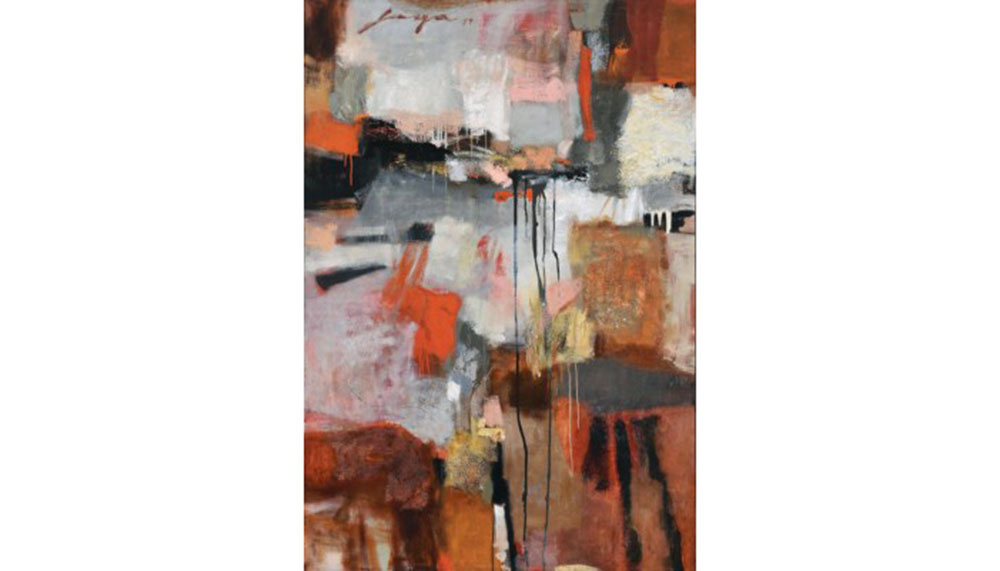 Untitled, 1957, By Jose Joya
Estimate: HK$1.2 million – HK$1.8 million (S$209,000 – S$314,000)
This piece was created during Filipino artist Jose Joya's time spent at the Cranbrook Academy of Art in Michigan. "There are influences of abstract expressionism and even Chinese landscape painting. The painting comes in a rare vertical format, with a layering of colours to represent the depth of mountain ranges. It's also unusual because of the use of textures," notes de Silva.
Yulong Mountain Under Moonlight, 1983, By Wu Guanzhong
Estimate: HK$15 million – HK$20 million (S$2.6 million – S$3.49 million)
"This is one of eight Wu Guanzhong paintings in the sale, but it's the largest lot," says de Silva. "Wu Guanzhong was a master of using white to create depth and a sense of volume. Paying attention to negative space takes meticulous planning."
Christie's Asian 20th Century & Contemporary Art Evening Sale
25 Nov, 6pm (Lots 1 – 58)
Grand Hall
Hong Kong Convention and Exhibition Centre
No. 1 Expo Drive
Wanchai
Hong Kong