From former rice fields to its present urban heart, Bangkok's Silom Road is arguably one of the world's most famous throughfares. Equally legendary is the former Dusit Thani Hotel, now in the process of its physical metamorphosis into the 46 billion-baht Dusit Central Park development
Post-pandemic Bangkok is possibly not the same as it was at the start of 2020. Parts of Ratchadamri are poised for redevelopment, while farther down the street at the intersection of Silom Road and Rama IV Road, the site where former Dusit Thai Hotel once stood is readying itself for its second spectacular act.
The upcoming Dusit Central Park will be a collection of branded service residences, the second iteration of the 259-key Dusit Thani Bangkok hotel, the 80,000 square metre Central Park shopping centre, and Central Park Offices, a grade-A 40-level office tower with a built area of 90,000 square metres.
The 46-billion-baht development, a partnership between Dusit Thani Public Company Limited and Central Pattana Public Company Limited, will be embedded on a 23-rai plot of land overlooking the centennial Lumphini Park, Bangkok's foremost inner-city green lung.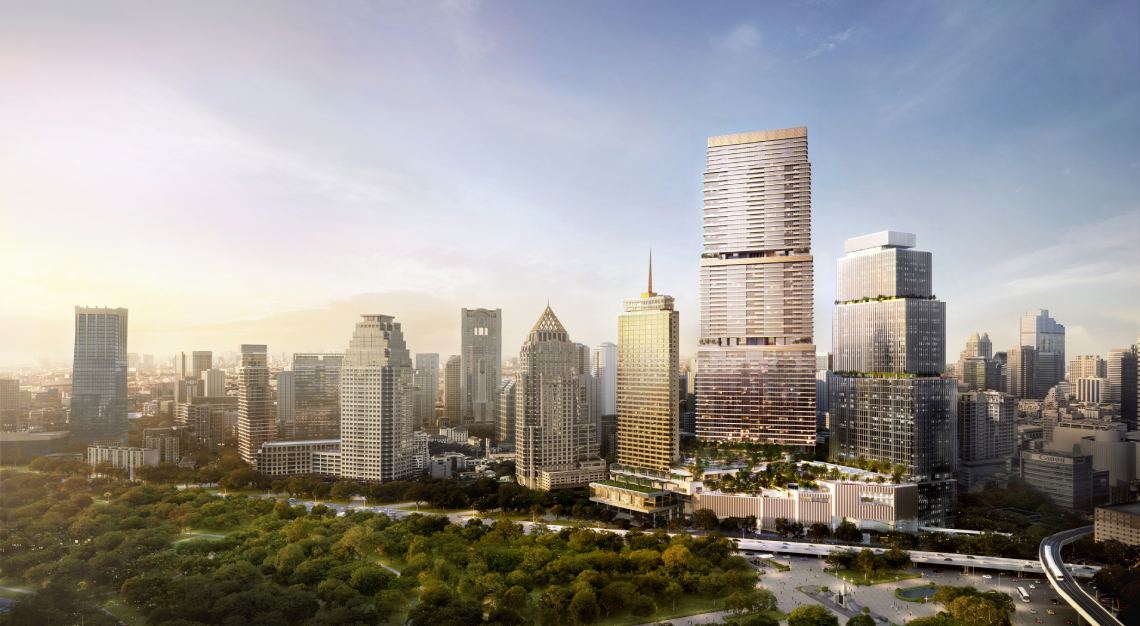 According to La-ead Kovavisaruch, Chief Executive Officer, Vimarn Suriya Company Limited, the developer of the Dusit Central Park project, it is Dusit's timeless legacy that remains dominant in peoples' minds.
"Dusit International was founded by Than Phu Ying Chanut Piyaoui. The founder had a dream, a vision to see Thailand as a leading global tourism destination. This was just after the Second World War. Now 50 years later, Thailand is on the top five list of leading countries for tourism. So her dream then was to build a five-star hotel that represents Thailand and Thai culture with an international level of service comparable to the highest global standard," says Kovavisaruch.
The new development, too, will retain the legacy. "At the same time, we put in new features and considerations that will last in the future. These elements will include the sustainability nature of the business. It's about the environment, it's about wellness, and it's about well-being. This is what we would like to add to the Dusit legacy. It starts from the design of the development, and encompasses the whole project, right through to our service—how we can serve the people better with these considerations in mind," she adds.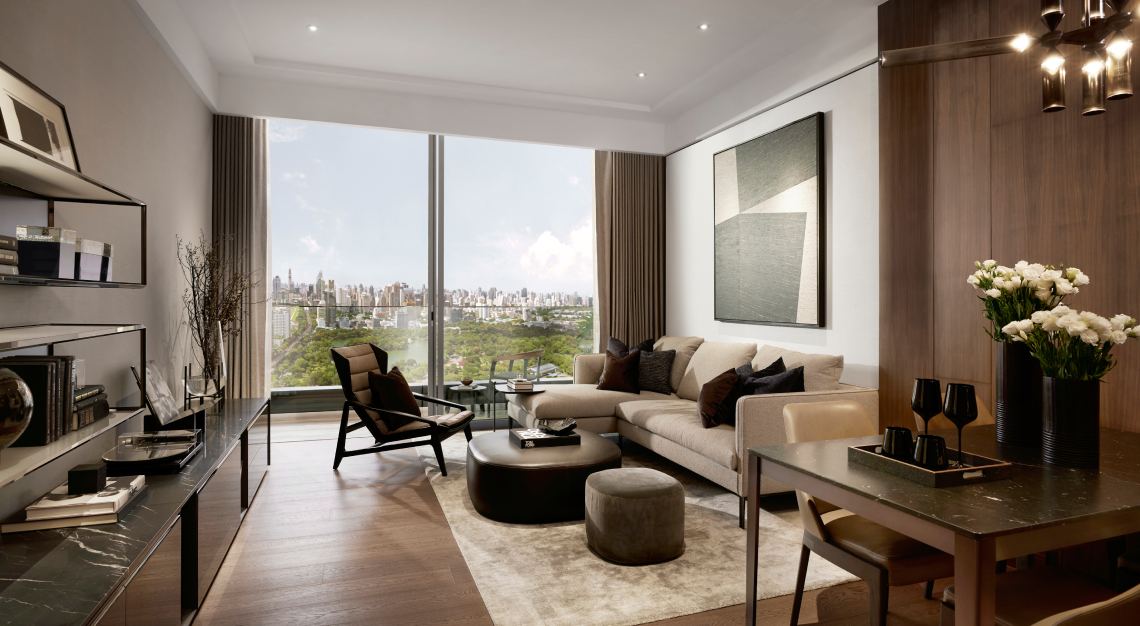 For the branded residences at Dusit Central Park, prices of lease-hold units start from US$480,000 for a one-bedroom 55 square metre unit at Dusit Parkside; while a two-bedroom 120 square metre unit at Dusit Residences begins at US$1.2million.
At Dusit Central Park, Kovavisaruch says, the light, the nature elements and the greenery, are well-considered in this upcoming icon for the future. "What we can carry on is Dusit's service. Dusit has built its name with the gracious service of Thai people. We consider all of these aspects in our branded residences. We will set the new standard; for example, in-room service, which many developers do not offer. We concentrate on the aspects of environment sustainability and 'green' values. We carry through these key components in the entire development."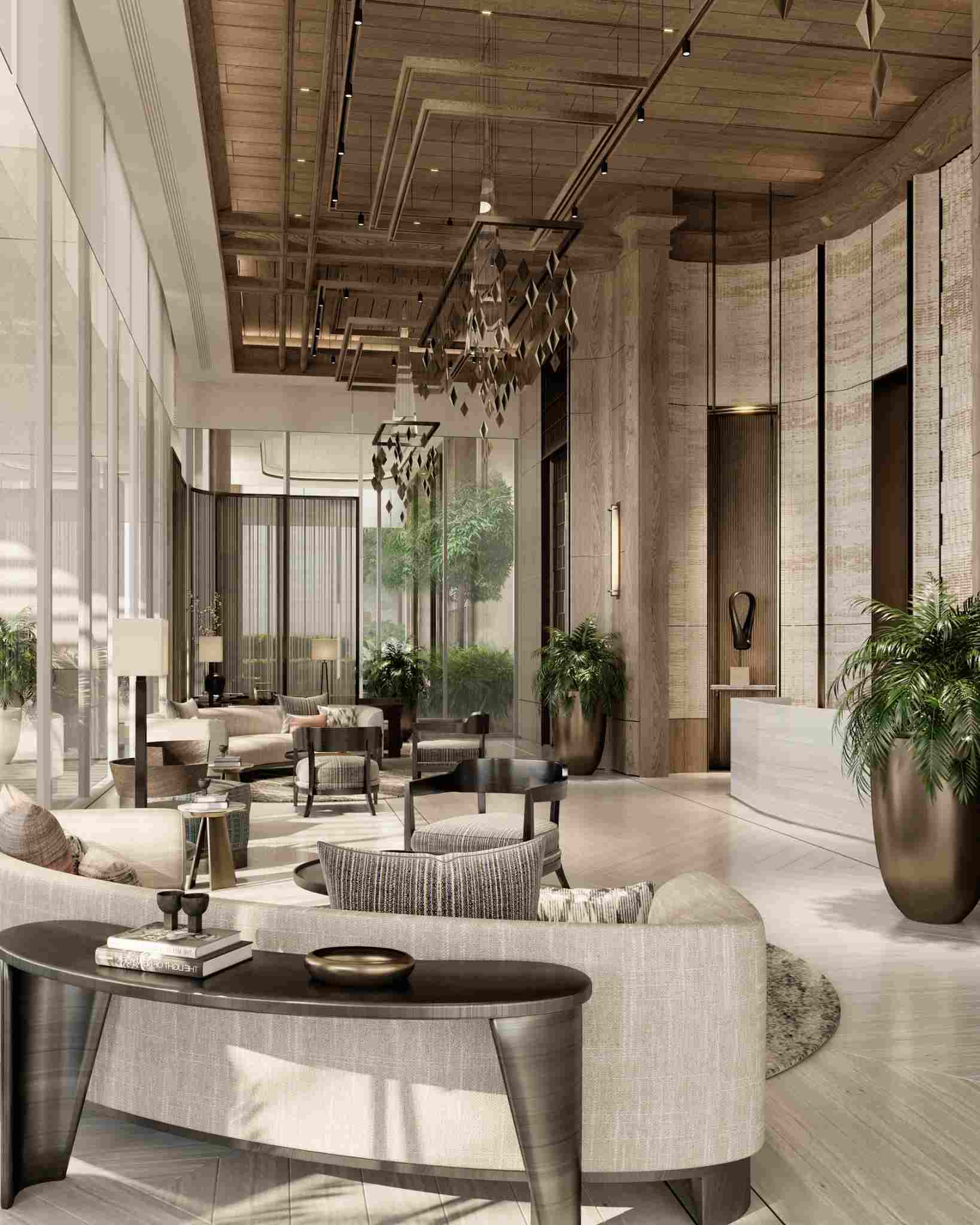 Dusit International's footprint currently includes over 40 hotels and over 300 individual villas across 16 countries. Kovavisaruch says that the company has extensive experience in catering to both local and foreign markets. This track record extended to the Dusit Central Park project. "We are in the centre of Bangkok," she shares. "We connect nature and the urban centre. We are lucky that we are next door to Bangkok's green lung. Our development connects to the city's largest park. We set the set the benchmark for green considerations. We are lucky that our location allows us to build an icon, a role-model [for the city]."
Kovavisaruch recalls Silom as being the most crowded street in Bangkok. "As a commercial centre it was previously busy, but has become quieter in recent years. Our founder had great vision to see Silom transform from rice fields to what it is today. In the past five years, Silom is gaining a resurgence, and will once again become a centre where everything happens. The land price in Silom is among the top three areas in Bangkok," she says
The hope, for her, is also to build a better community here. On the rooftop of the new Dusit Central Park, there are three sections of greenery: private; private and hotel guests access; and public areas. "We are confident that the Dusit name will be spread widely to countries overseas, as will our design concept, the brand and our product which will draw international buyers. Whether they will make the units their second home or as investment considerations, we are confident [of sales]. We have adjusted the buyer ratio to 60 percent local, and 40 percent foreign as some people might still be uneasy about international travel," adds Kovavisaruch.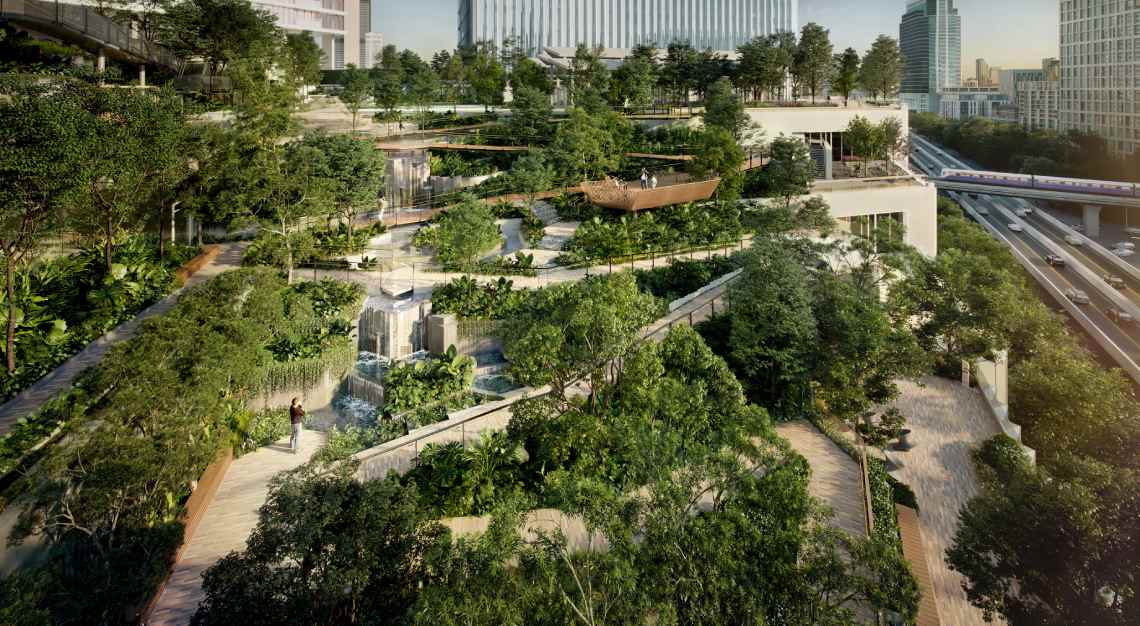 In the past, people from Southeast Asian countries such as Singapore and Malaysia have considered Bangkok as their second home with many purchasing properties in the city. "Things might change a bit, but we are confident that once we have the chance to touch base with those people who love Thailand and Bangkok, our product will speak for itself," says Kovavisaruch.
In the next five to eight years, the Thai capital will have a mass transit system comparable to the top five cities in the world. This will help communities in the city travel around, and "hopefully reduce the traffic congestion, which Bangkok has become known for in the past 50 years".
Projects such as Dusit Central Park, Kovavisaruch believes, with mixed used developments, will retain its relevance. "There is a luxury hotel, lifestyle elements such as fine-dining and retail, and commercial and office spaces. This makes everything complete."