Elevate your fine dining experience with the Les Amis Magnum Room
Rays of soft white light settle delicately upon the deep auburn walls, highlighting the gentle, meandering swirls of the wood grain. Paying homage to the old French Embassy's trademark wall panels, Les Amis' new Magnum Room transports you to the grace of yesteryear. Upon the hand-carved marble table sit two incandescent crystal lamps by Ryuichi Kozeki, emanating golden warmth that accentuates the marble's ivory and ebony grains.
The elliptical ceiling is adorned with Italian Renaissance fresco art by Andrea Mantegna—The Oculus. Masterfully painted, The Oculus depicts young cherubs peering over the gold-lined balustrade, a hypnotic azure sky hanging over them. Gently backlit, this centrepiece sets the stage for an unforgettable private-dining experience.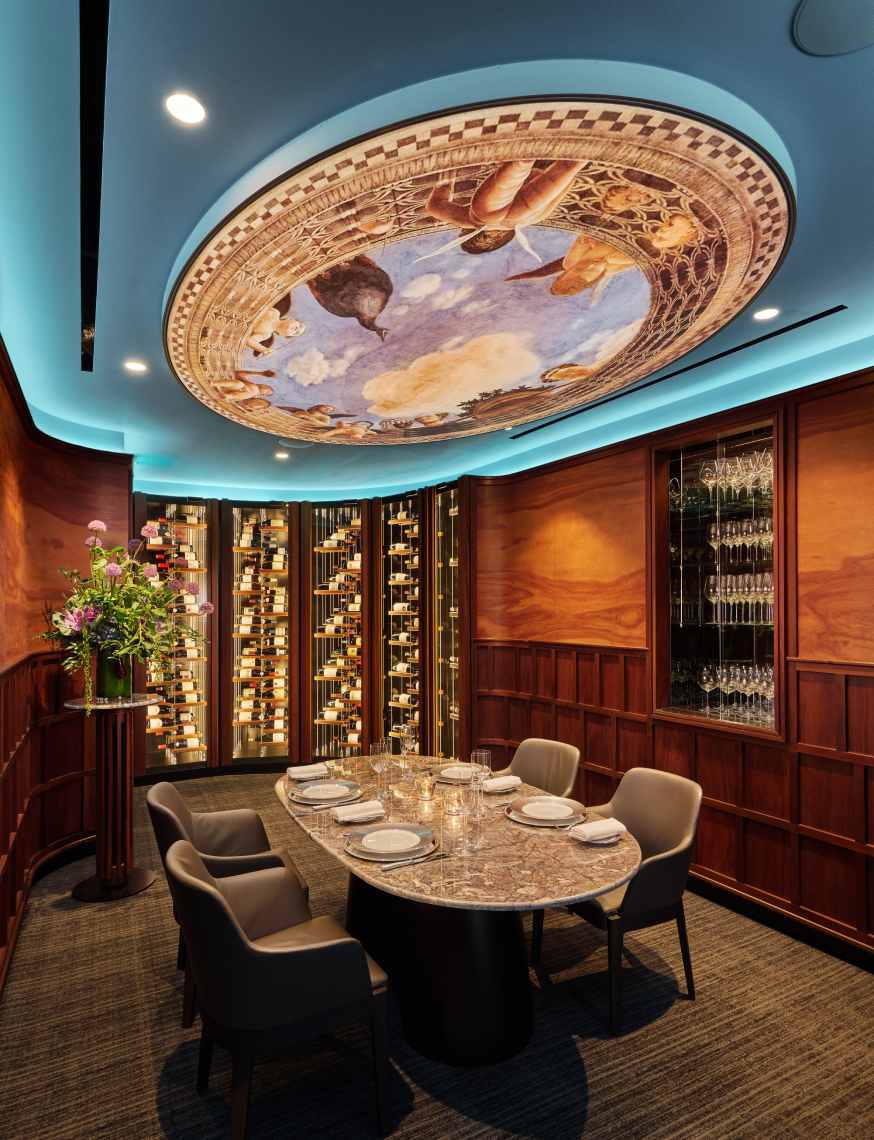 At Les Amis, the devil lies in the details. Executive chef Sebastien Lepinoy endlessly drives himself to innovate and challenge boundaries to better guest experiences. "I am constantly thinking about, what can I do better, what can I do [differently]?" The result is a private room, meticulously designed down to the finest detail. For example, the Magnum Room is professionally mapped out by Bowers & Wilkins to create a most pleasant auditory experience.
An excellent bottle of wine to round the night off is essential to French fine dining. Having earned the international Wine Spectator Grand Award since 1996, Les Amis is one of the only 97 restaurants around the world that bears this honour. The Magnum Room, in all its grandeur, pays tribute to the Parisian winemakers who are masters of their craft. Select your wine pairings from the extensive Magnum Collection 2022, with classics like the Château Lafite Rothschild 1959 to 2011, Louis Roederer Cristal Brut 1999, and Salon Cuvée 'S' Le Mesnil Blanc de Blancs Brut 1990 to 2008.
Les Amis
1 Scott Road
01-16 Shaw Centre
Singapore 228208
Tel: +65 6733 2225