From the original lotus paste with salted egg yolk to the ultra-luxe Champagne varieties, here's where to get the best sweet treats in town
Mooncakes. Some swear by the original baked Cantonese lotus paste, others, the egg custard. Then, there's the Teochew yam paste variety — basically orh nee packed into a fancy puff pastry — and Hainanese ones filled with crushed melon seeds and mixed nuts. And who can forget snow skin mooncakes that took the city by storm with fancy flavours one could only dream of?  The best mooncakes in Singapore take many form.
While we no longer use mooncakes to instigate an uprising (kudos to Zhu Yuanzhuang for that ingenious move), it still makes an annual delicious treat that many look forward to, accompanied by a hot pot of tea brewing by the side. Whether celebrating with family or just simply enjoying these rich little parcels, we've compiled a list of the perennial classics and latest offerings from some of the most celebrated brands.
Original baked
Grand Hyatt Singapore
Fans of the traditional baked mooncakes rejoice – the quintessential red lotus paste with double yolk and roasted melon seeds is available here in its original form. This classic, untouched by the hands of time, is sure to be a hit with lovers of mooncakes.
Grand Hyatt Singapore
10 Scotts Road
Singapore 228211
Tel: +65 6738 1234
Sheraton Towers
Mooncake enthusiasts should sample the exquisite selection from the award-winning Li Bai Cantonese Restaurant. Made with premium grade white lotus paste imported from Hong Kong, this silver awardee of the Asian Master's Best Asian Restaurants spares no effort in ensuring the quality of these baked classics. Have yours without yolk or with extra, with nuts or without – just the way you like them.
Sheraton Towers Singapore
39 Scotts Road
Singapore 228230
Tel: +65 6737 6888
Shangri-la Hotel
For the health conscious, there is no reason to give up mooncakes this season. The reduced sugar white lotus paste options here come in a range of yolk quantities, so you'll be able to have your cake and eat it too.
Shangri-La Hotel Singapore
22 Orange Grove Road
Singapore 258350
Tel: +65 6737 3644
Tai Chong Kok
Everyone is probably familiar with the red and white lotus paste baked mooncakes, but did you know that these classics come with red or green bean fillings too? Tai Chong Kok is one of the few establishments in Singapore selling these flavours made the way that they were intended to taste. Plus, it's less dense and filling, meaning you'll have space for other flavours too.
Tai Chong Kok
34 Sago Street
Singapore 059026
Tel: +65 6227 5701
Teochew baked
Peony Jade
This Michelin Bib Gormand restaurant isn't a household name in Singapore for no reason. Dishes aside, the restaurant is also raved about for its stalwart Teochew style yam mooncakes. With a buttery, flakey pastry wrapped around a smooth yam filling and a decadent salted egg yolk, there really isn't much left to desire. Except perhaps, for a second piece. While online orders aren't open just yet, beat the queues by making orders over the phone.
Peony Jade
Various outlets including one at Keppel
10 Bukit Chermin Road
M Level
Singapore 109918
Tel: +65 6276 9138
https://www.instagram.com/p/BZ1LObAnXtB/?hl=en&tagged=zhenweimooncakes
Zhen Wei Mooncakes
Handmade with love inhouse, the crust on these Teochew style mooncakes holds layer after layer of crumbly goodness. Filled with a creamy yam paste, these mooncakes come in a variety of centres including sesame, pumpkin, and salted egg yolks. Baked daily with no preservatives, these pastries won't stay fresh for too long, so we would advise ordering them only when you know you're going to eat them.
Zhen Wei
#02-09
Blk 3015 Bedok North Street 5
Singapore 486350
Tel: +65 6226 2226
Egg custard
Hong Kong Mei-Xin
You might have had other egg custard mooncakes, but have you tried lava egg custard mooncakes? Introduced a few years back, the Premium Lava Custard Mooncake has a molten surprise hidden within a layer of buttery pastry. It's a definite change in texture from what we are accustomed to, but it adds a fun, unexpected twist to the mooncake experience. It comes with lotus paste if you're a stickler for what mooncakes should contain, or have your egg custard two ways in the same mouthful. The brand doesn't have a physical shop in Singapore, but is available at Tangs.
The Peninsula
Airflown from Hong Kong, these petite pastries are not what you would think of when one thinks of mooncakes. Individually wrapped for guaranteed freshness, this sunny yellow confection holds more promise than you would believe. The buttery soft shell holds a rich, orange, salted duck egg yolk custard filling, indulging your sense of sight, smell, touch, and taste with one bite. The saltiness of the filling is balanced out with condensed milk, lending a sweet taste and a creamy texture.
The Peninsula Hong Kong
Salisbury Road
Tsim Tha Tsui
Hong Kong
Tel: +852 2920 2888
Snowskin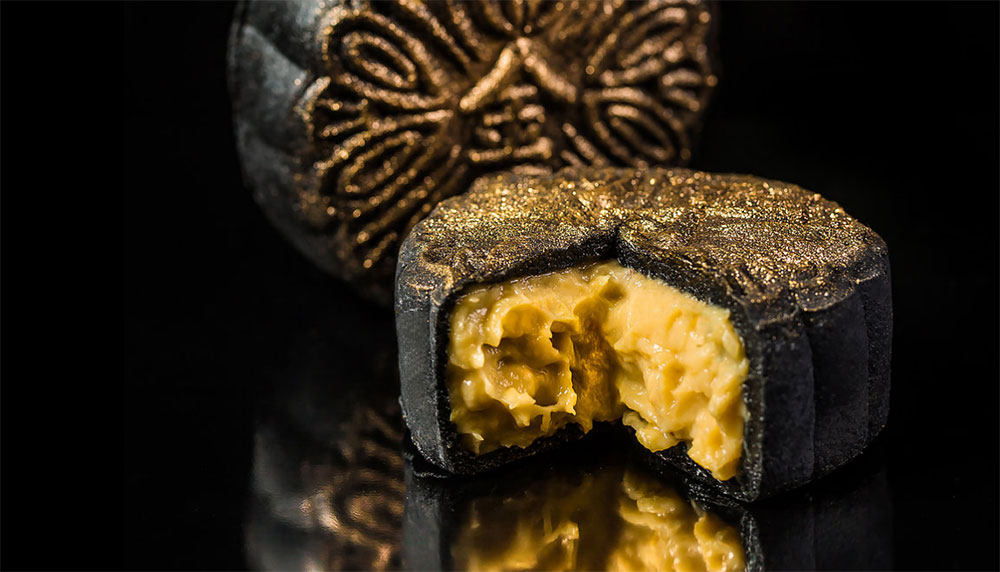 Golden Moments
Each black snowskin is elegantly gold-dusted and filled to bursting with the Mao Shan Wang, a premium variety of durian prized for its creamy, bittersweet flesh. This signature mooncake boasts no added sugar or cream, so dig in.
Golden Moments
71A Geylang Road
Singapore 389194
Tel: +65 9797 5719
Goodwood Park Hotel
You can't mention the hotel without thinking of its popular D24 and Mao Shan Wang mooncakes. This year, more flavours join the lineup of famed fruit-based snowskin mooncakes with Soursop with Calamansi. Not forgetting the beautiful watercolour-esque series of white snowskins painted with the naturally vivid colours, including blue pea flower.
Goodwood Park Hotel
22 Scotts Road
Singapore 228221
Tel: +65 6730 1743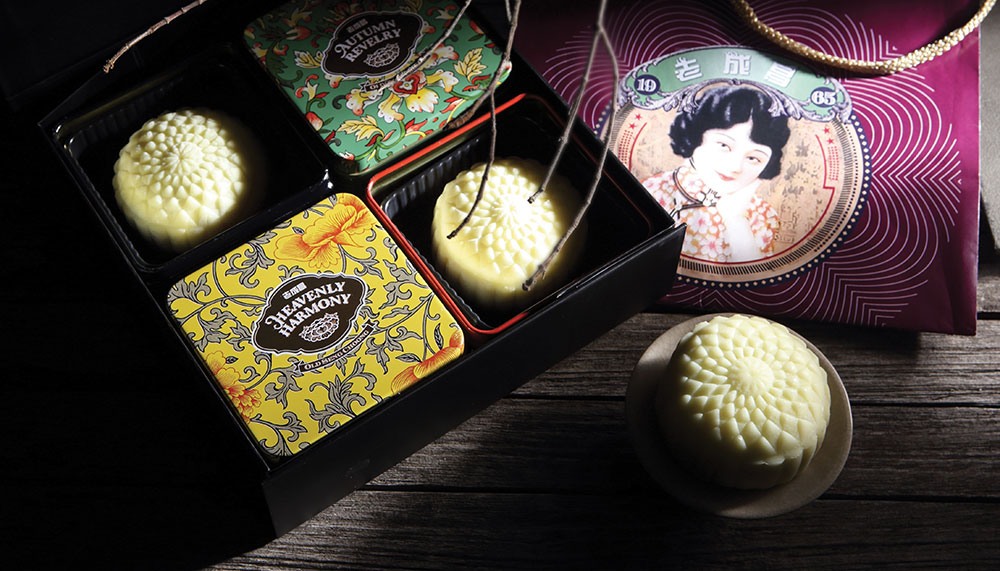 Old Seng Choong
Joining the ranks of innovative fruit and alcohol combinations is the yuzu martini snowskin from this nostalgic institution. This martini-infused creation brings together the zesty Japanese citrus fruit and sweet white lotus paste. If traditional mooncakes are more of your thing, the shop has a range of baked white lotus paste mooncakes to choose from, including pairings with salted egg yolks and various legumes.
Old Seng Choong
#01-48
The Central @ Clarke Quay
6 Eu Tong Sen Street
Singapore 059817
Tel: +65 6282 0220
Raffles Hotel
A longstanding signature at the establishment, the Champagne Truffle snowskin is a hot favourite every year and loyal fans just keep coming back. We don't blame them though, these bundles hold a generous white chocolate Champagne truffle that is just bursting with flavour; they weren't kidding about the Champagne – these really pack a boozy punch. Wrapped up in a smooth white skin, these mooncakes definitely live up to their reputation of being number one year after year.
Raffles Hotel
1 Beach Road
Singapore 189674
Tel: +65 6337 1886
Singapore Marriott Tang Plaza
A perennial classic at this centre of excellence in hospitality, the Mao Shan Wang snowskin mooncakes always sells like… hot cakes. Back by popular demand, the pungent aroma of the fruits used attest to the quality of durian in the mooncake and is sure to satisfy any aficionado's craving for bittersweet goodness.
Singapore Marriott Tang Plaza Hotel
320 Orchard Road
Singapore 238865
Tel: +65 6735 5800
The Ritz-Carlton, Millenia Singapore
Famous for its Martini collection, the tastemasters at The Ritz-Carlton Millenia have brought back the ever-popular Lycheetini snowskin mooncake. The light fruity taste of the lychee bits is punctuated by a complementary fruit liquor, bringing depth and dimension to the mooncake. This year, it is accompanied by a partner of the Irish variety. One for the coffee lovers, this mooncake is made with a cocktail of espresso, Irish stout reduction, vodka, campari and beer.
The Ritz-Carlton, Millenia Singapore
7 Raffles Avenue
Singapore 039799
Tel: +65 6434 5288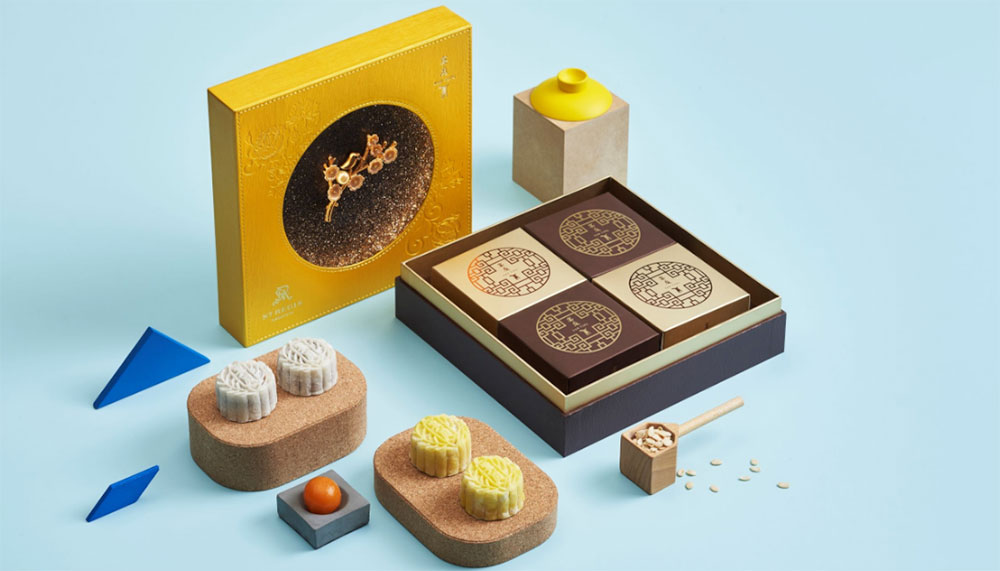 The St. Regis Singapore
Michelin-star mooncakes, anyone? Yan Ting is certainly not one to rest on its laurels, given that it collaborated with award-winning patissier Melissa Chou from Mister Jiu's in San Francisco for this year's celebration. You'll enjoy four new snowskin flavours: Black Sesame Paste with Salted Peanut Truffle, Jasmine Tea Paste with Salted Egg Yolk and Melon Seeds, Red Date and Wolfberry Paste with Almond Flakes and our favourite, Custard with Macadamia Nuts. Gift sets are also available with eight snowskins or four traditional baked mooncakes, each set comes with a teapot and premium Pu'er tea.
Yan Ting
Level 1U
The St. Regis Singapore
29 Tanglin Road
Singapore 247811
Tel: +65 6506 6887
Special mentions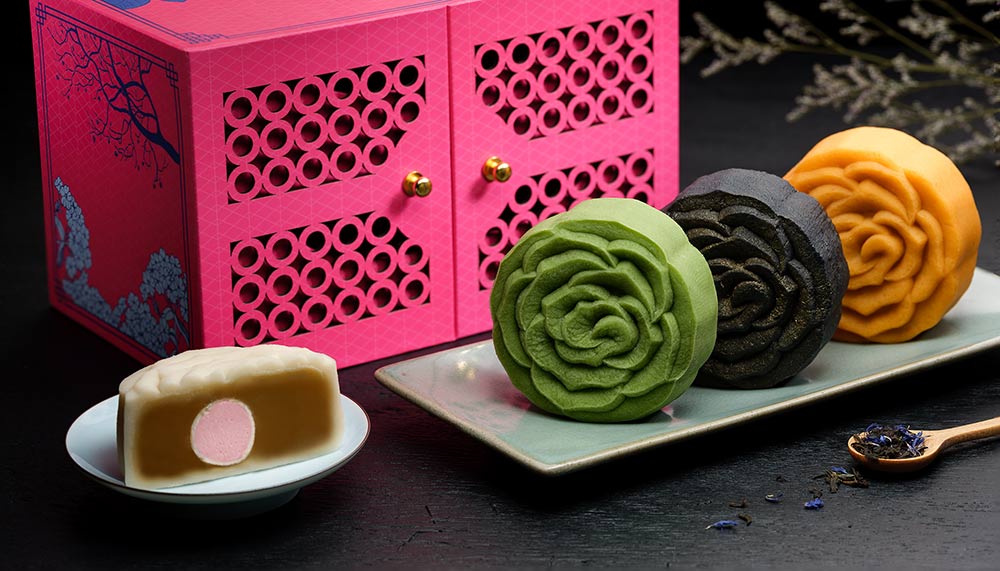 InterContinental Singapore – Floral Mooncakes
Unlike most monogram-marked mooncakes, these snowskin mooncakes from Man Fu Yan are marked with the signature peony in bloom. Each vibrantly coloured peony hides aromatic flavours, befitting of the flower's gentle perfume. The vivid orange bloom encloses a smooth, white lotus paste melded with mandarin peel, the emerald blossom wraps round a winning combination of matcha and white chocolate, while black and white peonies are black sesame and ambrosial osmanthus and Earl Grey with strawberry chocolate.
InterContinental Singapore
80 Middle Road
Singapore 188966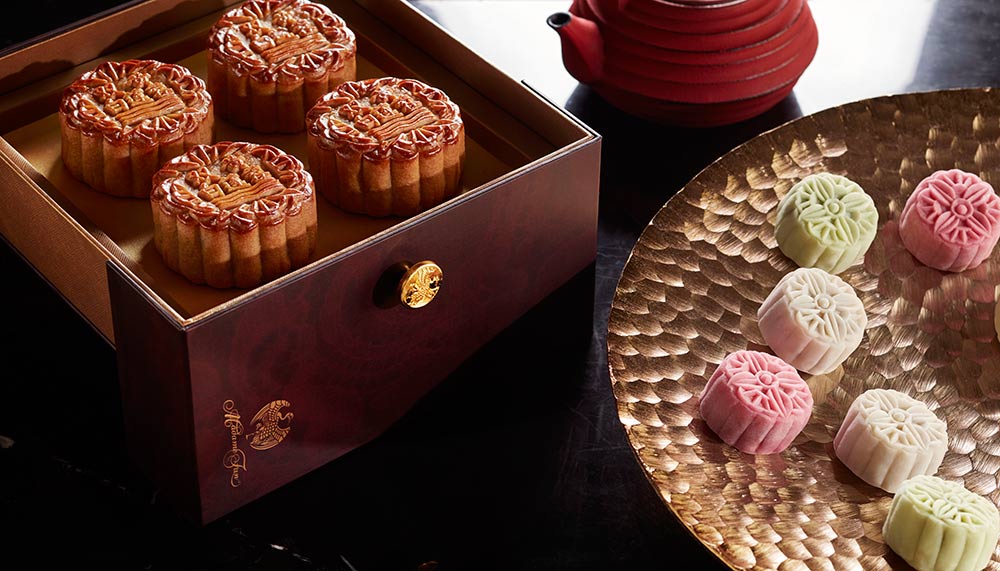 Madame Fan's – Mooncake Debut
Making its debut in mooncakes, the chefs at Madam Fan have pulled out all the stops and are keen to impress. The selection is pretty wide in terms of both flavours and make, with a range of time-honoured traditional baked mooncakes and fun flavours in its snowskin range.
Madame Fan
The NCO Club
32 Beach Road
Singapore 189761
Tel: +65 6818 1921
TWG Tea – Tea-Infused Mooncakes
Mooncakes are traditionally paired with a nice pot of tea to enhance their flavour and to wash down the rich cake. But what if the tea was already in the mooncake? Our personal favourite from the collection is Serenity, featuring brown lotus paste infused with Earl Grey Fortune Tea accompanied by tangy orange marmalade. The white chocolate centre enriches this classic Earl Grey-citrus pairing, with the whole concoction encased in a thin pink snowskin.
Various outlets including one at Marina Bay Sands
B1-122/125
The Shoppes at Marina Bay Sands
2 Bayfront Avenue
Singapore 018972
Tel: +65 6535 1837