Setting sail in 2022 across numerous polar itineraries, Le Commandant Charcot proves the heady base for a set of emotive journeys and experiences both memorable and meaningful
The polar regions hold an allure like no other global destination. Here, acutely foreign landscapes and all they cradle come aligned to a sense of purity and a heady history of exploration and research. And it's these, when wrapped by the luxury synonymous with French sailing outfit PONANT, that drive the central appeal of new vessel Le Commandant Charcot.
Setting sail in 2022 across numerous polar itineraries – both Arctic and Antarctic regions – the new vessel proves the heady base for a set of emotive journeys and experiences both memorable and meaningful.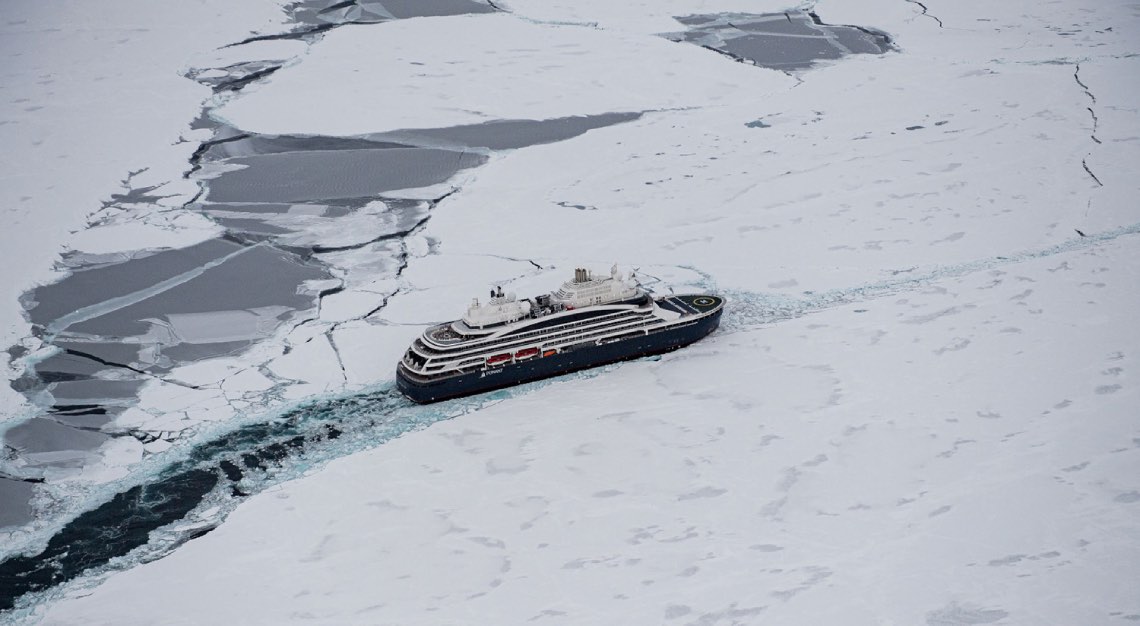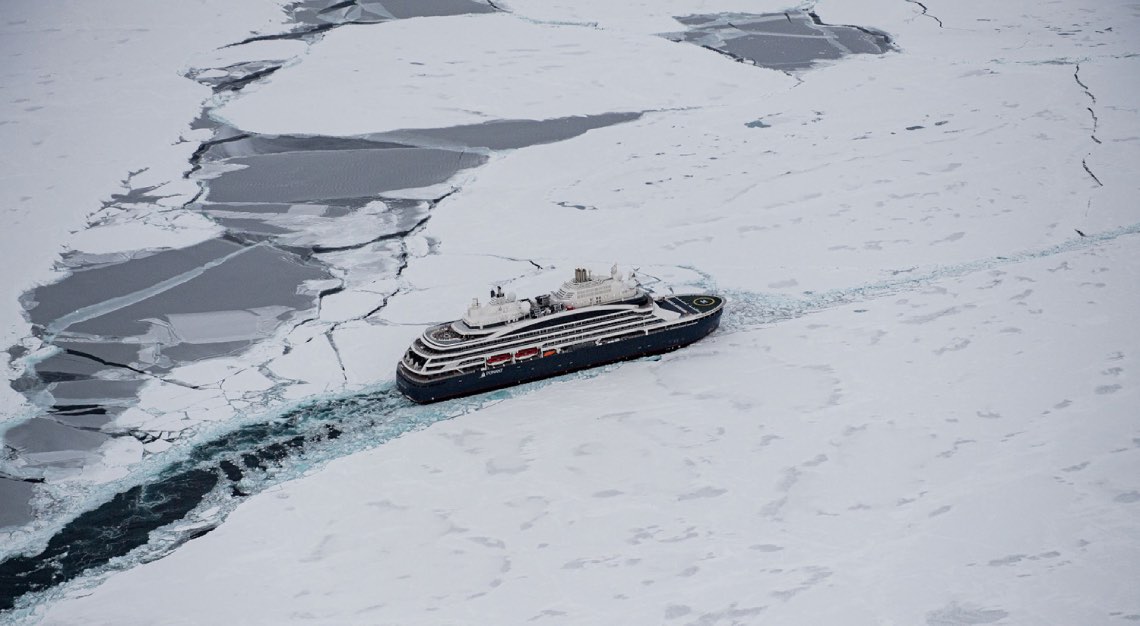 PONANT understands small ship sailing just as it understands the wonder and fragility of these regions – Le Commandant Charcot unique in not only its positioning as the world's first electric hybrid icebreaker (one able to venture further via its PC2 polar class hull rating), but as a vessel that enables responsible exploration driven by experts and offered alongside true scientific research.
Time then to dive in – quite literally in a certain case – to the heady suite of adventure that comes with a polar voyage aboard Le Commandant Charcot.
Zodiac and kayak outings
Le Commandant Charcot boasts 14 Zodiacs – each used to ferry guests (10 per boat) for shore outings and visits throughout a given voyage. These small yet nimble vessels enable closer inspection of remote areas, and in many cases, the wonderous wildlife – think bears, seals, sea lions, penguins, more — inhabiting a glacial ice sheet, floe or similar.  So too guided kayak trips – just 20 per outing – enable tangible voyages to engage and gently float on the water in search of wildlife and more.
Snowshoe hiking
Feel the appealing crunch under foot and experience the incredible feeling that is witnessing your own footprints placed across one of the world's most remote destinations. Strapped to your feet and neatly distributing your bodyweight, snowshoes make it possible to visit areas that are difficult to access, however deep the white stuff. See unrivalled natural settings, fauna and ultimately create lasting memories – as well as maintain a level of fitness – with an activity that can be traced 30,000 years and to the Ice Age. Know things have progressed somewhat since, modern shoes an ease to walk in and traverse unique areas and experience what it ultimately a pure feeling of freedom.
Ice fishing
Central to Inuit traditions, this is another opportunity that moves beyond any simplistic concept of 'throwing a line', delivering an experience framed by culture and steeped in history. Sat in a remote location — a white paradise stretching forward as far as the eye can see — ice fishing involves a drill, a weighted line, bait and some necessary patience. Switch off and relax into the setting and the enveloping silence as you learn of the former ways against this modern chase for the likes of Arctic char and Greenland halibut, among other species.
Dog 'mushing' experience
Further Inuit insights come strapped to this exciting Arctic opportunity to join a local community musher and his dogs. A ride like no other – traversing vast expanses of untouched snow, the silence broken only by the yapping of dogs and the crunch of a sled's runners. Having existed in this area for more than 9,000 years, come to experience as well as to learn.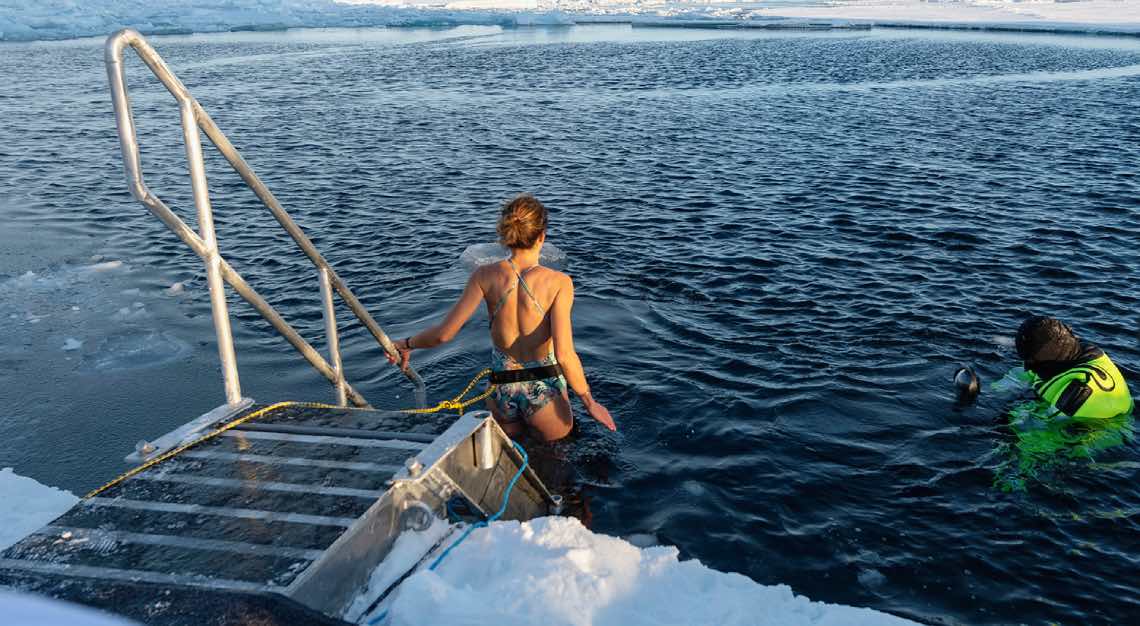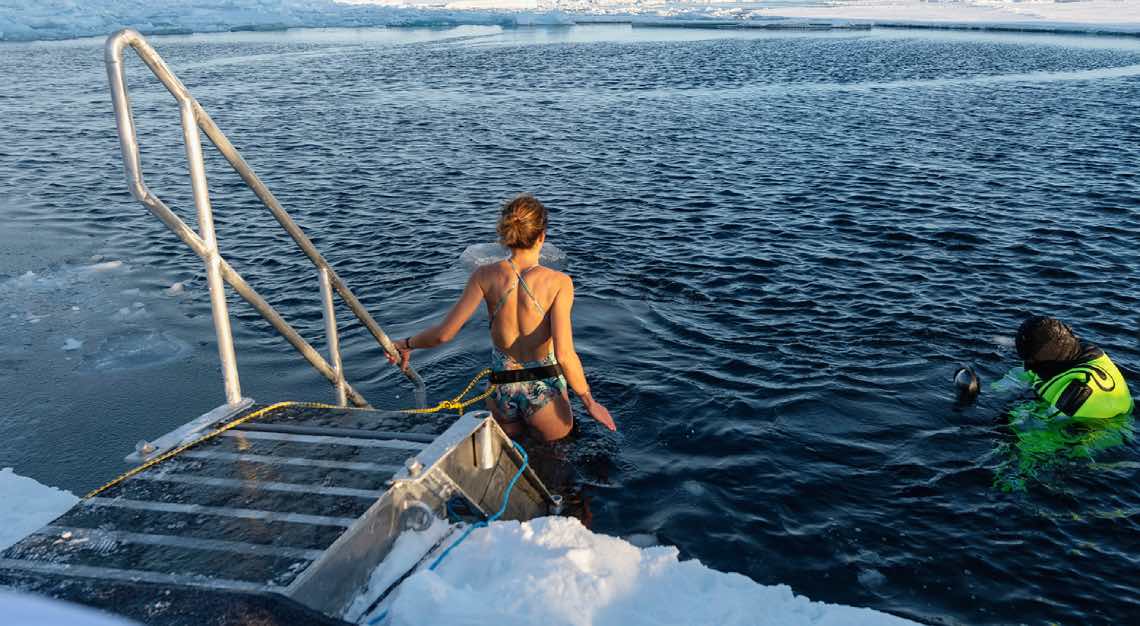 Ultra-sensory swimming
Yes, we mean taking a literal plunge with a dip in the waters that lap the poles. Immerse yourself in an icy ocean and feel alive. Guests of the Le Commandant Charcot have the chance to swim (briefly) in a bathing outfit (attached to a safety rope) or can adopt a wetsuit for a few minutes in the water. Each offers a reinvigorating experience with proven health benefits – stimulating blood circulation, reducing inflammation and strengthening both the nervous system and the body's immune responses – that come from penetrating the surface of 0°C waters.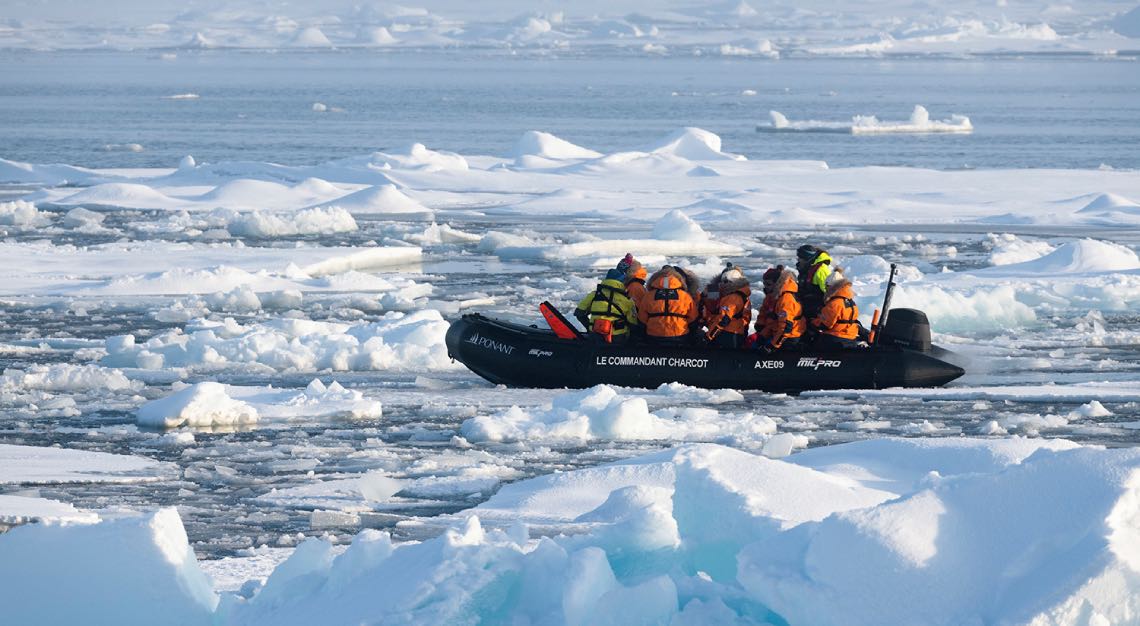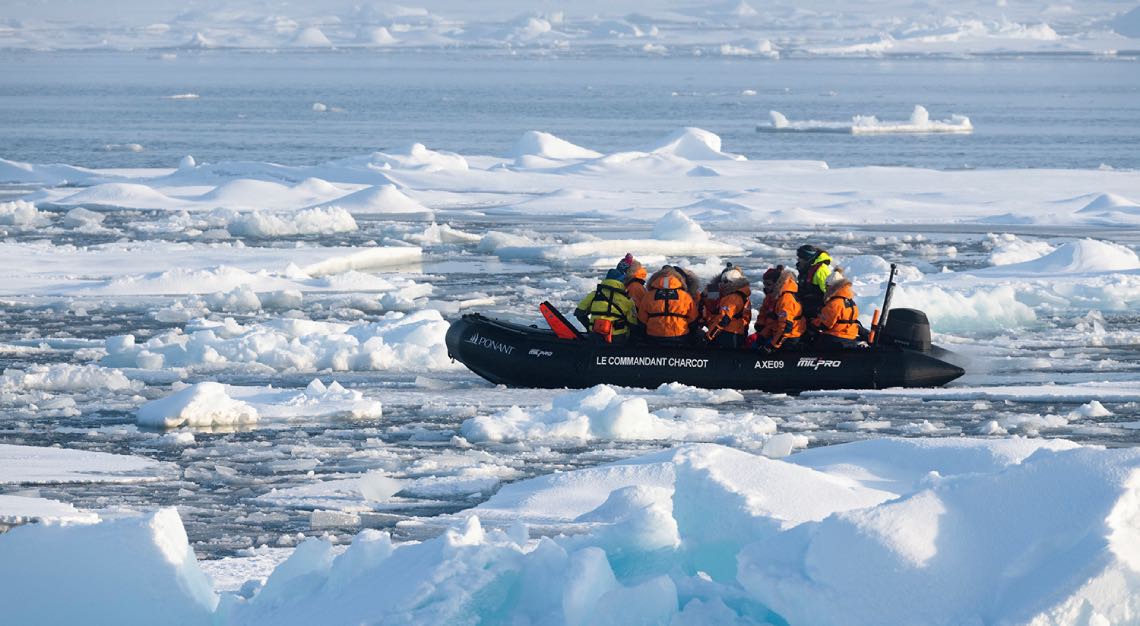 Citizen science
Another area of appeal that sets Le Commandant Charcot apart is the part it plays in genuine, ongoing scientific research forged by various partnerships that sees the vessel host researchers in disciplines such as oceanography, marine biology, climatology and glaciology. Guests are encouraged to assist – able to aid with various marine census activities, fauna data collection and sampling, pollution and plastics monitoring, tagging programs and more. The strong and growing alignment between scientists, researchers and Le Commandant Charcot is central to not only general polar monitoring and the necessary identification of regional challenges – in the aim to conserve or ameliorate and overcome – but the positive ability for polar tourism to play a part in driving change. To learn more about Le Commandant Charcot and its various itineraries, reach out to them via email.
This story was first published on Robb Report Australia & New Zealand