As far as bankable assets go, these beauties keep track of time in not one, not two, but three separate time zones
Living in Singapore, one of the world's most cosmopolitan cities, we're constantly connected to what's happening elsewhere on the globe. We're frequently in touch with friends, family and co-workers who are miles away.
Especially during the pandemic, some of us have already gotten the hang of managing entire teams in spite of multiple time differences, walking away with two or three time zones permanently ingrained in our muscle memory. Singapore is eight hours ahead of London, 12 hours ahead of New York, one hour behind Tokyo, and in the same time zone as Shanghai…
Even if one hadn't memorised all that, there's no need to sweat. Like everything else today, most of that information is readily available at the tap of a few buttons. But ask any Gen X-er in banking and finance during the late '80s or early '90s and you'll know how this ubiquitous feature was actually a rarity then.
Money never sleeps
Financiers monitoring the world's major stock exchanges literally needed a wall of clocks, one for each city that mattered to their bottom line. World timers offering all 24 time zones already existed then of course, as do the dual time complication offering a grand total of two time zones, but these watches were designed primarily for travellers.
It took the fortuitous encounter between a frustrated banker and a talented watchmaker to see the birth of the world's first wristwatch that displayed not one, not two, but three separate time zones.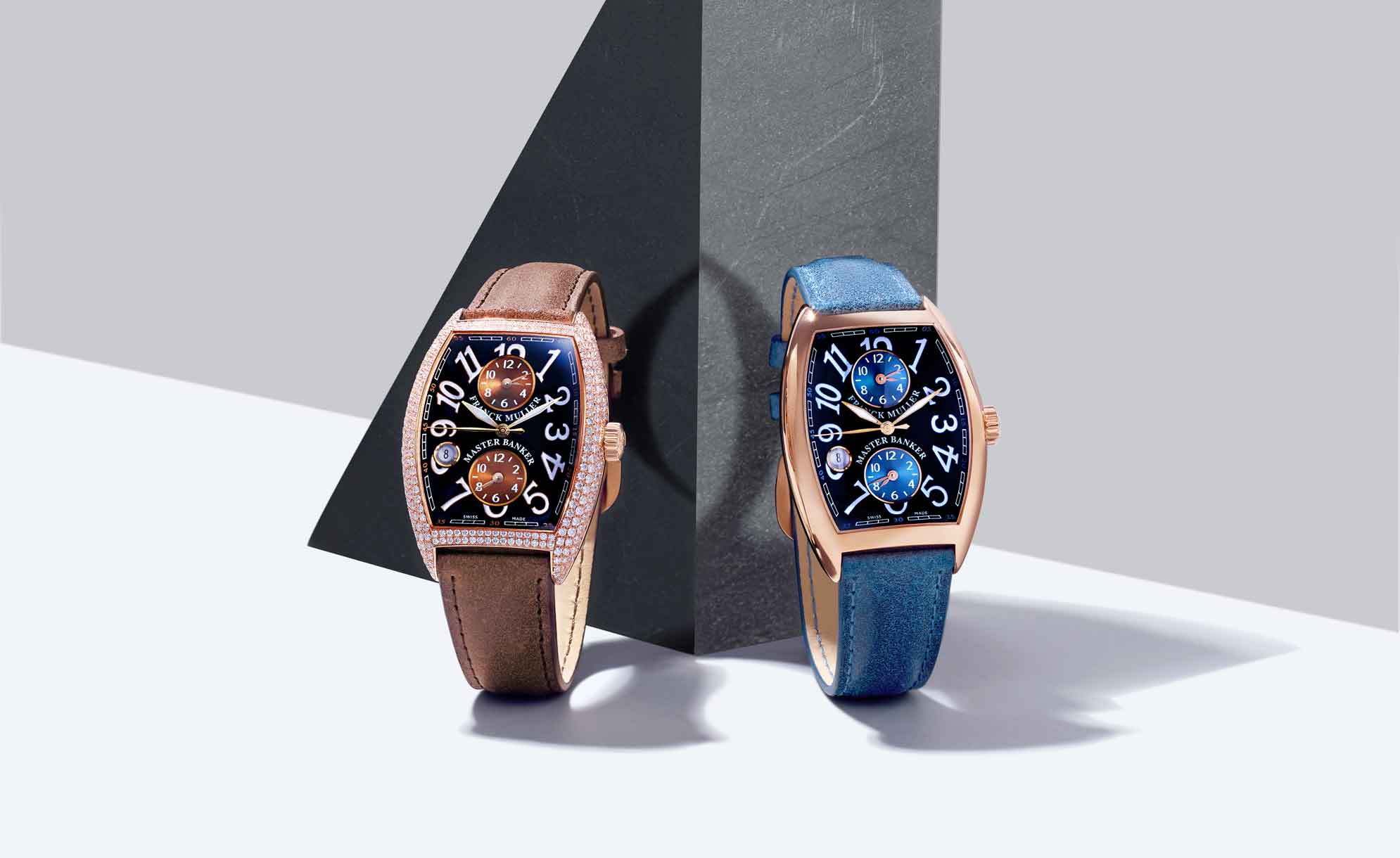 The watch was known as the Master Banker, named after the profession for which it was invented, and the watchmaker was none other than Master of Complications himself, Franck Muller. As for the frustrated banker, all we know is that he couldn't be anything but a dear client of Muller's.
Said client's bemoaning of the sheer and utter absence of any good solution to his predicament spurred Muller into action. The Master of Complications decided that if a suitable timepiece didn't exist, then he shall invent one. After all, presenting new ideas and concepts in watchmaking was second nature to him.
The year was 1996, 10 years after Franck Muller had consistently premiered no fewer than 10 grand complications, all of the world's firsts, and each one more incredible than the last. By comparison, the Master Banker was a different breed of watch altogether.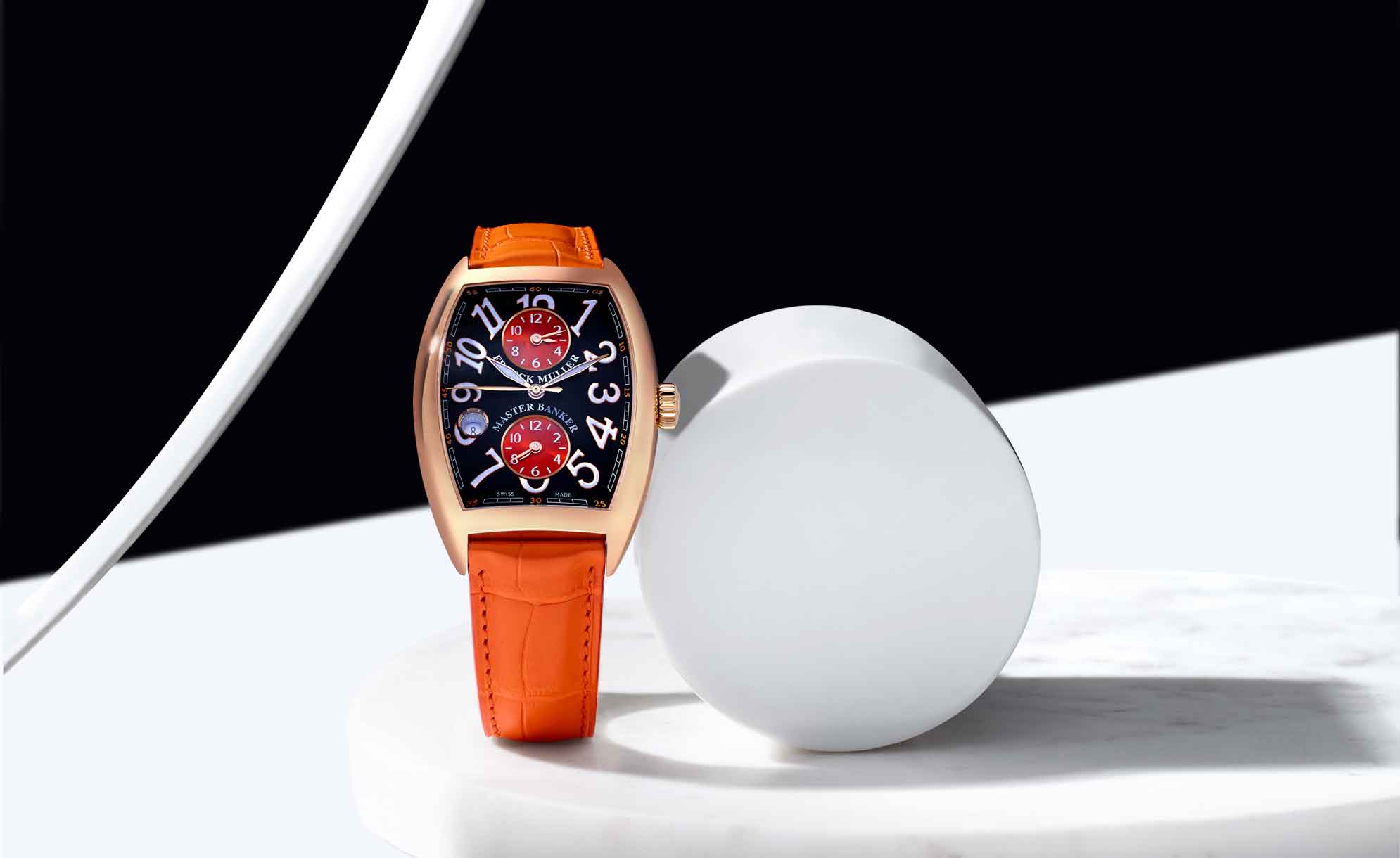 Where the world premieres were about technical hubris, a loud and proud showcase of Muller's horological mastery, the Master Banker placed complexity at the behest of functionality. Indeed till today, the multiple time zone complication remains one of the most practical features in a mechanical timepiece.
Globally desired
Cased in a voluminous tonneau shape known as the Franck Muller Cintrée Curvex, the Master Banker offered a most elegant solution, and that was deeply appealing to the seasoned banker. But more importantly, hundreds then thousands more swiftly followed suit, all of them eager to be wearing a timepiece created expressly for this industry.
Because not only did the Master Banker display three time zones, it allowed the wearer to adjust each time zone accurate to the nearest minute – a handy feature when you're doing business in cities with half-hour or 45-minute offsets.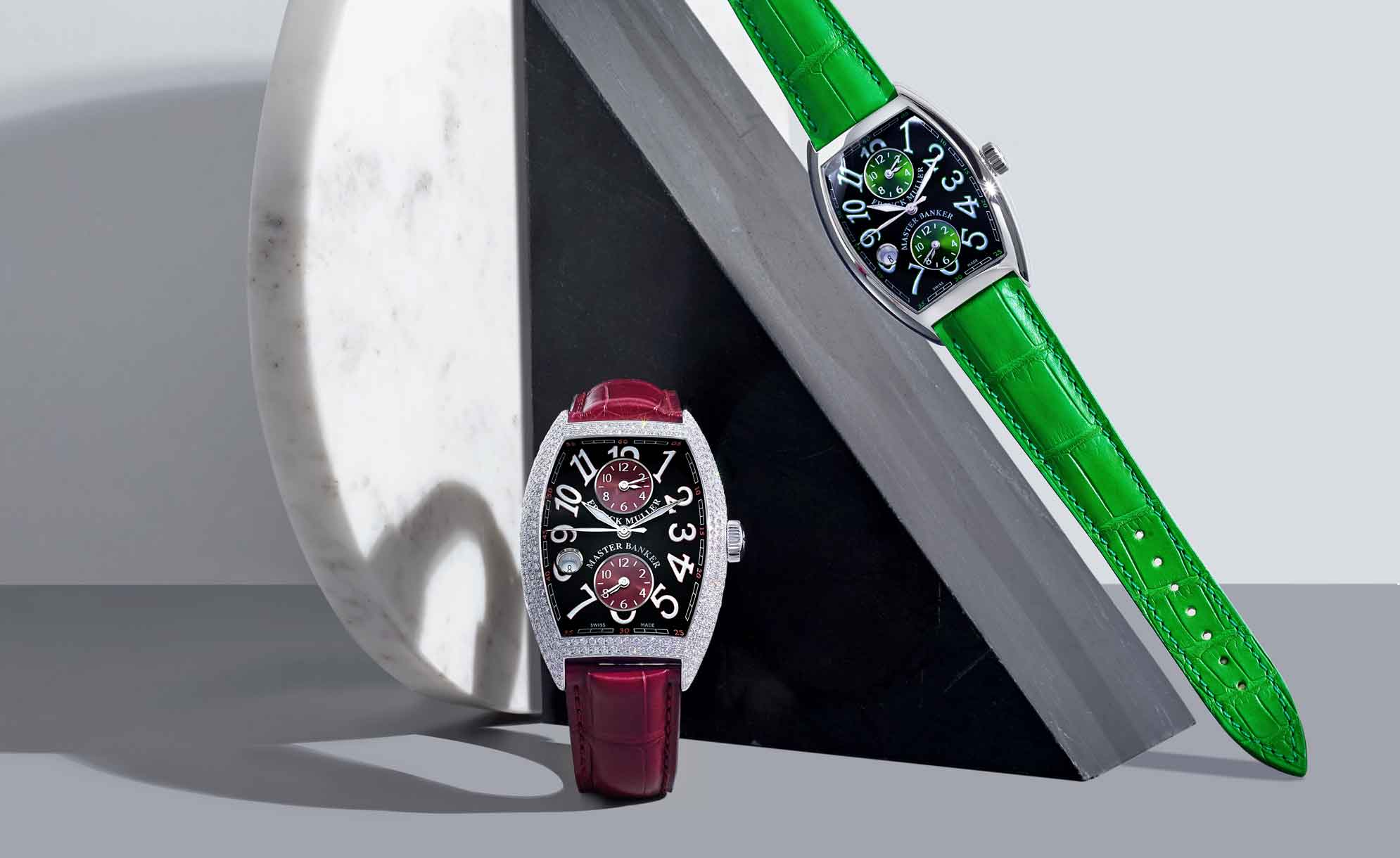 And the best part is, the Master Banker was designed to be fuss-free and user-friendly, so all three time displays are manipulated via the crown – no pesky buttons or inset pushers and tools to fiddle with. Just pull the crown to one of three positions to make all the adjustments you need: position one winds the movement, position two activates the two sub-dials, and position three sets home time.
It sounds simple. But for this to happen, Muller had to rethink the entire movement architecture, deconstructing and reconstructing all over to arrive at this streamlined solution. By all accounts, this patented achievement was no walk in the park and it sits right up there with the time Muller famously modified a Rolex timepiece, turning it into a fully functioning perpetual calendar.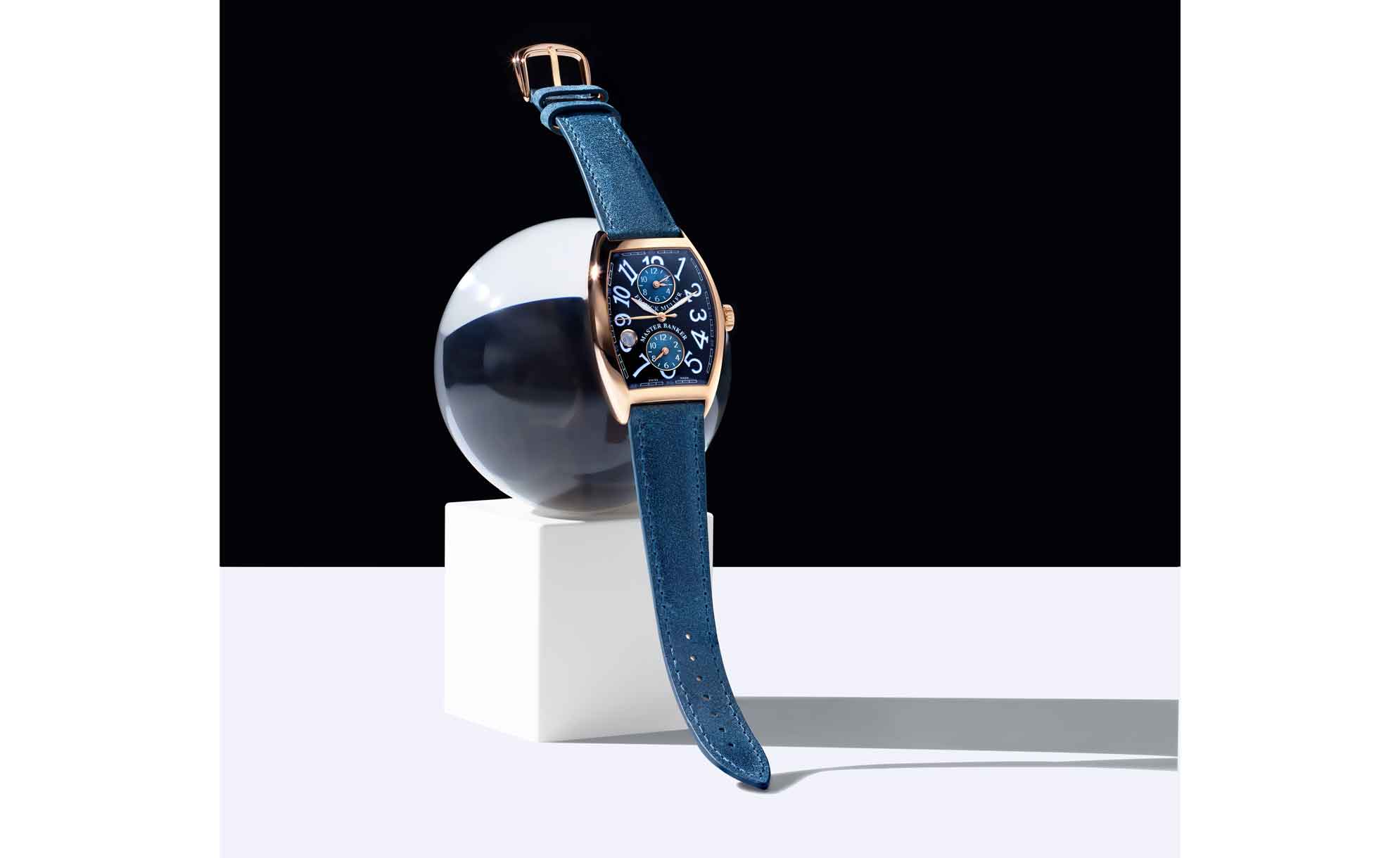 Going with a tonneau case for this timepiece was also a stroke of genius, as this shape comfortably accommodates two additional subdials while retaining a clear sense of balance in a way the classic round case simply couldn't. That, and the iconic Art Deco numerals make the complete Master Banker package. Everything comes together so nicely that even the circular date window at eight o'clock couldn't disrupt this harmonious layout.
It's been a quarter of a century since Franck Muller unveiled the Master Banker and in this time, the Maison has produced numerous special variations for different audiences around the world, but the latest iterations might be its most vibrant ones yet.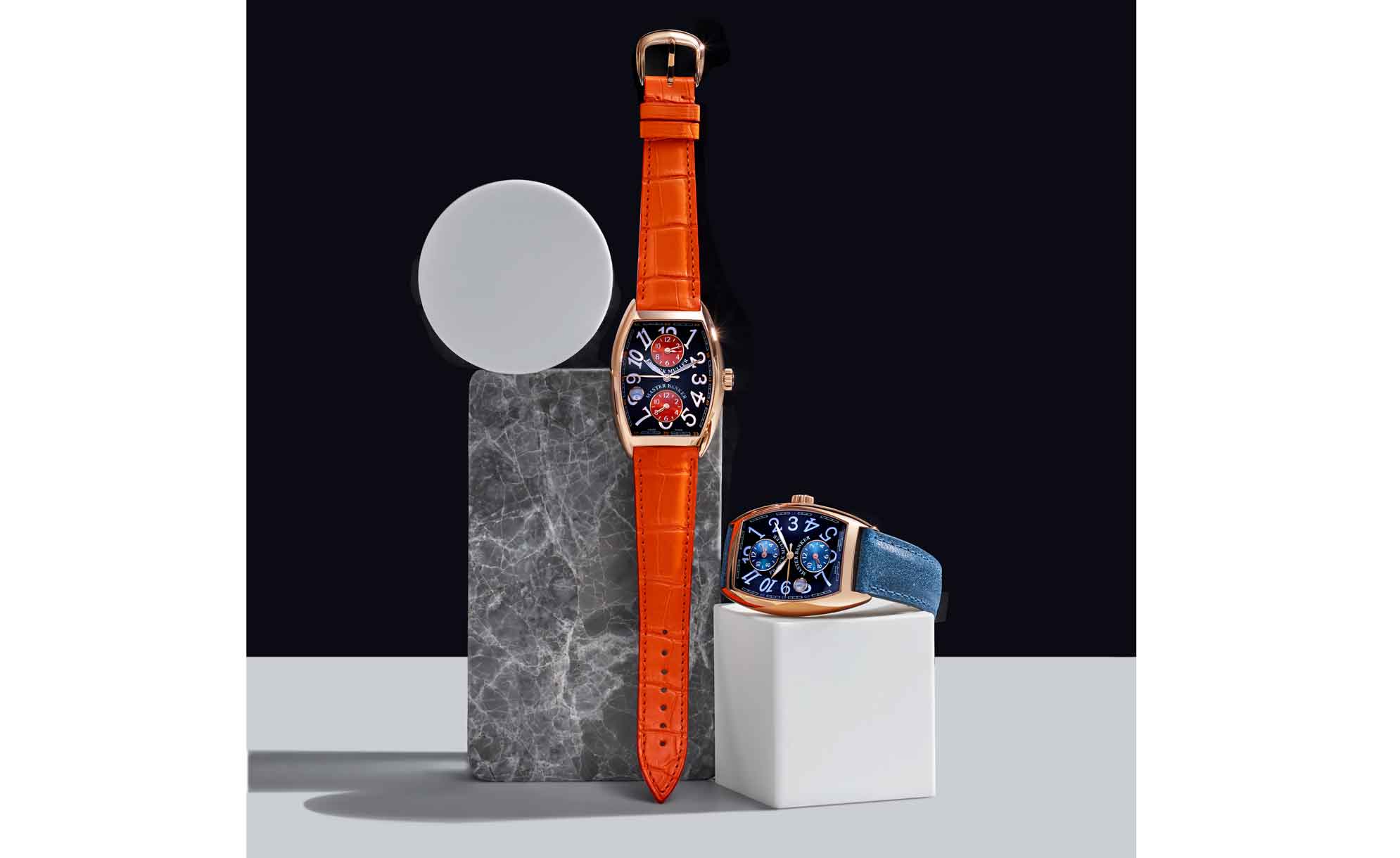 Exclusively offered in Asia boutiques, this refreshing, rainbow-hued suite is a tempting addition to your watch collection, whether or not you're in the finance business. It is also non-gender specific in that the watches come in two different sizes, a range of case materials, with and without pavé diamonds – because like the best in the business, these Master Bankers are both style and financially savvy.
Visit the Franck Muller Master Banker dedicated microsite here
Franck Muller boutiques
House of Franck Muller, Wisma Atria
L2-01, Isetan Wisma Atria
435 Orchard Road
Singapore 238877
Tel: +65 6734 8655
Email: [email protected]
House of Franck Muller, The Shoppes at Marina Bay Sands
Bay Level L1-55/55A,
The Shoppes at Marina Bay Sands
2 Bayfront Avenue
Singapore 018972
Tel: +65 6634 8825
Email: [email protected]