Spend a weekend—or longer—and get your senses and bellies filled at JW Marriott Maldives Resort and Spa
Editor's note: See other Escape Plan stories here.
A fresh, bulbous pearl of Pacific-bred oyster, dressed with lime, coriander and tamarind, worked its way into my mouth. "You are popping my cherry, chef," I said as I shut my eyes and slurped. And just like that, my very first taste of oyster; a shellfish I've avoided for all my life for its (admittedly, imagined) forbidding taste and texture.
Vacations do this to people. They make you try things you normally wouldn't. Seated in a sunken sandbank with an endless ocean against a melting amber sunset for views, enjoying a freshly shucked oyster as part of a sumptuous eight-course, Indian-inspired dinner doesn't sound particularly risky. Not when the executive chef of JW Marriott Maldives Resort and Spa had prepared the meal himself and assured that you'd enjoy it.
"Is it ok? Another one?" asked chef Bir Yadav. Why not. I was at Riha, JW Marriott Maldives' private dining degustation experience. It isn't a restaurant per se, but it is the most exquisite dining option you can enjoy at the resort and it requires a reservation. However, even if it is fully booked during your stay, your palates and bellies will be more than satiated here.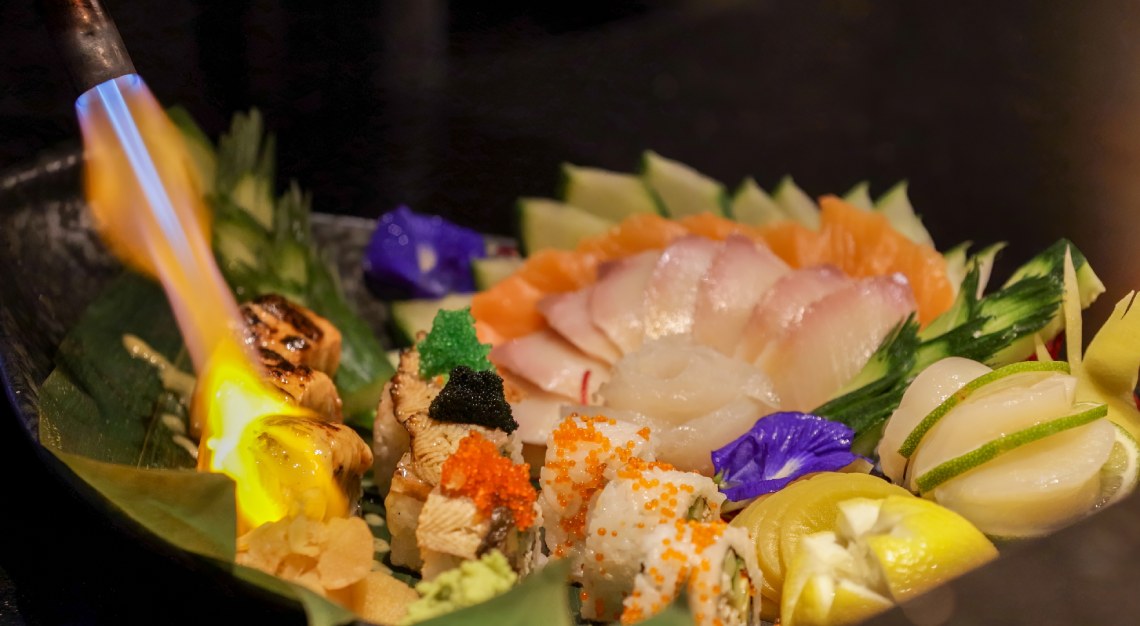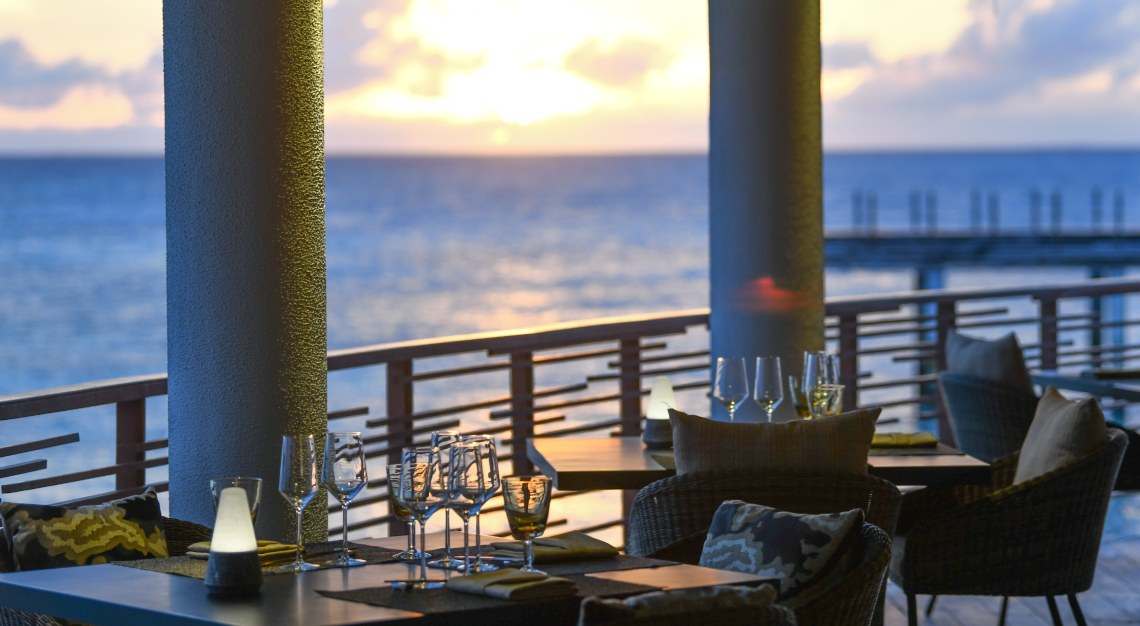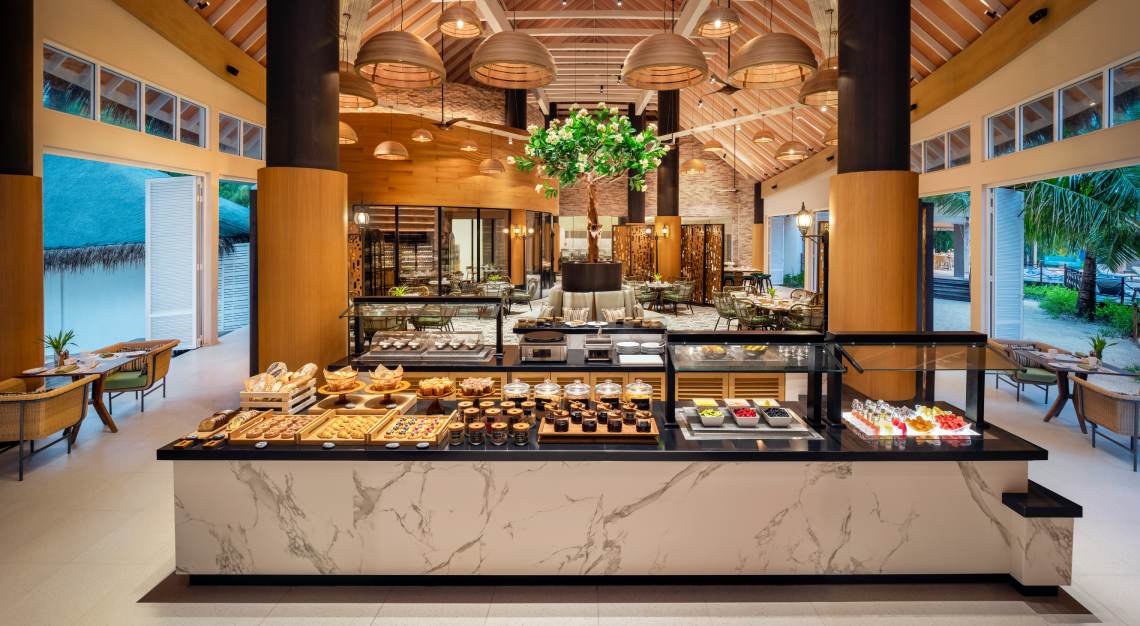 There are five restaurants and three bars at JW Marriott Maldives, and every single one is stellar. There is Kaashi, Fiamma and Hashi, serving Thai, Italian and Japanese cuisine, respectively, as well as Shio, the resort's signature overwater restaurant that you'd have to visit at least once for its amazing seafood and views. These are more than excellent alternatives to the main restaurant, Aailaa, where most guests dine. Although your palate will be tempted by the international selection, make sure to at least sample Mashuni. A tart and hearty salad made with tuna, lime and fresh coconut, it is a Maldivian breakfast staple, which is served alongside the sumptuous morning spread at Aailaa.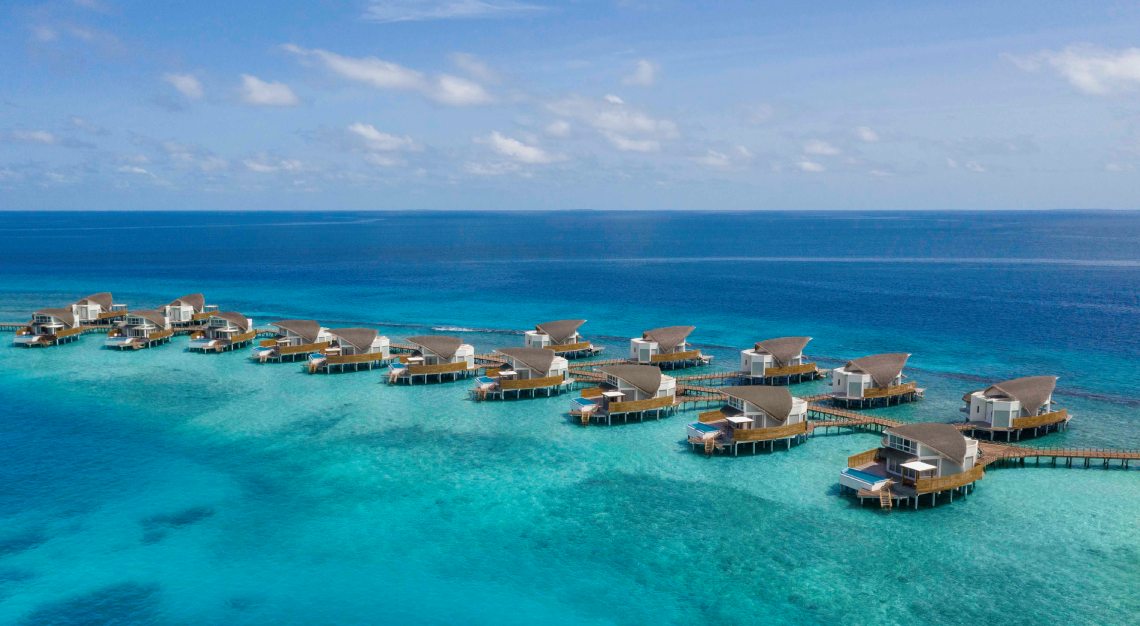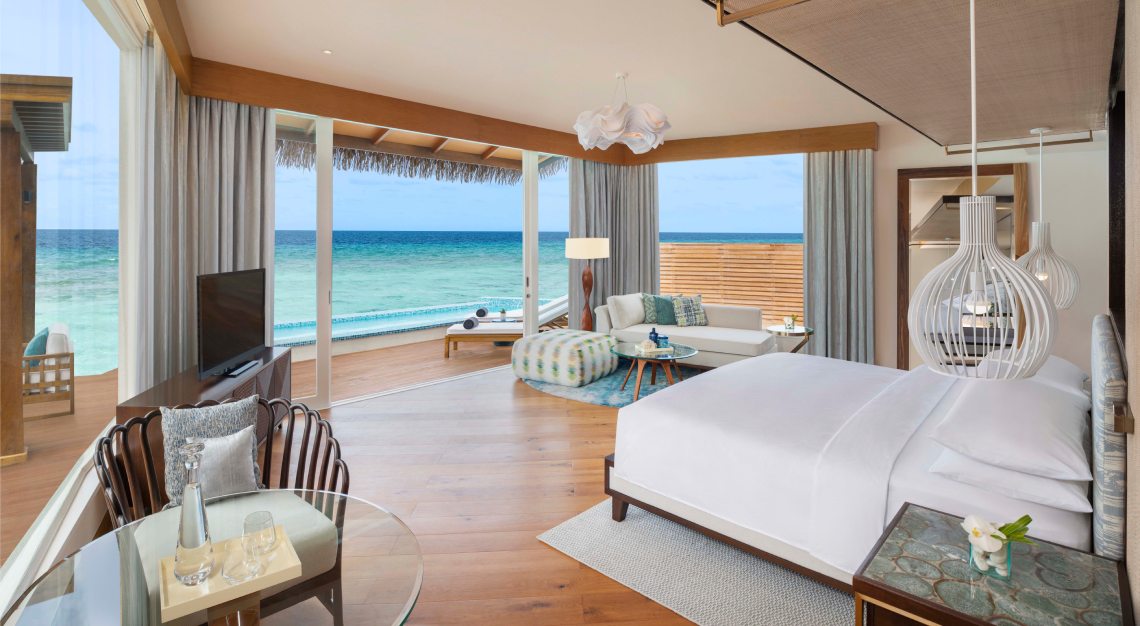 But it is the views, of course, the crystalline waters and pristine sand and horizon that stretch forever, that make the Maldives an island destination par excellence. JW Maldives sits on the pea-shaped Vagaru Island in the Shaviyani Atoll to the north of Malé. Depending on your preferred golden hour, there are 60 overwater pool and beach pool villas at the resort offering either sunrise or sunset views. And they are all pretty spacious too, averaging 230 to 240 square metres each.
If you are travelling with a small family—or simply enjoy even more space—there are 24 overwater pool and beach pool duplexes dotted on either side of the coast. Spanning over 270 square metres for these, each duplex villa comes with its own infinity pool and private lagoon outside your balcony that overlooks the ocean. Also for those travelling with kids: the resort's FAMiLy by JW Griffins Kids Club, a clubhouse staffed with lovely minders that is a great place to deposit the little ones for overdue couple time.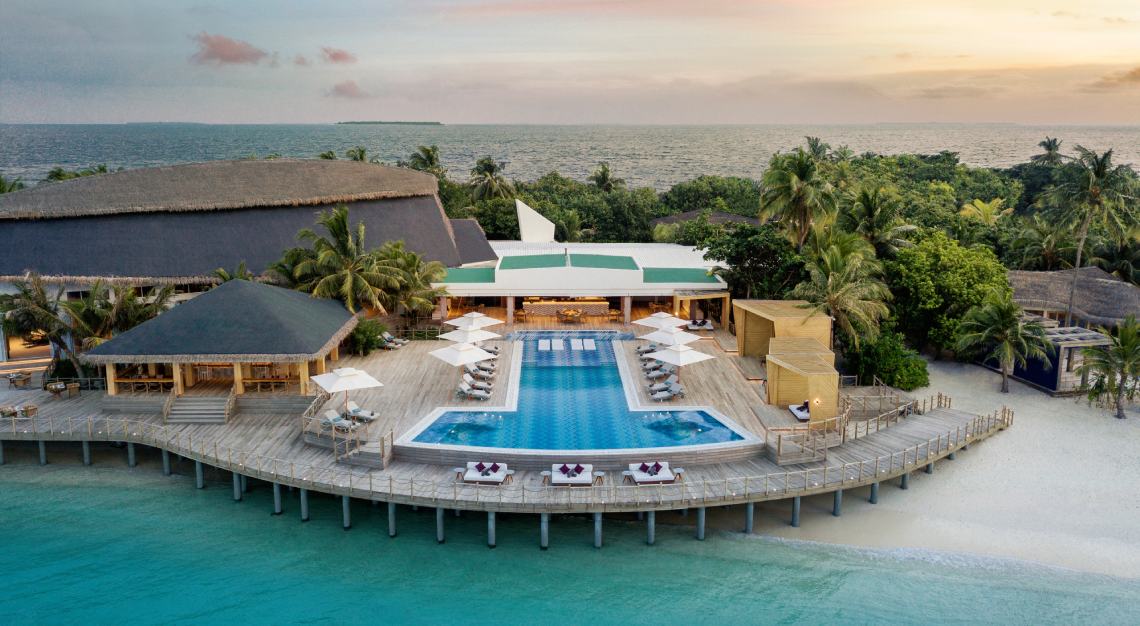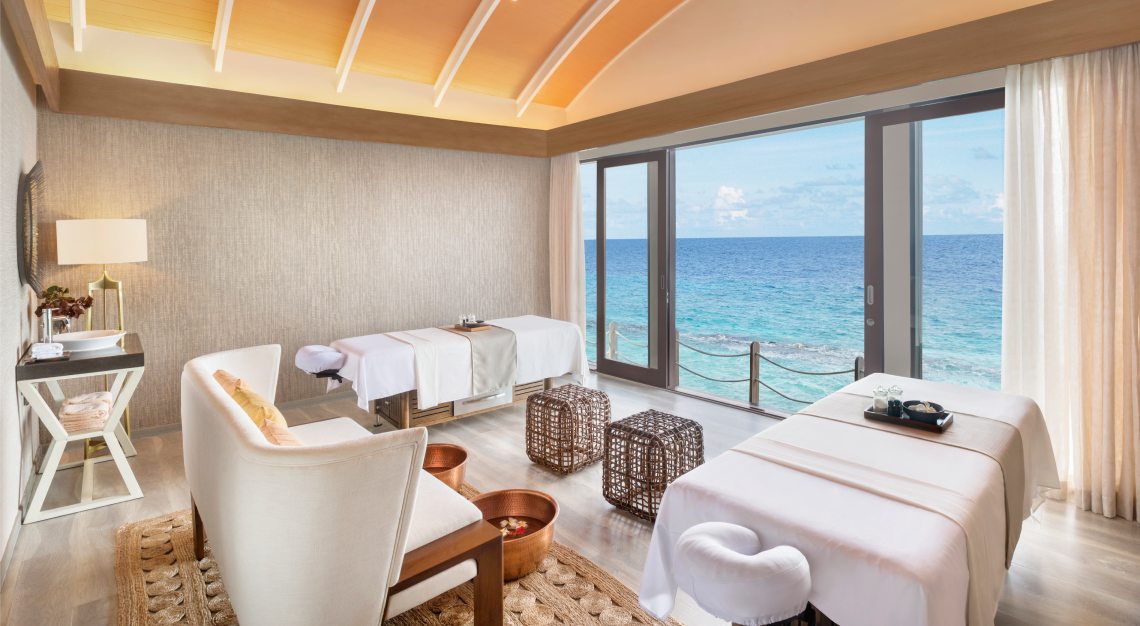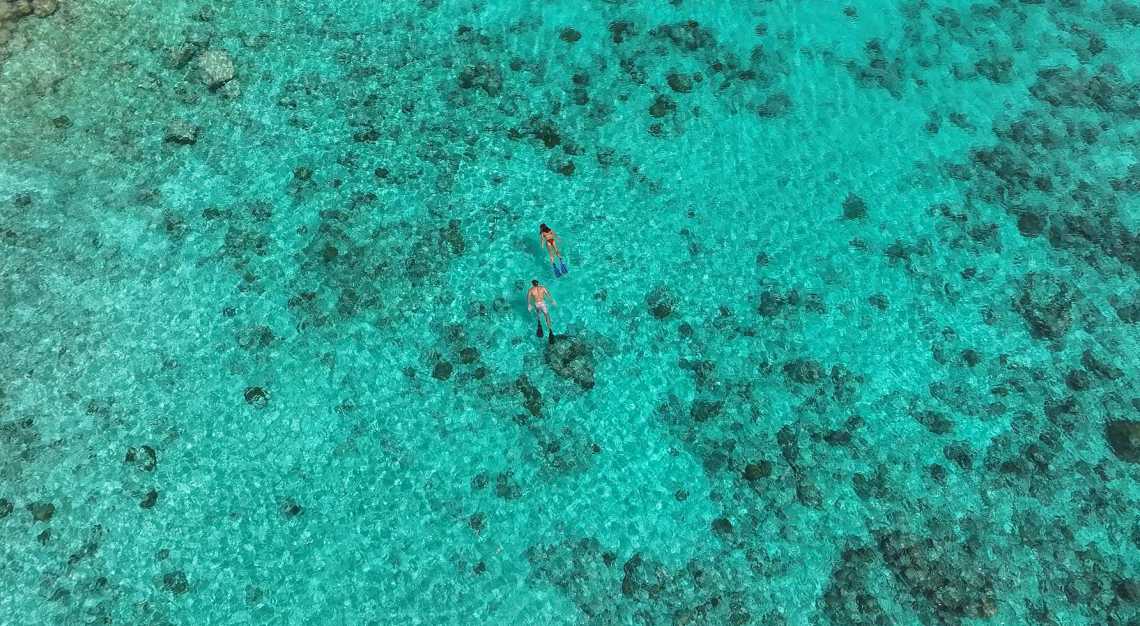 I stayed at an overwater pool duplex; too large really, but very welcoming nonetheless. Had it not been for visits to the spa to indulge in a massage, the restaurants to sample globally curated cuisines, and the requisite snorkelling expedition, I would have no problem at all hibernating in the villa. In fact, I hardly headed up to the second floor. Referred to as an entertainment room by the resort, it can easily accommodate two to three more guests. Venturing occasionally from the room in air-conditioned comfort to the deck, where the embrace of the ocean and the warmth sun await, is beyond lovely.
Amid all that pampering—the cavernous tropical-style abode, the fastidiously curated menus, the gentle waves and gorgeous sunsets—are the stories shared by the people whom we encountered. From chef Yadav's journey into gastronomy, to Fubu, my assigned butler's, tales of growing up on his home island, each tiny anecdote peeled away to reveal what makes the JW Marriott—and indeed, the Maldives—complete.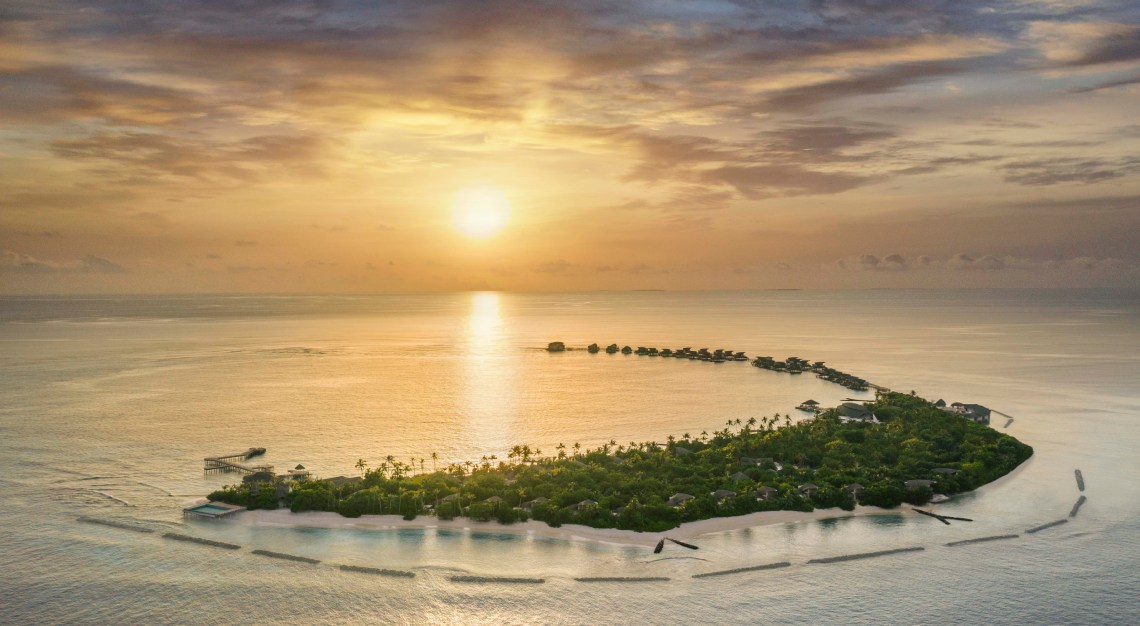 The resort opened in November 2019, and rode out uncertain times when COVID-19 hit just four months later. Tourism, which is the largest revenue generator for the Maldivian economy, has since roared back to life and, with it, a palpable sense of pride among the locals and resort staff at what the islands have to offer.
"You never get tired of it," said Fubu, showing me a picture of a sunrise on his phone on the morning that I was leaving. Sneaky. Like everything and everyone else I met during my stay, he made it hard to say goodbye.