A cocktail tale and a body scrub, this writer sucks the marrow out of life at The St Regis Bali Resort
Editor's note: See other Escape Plan stories here.
If there are two things that you absolutely have to do on a visit to The St Regis Bali, it's a Bloody Mary. Twice. Drink one of them as the opening salvo at the resort's already legendary weekend brunch, and let an expert therapist apply the other to your body as you lie supine in a spa treatment room. 
For those readers who feel that I've genuinely lost the plot here, some explanation is required, although not much for the drink itself. While there is no such thing as perfection, The St Regis Bali is working hard to get their weekend brunch experience as close to it as possible. It's splendid in almost every way and a foodie's daytime dream.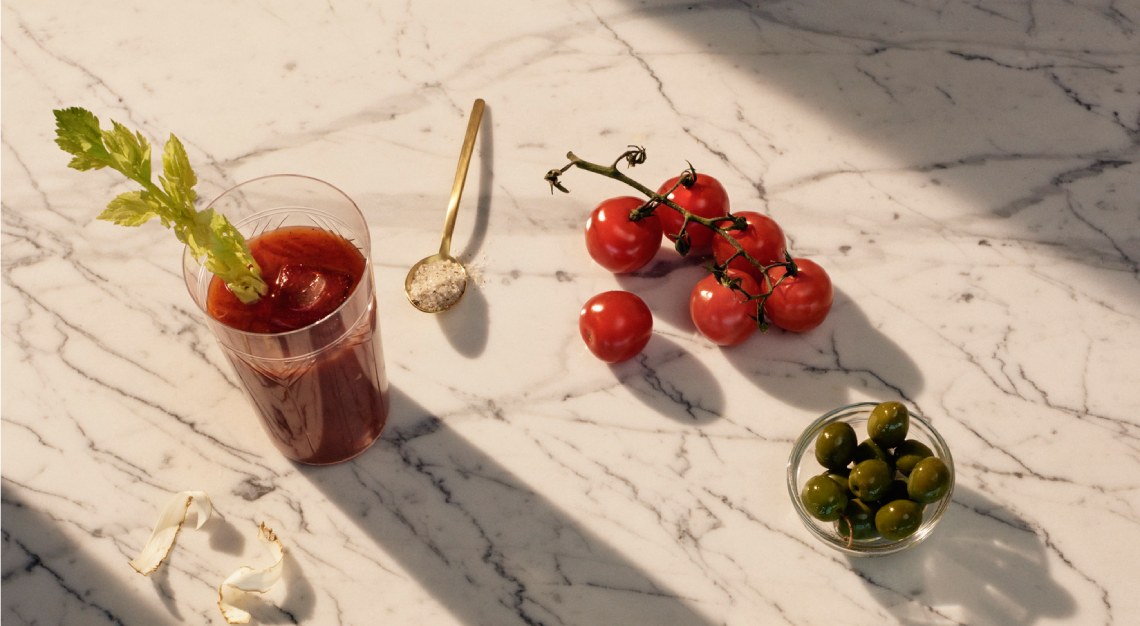 The Bloody Mary at the start of proceedings is as good an iteration as you're likely to sup, exhibiting the perfect balance of vodka and tomato juice, judiciously seasoned, and with just the right amount of tabasco, Worcestershire sauce and lemon. It's fabulously refreshing and sets the diner up nicely for a magnificent repast in which dishes arrive at a leisurely pace and present a startling array of deliciousness. Oysters and sea urchin are likely to feature at the top of the order, and foie gras will make a couple of appearances further down the line. Expect a beautifully created and curated dish at each successive turn and if you're particularly fond of one, ask for another. If that doesn't satiate your desire, have another, et cetera, until the laws of diminishing marginal utility come into play and you move onto something else.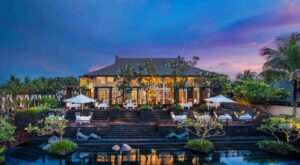 In beautiful surroundings, overlooking the beach, the Kayuputi restaurant that hosts the weekend repasts is elegant and comfortable, and the weekend brunch has become just about the hottest meal ticket in Brunchtown, Bali. It's pretty much rammed every Saturday and Sunday and with good reason. It's one of the finest, and most fun brunches I have experienced, and while that may come as something of a surprise considering the location, it really shouldn't. The St Regis almost invariably does things well, and always has a commitment to purpose and an excellent follow-through ethic. It's what makes the brand stand out and outstanding.
It's no surprise that attention to detail and a commitment to excellence pervades throughout the Iridium Spa, where you can relish your second Bloody Mary of the visit. It's probably not a wise option immediately after brunch; just saying.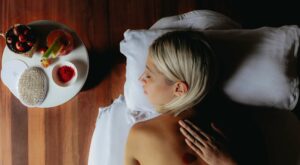 Tomato juice and vodka (with added pineapple and wasabi) are used in a quite delicious booze-infused scrub that makes you want to lick yourself all over – although a few more yoga sessions would be necessary for me to get to many of the 'harder to reach' places. It sounds counterintuitive to use alcohol in a spa treatment, but once you get your head around it, your body will be only too happy to follow suit.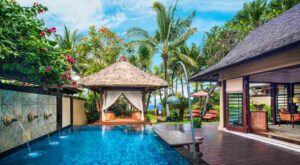 The experience is almost quintessentially sybaritic, as is a stay at one of The St Regis Bali's Strand Villas, for which the word sumptuous could well have been invented. From the main building featuring a host of superbly appointed suites of extraordinary size, to the garden and lagoon view villas – all of which have their own pools – the accommodation at this resort is plush, lush and the epitome of luxury. But if money is no object – and it really shouldn't be because you can always make more – the Strand Villa should be your temporary residence of choice. Had I not been dragged out of mine, kicking and screaming (gently, quietly and with kindness) I think I would still be there now.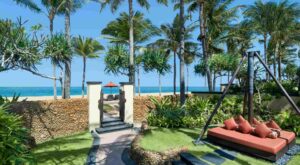 Each Strand Villa has its own pool, deck and bale, and landscaped gardens leading down to a gate that opens straight onto the beach, where a dedicated, exclusive lounger, umbrella and towels await. It's quite special. What's great about the décor – in all the accommodation, but particularly if you're living down the Strand – is that it doesn't pay lip service to channelling the inner Bali. Yes, there are traditional Balinese touches, but they are ingratiated into a more established luxury ethos. Designer sofas comfortable enough to sleep on; silky-feel carpets; chandeliers and statement art pieces turn the massive villa space into a fabulous place to hang out.
It's difficult to imagine being more pampered than a guest is at The St Regis Bali, but 'pampering' sometimes has negative connotations, being redolent of subservience. There is nary a hint of this at a resort (and indeed a brand) that prides itself on its guest relations and doesn't falter at a single step. Everyone expects excellent service these days at a luxury resort, but The St Regis staff do things just a little differently in terms of their guest engagement. They are happy to talk to you – about anything – and appear to be very quick in assessing the level of familiarity and formality that each guest requires. Most importantly, for me at least, they understand the concept of humour and are keen to have a laugh. It must be difficult for any human being to be nice to other human beings all the time, but these guys do it effortlessly, with polish and poise.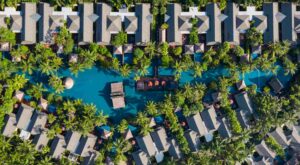 The resort itself has been thoroughly thought through, expertly laid out and superbly designed, and everyone's cap should be doffed to the guys and girls who saw a plot of land and imagined what it might become. There are hammock areas, verdant gardens that you can wander into and sculpted lawns all over the place. There is so much to do at The St Regis Bali, and everything will be facilitated by people who know how to do things well. 
But your 'room' at a Strand Villa will quickly become your home from home and it's a difficult place to leave – without kicking and screaming. The inducement of a Bloody Mary, however, may well persuade you to make an exit, but only temporarily and briefly, unless it's time for brunch.