a study in tropical escapes
In the rarefied stratosphere of high-end hospitality, there is one name that will perk ears. Bill Bensley. The architect responsible for some of the most distinctive luxury hotels and resorts across Asia, the Harvard graduate has justifiably earned the title 'king of exotic luxury resorts'. And here is one more: the JW Marriott Phu Quoc Emerald Bay Resort and Spa.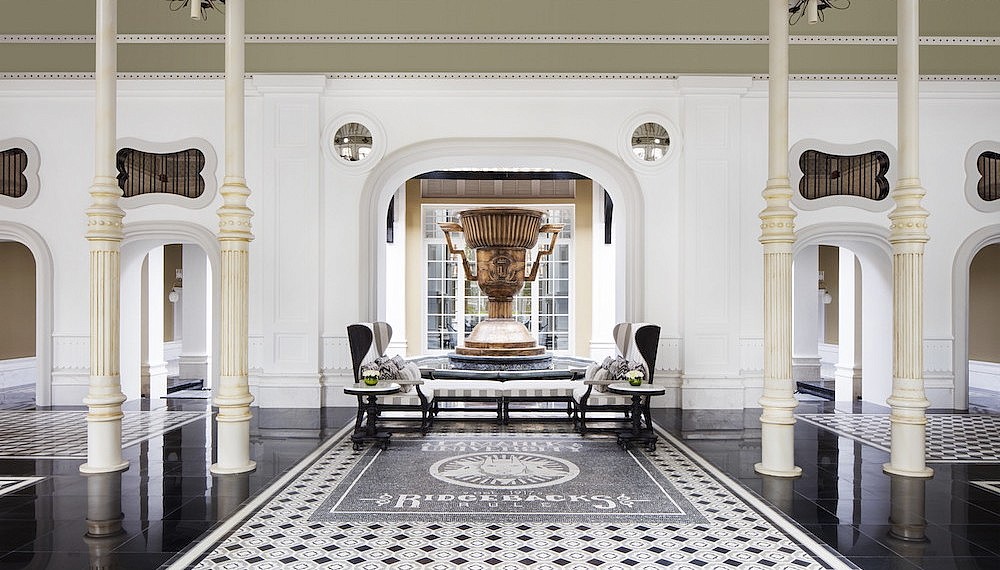 Located in the Gulf of Thailand, Phu Quoc island lies on the maritime border between Vietnam and Cambodia. It's inspiration, however, comes from nowhere near the sea, sand or saltwater. This is recurring theme in the irreverent Bensley ouerve – importing Morocco to the Four Seasons Langkawi and mashing Art Deco with Thai temple motifs in The Siam, Bangkok – and here he goes educational. The concept for this is hushed academic halls. Think Trinity College in Cambridge, or the Sorbonne in Paris. Or more accurately, the Lamarck University, built on Phu Quoc in 1880 and the architectural basis for the new JW Marriott Phu Quoc.
The hotel re-uses the tumble of university buildings to its full advantage, with the original single and double-storey structures forming private villas and the larger, multi-level constructions forming the hotel's towers. The colour scheme is pastel, delineated by walls and beams of white, lending an air of fairytale confectionery to the hotel and the startling blue sea beyond. The colours aren't accidental. They're deliberate. Delineating the difference wings of the hotel into different educational departments – the Department of Zoology carries animal motifs, for example, with cheeky animal-shaped weather vanes on the roof – it also affords the hotel's 243 rooms, suites, apartments and villas a sense of unique character.
Bensley does not let history overwhelm his whimsy though. While his rooms are filled to the brim with the best in modern JW Marriott luxury and convenience, they never lack charisma, whether it is seafront views from a tower room, or in the cool private pool of one of the villas along Rue de Lamarck. At a minimum of 54 square metres, there's also plenty of space for indulgence.
Culinary indulgence, too, is of the highest order. Tempus Fugit ('time flies' in Latin, another nod to European academia) offers its interpretation of Vietnamese, Japanese and French recipes, while Red Rum is the classic beachside seafood grill where the fish is always fresh. Pink Pearl offers classical Cantonese cuisine in a refurbished beach mansion, while the bar is teasingly called Department of Chemistry, a nod to the experiments of modern mixology.
Elsewhere, the spa beckons, while the beach practically coos in invitation to dip your feet in the water or laze under the shade of a coconut tree. And while the sand and sun could be the same elsewhere in the world, the JW Marriott Phu Quoc Emerald Bay Resort and Spa is utterly unique, thanks to the boundless imagination of Bill Bensley.