Inside Beni Rugs, the home decor company celebrating a time-honoured craft
On a dusty road in Tameslouht, a village just outside Marrakech, sits a salmon-pink building surrounded by palm trees and flowering aloe plants. Beyond the jasmine-trellised entrance is the headquarters of Beni Rugs, one of the more unconventional rug-making businesses in Morocco.
Inside, glass walls open to a large garden courtyard with a 150-year-old olive tree and multiple rugs hung on tall wooden racks. The contemporary interior is dotted with midcentury-modern furniture and Moroccan objects d'art, all illuminated by the abundant natural light. Local female weavers—the lifeblood of Beni Rugs—are clad in maroon lab coat uniforms, working at 36 enormous vertical metal looms.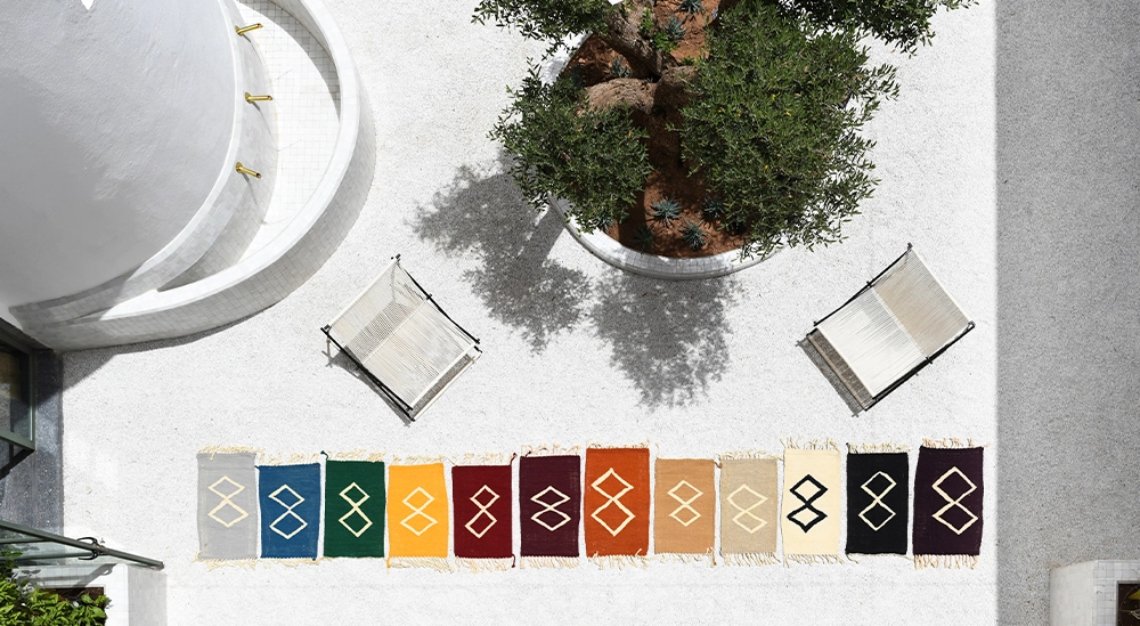 The company pairs exquisite Moroccan artistry with global design influences. It doesn't solely rely on regional motifs and colourways, which is customary in the traditional Moroccan carpet industry. Beni Rugs also makes its rugs customisable—down to tassels—via the streamlined e-commerce platform. Buyers can choose from patterns in various hues, sizes, and weaves; between flat or raised, tightly knotted or shaggy. The company's cofounders are Robert Wright, a former marketing executive, and Tiberio Lobo-Navia, a former hospitality executive, both of whom are originally from the U.S. and have no familial link to Morocco.
"It's really interesting to find that meeting point between the craft, which hasn't changed for thousands of years, and introducing design that kind of moves Moroccan rug-making forward," says Wright, standing next to Lobo-Navia in the courtyard close to a freshly scrubbed orange rug with geometric patterns. Roosters can be heard crowing faraway, a sound intermixed with the whirring of a blow torch. At a distance, several workers in white rubber boots are washing rugs, using a torch to burn off dust and impurities from the surface.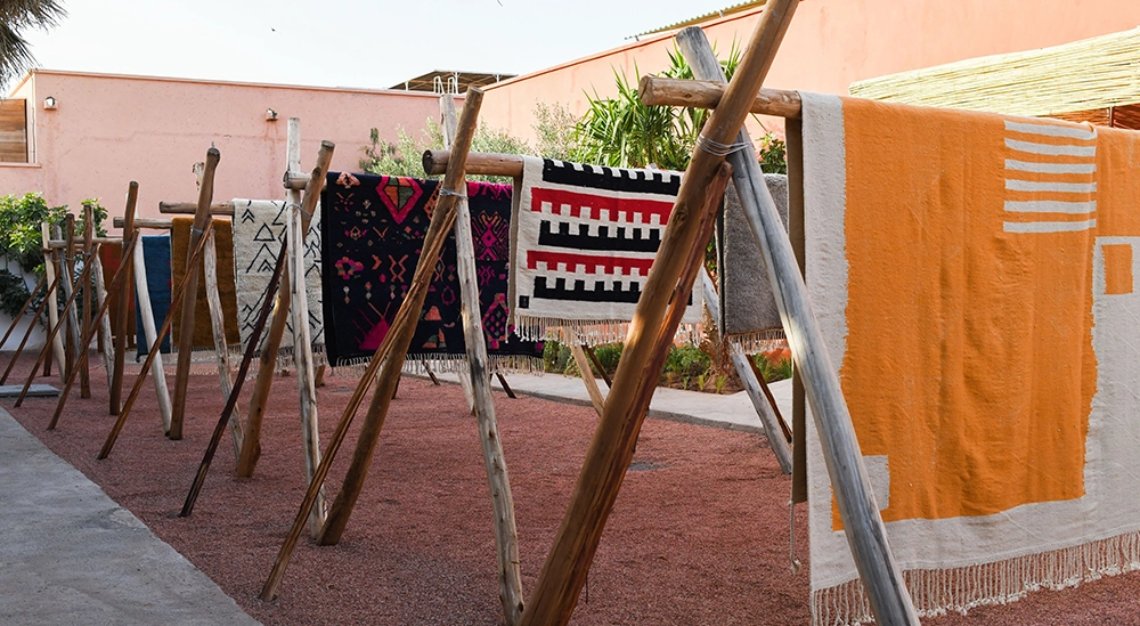 The seed for Beni Rugs was planted just before 2016, when Lobo-Navia and Wright, both living in New York at the time, returned from a work trip in Morocco, multiple rugs in tow. When friends fell in love with their finds, the pair put them in touch with the dealers. But the buying process was lacking; sending unclear photos through WhatsApp wasn't working. "That is when we started to realise that there was a real opportunity here," says Lobo-Navia.
On paper, Beni Rugs—a Morocco-based business founded by two American men that employs local women weavers for a largely U.S. customer base—could elicit issues surrounding power structures, labour, and capitalism, depending on one's global outlook. But the company doesn't fall into any reductive extreme of "white saviourism." It is not exploitative of a country's cheaper workforce. Beni Rugs employs 75 weavers as independent contractors, paying them double the national average, according to Wright and Lobo-Navia. Free transportation is also available for workers, along with any assistance to attain national healthcare and benefits.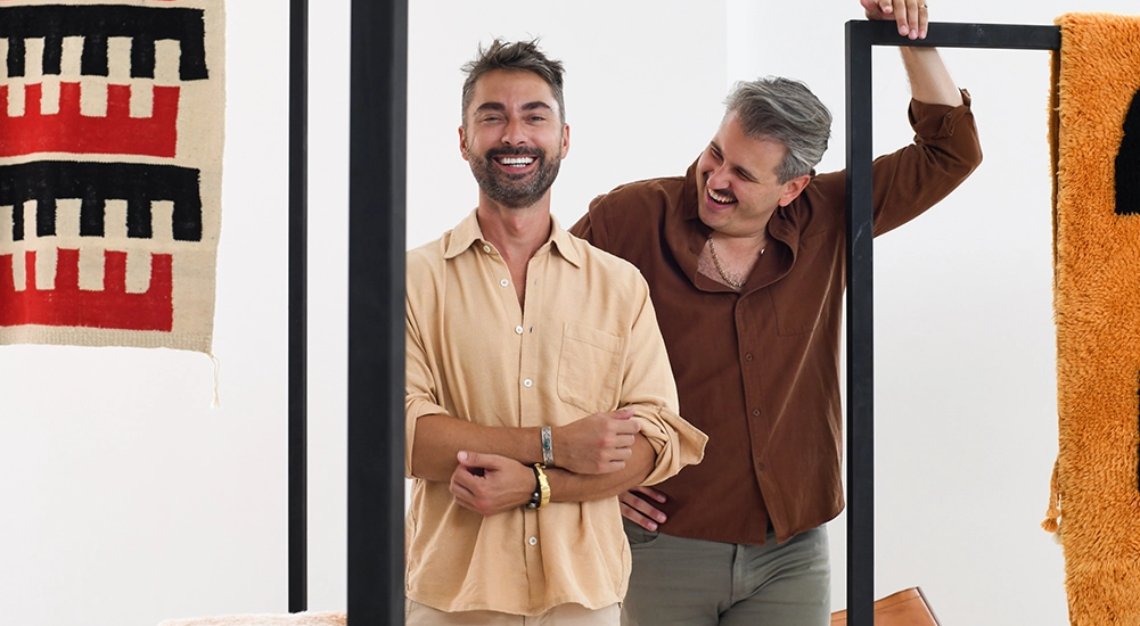 The brand could call itself a social enterprise, given its recent Fairtrade certification from Label STEP,  a Swiss NGO that advocates for the wellbeing of workers and weavers within the handmade carpet industry. Its founders, however, prefer to market Beni Rugs based on the quality of the designs, rather than extol its company policies and culture.
Wright and Lobo-Navia have homes near Tameslouht. They are both actively involved in all daily aspects of Beni Rugs's operations; they don't fly into Marrakech, stay for a few weeks to inspect production, and then leave from whence they came, as many do. They immerse themselves in the traditions. They celebrate the women around them. "We really want to give the craft legs, because it's aging and kind of dying," Lobo-Navia says wistfully. "Our goal is to make weaving a viable career for these women who may not have other opportunities to go to work."
The mood among the Beni Rugs weavers is convivial. Some chitchat in Darija, the Moroccan dialect of Arabic, while others are in deep, meditative concentration at their looms. Most are Amazigh, also known as Berbers, and have learned rug weaving from their mothers and grandmothers. In fact, a few workers have their daughters alongside, teaching them to hold a mallet and thump forcefully at the horizontal yarn weft and weave through the vertical warp so as to ensure a tight hold.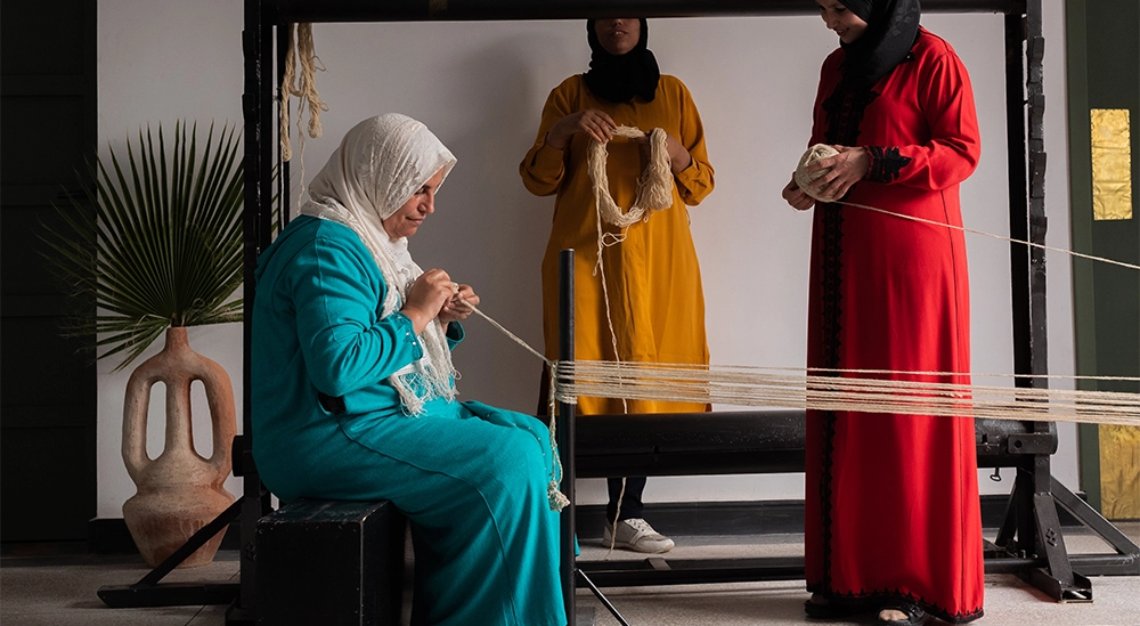 Darting around the premises is master weaver Rachida Ouilki. She dons a face covering, sunglasses, and a long light blue work coat over her clothes with sneakers poking out. An energetic woman despite her years, Ouilki manages all the workers with two assistants. She is well-known in Marrakech's rug-making circles, an artisan who began weaving rugs at the age of 10. Her reputation is the very reason why Lobo-Navia sought her out when Beni Rugs was in its nascent phase. He remembers how Ouilki exclaimed "Inshallah," which translates to "God willing," when he initially told her about the business concept and mission. "She loved the idea," recalls Lobo-Navia.
"I didn't really care if they were local or foreigners," says Ouilki through an interpreter about the duo's unconventional approach to rug weaving. She saw they were passionate about Moroccan techniques and the imperfect beauty of a rug made by hand. "As long as the craft is going to go to the next level," says Ouilki. "That is why I'm working for them."
Traditionally, Moroccan rugs are woven by women in rural areas, at home or in cooperatives, to later sell. They are usually made from 100 live wool—meaning the material is sheared from living sheep as opposed to ones that are slaughtered, which is considered weaker and tends to shed more—and are characterised by geometric shapes and linear patterns without perfectly straight lines. And much like other carpets created in the MENA region, ordering specific sizes, colour combinations, or designs is simply not standard.
This is the beauty behind Beni Rugs: It takes a time-honoured craft that's been passed down through the generations and makes it readily available. It makes it customisable. It also brings a new perspective to what is deemed 100 percent Moroccan.
Indeed, many of Beni Rugs's designs are interpretations of traditional patterns, especially the diamond-shaped motifs that originate from Amazigh tribes in parts of the Atlas Mountains. "I think what we're doing here is paying homage to Moroccan classics," says Lobo-Navia. "We're here to exalt, not to appropriate." In addition, the company produces pieces inspired by the Bauhaus movement, painters such as Agnes Martin and Mark Rothko, and the colours of Tangiers. It also collaborates with notable names in the design industry, most recently with Colin King, who was named the company's artistic director at large and who released a collection of minimalist rugs that riffs off Japan's influence on French design in the mid-1800s. Athena Calderone has also partnered with Beni Rugs on a line of rugs that featured geometric forms in soothing neutral tones in the past.
The throughline between all these different designs, as Lobo-Navia points out, is the skilled hands that make them. And while buying a Moroccan rug online will never match the excitement of scouring through Fez's bustling medina or any roadside market in Marrakech, the singular styles conjured by Beni Rugs certainly comes close. In an oasis on a dusty road in Tameslouht, magic is being made.
"We always try to make sure that the rug keeps its soul, which is this product made in Morocco by Moroccans," says Lobo-Navia. "But we always add this kind of global perspective to it that is more uniquely ours."