The open-top prototype is based on the marque's first sports car, the 356 No. 1 Roadster
Porsche's latest concept is a preview of the future and a tribute to the past.
The German marque, which is currently celebrating its 75th anniversary, just unveiled the Vision 357 Speedster. The open-top model, which will be on display at this weekend's Goodwood Festival of Speed, is a modern interpretation of the automaker's first sports car, the 356 No. 1 Roadster.
The new concept is a follow-up to the original Vision 357 the brand showed off in January. That first prototype was a coupé, but a roof, or lack of one, isn't the only thing that differentiates the vehicles. The Vision 357 Speedster is also an EV. The hard-top prototype is based on the gas-powered 718 Cayman GT4 RS, while the open-top iteration is based on the battery-powered 718 GT4 e-Performance.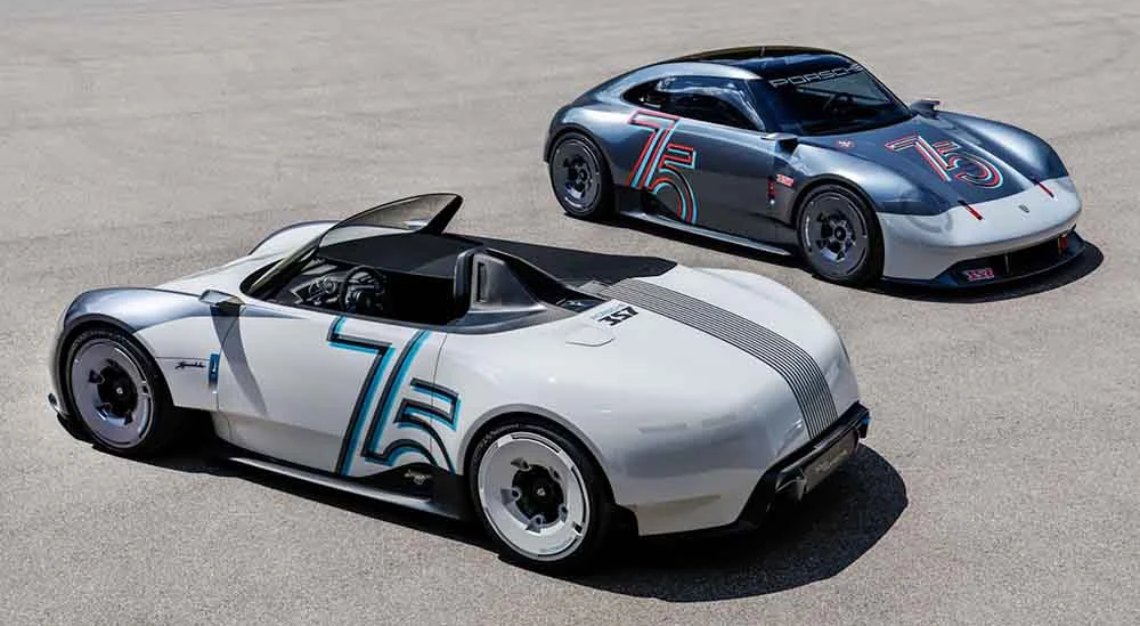 The Vision 357 Speedster is even more striking than its sibling. Porsche has done an excellent job of modernising the look of the legendarily beautiful 356 No. 1. The concept takes the original's delicate lines and added some bulk, resulting in an open-top vehicle that looks at once athletic and sophisticated. We're especially fond of the integrated light package, the one-sided tonneau cover and 20-inch centre-lock mag wheels. The cherry on top is the fetching two-tone 75th-anniversary livery that pairs Marble Grey and Grivelo Grey Metallic, as well as some splashes of Miami Blue.
Thanks to the tonneau cover, the interior of the concept is basically just a driver's cockpit with a carbon-fibre roll-over element for support. The space, which is decorated primarily in carbon fibre, has been stripped down to the essentials, including the steering wheel, controls and a racing-style seat built into the car's monocoque with a six-point seat belt with a Miami Blue strap. One particularly interesting feature is the instrument panel, which is a fully transparent display situated atop the steering column. Because it is see-through, it acts almost as a physical head-up display.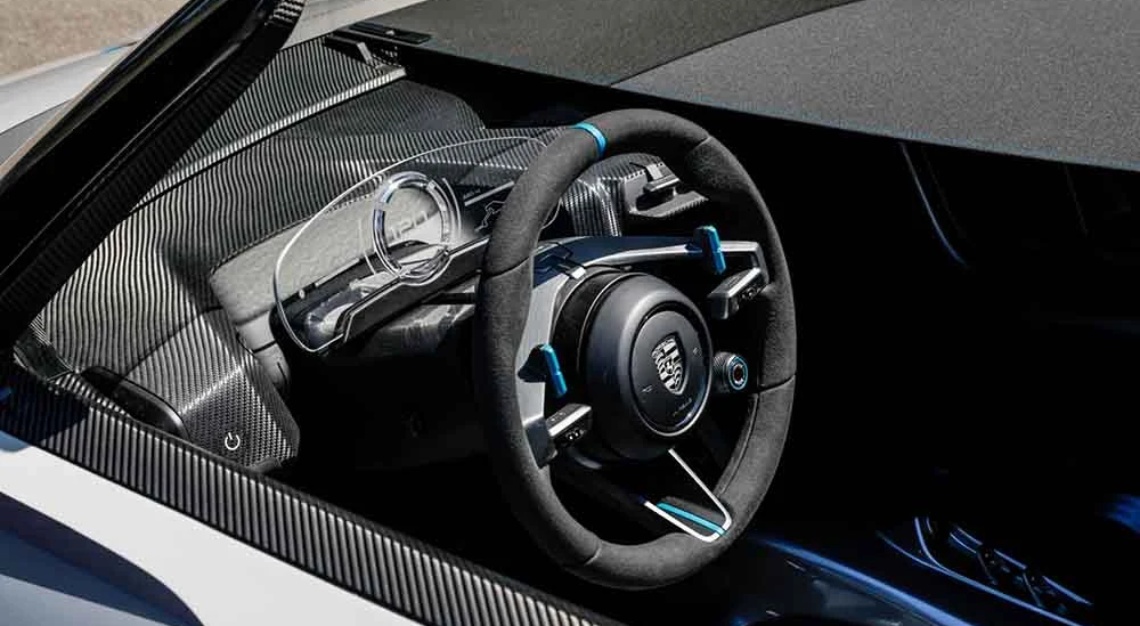 The Vision 357 Speedster seems to be more of a design concept than anything else, so the announcement is short on technical details. We do know that the car is built upon the chassis of the 718 GT4 Clubsport. The powertrain and batteries, meanwhile, come from the Mission R race car concept. Porsche didn't reveal power numbers, but the Mission R's setup could produce up to 1,073 horses.
Fortunately, this weekend won't be your only chance to see the Vision 357 Speedster in person. Porsche also plans to bring the car stateside in September for the Rennsport Reunion at Laguna Seca.