Here's the story of how Singaporean Pearlyn Lee met a Masterchef France winner and founded The Hood, a cafe that brings the best of Singapore to Paris
Paris is truly a gourmand's paradise. It's home to a cacophony of cuisines from all around the world, from Tunisian street food and Vietnamese-fusion bo bun to the finest French dining institutions. Now, the city is adding chicken rice and laksa to its vast gastronomic lexicon, thanks to The Hood, a cafe that's serving up Singaporean hawker fare in the French capital. Located in the trés cool 11th arrondissement, the Southeast Asian canteen is the brainchild of Singaporean Pearlyn Lee and Masterchef France winner Khanh-Ly Huynh.
After four years in Geneva with a commodity trading house, Pearl, as Lee is known to her regulars, moved to Paris in 2014 with an eye on its still-nascent coffee scene. "Paris was fertile ground to start something in the culinary space. Compared to London, New York or Singapore, it was not yet saturated, and we wanted to catch the wave early." Then, news of the November 2015 Bataclan terror attacks shook the former banker, compelling her to accelerate her pursuits. The next day, she quit banking in pursuit of her dreams of starting her own music-driven cafe.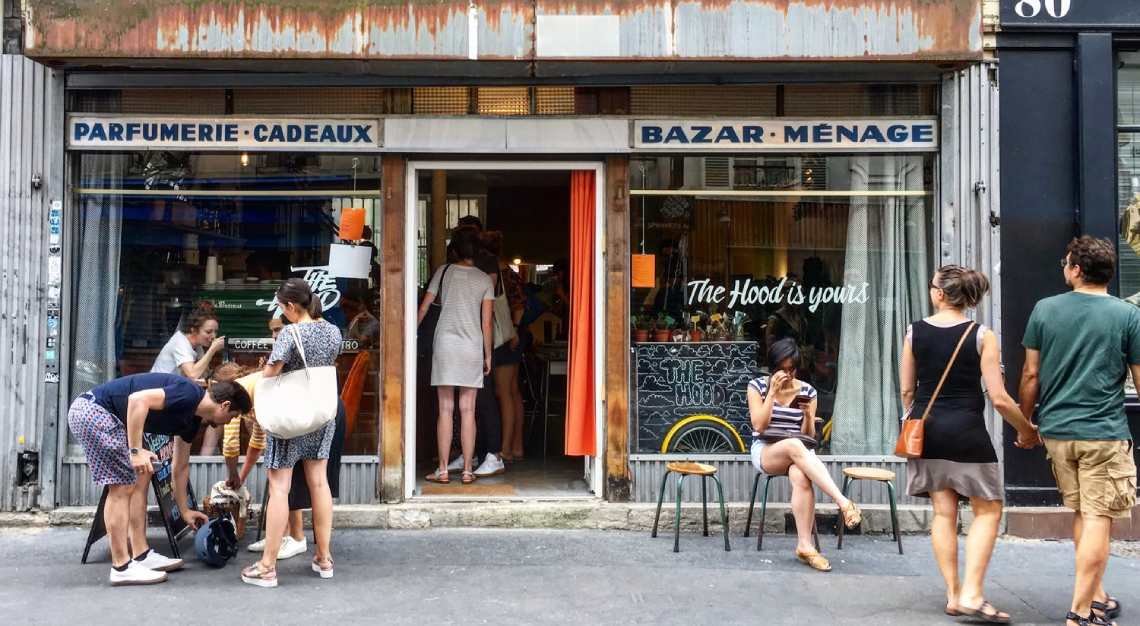 In 2016, The Hood was born. The first iteration of the cafe was more of a passion project, inspired, in particular, by an exuberant experience at outdoor music festival Fête de la Musique in Geneva. Keen to replicate that conviviality where people from all nations and all walks of life bonded through music and community, the cafe hosted regular concerts with up-and-coming independent musicians, as well as film screenings and art exhibitions. The locals loved the coffee and the easy communal atmosphere, but there was something missing. "I was so focused on the music, I forgot I was running a restaurant," she laughed. 
Co-founder Chef Huynh or Ly, as her team calls her, knew that wasn't feasible. "I remember myself saying to Pearl very clearly 'you can't make money off coffees here. You need food!'" 
Born in France to Vietnamese parents, Ly was fresh off her 2015 Masterchef win when a mutual friend introduced her to Pearl. The two met for lunch at Septime and immediately bonded over a shared love of pandan. The Institut Paul Bocuse-trained chef had been turning down numerous offers from Michelin-starred restaurants, citing the "psychologically violent" environment she had discovered during her trials with them. "It didn't fit my vision of food and hospitality. [But] when I met Pearl, I loved her vitality, and passion for people and the industry."  Though she was already working as a chef creating pairing dishes at a cocktail bar, she agreed to come in on her days off to help shore up The Hood's food offerings.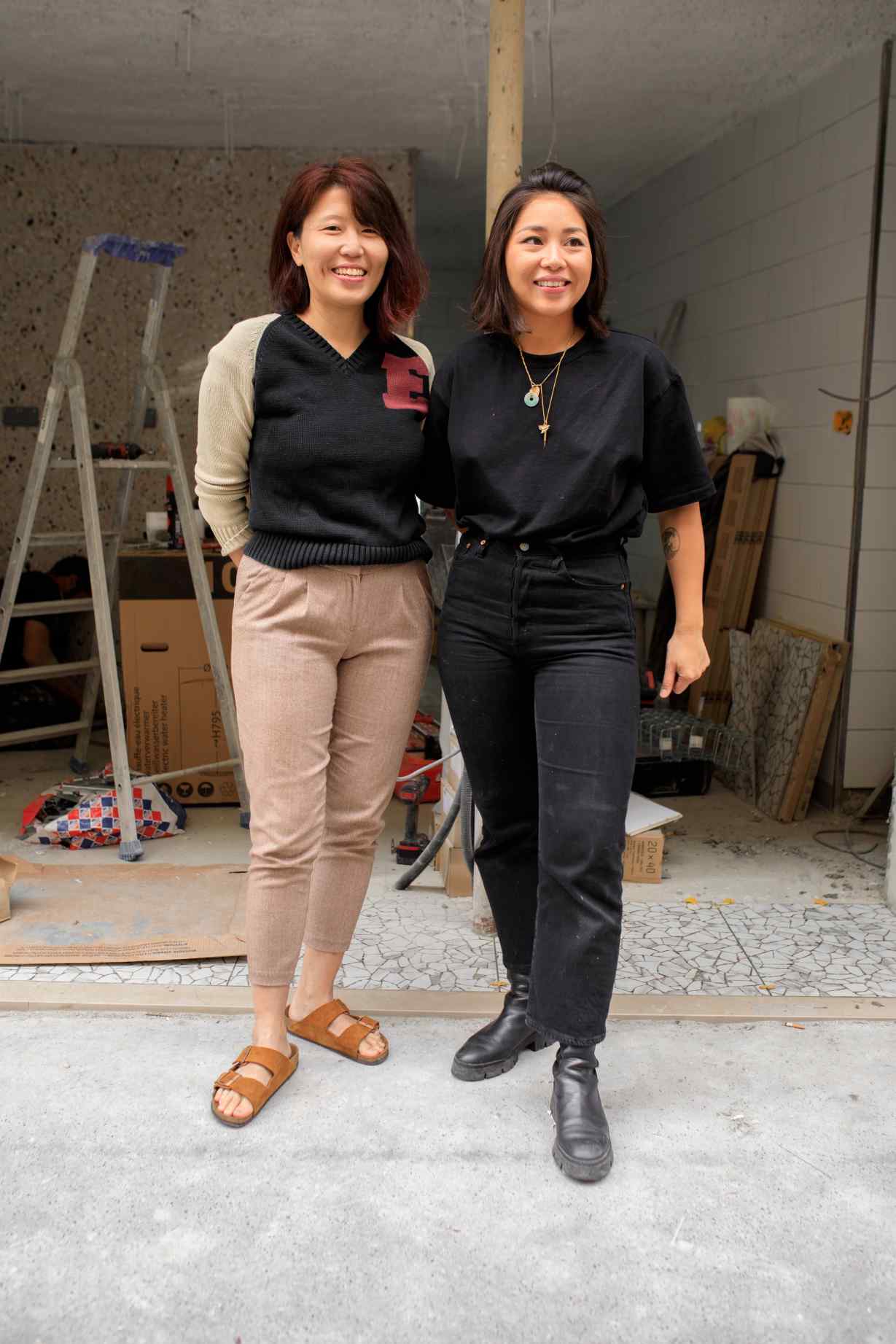 Early versions of the menu were more reflective of Ly's French-Vietnamese heritage; Singaporean flavours, foreign to most Parisians, were somewhat of a hard sell. "The kaya was too green for most. We had to offer kaya shots alongside the pandan cake to get people to try it. (It's also made) creamier and not as sweet, which worked better with the locals," explained Pearl. Instead, the cafe's mainstay was the more familiar, more popular banh mi. 
Then in 2019, The Hood was hit with two burglaries. The cafe was badly damaged, and they lost thousands of euros in cash and equipment. "It's quite a traumatising event to be honest," recalled Ly. "[Burglaries] are quite common in Paris. Sadly, it was bound to happen. When I joined [The Hood], I was always scared because the locking system was unreliable." 
The burglaries catalysed repairs and renovations that had been needed but never gotten around to. "The shop was in need of a total revamp. We decided that if we had to turn the business around, we had to strengthen our food identity with a proper kitchen. We decided that if we were in this for the long haul, the business model and the products needed a major update." The new menu was focused on highlighting Southeast Asian flavours from both Vietnam and Singapore. Including the Lion City's iconic chicken rice was a no-brainer for Pearl. "It's the only dish from Singapore that I was truly proud of, and it sold out at our first brunch pop-up in 2016, and every successive pop-up after that."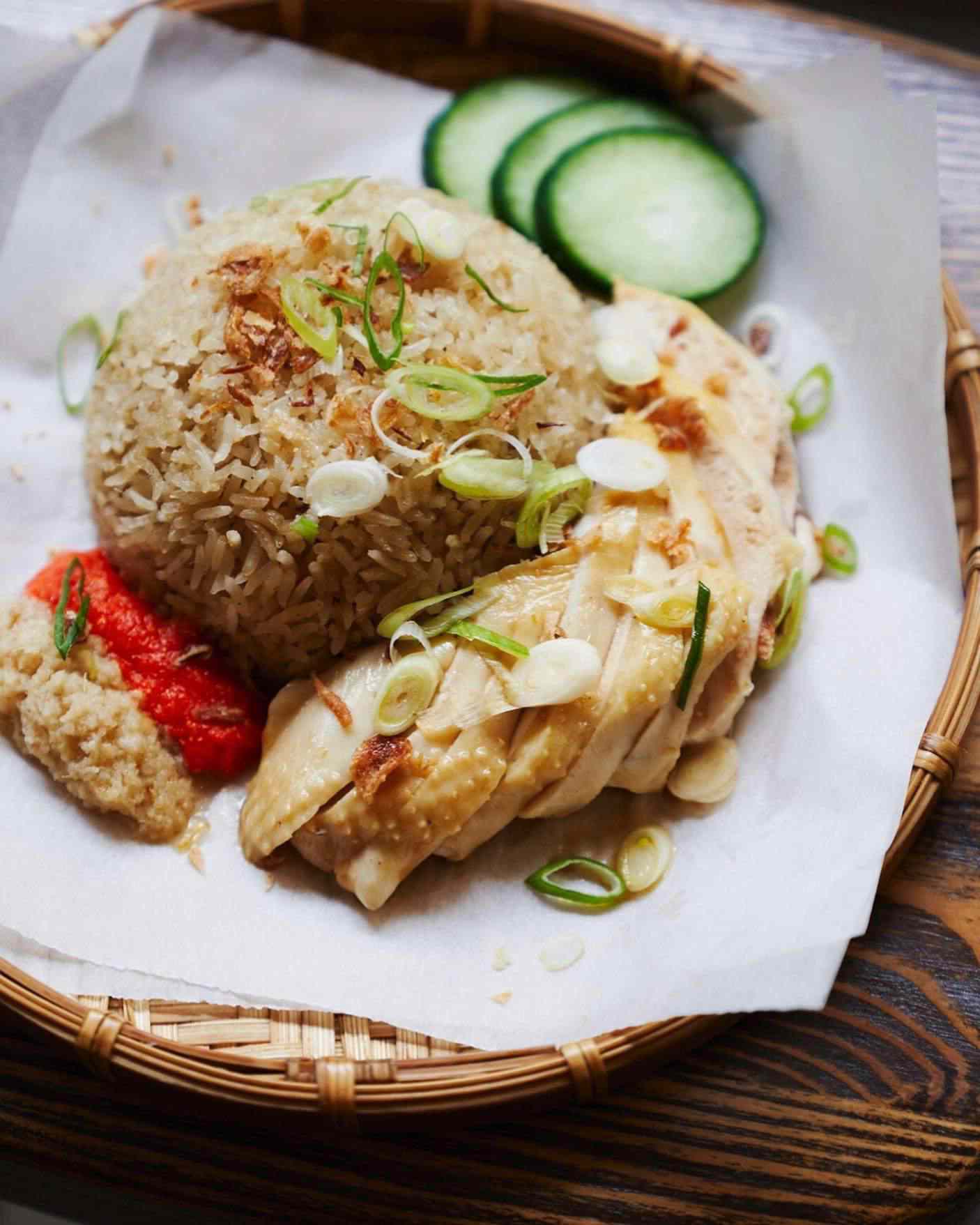 The trouble was Chef Huynh, who had the unenviable task of recreating the recipe, had only had chicken rice in Singapore two or three times. "I never saw anyone making it, nor did I have a big enough experience of Singaporean culture to be able to optimise its fabrication." She tried basing it on com ga, Vietnam's own version of chicken rice, but the flavours, which included fish sauce, didn't sit right with the Singaporeans in Paris. Sourcing the right ingredients also proved to be more challenging than expected; some, like candlenut, were too costly, while others such as fresh coconut milk were simply out of reach. 
"I [also] really wanted to use French chickens, specifically the poulet jaune des Landes, which has a different fragrance from the white chicken used in Singapore. The chickens are corn-fed so the skin is deep yellow, the rump is extremely fatty, and the bones are less cartilaginous because the chickens are free roaming." Singaporeans and Malaysians are notoriously particular about the chicken rice, so Ly's improvisations to their beloved dish naturally invited some criticism. "I remember at the beginning nobody liked the chicken rice because the chicken 'fragrance' was so far from the one in Singapore, but I never intended to reproduce that flavour." Instead, she wanted to create a dish that could stand on its own, with, in her evocative French-English parlance, "a taste of a memory." Her version has clearly found its audience; today, it's the cafe's bestseller.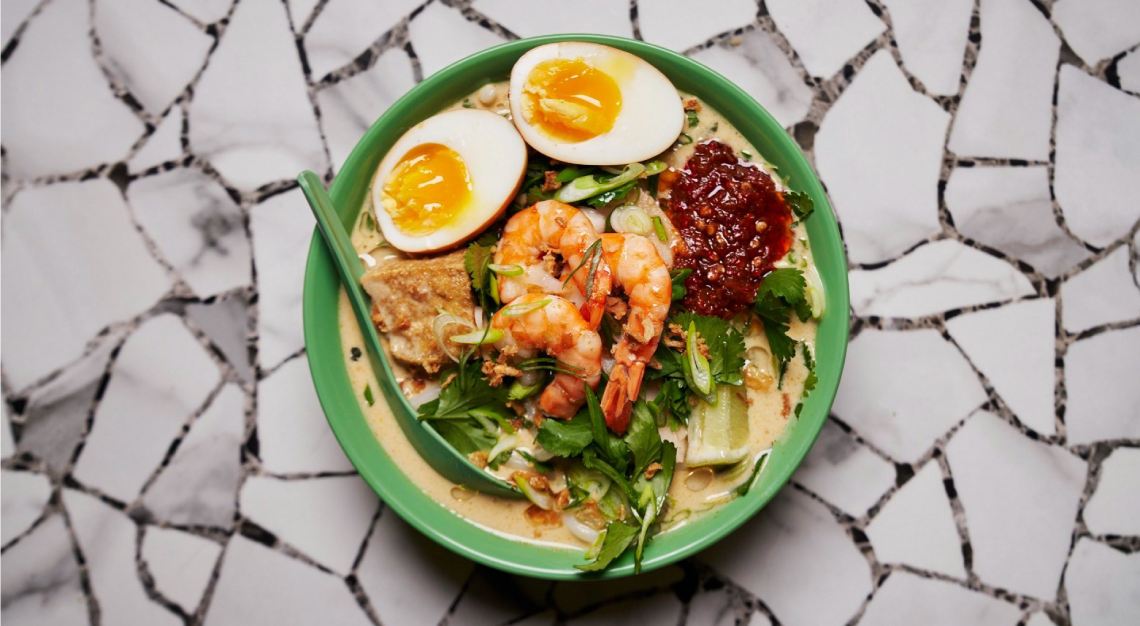 The Hood had also been fielding requests for more vegan options. Sri, an Indonesian chef on their team, suggested creating a laksa based on her grandmother's vegan sambal recipe. "Vegan laksa was extremely challenging because seafood or crustaceous flavours are very difficult to replicate with plant-based ingredients, so we decided to design a more vegetal version. To me, most vegan recipes that try to reproduce the flavours or textures of animal protein end up clumsily close and yet too far," Ly explained. Rather than turn out a pale imitation of the original, she focused on extracting the most flavour from the ingredients to create a rich, satisfying laksa broth. "Our vegan laksa remains one of the best sellers because it's not too heavy, yet perfectly filling and comforting."
For a while, it seemed the cafe had finally hit its stride. The revamped menu was warmly welcomed by the neighbourhood, and more and more Parisians were flocking in to try the exciting new dishes. "The French community who've lived in Singapore for years and now returned to Paris are some of our favourite clients. Their joy when they once again taste nasi lemak or chicken rice brings us as much gratification," smiled Pearl. 
But time wasn't on their side. Just a month after The Hood emerged from an extended period of rebuilding, Paris was met with transport strikes and the Gilet Jaunes movement. "It was quite tough," Ly shared. "Paris was in a societal crisis I'd never known in my adulthood. The business was deeply impacted as the cafe's rebrand was completely drowned in the hell that we were all living in. I remember once, walking back home from work to take the subway, and arriving at a Place de La République filled with tear gas, crowds camped in the emptiness of the place, and a darkness I've never experienced before."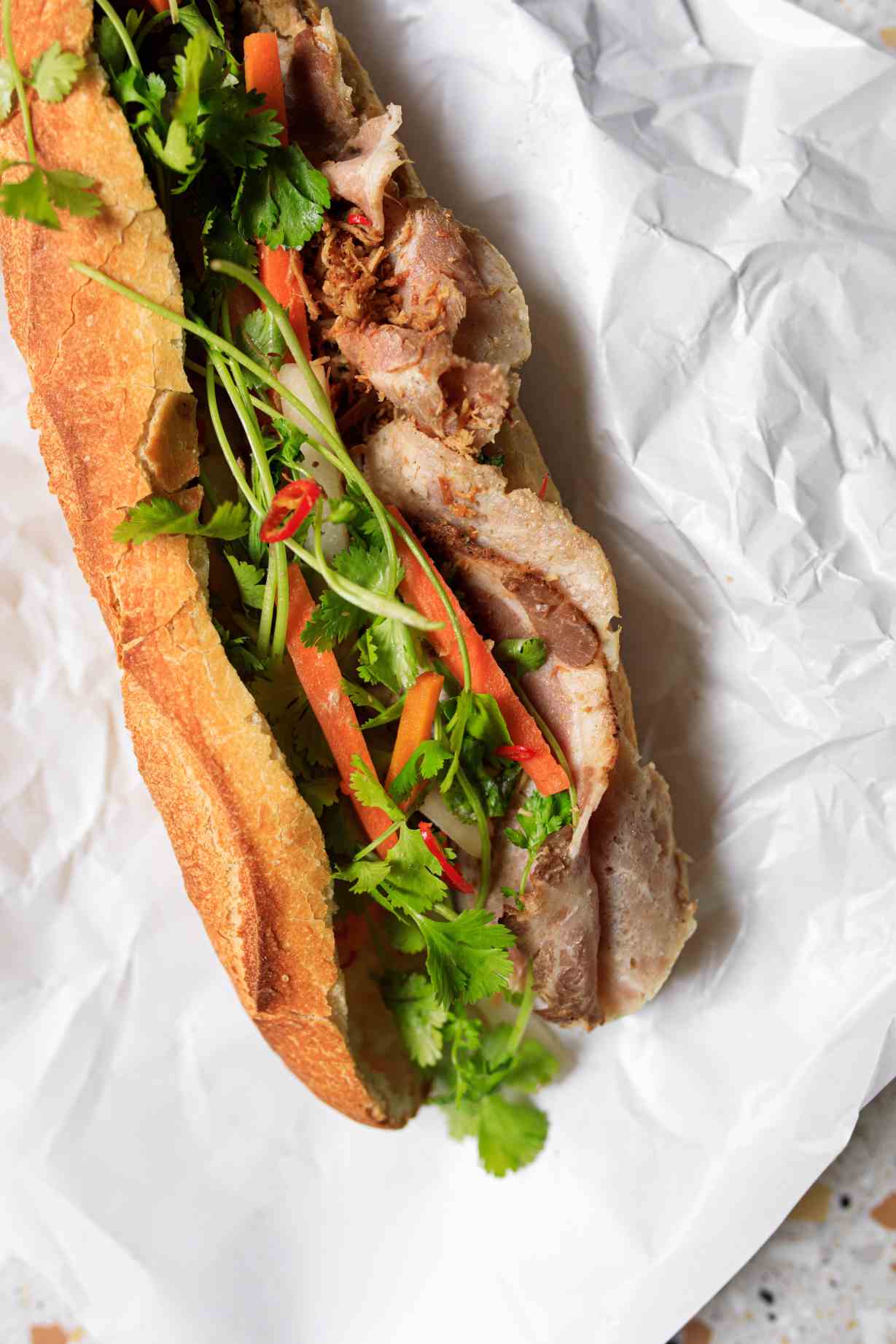 An unexpected turning point came when the pandemic hit and Paris was forced into lockdown in March 2020. Many restaurants, unable to work out how to remain operational, decided to shut for the time being. The Hood, however, stayed open out of sheer necessity. "We were bleeding cash, we couldn't afford not to," admitted Pearl. "[So] we were one of the only few restaurants that stayed open. People who gravitate to us for takeouts and deliveries started discovering our food. Chicken rice, rendang, laksa and nasi lemak all became such hits during the compulsory confinement period." 
"We had quite a great amount of media support during lockdown," Ly beamed with pride. "Vogue France wrote about the laksa and banh mi meal kits we released during this time. The goal was to break down the recipes for the customer to be able to enjoy the dishes the freshest way possible—by assembling, with minimal cooking, the dishes at home."
When their signature sriracha, which they bottled for delivery during lockdown, unexpectedly found an appreciative Parisian audience, they quickly realised that there was a hunger for artisanal Asian sauces and condiments. "Our ginger-garlic condiment, created by Khanh Ly, is [also] one of our top-sellers," said Pearl. Their épicerie of housemade sauces (including kaya) quickly sold out at a pop-up at Le Bon Marché, and their line of condiments may soon land a coveted spot on the luxury grocery's shelves.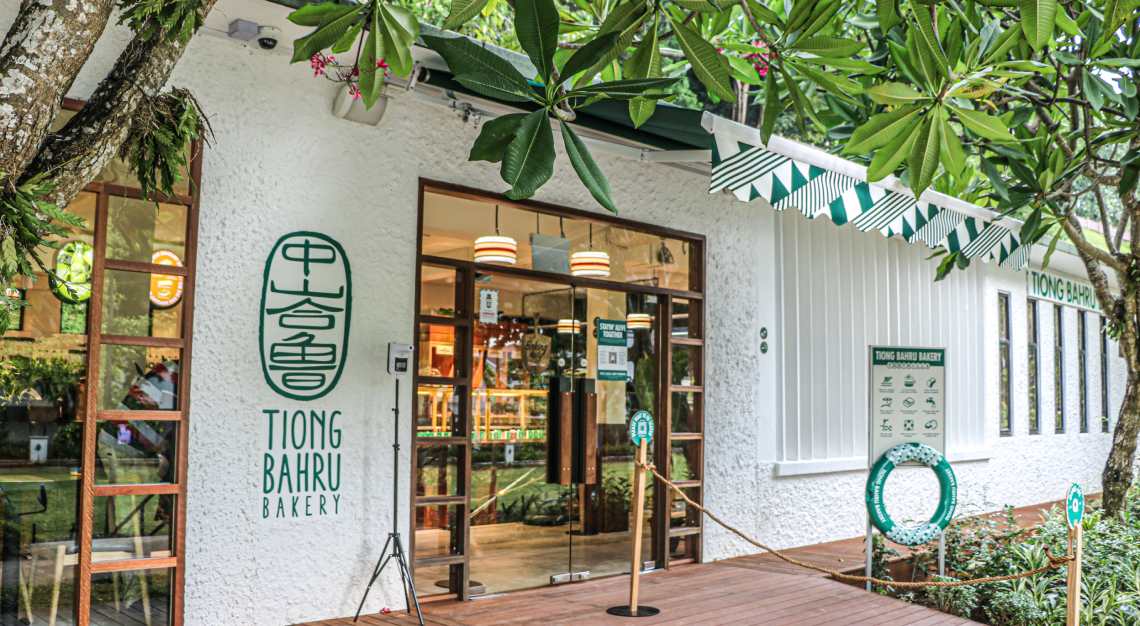 When demand for their gourmet banh mi reached a fever pitch in 2021, the two decided to open Nonette, a kiosk-style sandwich shop that also sold Asian-flavoured donuts, such as their kaya cream donuts and pork floss donuts. The shop was a runaway hit, quickly amassing fans including Parisian chefs like Alexia Duchêne. Recently, the founders brought Nonette to Singapore as a pop-up at Tiong Bahru Bakery Foothills. For the first time, Singaporeans don't have to book a flight for the cult favourite Đặc Biệt (Vietnamese for special), a Nonette exclusive made with five different house-made charcuterie. 
As female entrepreneurs pioneering the Southeast Asian food scene in Paris is certainly not without its unique set of challenges. "As a woman of colour, people never expect you to be the owner," Ly frowned. "You're the help, the intern, the girl without a name whilst everybody instantly remembers the names of your male employees. Receiving unsolicited advice from people who don't understand what you do can feel patronising. I'm not perfect, I'm building a company, learning as I go, but there's still an undermining misconception that because I'm a younger Asian woman, I can't know about French cuisine."
"There's definitely a bias that the man is in charge," agreed Pearl. "People who don't know us such as suppliers would mistake our male employees as the owners. Looking at what we've accomplished to date, it definitely took a lot of grit and perseverance, passion and drive to position ourselves as one of the key Asian F&B players in the scene in Paris that helped us overcome these barriers."
Robb Tip: Head over to Tiong Bahru Bakery Foothills this 25 to 27 November 2022 for a taste of Nonette's banh mi. Three different kinds will be served, including the Đặc Biệt that's made with Bordier butter, shallots and five house-made charcuterie.