have a seat

Kenzo Takada is not known for solids. The Japanese fashion designer has been a tour de force since the 1970s, when he introduced a riot of colour and pattern to the runway. His fearlessness with print and texture is very much at home in a hotly anticipated new collaboration with the chic French design brand Roche Bobois featuring an exuberant makeover of the Mah Jong sofa.
Even casual design observers will know this Roche Bobois classic. Created in 1971 by Hans Hopper, Mah Jong was a sensation. Originally conceived as a series of three elements, the sofa ushered in a luxuriously low-slug informality, giving owners the freedom to configure cushions and create the ideal seating/lounging arrangement based on need (or mood).
Takada's reimagined rendition dresses the Mah Jong in an original, exclusively designed collection of textiles. Describing his inspiration fusing past and present, he reveals, "From the outset, I wanted to use inspiration from the patterns found on kimonos, specifically the weaving used for the Nō theaters. These designs and patterns were the guidelines of this collection for Roche Bobois, but I wanted to completely change their colours and interpret them in a new way."
His vision for Mah Jong is offered in three distinct versions meant to coincide with times of the day: ASA (morning), HIRU (midday), and YORU (evening). Layers of pattern make their way to a host of pillows, ceramics, and décor. The vessels delve into Japanese pottery traditions, updated with deep, coloured enamels and copperleaf accents, while the hand-tufted Gara rug illustrates how mixing is a practiced art.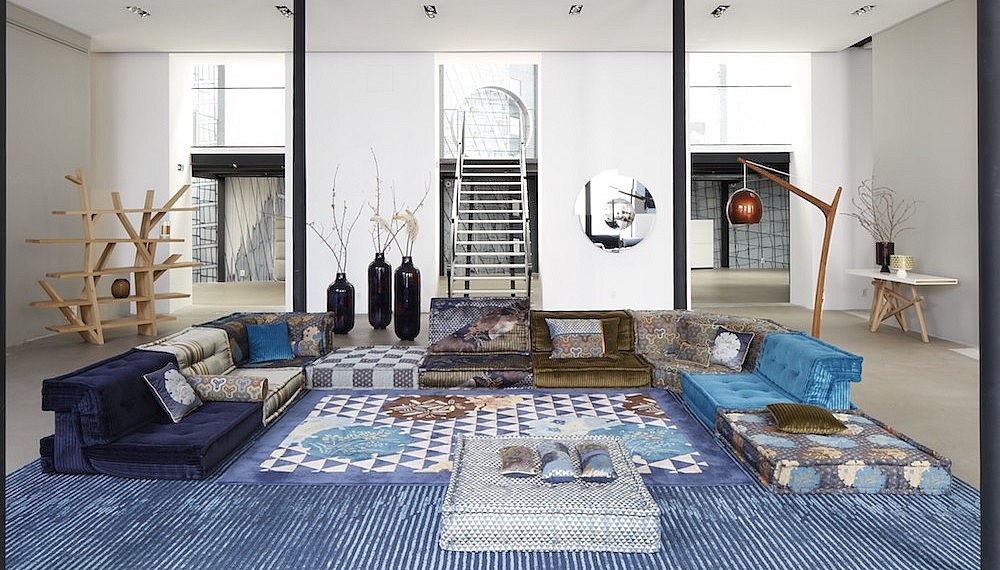 Interestingly, Takada retired from his eponymous global fashion brand in 1999 and has since focused on art and design. Meanwhile, Roche Bobois is known for its bold, innovative take on home furnishings, with history of notable fashionable collaborators such Christian Lacroix Maison, Missoni Home, and Jean Paul Gaultier.
As the desire for fashion-forward design collections grows and more fashion players get into the game, companies with a strong aesthetic point of view (rather than a slick group of branded goods) will be leading the charge. Roche Bobois' collaboration with Takada is a major debut that highlights the best of both worlds.