Harnessing the power of Botrytis cinerea
Despite their bad reputation, mould, yeast, and fungus are responsible for some of the tastiest things in our lives, such as blue cheese, bread, pizza crust, soy sauce, miso, and, of course, mushrooms and truffles. As wine lovers, we can't forget Botrytis cinerea, the grey mould known as Noble Rot that under the right circumstances can affect grape bunches to create ethereally sweet wines such as Sauternes, Tokaji Aszú, and Spätlese and Beerenauslese Riesling. It takes perfect conditions for botrytis to work its wonders; if the season is simply wet, the mould will ruin the grapes or any other fruit or vegetable that it grows on, rendering them inedible or useless for winemaking.
However, a period of humidity, especially cool, foggy mornings, followed by a dry spell before harvest creates an ideal situation. The fungus dehydrates the grapes, which increases the proportion of fruit sugars and acids, offering a sweeter, more intensely flavoured berry from which to make wine. Affected grapes shrivel to the point that they look like raisins, but when a portion of these berries is added to "healthy" grapes during the fermentation process the result is a complex, sweet, full-textured wine. Made properly, vibrant acidity will offset residual sugar, resulting in a wine with excellent balance and equilibrium.
Sauternes, Barsac, and Tokaji, which we focus on here, are the primary sources of easy-to-locate Noble Rot wines. In addition, Germany, Austria, Alsace, and many other cool, humid regions around the world make botrytised wines from a variety of white grapes including Riesling, Gewurztraminer, Pinot Gris, Sauvignon Blanc, Semillon, Furmint, and Chenin Blanc. Botrytis and red grapes are not good partners; the same conditions that create delicious, sweet white wines would induce unpalatable flavours if made into wine using red grapes.
Sauternes and Barsac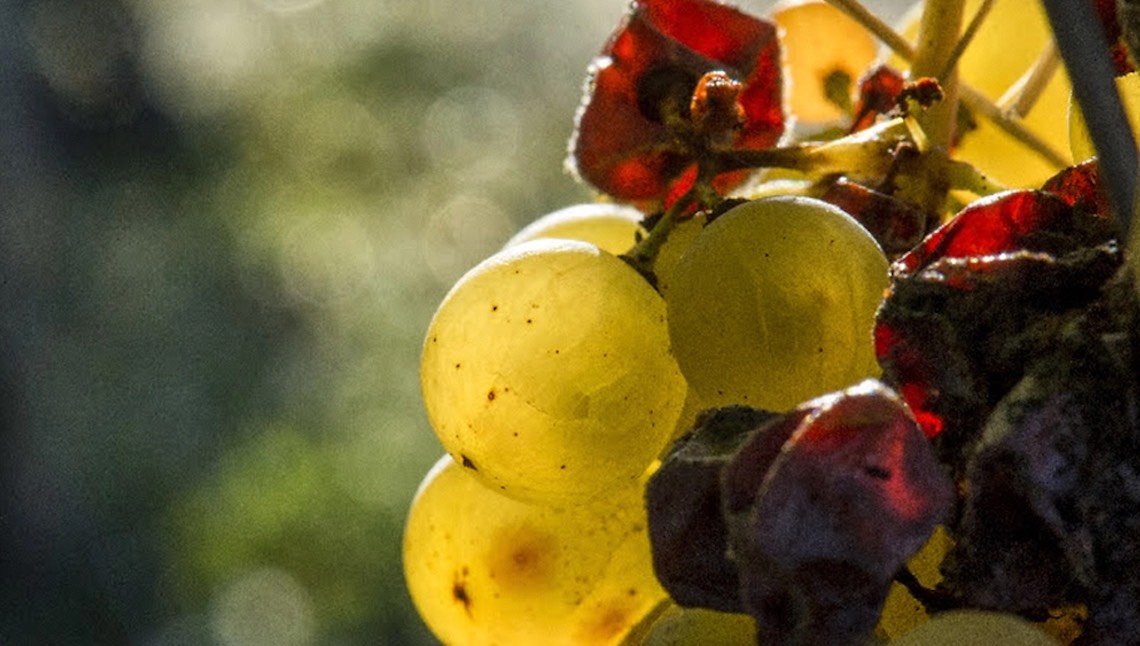 Situated within the larger confines of Bordeaux, Sauternes and the wholly contained sub-region Barsac are home to about 140 wineries. Their 4,700 acres of vines represent only two per cent of the total area of Bordeaux, but locals are quick to point out that they garnered 27 grand crus in the famous 1855 classification. In 1939, both Sauternes and Barsac were among the first French AOC appellations to be registered. The five communes that comprise this area are Barsac, Bommes, Sauternes, Fargues, and Preignac. 
Winemakers in AOP Barsac have the choice of labelling their wines as AOP Barsac or AOP Sauternes; the requirements for both are the same. The three grapes authorised for use to create these specialised wines are Semillon, Sauvignon Blanc, and Muscadelle. Generally, 80 per cent of the grapes used in the finished wines are Semillon, 20 per cent are Sauvignon Blanc, and only a very small percentage is Muscadelle, but the last grape can be very important for powerful aromas. Five million bottles are produced annually and 30 per cent of those are destined for the export market. 
These two regions owe their success to the temperature differences and proximity of the Garonne and Ciron Rivers. The contrast creates morning fog, condensation, and mist at their confluence which is necessary for the growth of Botrytis cinerea. These misty mornings and sunny afternoons facilitate the growth of this microscopic fungus, which gives the wine its unique flavour and texture. Because the botrytis does not form at a uniform rate, winemakers must pass through the vineyards multiple times to pick only the most botrytised grapes each time. The process of making these wines is very labour intensive and therefore makes them more expensive compared to other styles of sweet wines.  
Sauternes and Barsac wines will exhibit aromas of orange, lemon blossoms, passion fruit, and mango. You will find flavours of orange and apricot marmalade, toasted pineapple, and soft hints of baking spices. There are also touches of beeswax and acacia honey flavours with full-on mouthfeel and a finish that is equal parts vivid and sweet. Notable producers include Château d'Yquem, Château Rieussec, Château Climens, Château de Fargues, and Château Caillou.
These wines are often enjoyed with foie gras or blue cheese as well as tarts and pies made with apple, peach, or pear. Sauternes and Barsac also work well with fried or roast chicken, brined and grilled pork chops, and pasta or risotto made with butternut or acorn squash.
Tokaji Aszú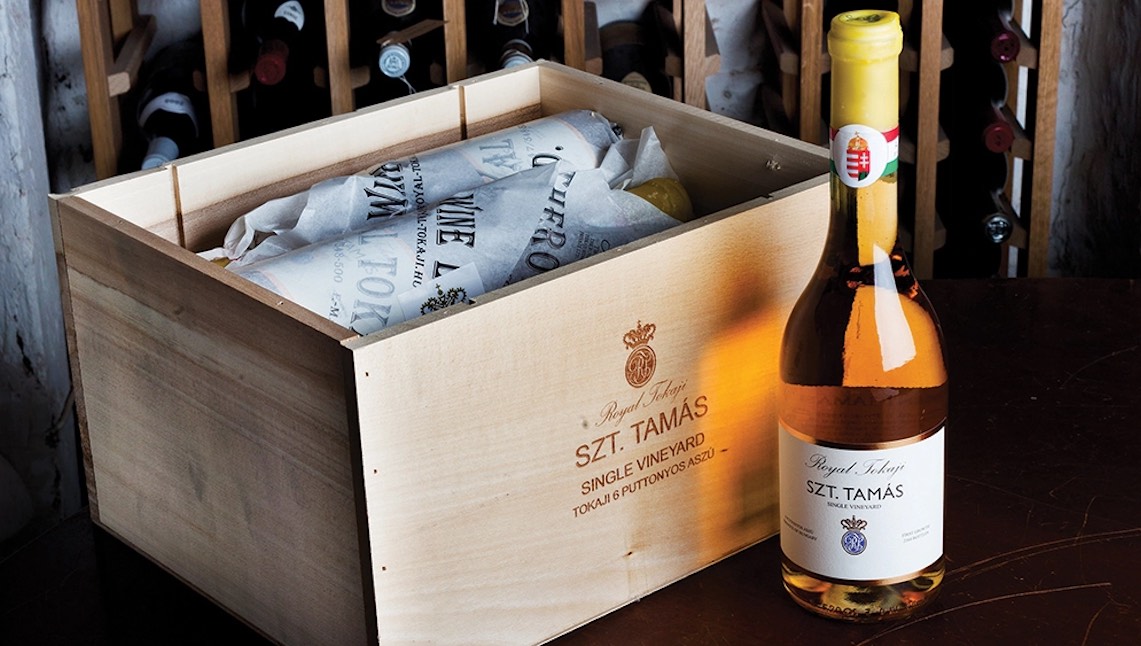 Northeast Hungary's Tokaji-Hegyalija region is famous worldwide for its highly prized sweet wine blend called Tokaji Aszú, which is made from botrytised Furmint, Harslevelu, and Muscat Blanc grapes. Situated at the confluence of the Bodrog and Tisza Rivers, the Tokaji region is known for the heavy fog that covers the vines in the mornings during grape growing season. This high-humidity moisture fosters the occurrence of botrytis and supports its growth.
This delectable, sweet wine has been a favourite of noblemen, poets, and artists for centuries and was called the "The King of wines, the wine of Kings" by Louis XIV. Voltaire was said to have waxed poetically about Tokaji Aszú and Pope Benedict XIV was reportedly heard to say, "Blessed be the land that has produced you. Blessed be the woman that sent you. Blessed be I who drink you." 
Unaffected grapes are first harvested in September to make the base wine and other grapes stay on the vine to become inoculated with botrytis. These grapes will shrivel, and their sugars will concentrate until the second picking in late October or November. Harvested botrytized grapes are gathered in large baskets known as puttony and added to 136-litre barrels of base wine. The number of baskets of sweet grapes added to the base wine gave the Tokaji Aszú the Puttonyos rating of 3, 4, 5, or 6 Puttonyos, with 6 Puttonyos as the sweetest on the Puttonyos scale.
Under current regulations winemakers now make only late harvest Szamorodni, 5 Puttonyos Tokaji Aszú, 6 Puttonyos Tokaji Aszú, and Eszencia. A Tokaj wine made from only botrytised grapes is known as Eszencia. For a Tokaji Aszú wine to be labelled today as 5 Puttonyos, it must have at least 120 grams per litre of residual sugar and a wine labeled as 6 Puttonyos must have at least 150 grams per litre of residual sugar. An Eszencia wine can be as sweet as 450 grams per litre and is a very rare and expensive commodity. 
Tokaji Aszú wines have aromas of honeysuckle, jasmine, beeswax, and peach. You will find flavours of canned apricots, caramelised pineapple, tropical fruits, and white flowers with a velvety mouthfeel and well-balanced acidity. Look for bottles from Oremus, Royal Tokaji, Diznoko, Chateau Dereszla and Patricius.
Tokaji Aszú goes with a wide variety of foods, so please don't just relegate it to dessert. While it is delicious with ice cream or crème bruleé, it also pairs beautifully with savoury foods such as duck or goose pâté, dishes made with gorgonzola or other blue cheeses, or spicy foods like Thai curries. It's also a special treat with Peking Duck.
This story was first published on Robb Report USA