At 42mm it's one of the more wearable Panerai Submersibles. Here's what we thought about PAM960 after a week of "test-driving"
Up until very recently, Submersibles typically made up just a small part of Panerai's yearly SIHH novelties. In 2019, however, with a new strategy and management on board, it became the star of the show – and rightly so. If you've been into watches long enough, you'll remember one Panerai watch code-numbered PAM382 introduced in 2010.
That watch, the unforgettable Luminor Submersible 1950 3 Days Bronzo, with a gorgeous bronze case and green dial, caused one of the craziest buying frenzies in modern luxury watchmaking. Every watch aficionado in the world just had to have one but Panerai's small production numbers meant that some – alright, a lot – people were going to be disappointed.
The popularity of that piece showed the potential of the Submersible among Panerai fans. Of course, its bronze case did most of the heavy lifting, so to speak, but to discount the role played by the watch would be to do it a huge disservice. Wouldn't it? Okay, agree to disagree.
So let's come back to 2019. At the SIHH in January Panerai showed a bumper crop of Submersibles in all sizes, materials and colours. It was a Submersible extravaganza.
There were special models co-created with ambassadors, special models made for yacht racing, and special models featuring interesting cases made of ceramic, BMG-Tech, and Carbotech. Of the three, we were particularly curious about the latter.
How does it wear? Does it look better in real life as opposed to pictures? Will it age well? Does it complement the Asian skin tone? Is it worth the premium pricing?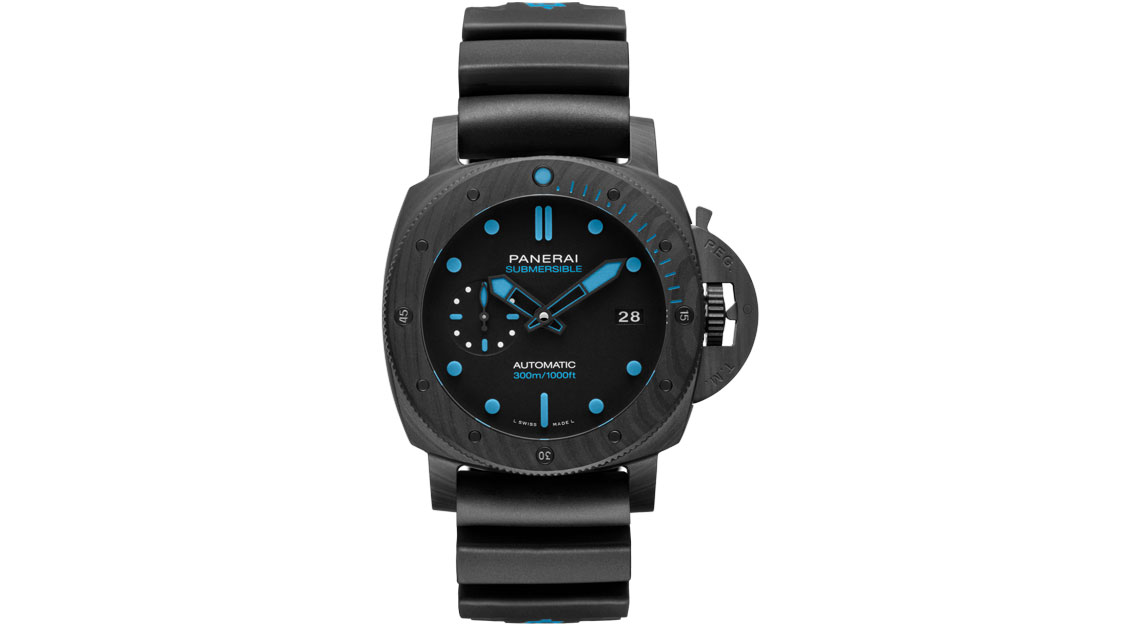 The watch
We selected the Submersible Carbotech 42mm PAM960 for a few reasons. Firstly, it was because of the full Carbotech case. Secondly, a 42mm Submersible sounds like a dream to wear. Since Submersibles are usually quite oversized at either 44mm or 47mm, and we're not born with Popeye hands, 42 could be the magic number for us Asians. Finally, the PAM960's blue lume is not the most common thing around, so it's a little special touch for them Panerai fans.
First impressions
Its all-black case goes very nicely with most smart casual looks although admittedly PAM960 wouldn't be the best choice for dressy occasions. The 42mm Carbotech case is light enough without feeling "weightless" and the machining was obviously done very professionally. All the edges were nicely rounded and bevelled. The bezel's gentle fluting offers you a good strong grip and corresponds to one click per minute.
The PAM960 is also very comfortable to wear because of its soft corrugated rubber strap that wraps around the wrist. The corrugated portion allows for some light flexing too, and notches on the tail ensure that the keeper doesn't slide up or down.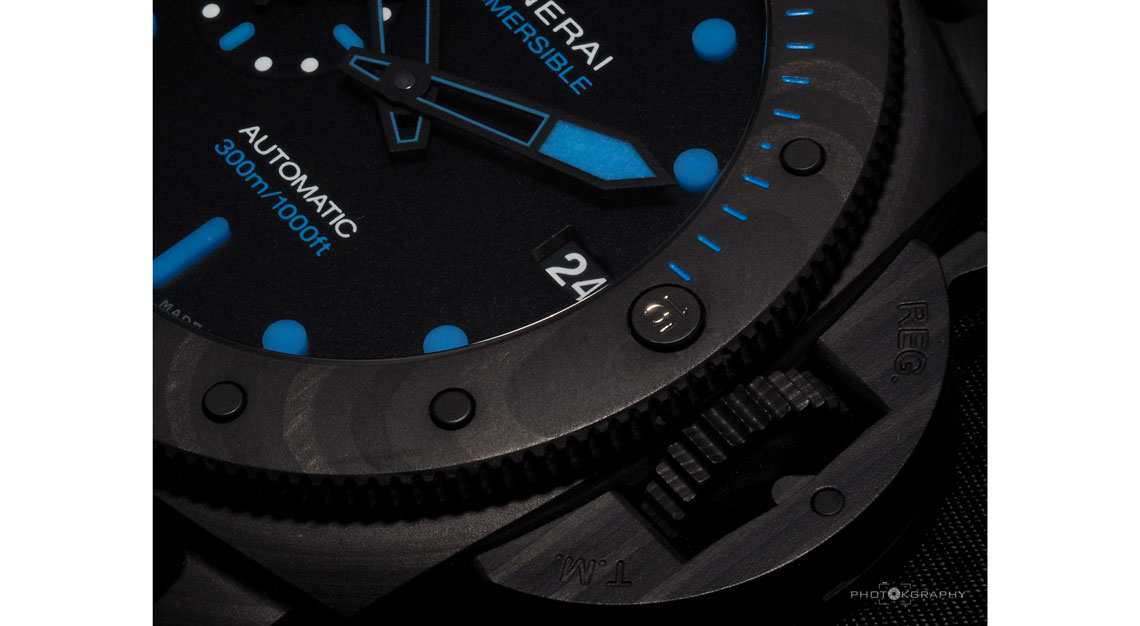 The details
Carbotech is a variation of carbon fibre created by Panerai. Unlike standard carbon fibre, Carbotech has unique striations that are formed throughout the material as a result of its manufacturing processes.
Sheets of carbon fibre are arranged in a gentle spiral and then bonded together at high pressure along with a high-end polymer called polyether ether ketone. This is why even though it's essentially carbon, there is a beautiful finish reminiscent of natural woodgrain.
These striations can be found all over the watch except the case back and buckle which are made of black DLC titanium. The case, bezel, crown protector, lever and even the crown are all done in Carbotech. Look at the crown closely and you can see the individual layers of carbon fibre.
Wearing this piece into the cinema is especially delightful. For a good 15 minutes, the watch emits a fierce blue glow. Offering perfect legibility in the dark is a big part of Panerai's historical DNA. You won't know it at first because everything's painted blue but the bezel's place finder and the minute hand actually glow green. If you're a diver, you'd understand. The bezel and the minute hand are the two most useful components underwater.
Panerai watches often come in painted or sandwich dials but this rule doesn't apply to the Submersible. Instead, it uses applied hour markers and with PAM960 the entire applique glows, not just on its surface. View the dial up close and you can see this clearly. It's not flat, it pops.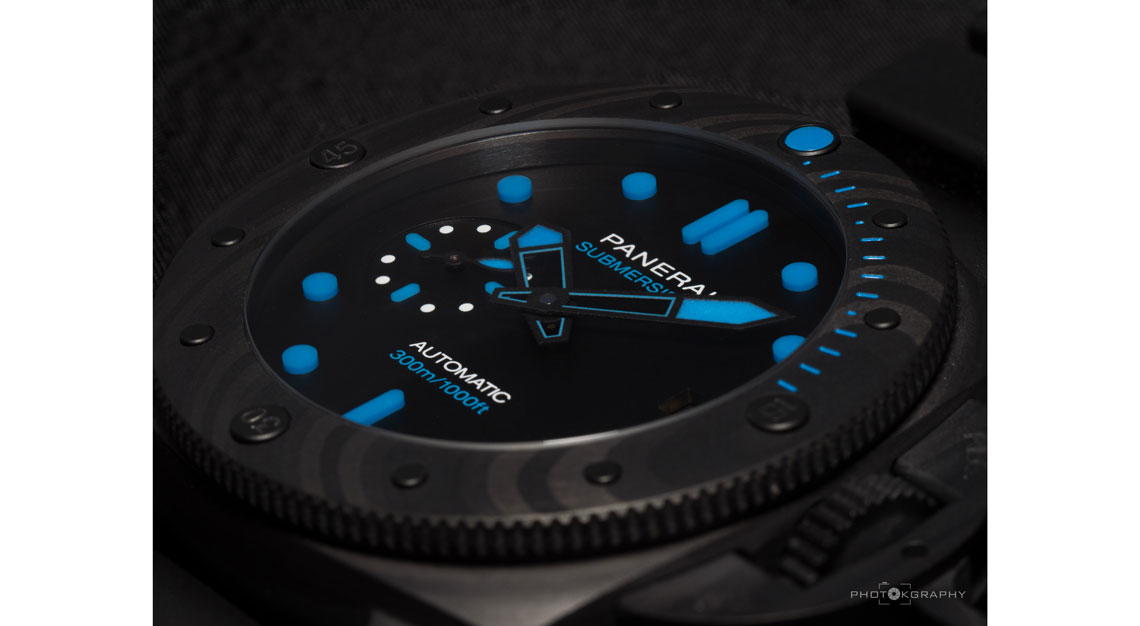 Final Thoughts
Special materials never fail to excite but such watches are, more often than not, out of reach for various reasons. PAM960 offers that kind of excitement to anyone who's into sports watches, even women. Yes, it is an extremely sporty watch, so sporty that you might forget it's a luxury watch. There are none of the usual trappings of a conventional luxury watch, because Panerai is, after all, far from conventional.
Priced at $25,000, PAM960 is a time-only watch with a non-in-house OP Calibre XXXIV. So what you're paying for is the Carbotech case that is unique to Panerai, and of course, a stake in Panerai's never-ending quest for technical innovation.