Call it a midlife crisis. The Michelin-star restaurant needs to get back to the drawing board if it wants to keep its star in 2019
My mind is slightly hazy as I step into Alma by Juan Amador at Goodwood Park Hotel. The name means 'soul' in Spanish, but there's nothing Spanish about it. And apart from lending his name to the restaurant, Juan Amador seems to have passed the baton to executive chef Haikal Johari and he doesn't seem to have grasped it. Then, despite being rebranded as an Asian-influenced modern-European restaurant, Alma's cellar stocks American wines. Call it an identity or midlife crisis, but it seems that Alma's unsure of which direction to take. Which begs the question: What's in a name? Probably nothing. What's in a meal? Ah, that's a question to answer.
I'd advise putting away all expectations of what modern European cuisine should be like. You won't find it here, and dissecting every dish and figuring out what counts as European may potentially dampen one's enjoyment throughout the meal. It isn't what you'd expect from a fine dining restaurant either, with its dated decor and artwork of birds — taken from a book by the same publishing company that owns Alma — which is probably why it's one of the lesser raved-about restaurants in the city.
Now, it's one thing to have earned a star though the previous chef's work (Christophe Lerouy, who left to open Lerouy on Stanley Street). But it's another to maintain it in the following years, which brings the biggest surprise, given that the meal was one of the bigger letdowns in Michelin's history.
To celebrate its third anniversary, chef Johari and his team have developed a new menu. The set lunch remains at an affordable $39++, though nearly all options require a supplementary top up. Three degustation menus are available during dinner, starting from $117++ for four courses.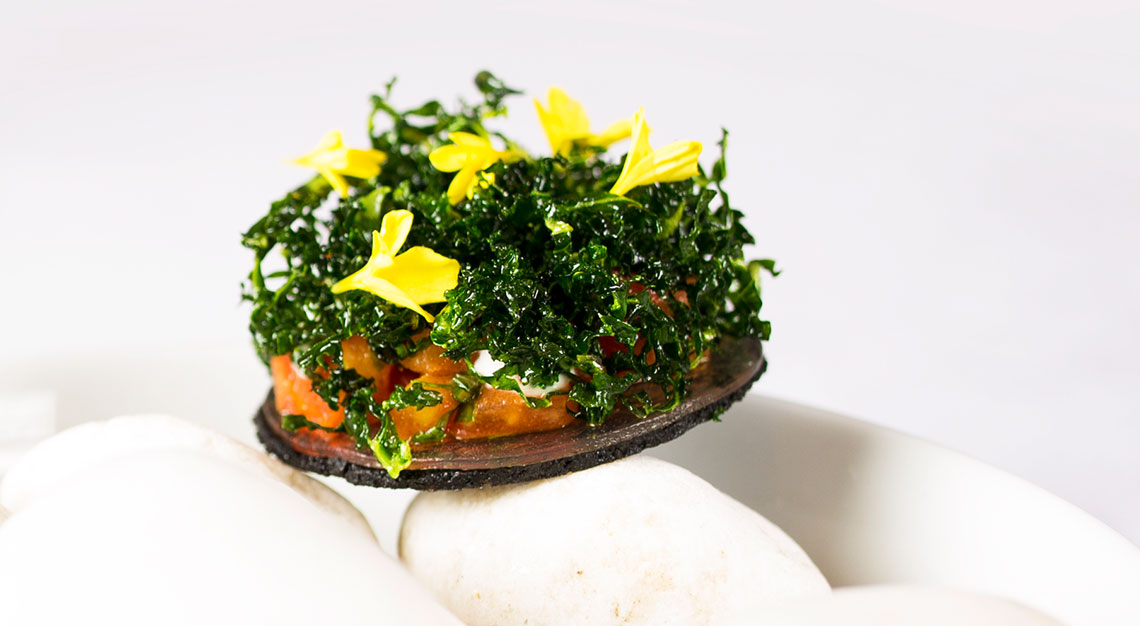 Each degustation menu starts with four snacks, and none starts the meal on the right note. Take for example Strawberry, which features strawberry jelly, dehydrated strawberry crisp, ikura and laksa leaf powder. Till today, I'm not quite sure how to feel about it.
The same goes for Black Olive. Each bite has you tasting cold tomato jelly, a chilli and lime sauce, salted egg yolk and fried kale. It's a messy mouthful and you're left perplexed about what you're supposed to taste. Amaebi sees king crab topped with tom yum, lemongrass, dry shrimp, ginger and curry leaves… again. It's finished with a slab of cheese that rivals all the other ingredients present. While I'm all for a surprise in each bite, here, the different elements fight for attention, and you're left mostly bewildered instead of surprised.
The first course of Okayama Muscat Grape leaves much to be desired. Apart from cubes of celery, I don't taste the grapes or chutoro — that latter is marinated with mayonnaise, and a spicy-salty yuzu kosho sorbet — because it's overpowered by the uni that sits atop.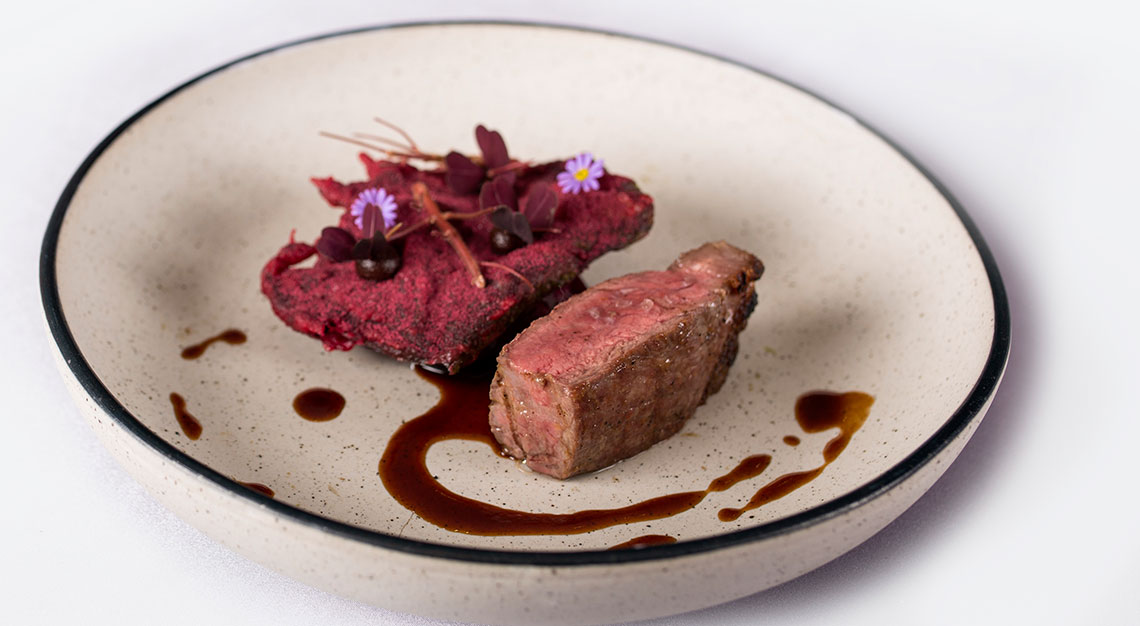 And it's the same with Muirgen Oyster. The 'double-layed chawanmushi' is made steamed with botan ebi, oyster and topped with a creamy Choron sauce that's mixed with uni. The dish is topped with truffle shavings and the same fried kale from before. It's hearty, warm, savoury and heavenly, but it would have been stronger as a standalone uni chawanmushi. Perhaps dialling back on an ingredient or two would work. But kudos for trying to do something innovative.
I'm not sure if there's a pattern here, but it seems that 'expensive' ingredients are haphazardly thrown together at Alma to justify a 'fine dining' price tag. So overpowering is the uni in both dishes that it seems almost pointless to feature chutoro, oysters or truffle. And there's the repeated appearance of ingredients.
Midway through the meal, I'm told that Alma isn't a European restaurant, it instead employs European cooking techniques in Asian cuisine. Which makes the Iberico pork jowl, grilled on a Japanese binchotan a total irony. That said, this was unexpectedly the highlight of the meal. The meat to fat ratio was balanced, the latter complementing the fork-tender slice. But I was expecting a twist, and in this case, it came in the form of a French sauce spoon. A savoury pork reduction was served in the bowl, but it wasn't really possible to savour any of it with the flat spoon.
The biggest surprise of the meal would no doubt be the Ohmi beef. The cut that's fit for kings was brought down by the provision of the wrong knife, which seemed to feel like a chainsaw grating through metal. Taste wise, well, I've definitely had better, even with cuts of a lesser grade.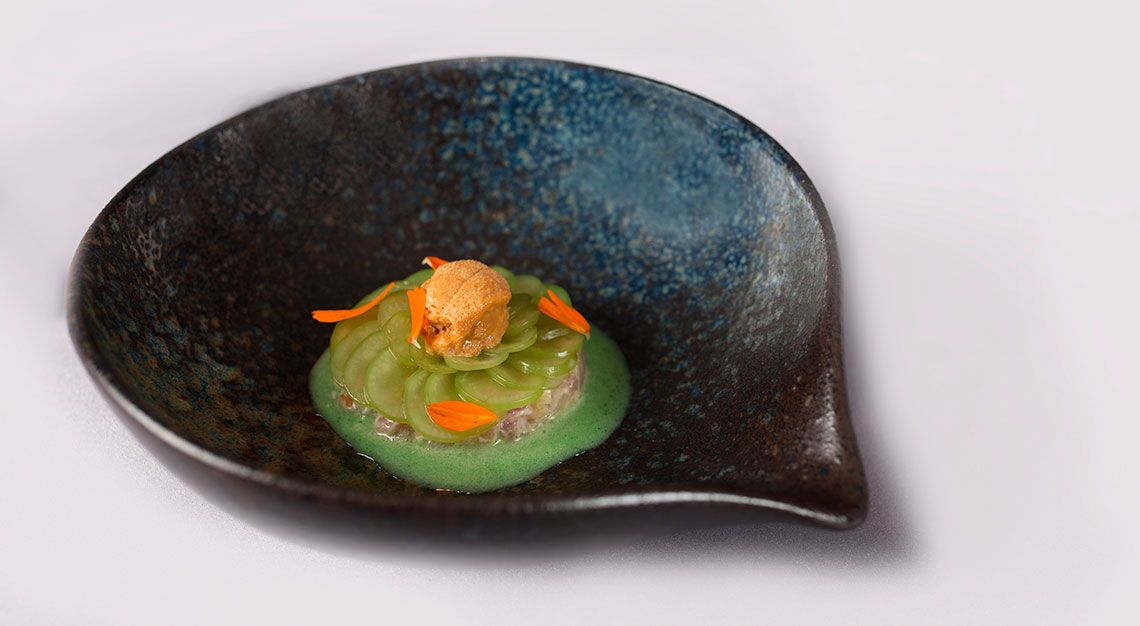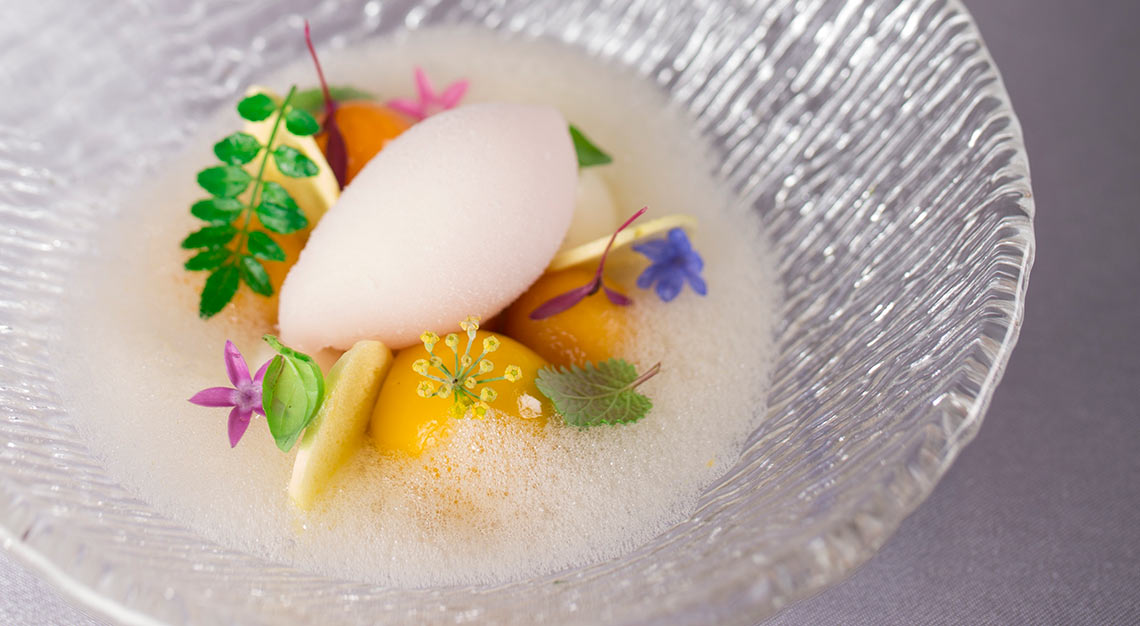 And if food fell flat on most notes, service was equally disappointing. I left my tasting notes and excused myself from the table, came back only to find a new set of utensils placed directly on top of them. Why the service staff couldn't shift my notes to make way for the utensils — especially since the seat across me was empty — is still beyond me. And as if it wasn't already a challenge to try the pork reduction in the Iberico pork jowl, the staff removed my bowl and utensils, while asking if I was done. These would be small missteps for a restaurant if it were a newbie in the industry, but much larger misgivings for a Michelin star restaurant that was awarded a star three years in a row.
For all that it's worth, I admire the effort chef Johari and his team have put into each dish. But the restaurant seems to be going in every conceivable direction, and what it needs right now is to decide on a single direction, then work towards it.
After leaving Alma, I ask myself: What does European contemporary cuisine mean? What does the restaurant stand for? And is it worth a Michelin star? Honestly, I'm not too sure myself, and you'll be the better judge for the latter.
Alma by Juan Amador
Goodwood Park Hotel
22 Scotts Road
Singapore 228221
Tel: +65 6735 9937