Countryside Garden
Nature clearly serves as muse at the newly restored Tower Wing at Shangri-La Hotel Singapore. A massive vertical garden takes centre stage in the Lobby Lounge, while an arresting installation of thousands of cascading metallic leaves has been suspended from the ceiling, creating the illusion of light streaming through an incandescent forest canopy. From above, the artwork resembles a silvery flock of birds soaring over the lobby.
The Horizon Club Grand Premier Room doesn't stray too far from the garden concept with its neutral use of colours on the furniture. The space initially strikes me as oddly partitioned, but the bay window at the end of the room, which affords sweeping views of the city skyline, makes up for the slightly awkward layout.
Even more panoramic views of the city await at the Horizon Club Lounge on the 24th floor, which is open around the clock to guests staying in the Horizon Club Grand Premier Rooms.
I've been told that there's nothing a sumptuous traditional Italian meal can't fix, so dining at Waterfall Ristorante Italiano is an opportunity not to be missed. My gastronomic journey kicks off with Pomodori Marinaticon Burrata Pugliese, where the creamy stretched curd cheese is complemented with marinated tomatoes, basil sauce and pistachios. Flavours are well balanced, with none of the ingredients dominating another. I also enjoy the Spaghetti Alle Vongole, a pasta speciality recommended by restaurant manager Roy. Portions are hearty so it's a pity to have to miss the main course for the evening, but this serves as a perfect excuse for a return visit.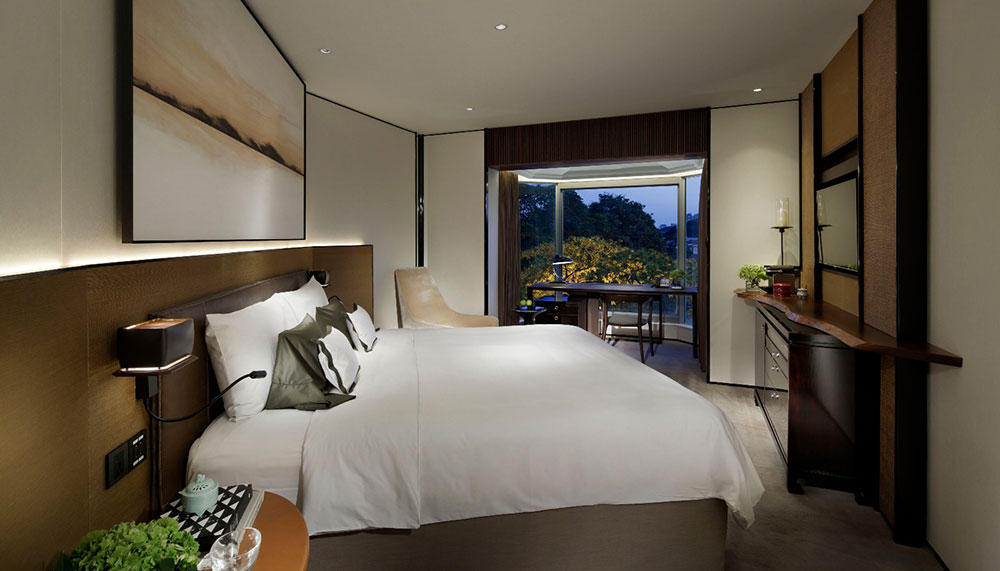 For overseas guests, it's a shame to leave Singapore without having tasted hawker fare, and Shangri-La's culinary maestros obviously concur. The Lobby Lounge acquaints guests with Singaporean favourites such as Katong Laksa and Chilli Crab with Mantou. The variety of the buffet spread will surely appeal, but finicky locals may find the Laksa lacking in fragrant spices, or query the chef's rendition of Chilli Crab, which has an unexpected assam-like sour note.
To mark the end of my stay, I head down to Chi, The Spa for its signature Singapore Heritage Deep Tissue Massage. This treatment applies deep tissue techniques and light stretching to ease muscle tensions from head to toe, and is perfect for stressed-out corporate raiders. Estee, my therapist, shares with me that the Healing Himalayan Hot Salt Stone Massage is another guest favourite, ensuring it won't be long before I start counting the days to my return.