Celebrated designer Bill Bensley showcases his third Shinta Mani resort in Cambodia, and this time, he owns it
How would a designer's home look like? Would it hint at his/her style and aesthetic found in buildings and places they've designed? Or would it be nothing like we've imagined? After all, a chef doesn't have all the ingredients at home as he would at work, and neither does he whip up fancy five-course meals at home while off duty. Well, internationally renowned designer Bill Bensley has given us a peek into his home, in the form of Shinta Mani Angkor Bensley Collection in Siem Reap.
This is the third and most premium Shinta Mani resort in Siem Reap, and it's no coincidence that all three have been designed by Bensley. However, what sets this apart is that Bensley owns this property, and has designed it to be a home he'll live in while in the city.
Where you'd see bits of Bensley in other properties such as The Slate Phuket, JW Marriott Phu Quoc, Twin Peaks Singapore, along with Shinta Mani Shack and Shinta Mani Angkor, Bensley Collection is where everything comes together and shines.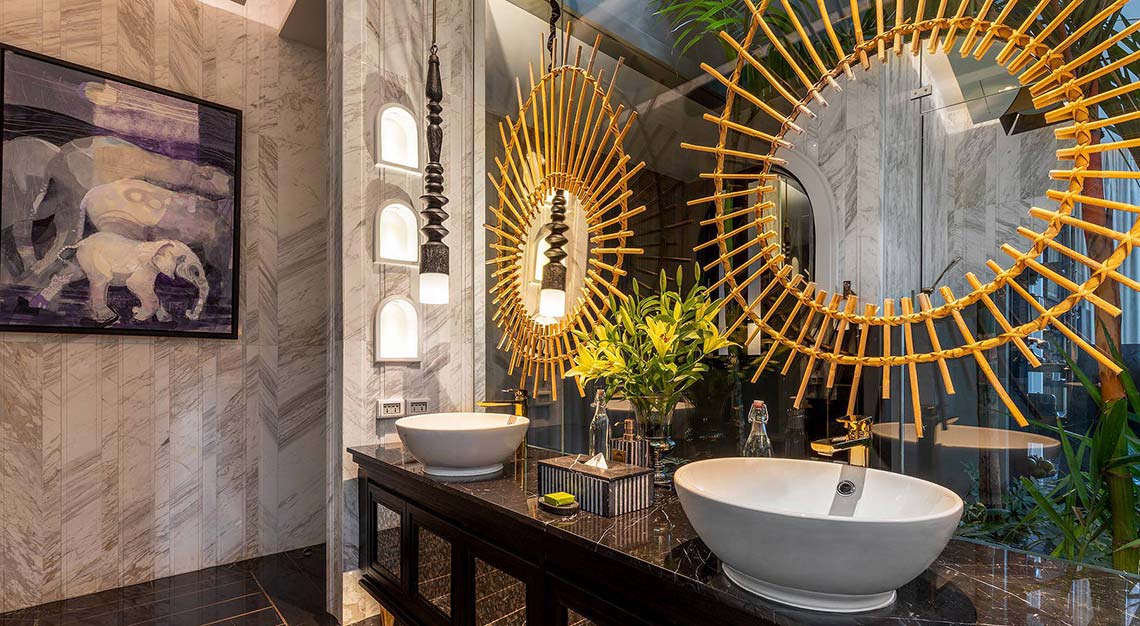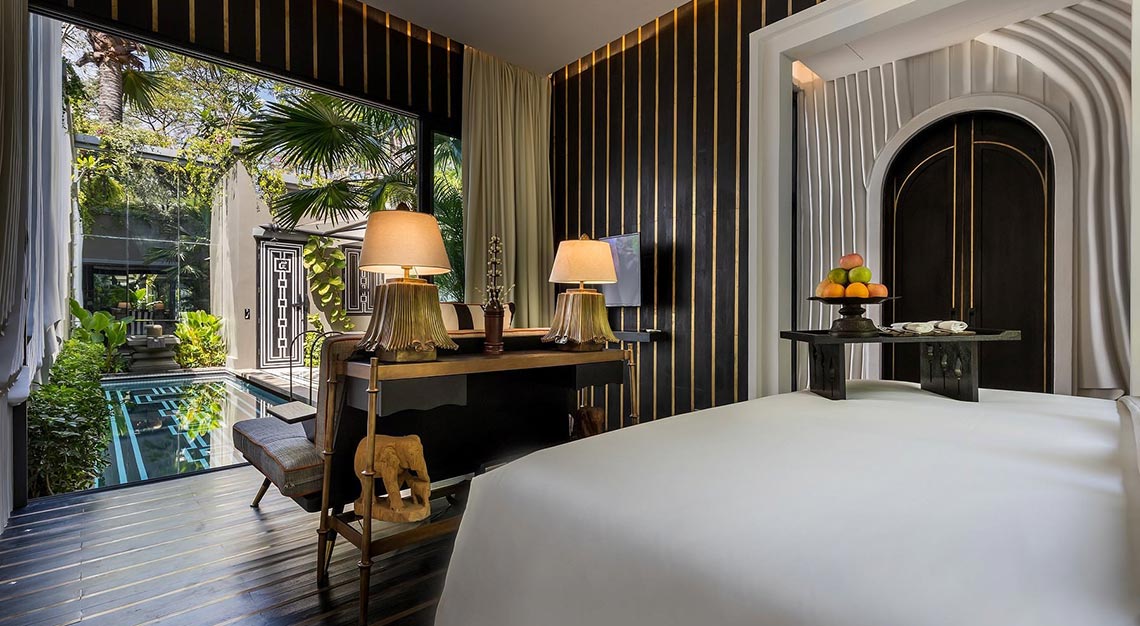 Shinta Mani Angkor Bensley Collection
Bensley Collection offers just 10 identical one-bedroom villas, and each comes with its own private plunge pool. You'll immediately spot Bensley's classic, contemporary touches. Each pair of villas comes with unique entrances. Undulating steps in one, a reflection pool in another. The monochromatic floor tiles are paved in a way that'll pose a challenge for a drunk man who's trying to walk in a straight line. Then, there are majestic textured walls that stretch from the villa's entrance to the end of the bedroom. Not quite what to make of it? The white 'curtain' folds are inspired by the movement of a king's robe as he walks.
A small garden separates the bedroom from bathroom. Here, you'll find a large walk-in closet, twin sinks, a spacious sheltered outdoor shower, and granite tub and why, yet another garden. The aesthetic is pretty similar, white panelled marble tiles with pale grey veining, black floor tiles, gold fittings and a warm golden hue throughout.
You'd notice that I've made no mention of the toilet. That's because it's located in the bedroom. I found the choice of location rather peculiar, but came to understand why. It'll be slightly disorienting in one's sleepy haze to pass through two glass doors and a garden just to get to the bathroom.
The eagle-eyed will also notice that Bensley has cleverly incorporated rough blueprints of Angkor Wat through the resort, such as on the main door of the villa and in the turquoise pool. Even the gates that take you from the lobby to your villa are designed to look and feel like the outer walls of the temple. Just remember to step through the main 'gate'; on Angkor's temple grounds, the larger gate was for the king, while the smaller ones on the side for servants.
Room, bathroom and pool aside, my favourite part of the villa is actually the sheltered patio on the second storey of the villa, where mist irrigation systems keep potted plants watered and residents cool throughout. The daybeds are equally inviting, and if mosquito nets were available, I'd have opted to 'camp' outdoors for a night.
A tiny gripe of mine is that the pantry is located outside the villa, right by the entrance to the room. And although it's sheltered from above, puddles still form when it rains, making it a hassle (and slightly hazardous) should you like to enjoy another drink. And for the price, you'd expect to be the only occupants in the villa. I don't mind sleeping to the melodies of crickets and frogs at night. What I do mind though, is having cockroaches, mosquitos and lizards for company while I shower.
At Your Service
But what really sets Bensley Collection apart from the other two properties? Features and amenities aside, you'll have a personal butler at your service round the clock. I certainly enjoyed the company of my butler, Nophon. The affable 26-year-old not only introduced me to the ins and outs of Siem Reap, but also pointed out local hangouts and even his high school. He also recounted his meeting with Bensley, and how he had the honour of driving Bensley around on the back of his motorcycle. Nophon shares the same enthusiasm as I do for food, pointing out his favourites as we dined at local restaurant Pou one evening. If I had a checklist, Nophon would have been what made my stay at Bensley Collection special.
Guests at Bensley Collection are welcome to head to Kroya at Angkor for its international breakfast buffet spread, but I recommend sticking to in-villa dining. The menu selection is larger, and includes options such as a local mushroom crepe, steak and eggs, and a charcuterie platter. Place your order (or orders) with your butler the night before, tell him what time you'd like to eat, and he'll see to the rest. The upside of in-villa dining? Enjoying breakfast at ease, even if it means sitting in a bathrobe. And having it by the pool, at the patio or even in the bedroom. The downside? You'll have to dial for concierge every time you want more juice.
Heading Out
So you've visited Angkor Wat. What next? I quite enjoyed the cooking lesson organised by Shinta Mani. I visited the local market with the chef, learnt about the different ingredients and cooking methods, before heading back to Kroya where you'll get your hands dirty. I learnt to make the local Amok, a fish cooked in coconut milk, a spicy beef soup, and local desserts. I too, learnt that I've a long way to go, judging by the nervous laughter of the chef when I asked if I could be his apprentice.
Unknown to many, there's also a local brewery just a five-minute walk away. Siem Reap Brewpub — owned by Singaporean Neo Say Wee — offers more than six different ales, and a variety of dishes to go along with it. It opens until late, so put it as your last stop before you call it a night.
Phare, The Cambodian Circus is not to be missed too. Think of it as a local cirque du soleil, complete with an ever-changing storyline. The performers are graduates of Phare Pnleu Selpak, a local school in Battambang city that offers both visual and performing arts courses. I caught Same Same, But Different, where locals shed light on the differences between foreigners and locals through acts and acrobatics. My favourite scene was when they depicted tourists sitting in bars proclaiming how much they 'loved local culture'. Those who are easily offended or are afraid to laugh at themselves should stay away. I, however, had a ball of a time, and judging by the thunderous applause in the big top after the show concluded, so did the rest of the audience.
You can also join The Shinta Mani Foundation — supported by all Shinta Mani properties — and take part in community work, such as the building of wells in villages. The Foundation also offers other forms of assistance through microfinancing, education, health and dental check-ups and its Hospitality Training School that provide locals with skills sought after in the tourism industry. Don't dismiss it as another 'white man's initiative' though; the Foundation was founded by local businessman, Sokoun Chanpreda, who is determined to invest in the future of his country.
The fruit of Sokoun's labour can be seen throughout Shinta Mani properties. Most staff are graduates of the programme, and Nophon is one of them. He shared anecdotes of the recent genocide, having heard stories from his elders. His family survived because the Khmer Rouge had use for his grandfather's carpentry skills. Take a look around outside the Shinta Mani compound, and you'll realise that Cambodia is still grappling with the aftermath of the atrocity that happened just 30 years ago.
You know you've discovered a gem of a hotel when you find it hard to tear yourself from the place. Bensley Collection did just that. There's a certain soul to this property, and I'm waiting with anticipation for Shinta Mani Wild — a glamping property located in the south of Cambodia's Cardamom National Park — to open this November. Like Bensley Collection, Bensley is designer-cum-co-owner, and I expect no less than a property that feels familiar, yet different all the same.
Shinta Mani Angkor Bensley Collection
Junction of Oum Khun Street
Siem Reap
Cambodia