From the world's most sustainable catamaran to a mind-blowing concept that doubles as a submarine, these yachts are floating our boat right now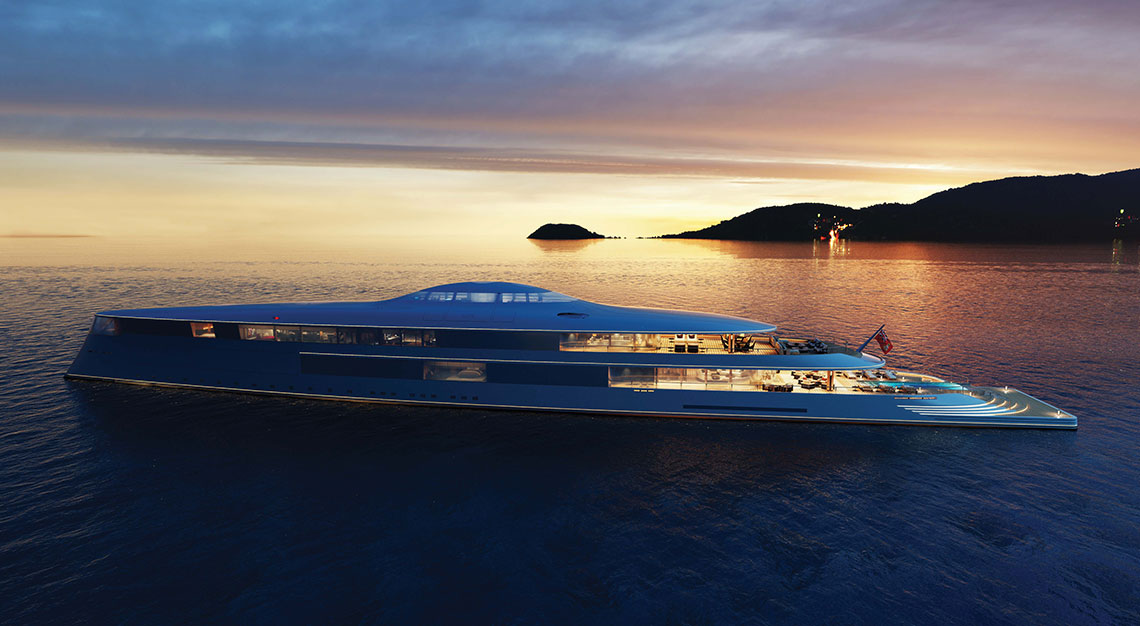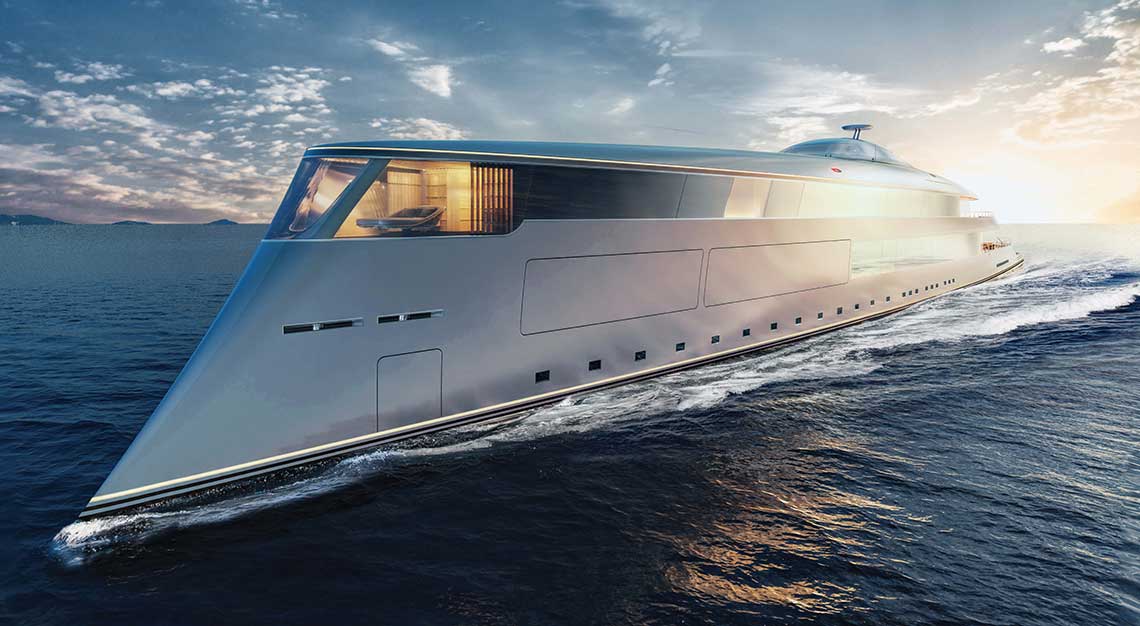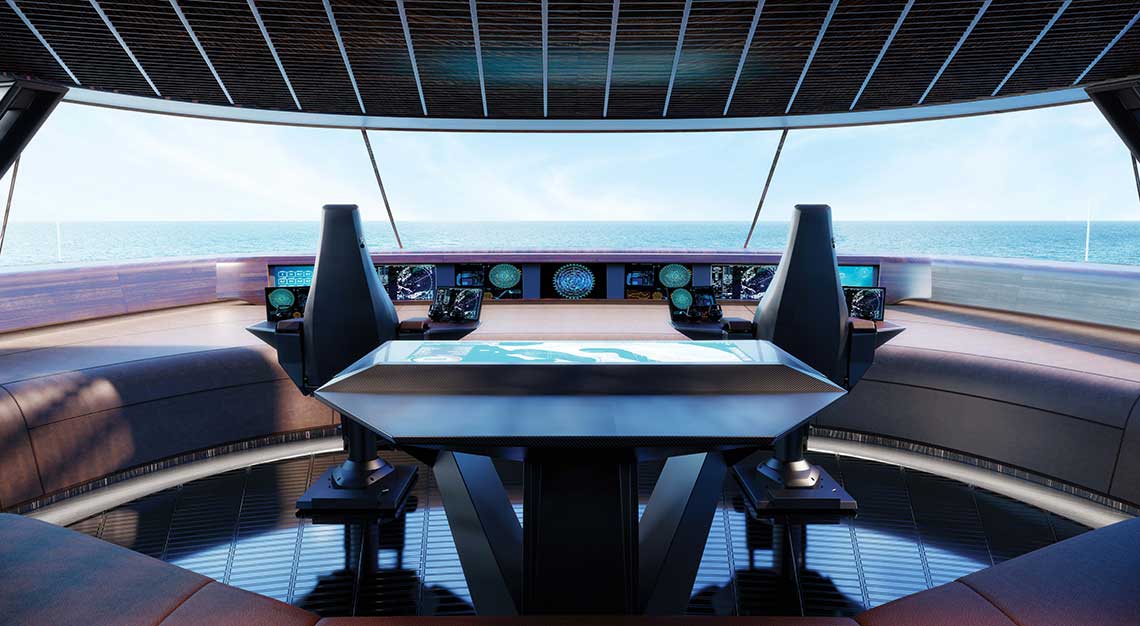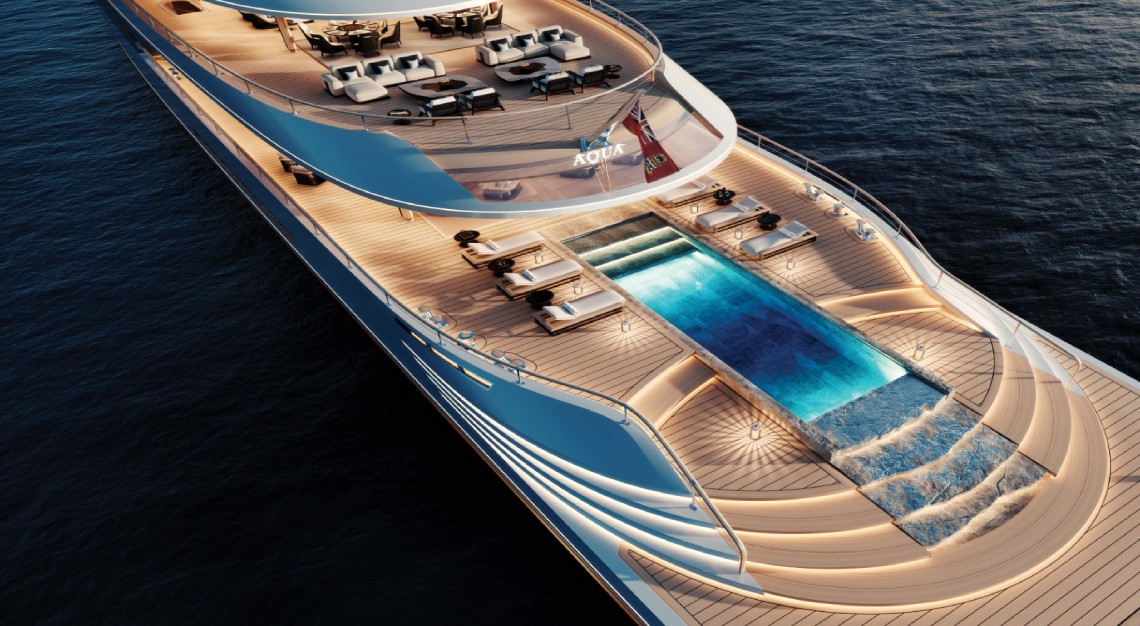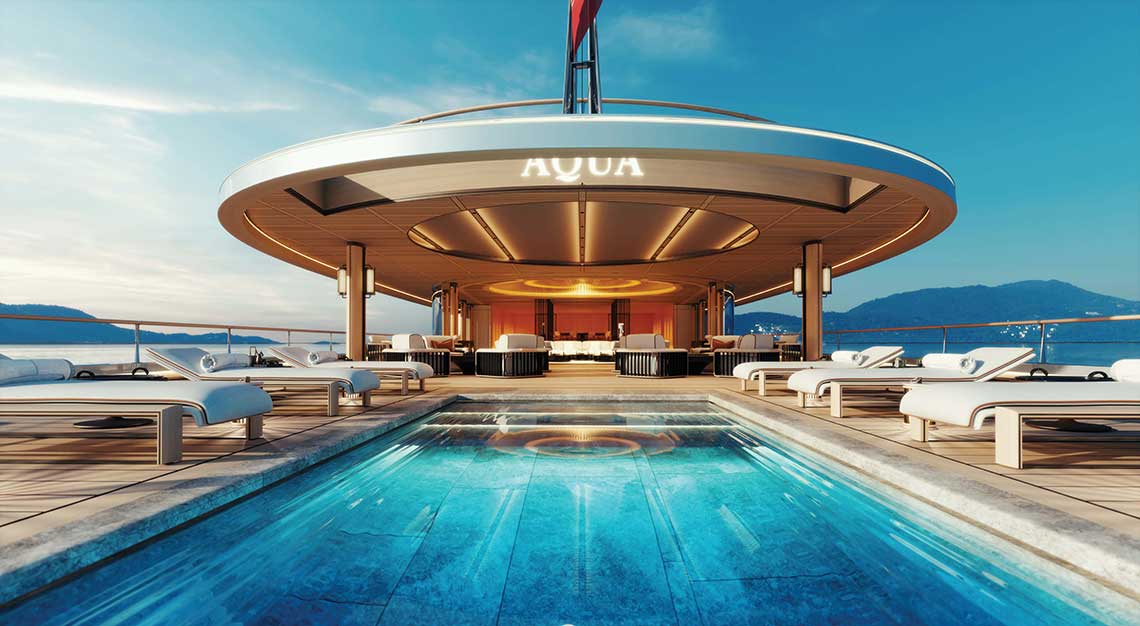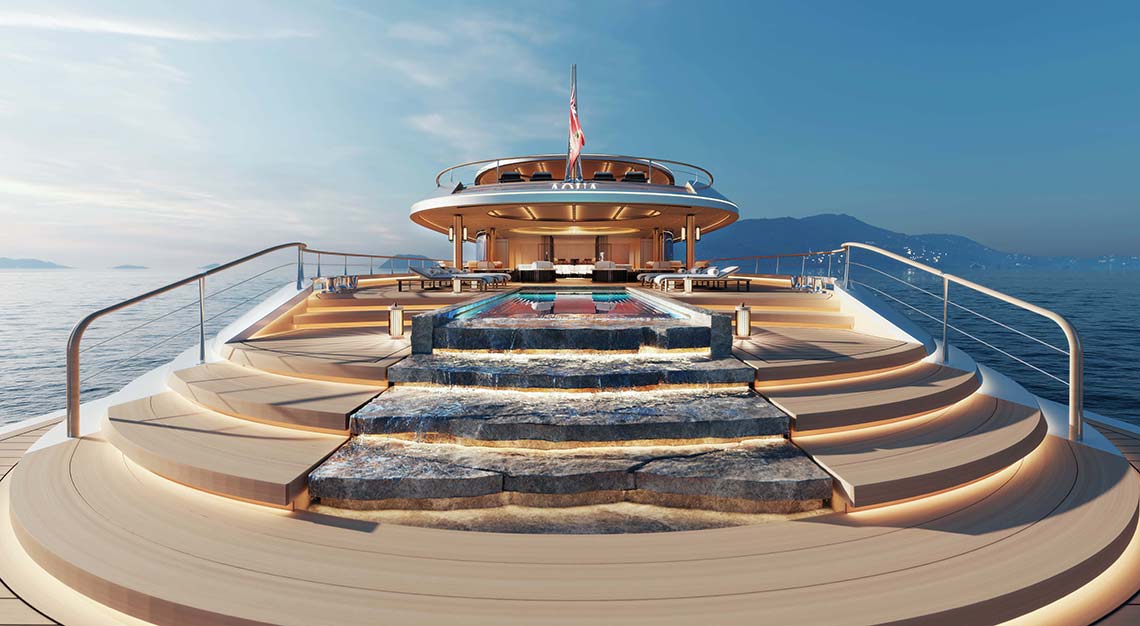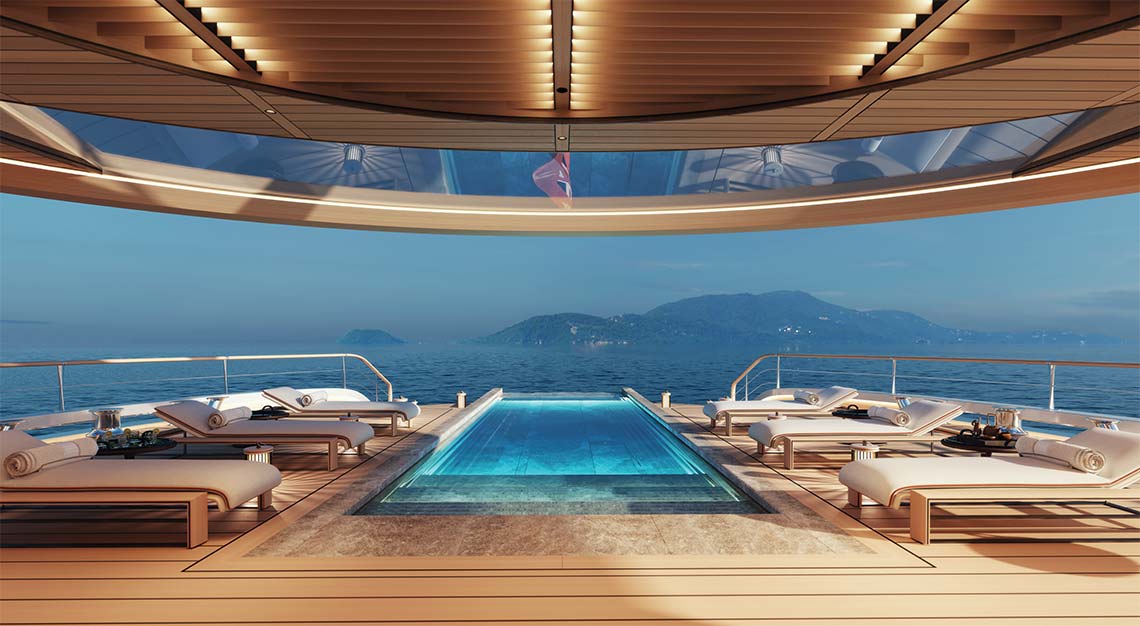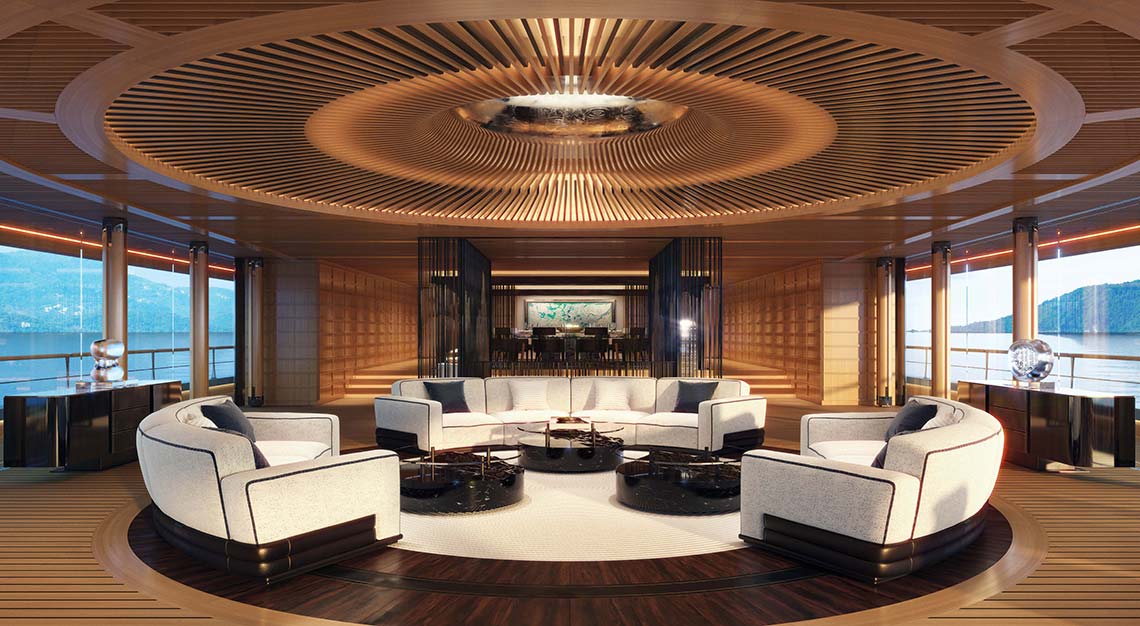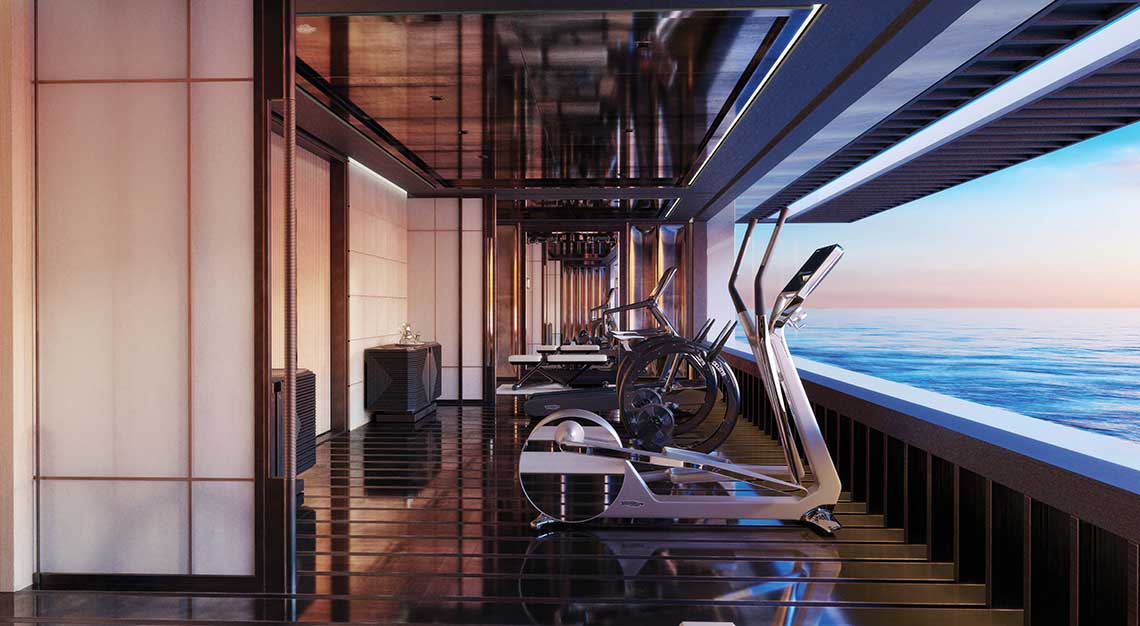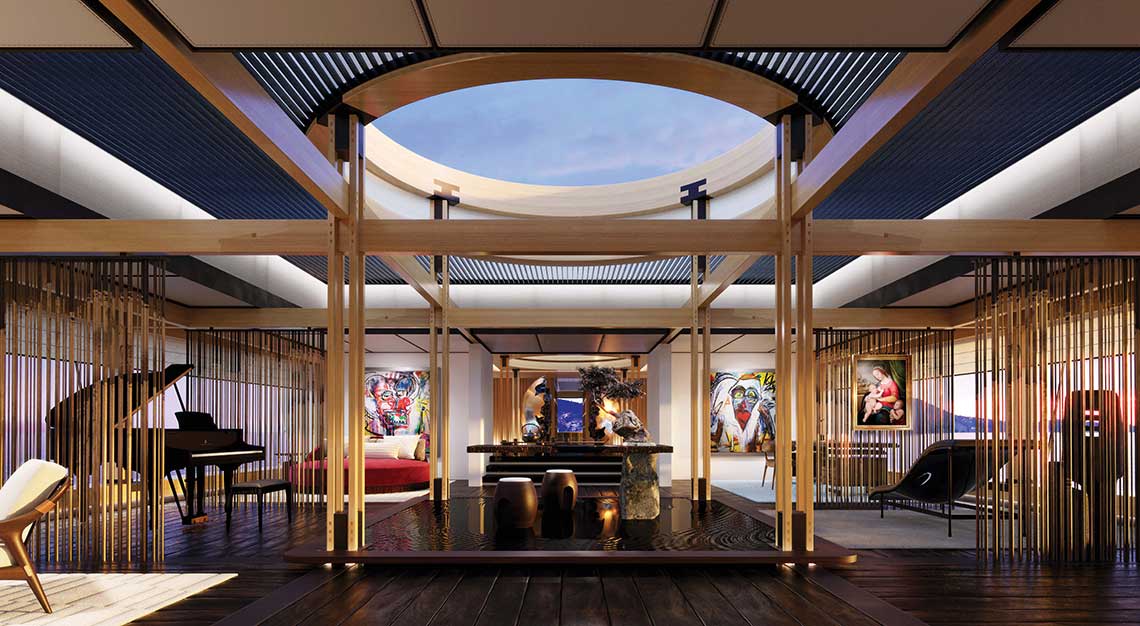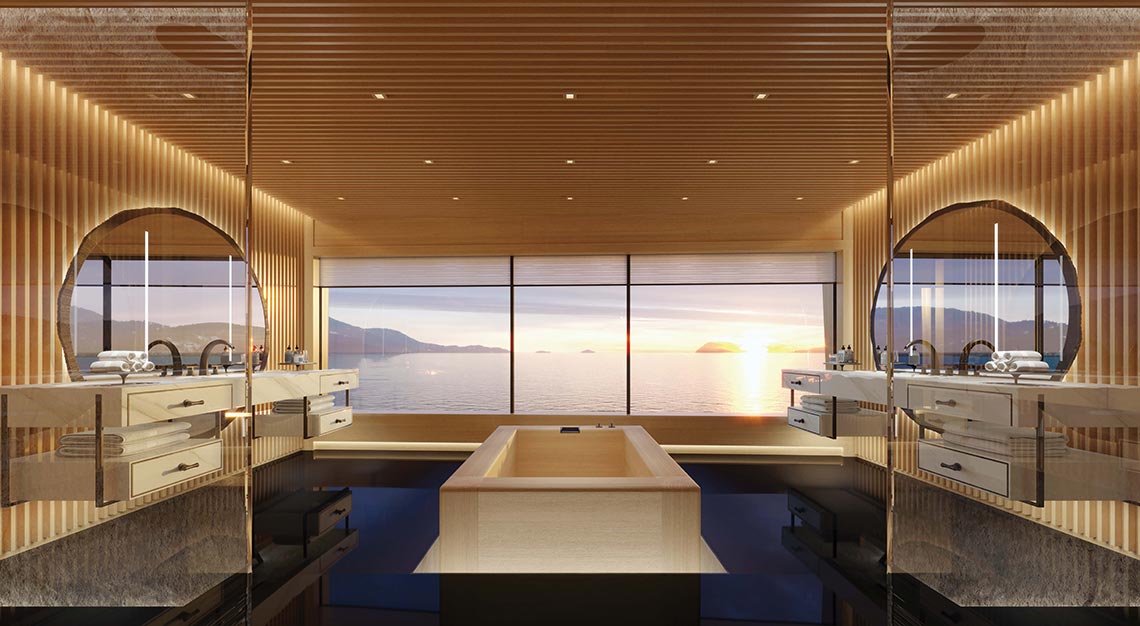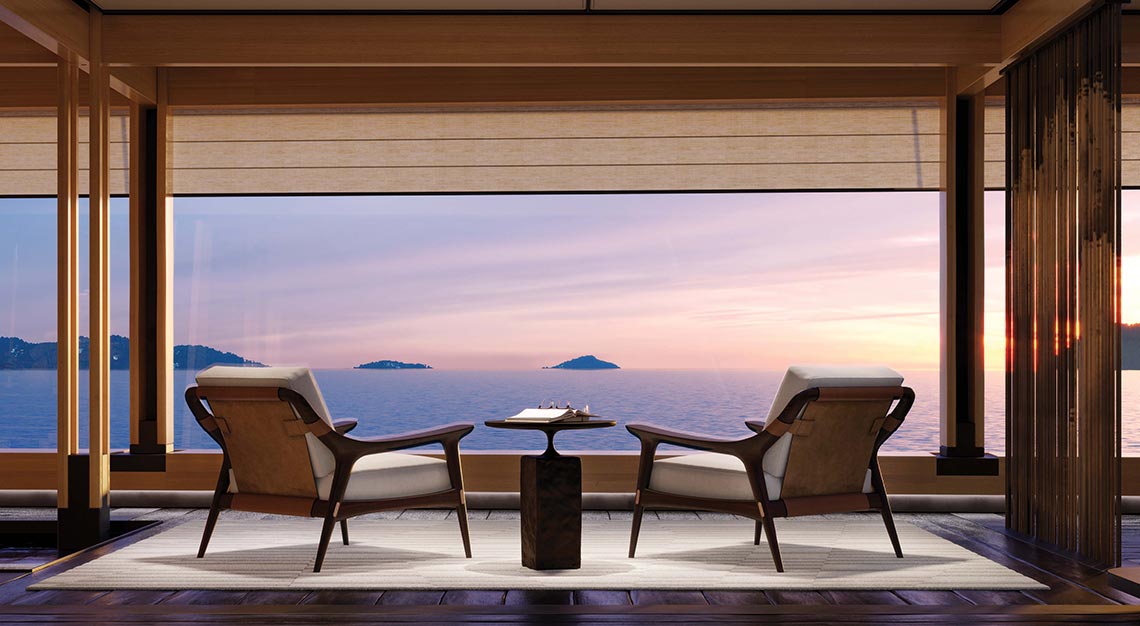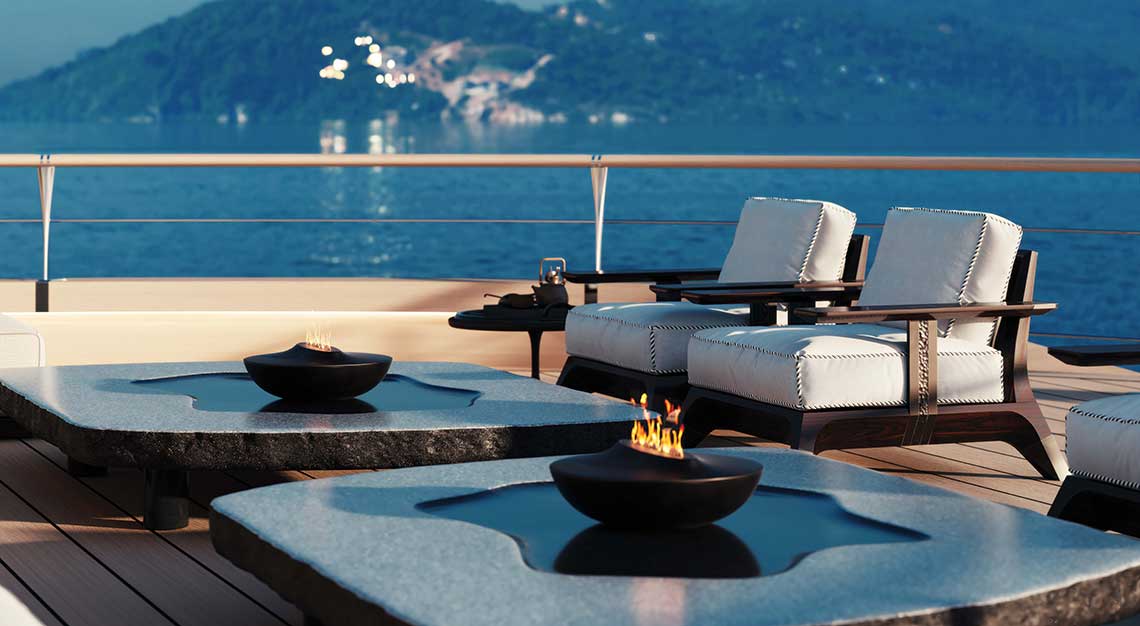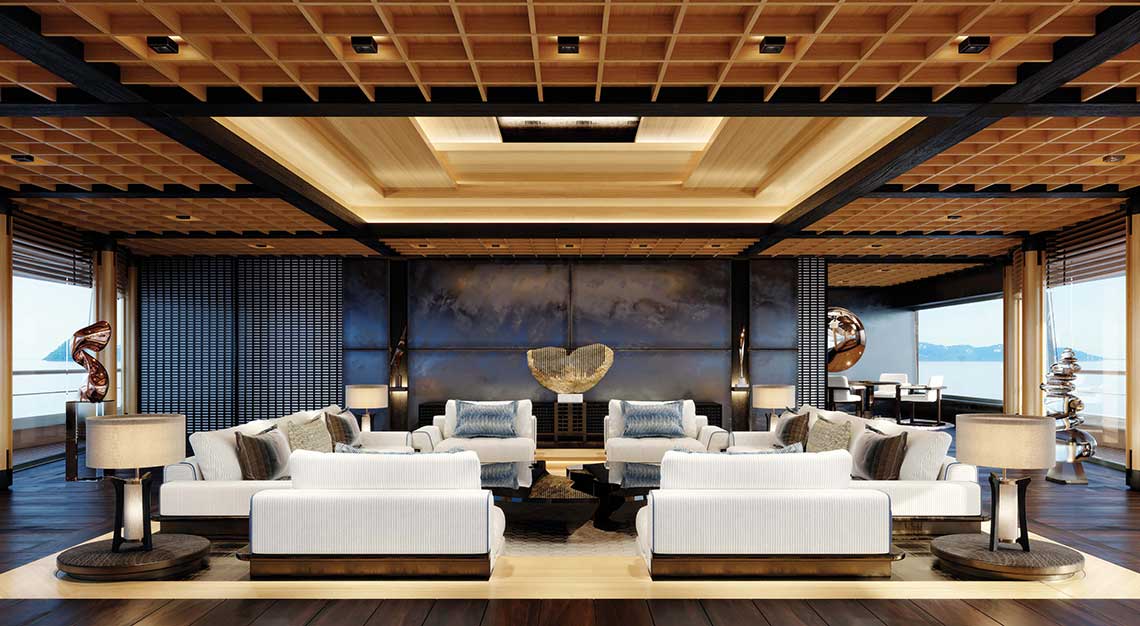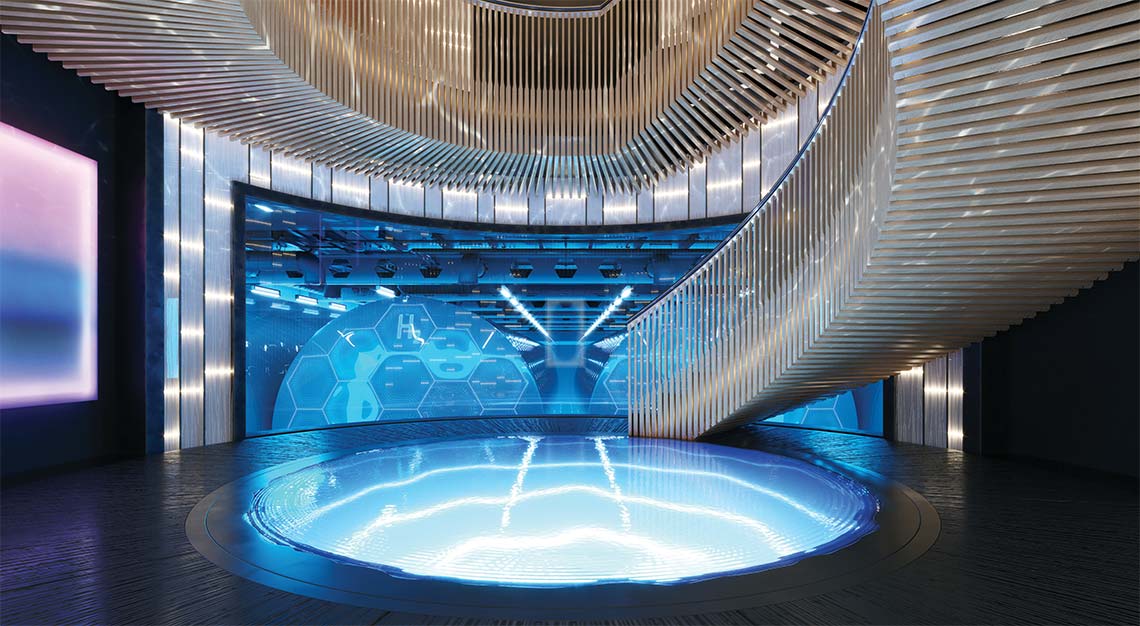 Aqua
At odds with its relatively unremarkable name, Aqua makes waves in the marine industry with both its slick futuristic design as well as its innovation. Fully powered by liquid hydrogen, the 109-m superyacht concept is the work of Dutch design studio Sinot and Lateral Naval Architects, whose pioneering eco-conscious hydrogen propulsion system means longer, noise-free sailing with zero emissions at a top speed of around 17 knots. As its name suggests, guests will step into a water world while having their feet planted on the ground. Aesthetically, the curved, streamlined exterior takes its cues from the swell of the ocean. Water cascades down a staircase from the aft deck pool towards the sea, while inside, the reflection pool leads guests into a world of tranquility, where a hydro massage room awaits. Adding on to the zen-like feel are rooms designed with Japanese aesthetics and sensibilities – cabins are fitted with soft cove lighting, textured silk carpets, wooden panelling and blinds which mimic traditional shoji, or translucent sliding doors.
Avanguardia
The Rome-based Lazzarini Design Studio is best known for its bold, innovative designs from a bullet-shaped hyperyacht to flying cars, and its Avanguardia is an audacious concept is no different. Spanning 137m, this sleek, swan-shaped vessel unfurls over five decks and is topped by a huge 16-m 'head' that acts as not just the yacht's control centre, but doubles an impressive viewing gallery when raised.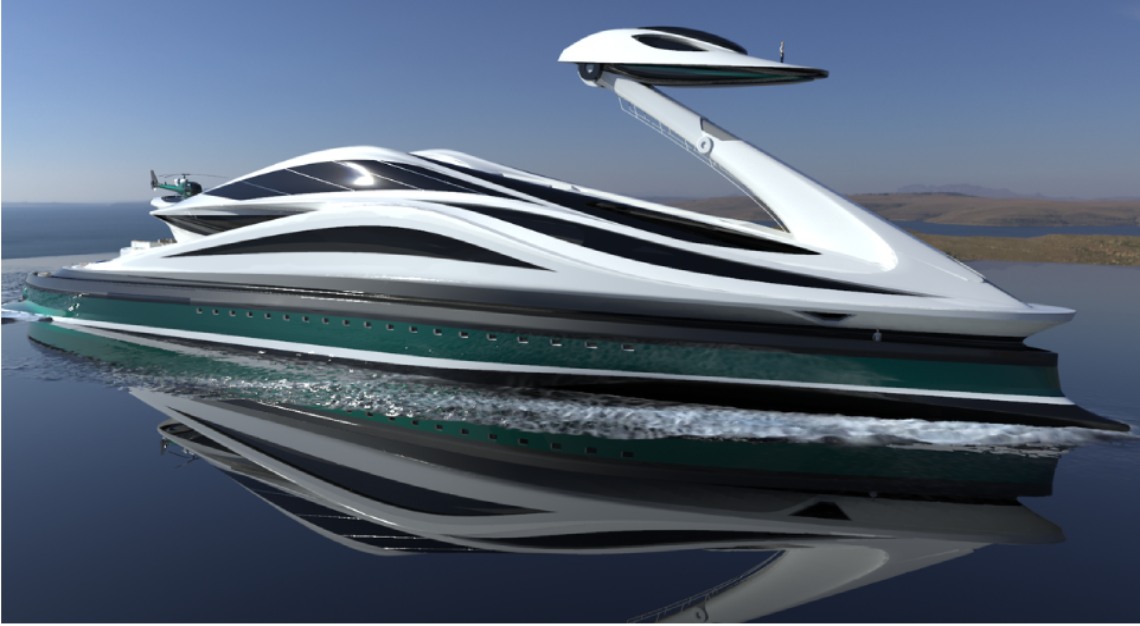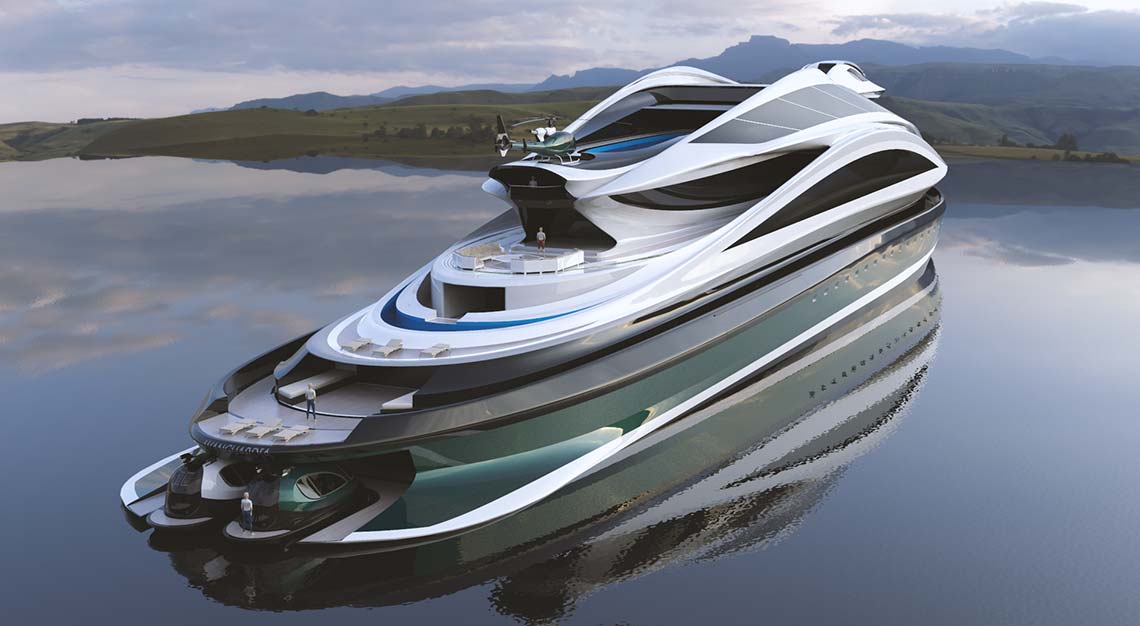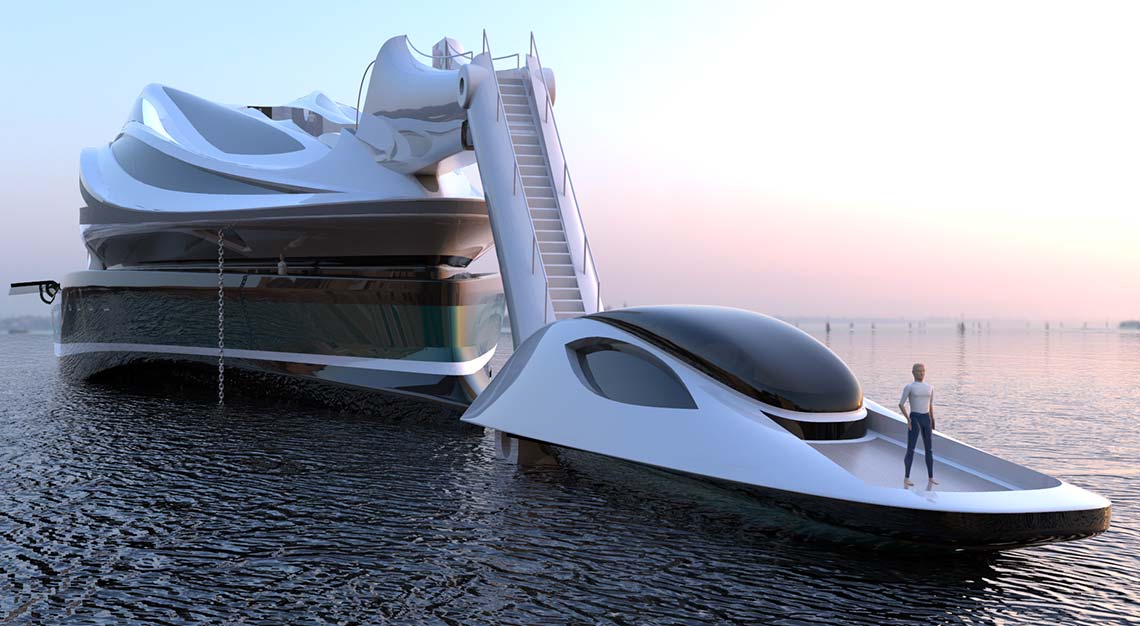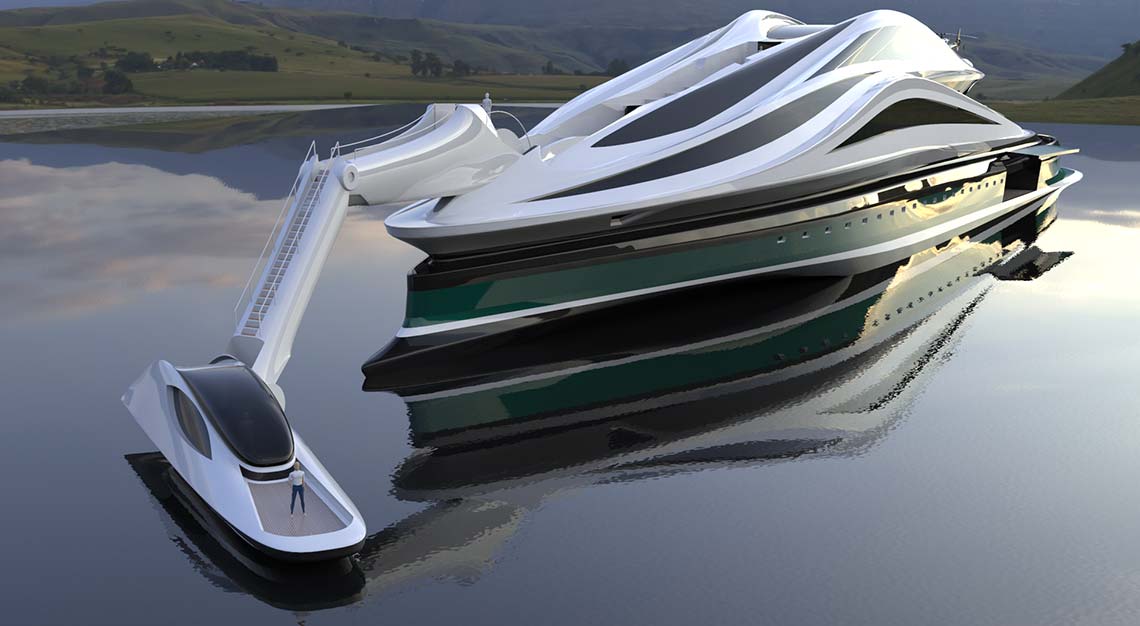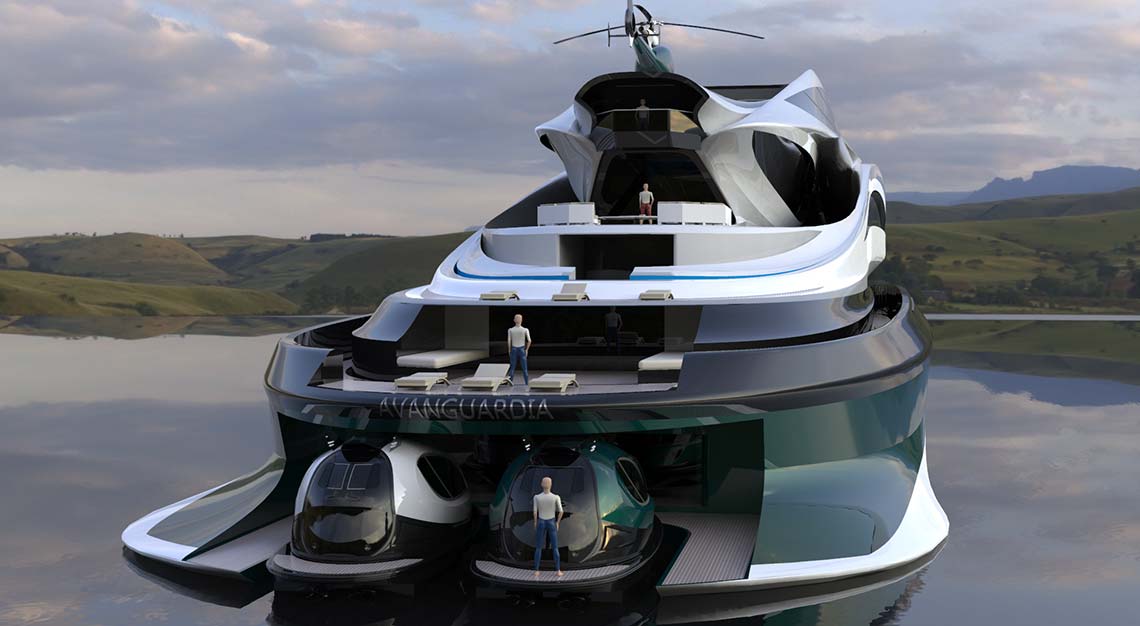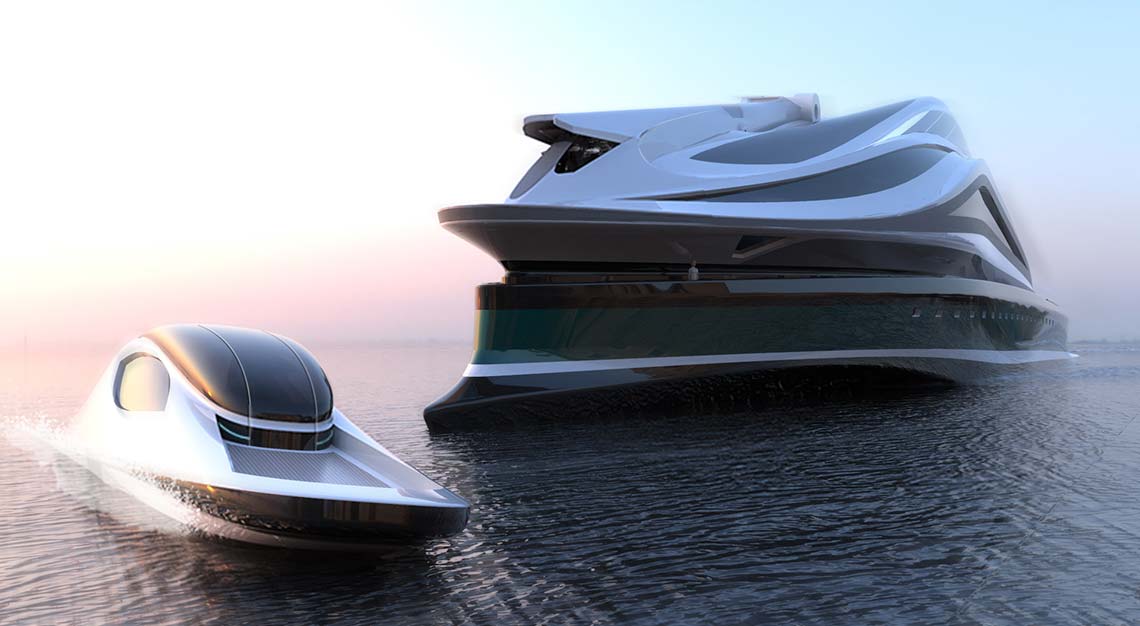 Its true innovation can be further witnessed when the head lowers into water, and detaches itself from the main body of the yacht to function as a day boat. While maximum cruising is at 18 knots, a pair of custom-designed jet capsules can aid as auxiliary propulsion when needed. Taking explorations a notch higher are helipads and a garage for a convoy of supercars. Take it from us, this head-turner will no doubt make a splash when given the opportunity.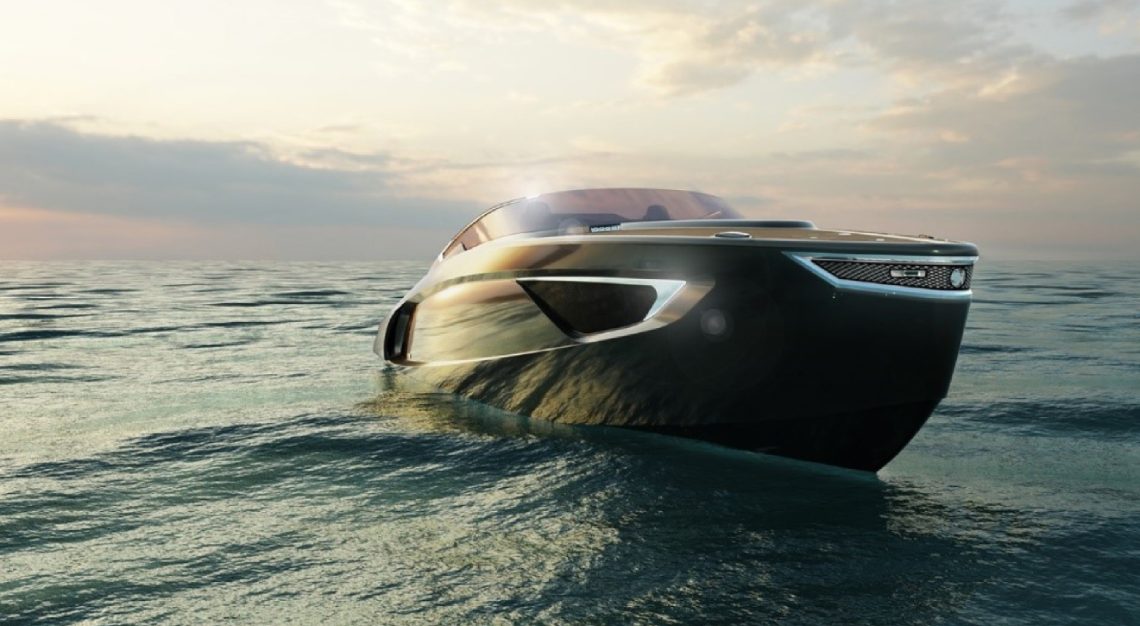 956 Nova
They say good things come in small packages and the arrival of Flynt – a new breed of bespoke, hand-built powerboats by Dutch studio Vripack – is certainly shaking things up. The 956 Nova marks the brand's debut model; at just 9.56m, its compact size makes it suitable as a support vessel on a megayacht, yet large enough for weekend cruising with its double cabin. And unlike other sport yachts that come with bolster helm seats, 956 Nova is fitted with bucket seats by motorsport brand Recaro, perfect for when you slice through waves its top speed of 50 knots.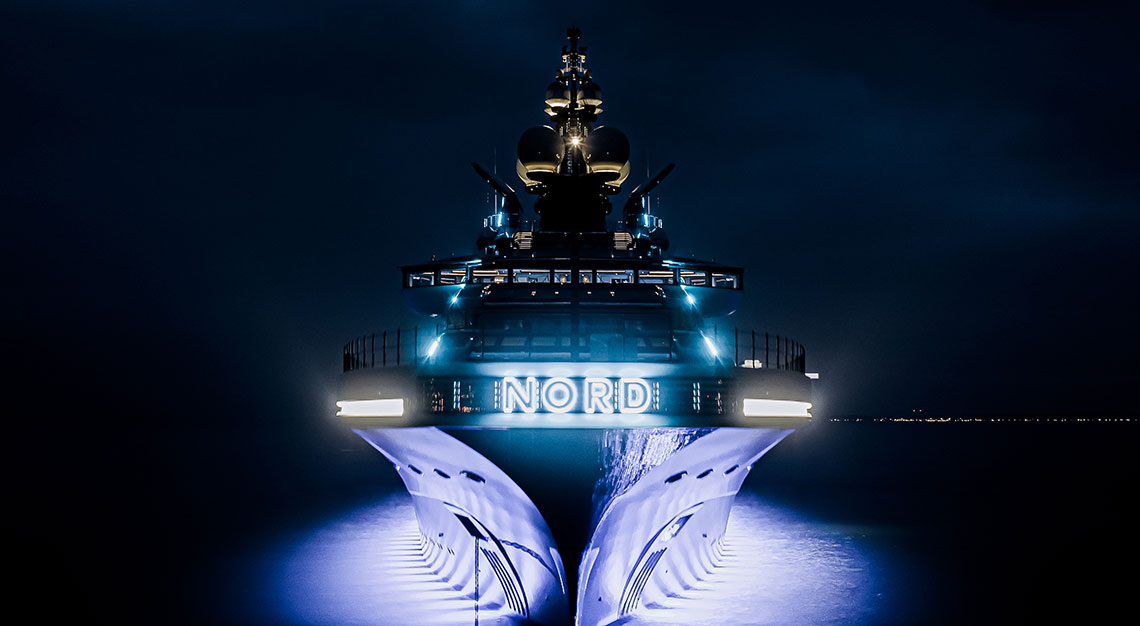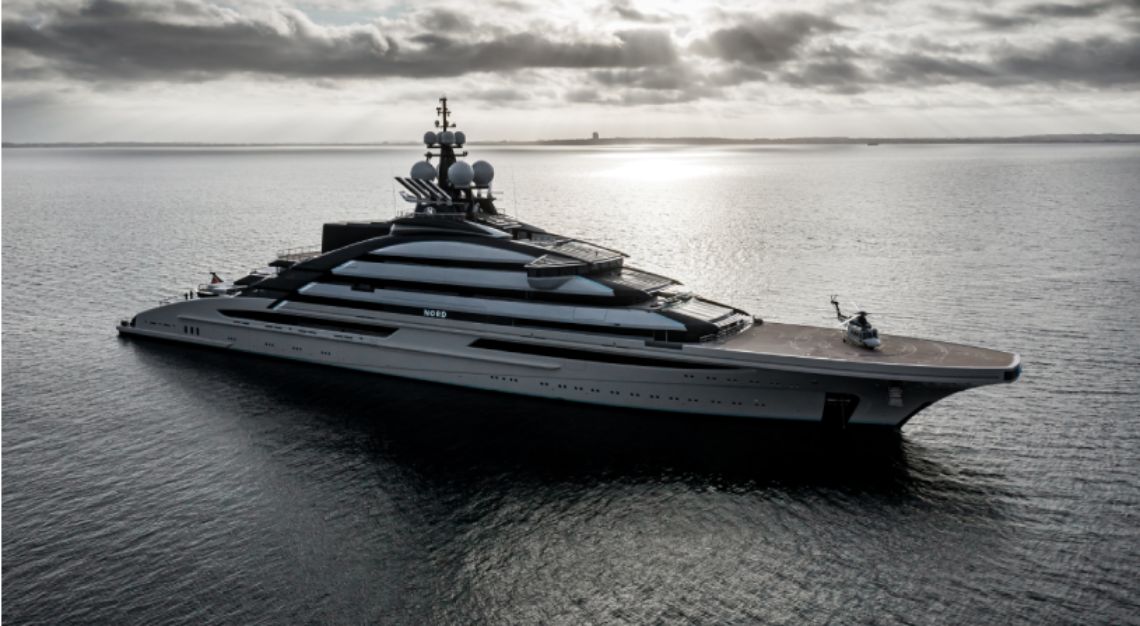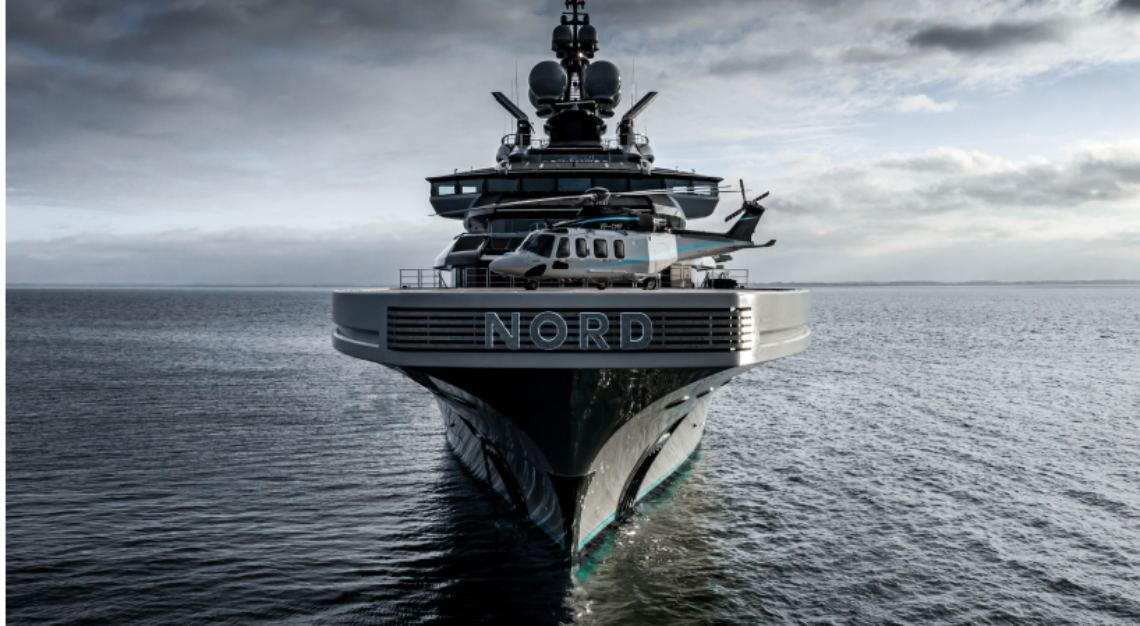 Nord
Nord has made its much-anticipated debut this year with a bang, and it may be in part due to its eye-watering US$500 million cost. Built by German shipyard Lürssen to exact Moran Yacht & Ship specifications, this 142-m beauty – said to be the 10th largest yacht in the world for now – has been masterminded by Italian studio Nuvolari Lenard, and takes a crew of nearly 60 to run. Unfolding over six decks are 20 staterooms that sleep up to 36 guests, along with a spread of amenities that include a movie theatre, and a wellness centre that fits a fully equipped gym, beauty salon, spa and sauna. Big boys' toys include an impressive fleet of tenders in the garage, along with two helipads for group excursions.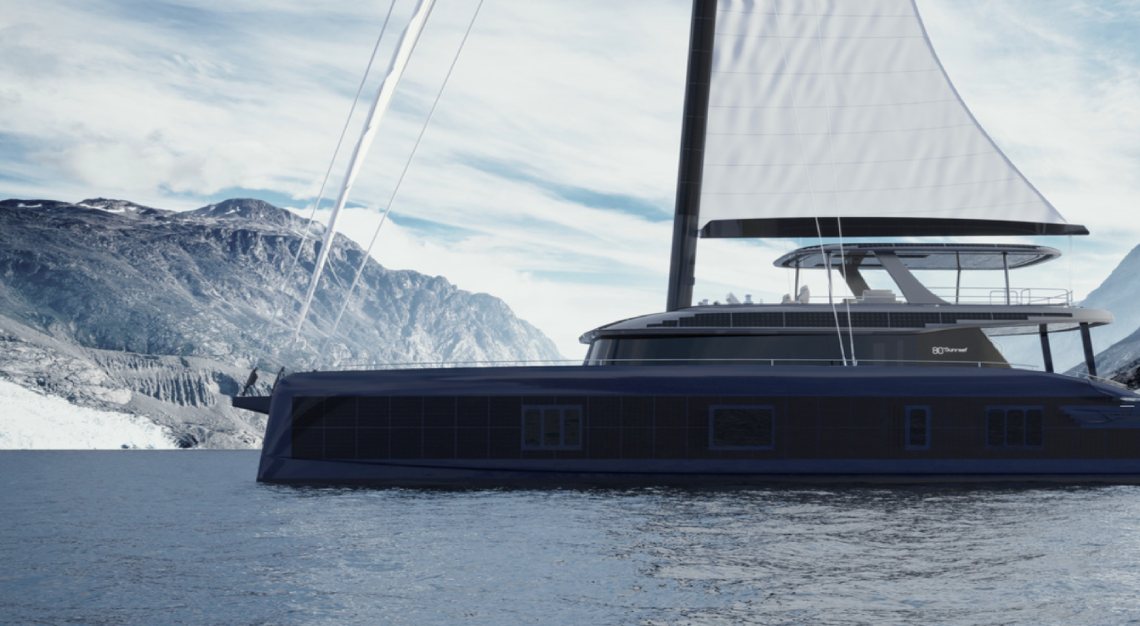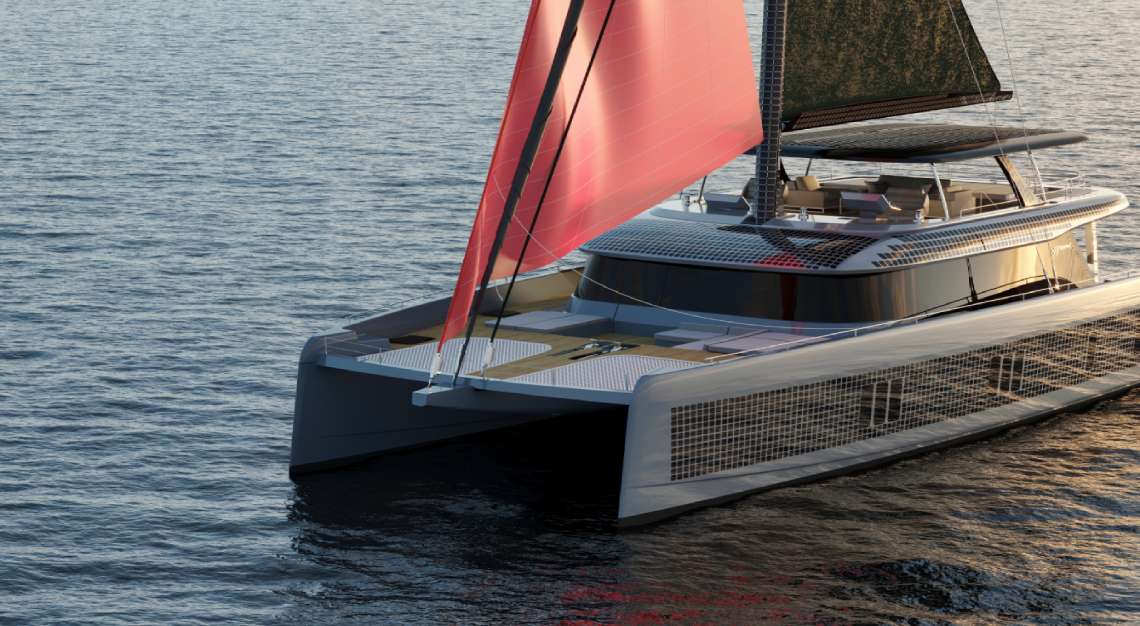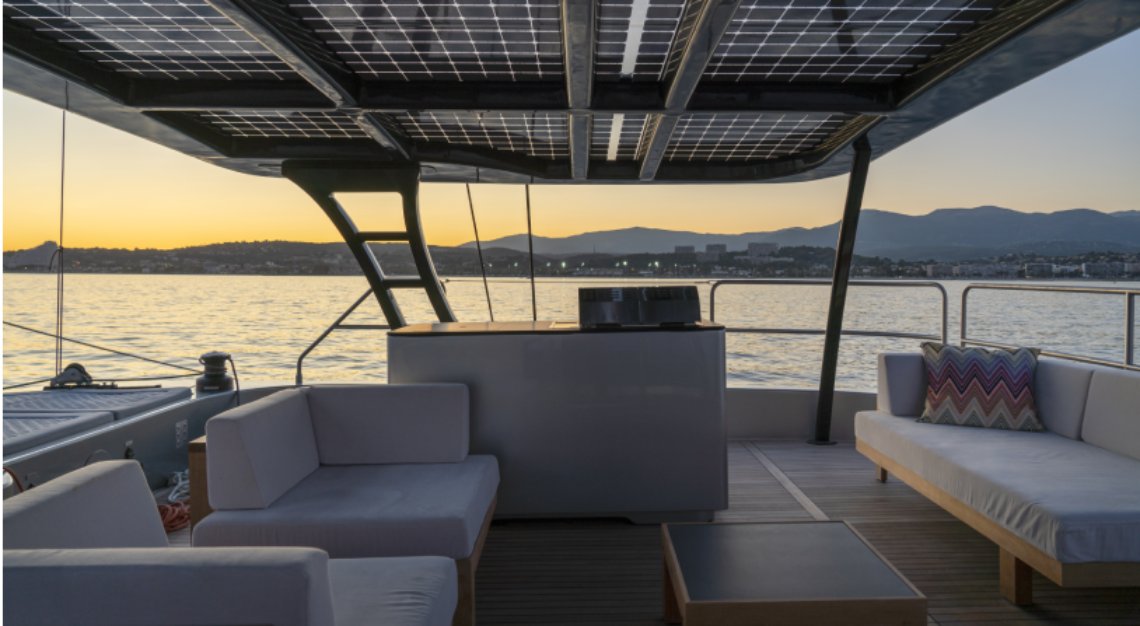 Sunreef Eco 80
Sunreef Yachts has just started constructing what it says would be the world's "most advanced sustainable luxury catamaran". In short, the 24.3-m electric vessel blends the newest green technologies with the best of superyacht luxury. Designed and engineered in house, Sunreef Eco 80 can sail silently with zero emissions for days, thanks to its ability to harness and store solar and wind energy above and below the waterline. Its most innovative feature though, is its solar skin that covers 164sqm of the catamaran's surface. The photovoltaic system integrates what it claims to be the "world's lightest solar cells", and is plastered on Eco 80's hull sides, superstructure, bimini and carbon mast. Creating a slick, futuristic look, this skin is able to generate up to 34 kWp of clean energy that will be stored in super-light, customised batteries.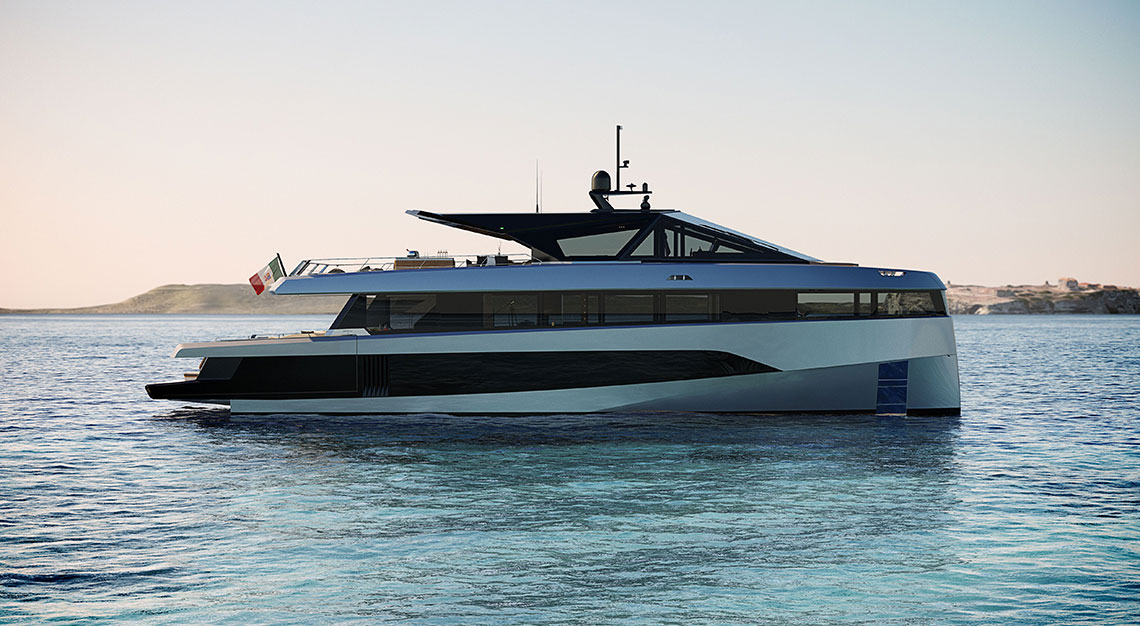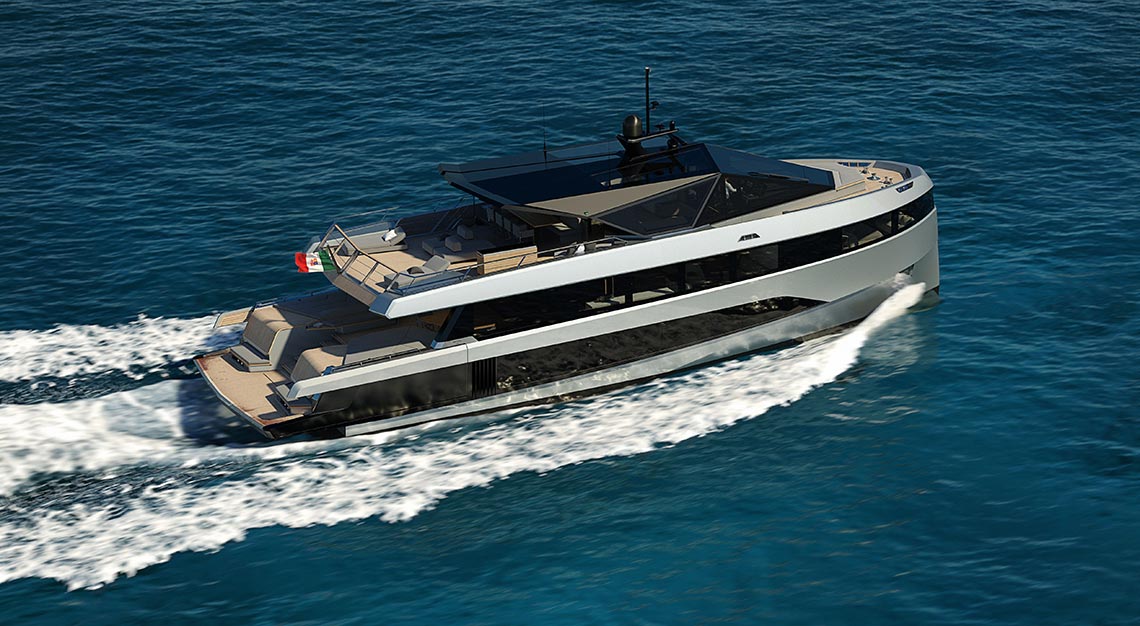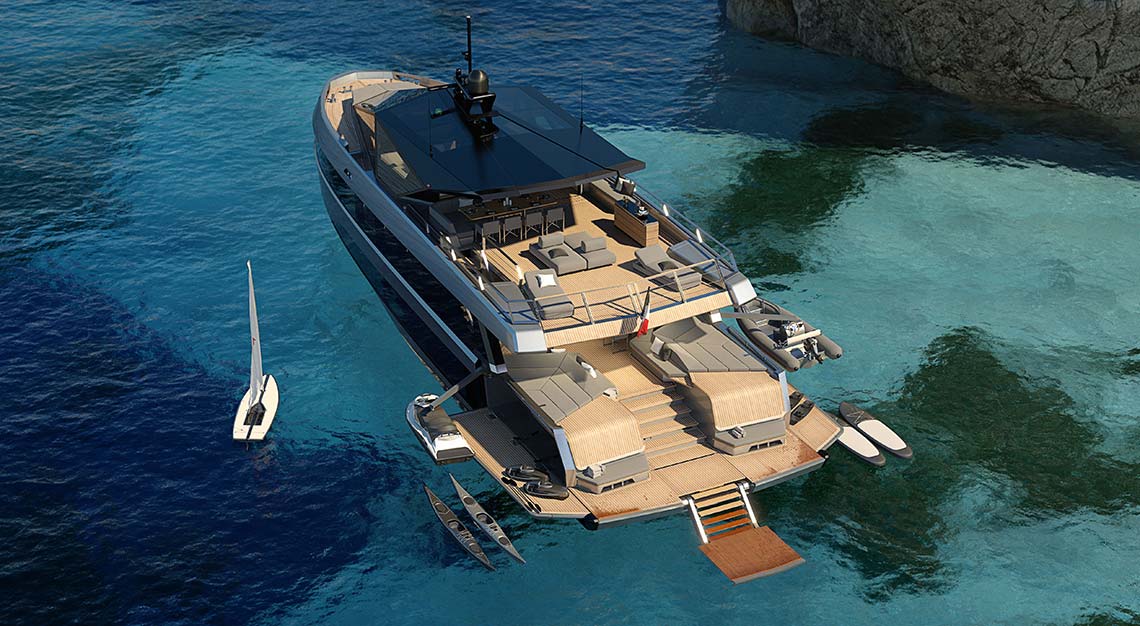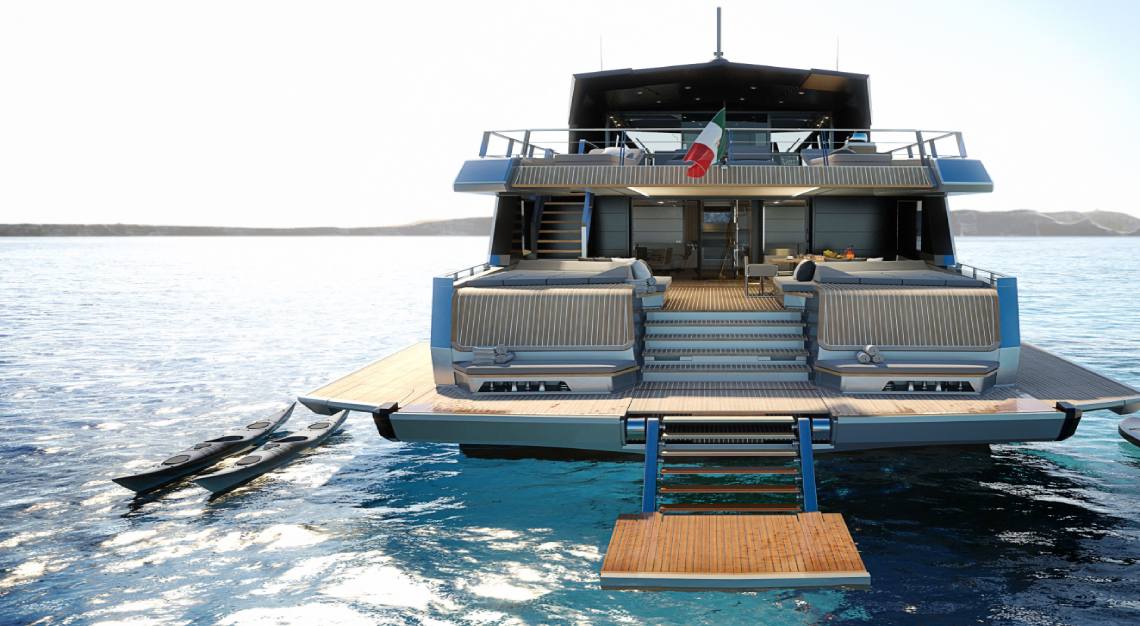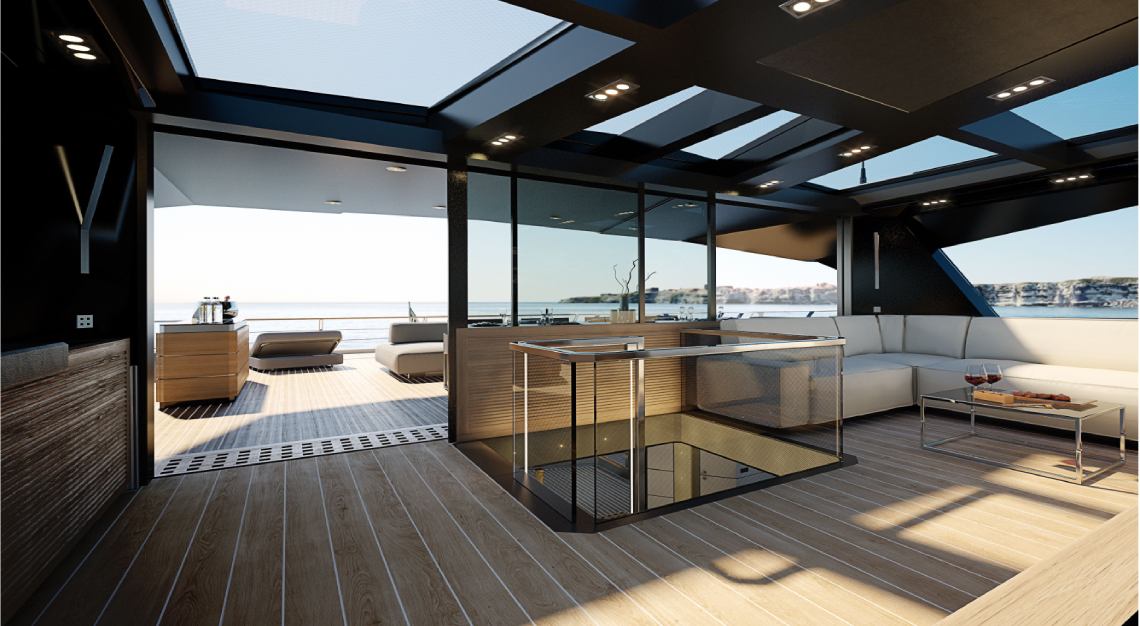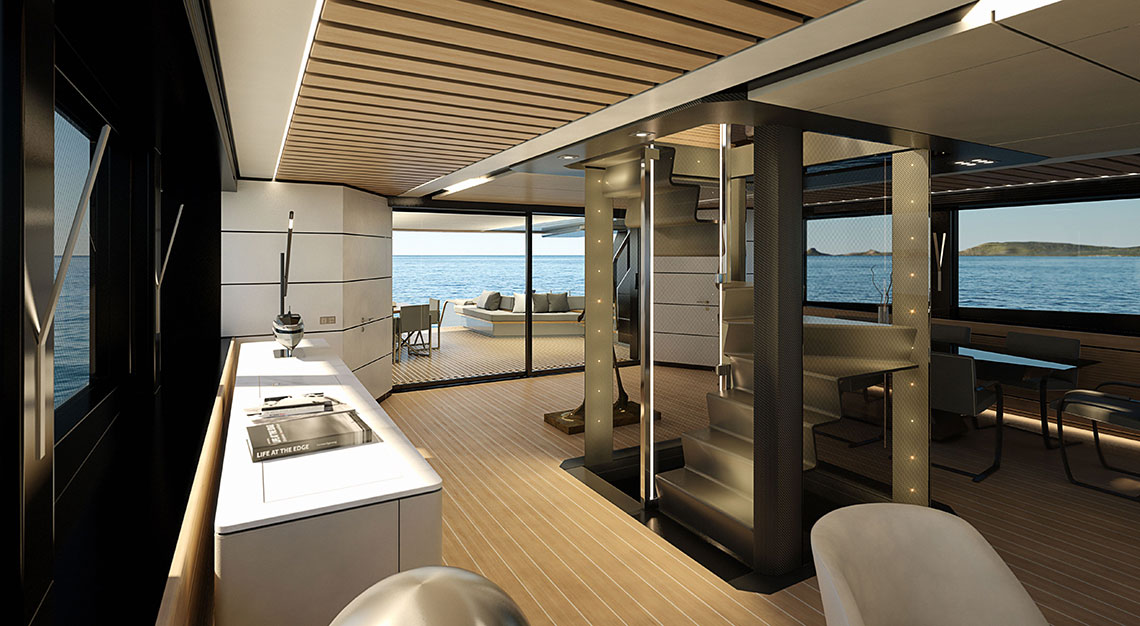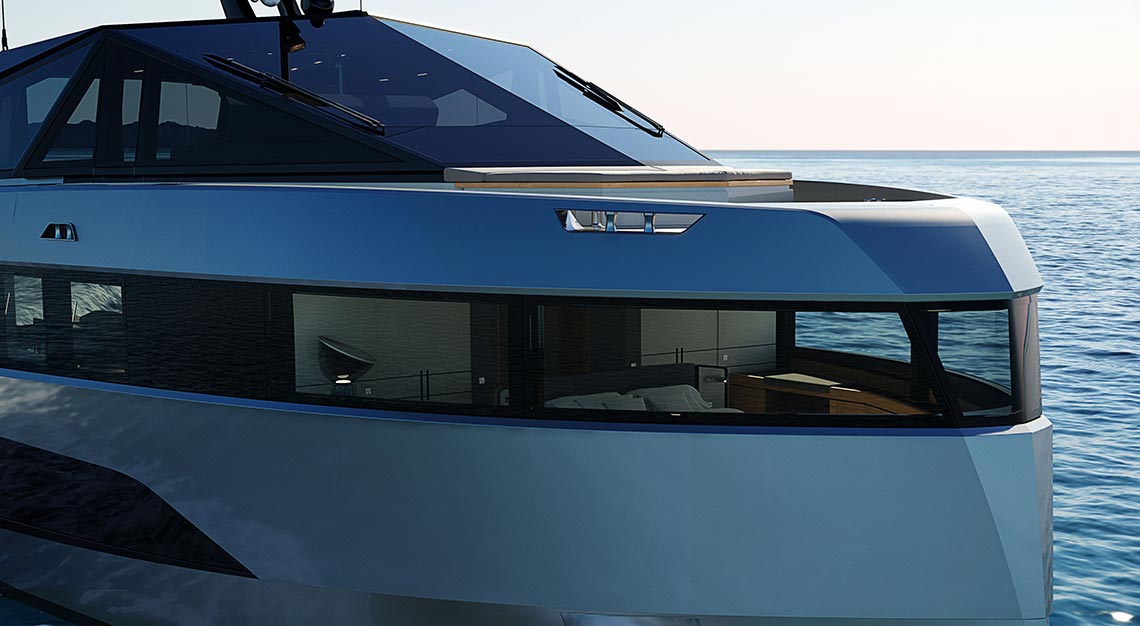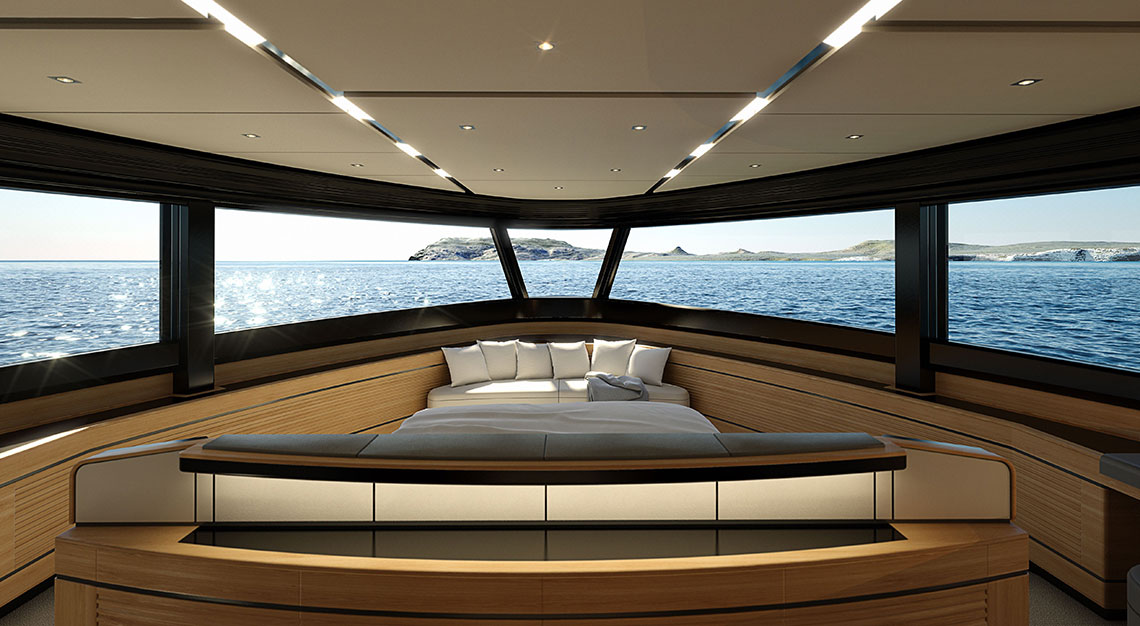 WHY200
Wally Yachts' 27-m WHY200 challenges conventional yacht design with smart living. The innovative wide-body vessel that offers more than 200-sqm of indoor living space and nearly just as much on the outside – achieved by removing the traditional side decks for a full-beam salon, and adding wraparound glass panels at the fore. WHY200 is anchored by an expansive salon, while a central carbon-fibre staircase connects the lower deck right up to the glass-encased sky lounge on the upper deck. The wow factor comes by way of the owner's sea-facing suite at the bow, which is flanked by full-sized windows that frame uninterrupted views.