These new stunners are among more than 1,000 other boats at Genoa's redesigned waterfront
The Genoa International Boat Show, or Salone Nautico, just celebrated its 63rd anniversary from 21 to 26 September 2023. The event is much older than either the Cannes Yachting Festival or Monaco Yacht Show, and at one point, was the premier event in Europe. It slowly ceded its show-king status to the other two venues, largely because they had more glamorous settings.
But Genoa, the seafaring city where Christopher Columbus was born, plans to reclaim its standing as a top-tier event. The location on the Genoa waterfront is ideal for a boat show, and this year, it will be showing off a new infrastructure that has been three years in the making.
The location has new canals around the Blue Pavilion, its showcase exhibition centre, and the addition of more than 150 berths. The boat show also had more than 1,000 boats on display, from two metres inflatables to 40 metres superyachts. Next year, the renovations will be complete, turning the once-dilapidated docklands into a beautiful luxury centre, with high-end residences and a gorgeous waterfront.
Sanlorenzo SX100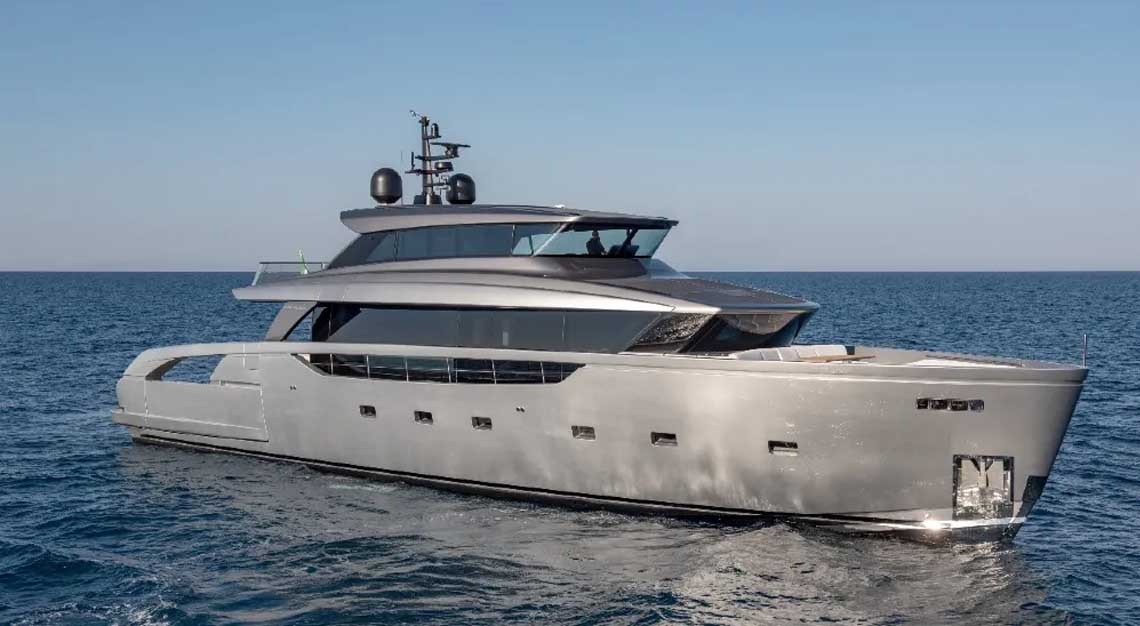 Having also made its French premiere at Cannes last week, Sanlorenzo's SX100 is a full custom yacht that is the latest model in the brand's crossover range. Signature fold-down terraces and a large open transom create both a private sundeck and social beach club. The space can also hold many water toys, including a six metres tender. Sea terraces behind the two top decks offer private areas for relaxing. A main salon with floor-to-ceiling windows is one of the boat's most impressive features. The five guest staterooms include an owner's suite, a VIP, and three double cabins.
Lomac GranTurismo 14.0X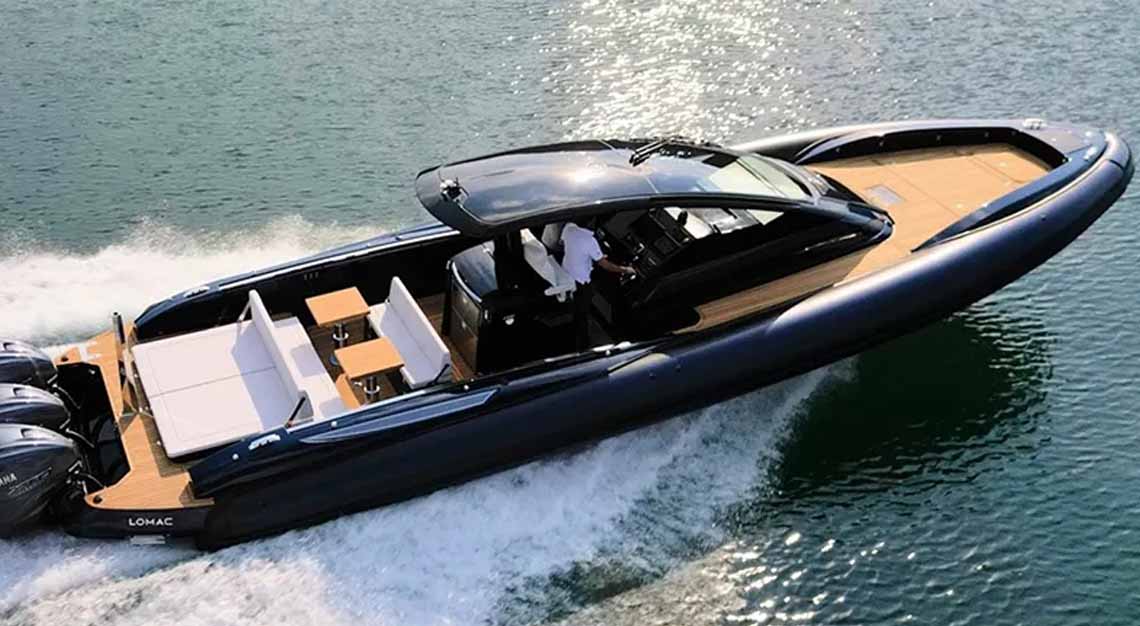 The GranTurismo 14.0X will make many conventional yacht owners consider a RIB. Lomac's new 14 metres flagship is a beautiful day boat, with an open bow, protected helm area, rear dinette, and aft-facing sunpads that overlook the triple outboards at the stern—though the boat at Genoa will have twin 450 hp Yamaha XTOs. The boat has a cabin with a bed and separate head and shower for owners who may want to weekend. Lomac also focused on quality touches like teak accents, walnut furniture, and even a hand-sewn leather cover on the steering wheel.
Riva 82 Diva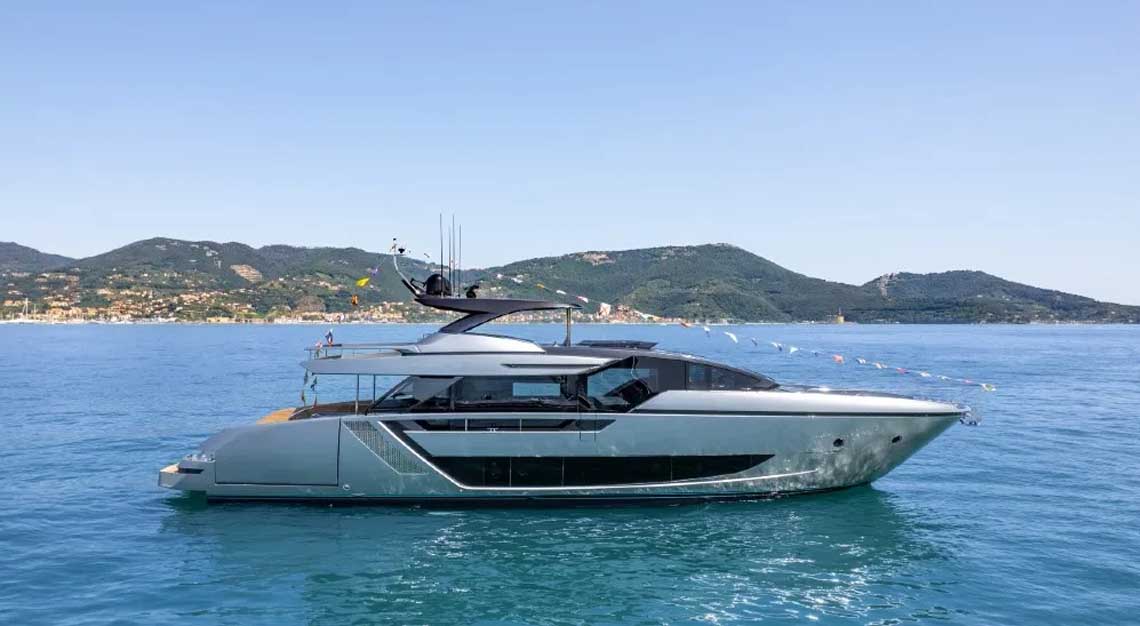 This newest member of the Riva line, the Diva was launched last summer at Riva's yacht-building facility in La Spezia. Its flybridge, which offers great social possibilities, is the big differentiator. The 40 square metres upper deck includes a lounge area with dinette and bar in the centre, sunbathing area, and another lounge aft. Down below, there's a large beach club with foldout sides; it's connected to a raised cockpit with sofas. Like most Rivas, performance is critical: The Diva has a top speed of 29 knots with the standard MAN-V-12 1800 diesels. With the upgraded MAN V-12 1900s, it reaches 31 knots while cruising at 27.
Dufour 41
This new cruiser boasts a cockpit that is larger than most yachts in its class. But the interior is equally sizeable, with the option of three or four staterooms and two or three en suites. The three-stateroom version, which will be at the show, includes a large main cabin and two sizeable guest cabins, each with its own en suite. Dufour says the 41 is the only sailboat in its class with two forward cabins, each with double beds, with plenty of soundproofing between to ensure privacy.
Azimut Verve 48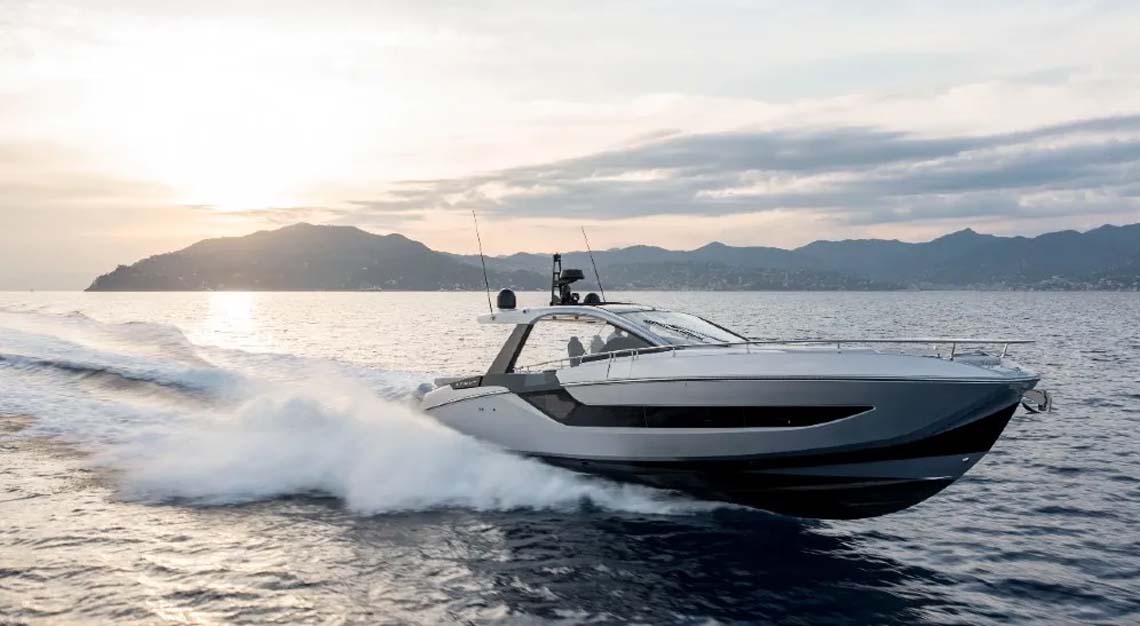 The new Verve 48 is one of two models in Azimut's outboard-powered line that originally targeted the U.S. market, but are now becoming popular in Europe. The Verve 42, launched last year, is the smaller sistership. The 48 is actually a redesign of the 47, which was first launched in 2000. But this new version has undergone a refresh with a larger, more open stern, including a swim platform with excellent space around the three 600 hp Mercury outboards. Other features like the large open bow with lounge and table, two-cabin interior, and see-through panel amidships are true to this Verve's original design, making this an exceptional weekender—especially considering it reaches 50 knots.
Frauscher 1212 Ghost Air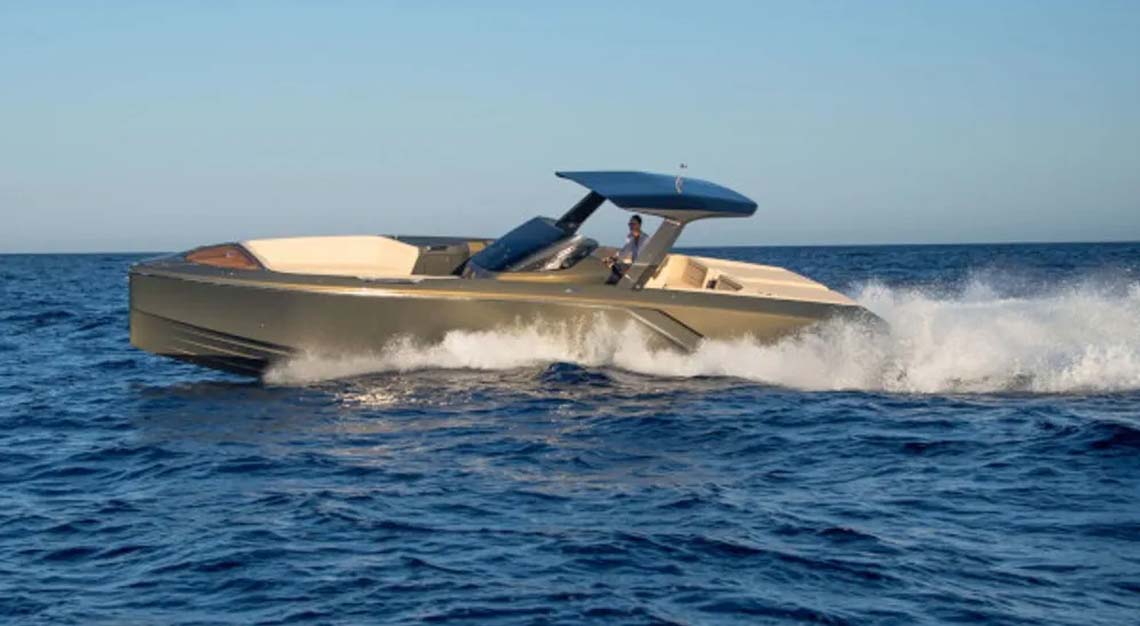 This gold-hued boat is a refresh of the Austrian builder's 1212 Ghost, with a lightweight, carbon-fibre T-Top above the helm or, if the owner prefers, a retractable bimini top. Either way, this will be the coolest day boat at Genoa, supplemented by a side-mounted galley, with fridge and cooker, and plentiful seating in both the bow and rear of the boat. Besides good looking, the Ghost is fast: Sterndrive power (either MerCruiser or Volvo-Penta) will deliver a top end of over 40 knots. At a friendly cruise speed, it will have a range of 482 kilometres.
Ecoracer OD 30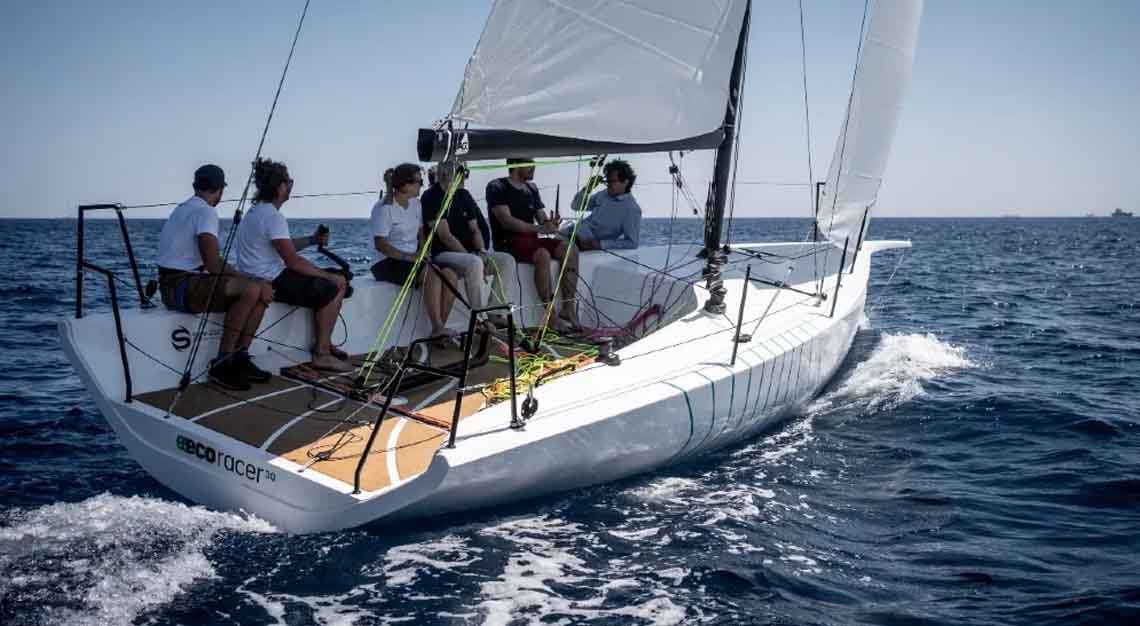 The world's first one-design sailboat built with recyclable materials and rComposites technology shows that sustainability can indeed be part and parcel of new-boat design. The 9 metres Matteo Polli design builds on the research of Northern Light Composites and follows the launch of the smaller Ecoracer 25 last year. Beyond its green-build credentials, this production boat was designed to be a fun, barebones sailing vessel with a large open cockpit. A second hull is now on the production line.
Princess S72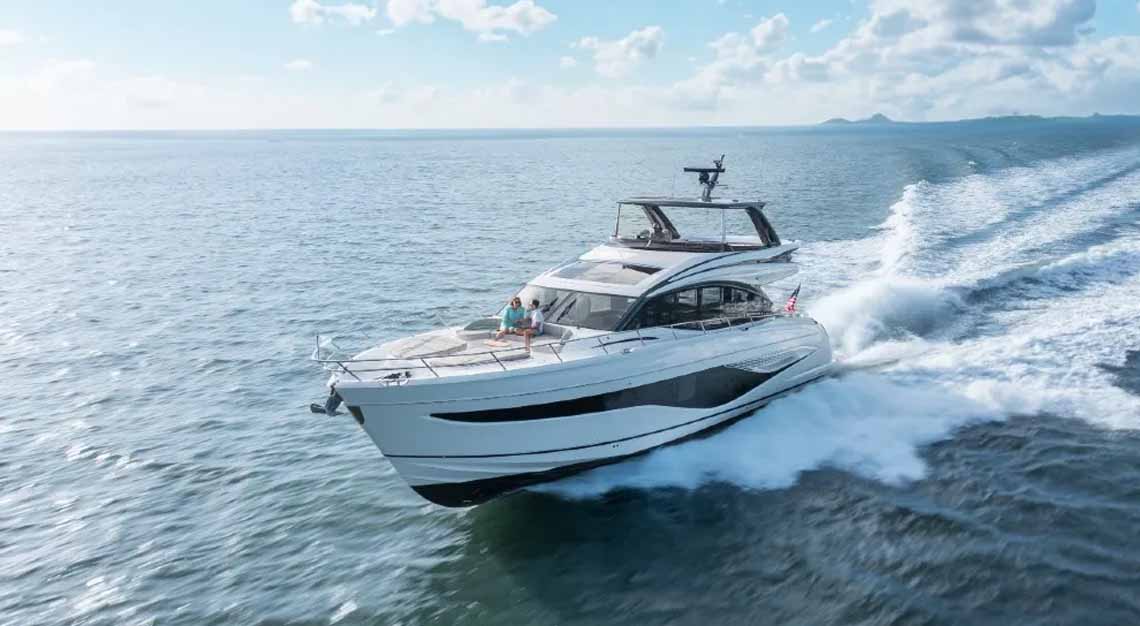 This newest Princess made its global debut last January at the Düsseldorf boat show, and has since been seen at the Cannes show and the U.K.'s Southampton event. This week, the S72 is making its Italian debut. With the "S" standing for Sportbridge, this racy-looking, 22 metres coupe, with four staterooms and a compact flybridge, fits nicely between the builder's S66 and S78 luxury cruisers. Twin MAN V12 diesels—standard 1,650 hp or optional 1,800s—deliver up to a 66 km/hrtop end.
Bluegame BGM75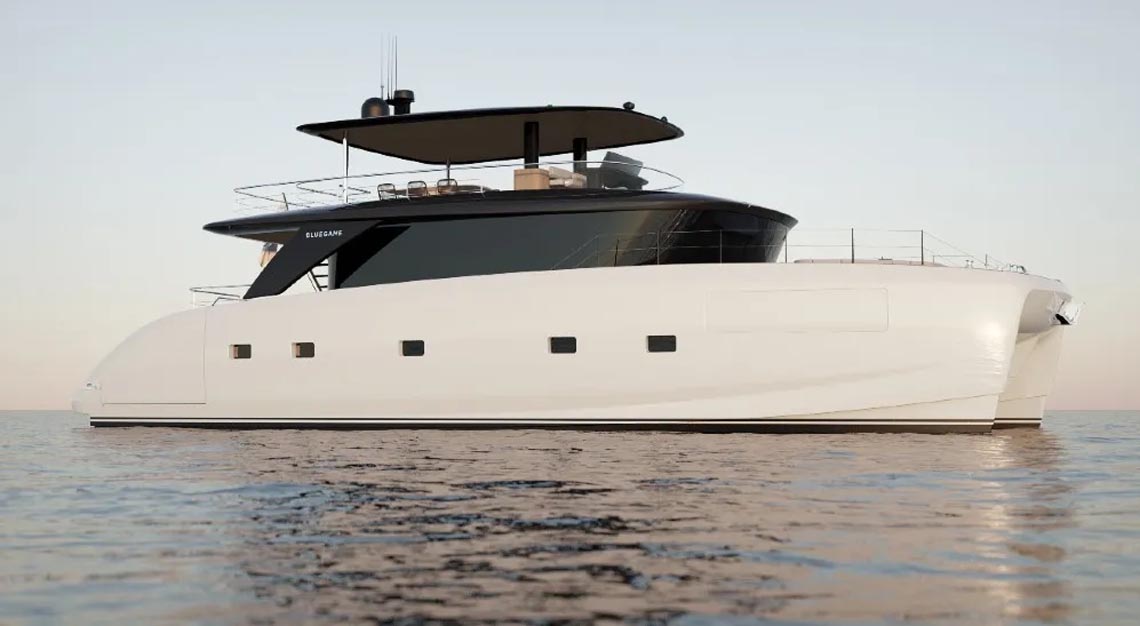 The BGM75, which debuted at Cannes this year, is a fresh take on a power catamaran design, employing a reduced beam to keep its twin hulls closer together. That gives it more of a monohull feel, but with the advantages of a big cat. That includes enhanced fuel efficiency and better stability. But it also let the design team create a full-beam main suite on a single deck—unique among large power cats. The spacious beach club, large salon, and connected cockpits also complete the fresh, new take on multihull design.
Solaris Power 52 Open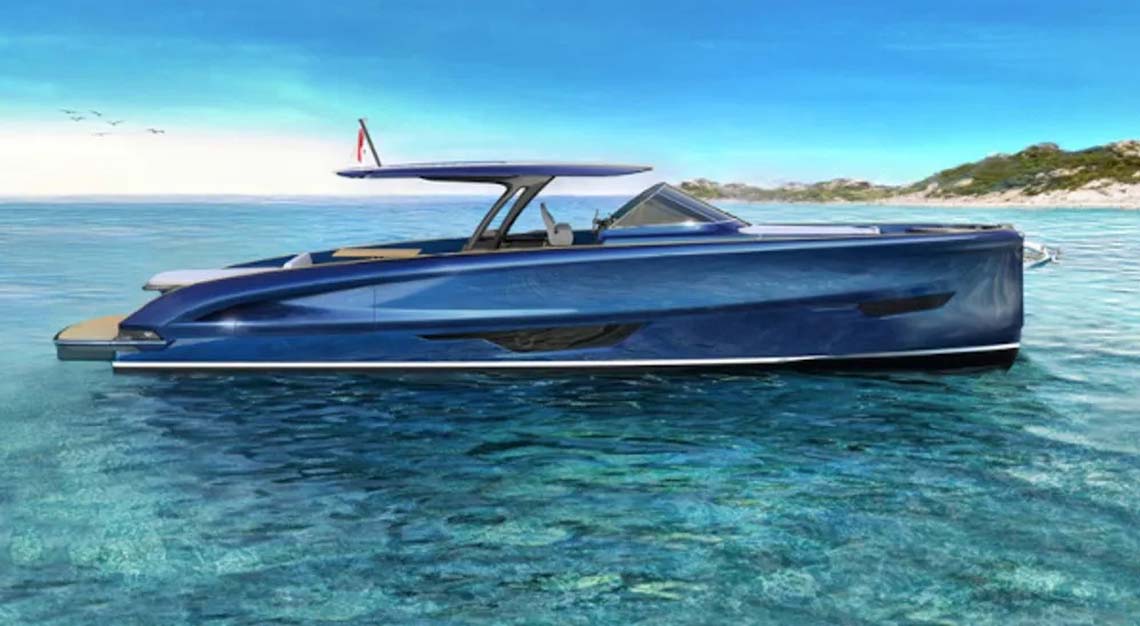 Known for its sailboats, Solaris also makes a stylish line of powerboats. The Power 52 Open, with its vertical bow, curved hull sides and carbon-fibre hardtop, is a contemporary-looking model that displays the best of Italian style. The cockpit has three configurations, with either a large C-shaped lounge, two opposing seats, and a single sofa. Below-decks, the owner can opt for a two- or three-stateroom layout, including a crew cabin. The boat delivers a top speed of 24 or 30 knots, depending on power selection of either Volvo IPS 650 or IPS 800 drives.
Grand Soleil 72LC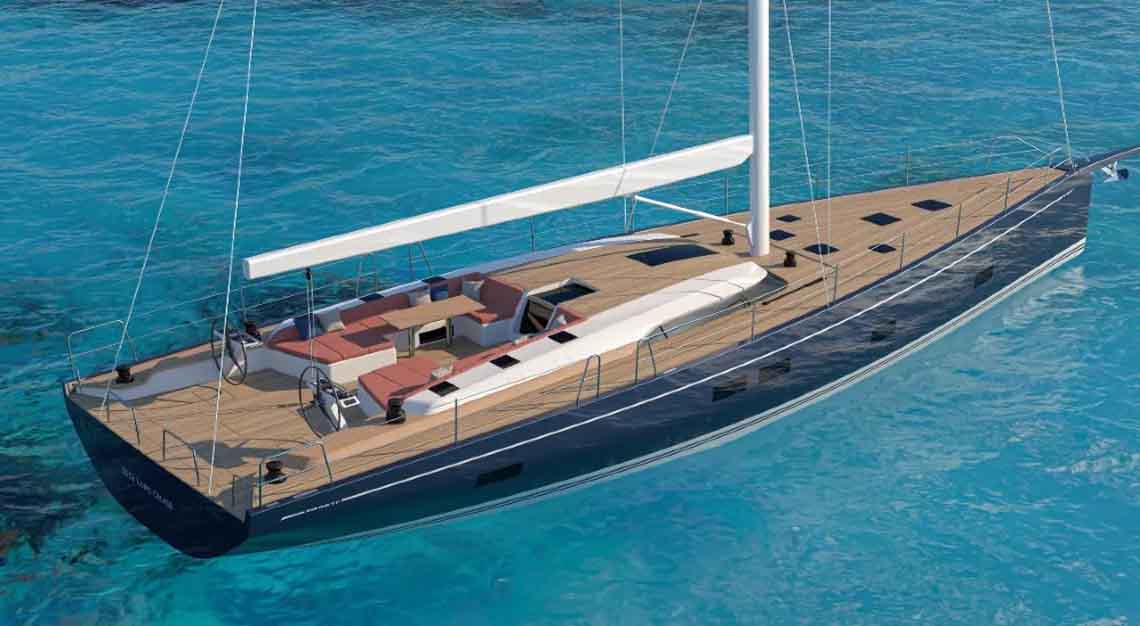 Cantiere del Pardo's new iteration of its 22 metres ends with LC, standing for Long Cruise. It follows on a performance model launched last year. Standout features on this global cruiser include a deckhouse with a large window (offering 270-degree views), along with expanded outdoor seating and two large sundecks aft. The outdoor dinette has also been enhanced. Nauta Design's interior includes luxe materials and colours that defy the usual humdrum sailing yacht layouts. The forward owner's cabin and crew and guest cabins are spacious, while owners have the option of forward or aft galley layouts.
Greenline 58 FLY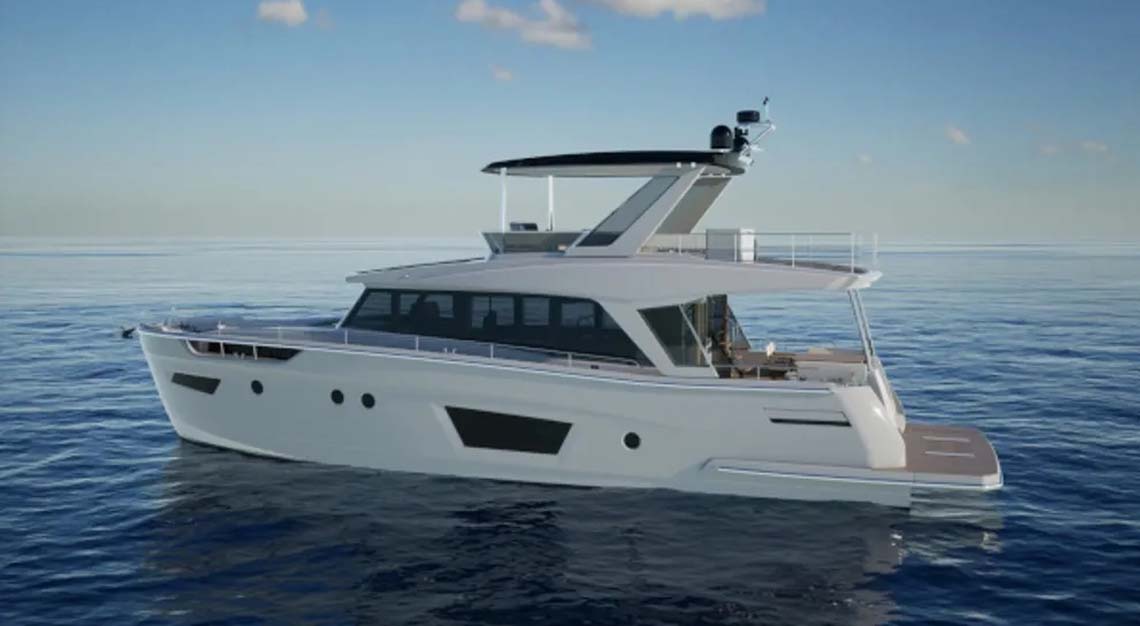 Greenline is one of the more interesting builders in Europe, offering diesel, hybrid diesel-electric or full electric power on all its models. Its new 58Fly also has top-drawer exterior features, including a flexible cockpit layout and generous flybridge. The interior has an optional two- or three-stateroom configuration, with a roomy salon and aft galley that overlooks the cockpit. Depending on choice of propulsion, the boat's top speeds range from 29 knots with the diesels to 12 with the electric-only power configuration.
Astondoa Ax8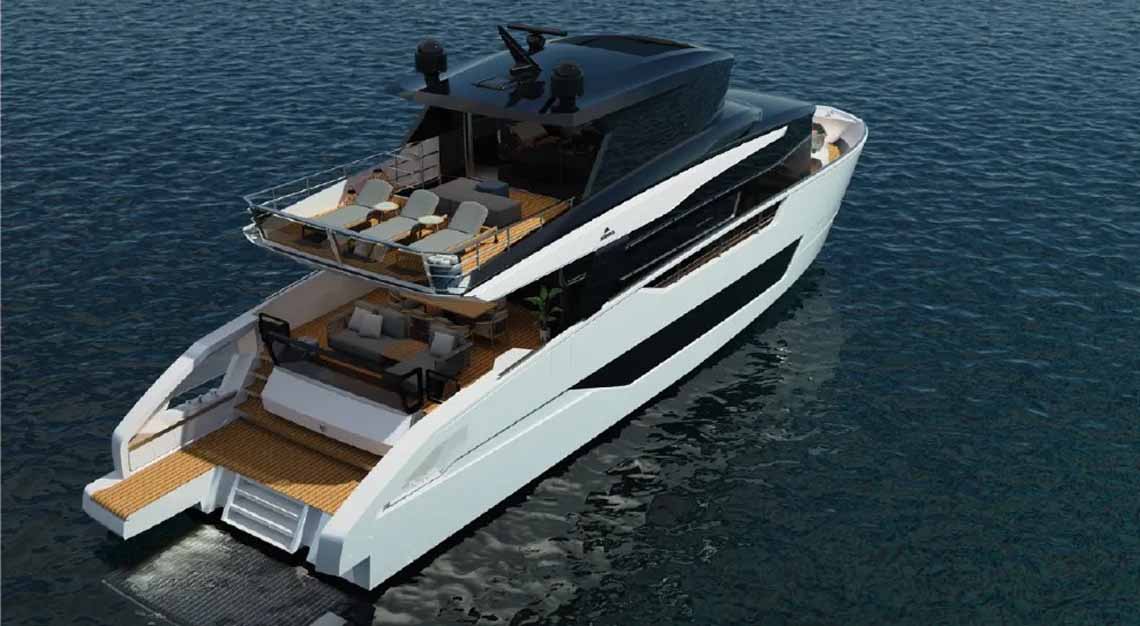 The Ax8 is described by Astondoa as a "social cruiser," with space for 18 guests. The Spanish builder has a knack for coming up with innovative designs, and this new 24 metres, wide-bodied motoryacht is no exception. The unusually wide six metres beam allows for large passageways between the cockpit and beach club, while the extra volume provides space for two spacious sundecks—one on the main deck and the other on the flybridge. The aft cockpit has a dining and social area with a view of the beach club, but with a glass divider for inclement weather. The Ax8 has four cabins, including the full-beam main and two VIPs aft, with a guest cabin forward. All are en suite. The vessel also has two crew cabins. The yacht is powered by twin Volvo Penta 1350s.
This story was first published on Robb Report USA