The first Bluegame BGX70 in Southeast Asia has arrived in Singapore—and turning more heads than we can count
At ONE°15 Marina Sentosa Cove, the arrival of the first Bluegame BGX70 in Singapore—and Southeast Asia—was almost impossible to miss. Reminiscent of a military patrol boat—less the rugged, obtrusive angles—her greyish, no- nonsense demeanour posed a striking addition to the marina's overlapping sheets of white.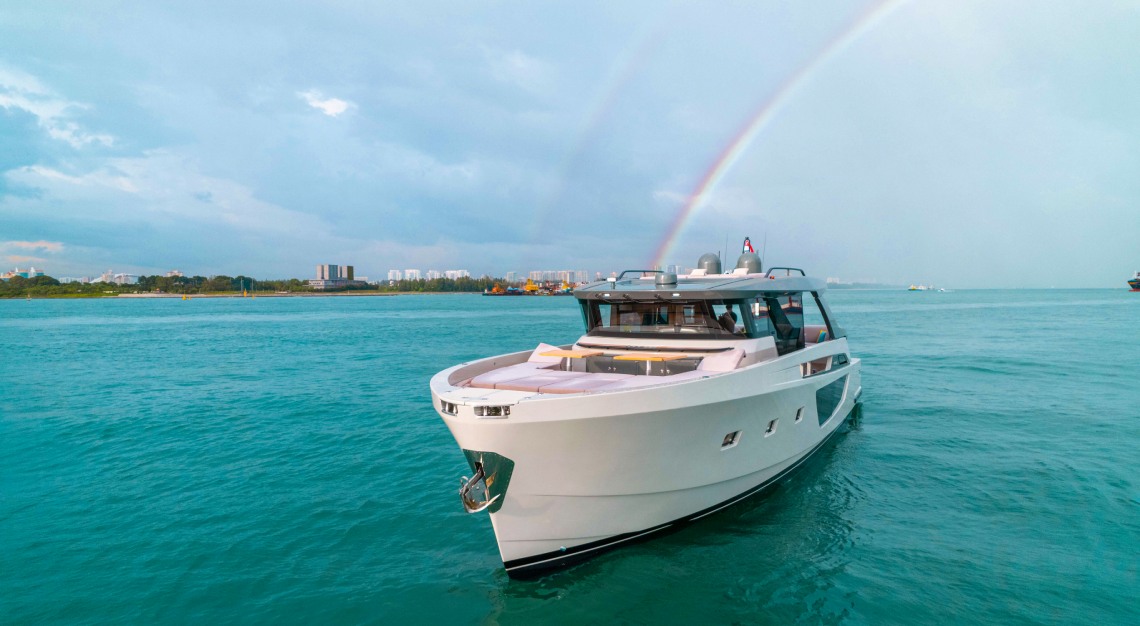 "We've never experienced so much traction with one boat," says Julien Solari, Singapore country manager for Simpson Marine, which represents Bluegame and its parent company Sanlorenzo in the region. "The number of enquiries we've received from people who've seen it in front of our office has been incredible. People are used to seeing more traditional motor yachts in the marina, but the BGX70 is really unconventional."
At 21.9m in length, she's also the biggest model to-date in Bluegame's BGX series, conceived by Zuccon International Project and Bluegame founder Luca Santella—who's likewise behind Sanlorenzo's innovative SX crossover line.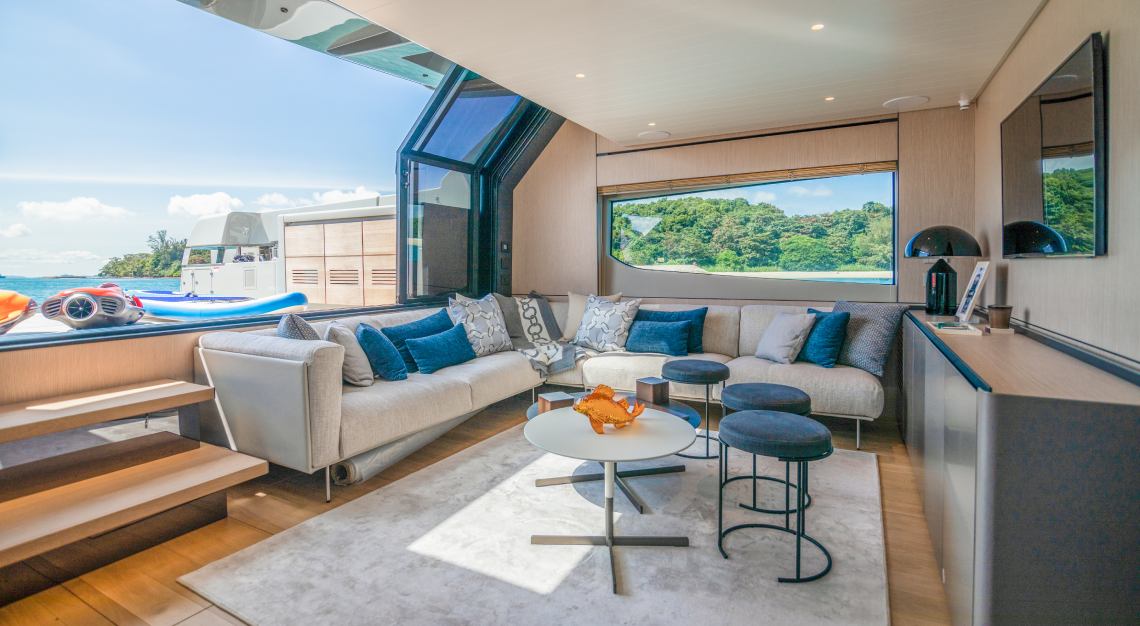 Stepping onboard the large swim platform—equipped with a wet bar and Gaggenau grill, plus a well-concealed crane for carrying water toys and tenders—it's evident just how radical the BGX70 is. Where most yachts rely on a more sedate, run- of-the-mill layout—a single corridor at the lower deck lined with cabins on both sides—the BGX70 instead favours openness and adaptability.
Leading directly from the swim platform to the inviting main saloon, you'll be able to access the full-beam owner's suite, followed by a multifunctional, convertible room situated amidship and through to the forward VIP cabin.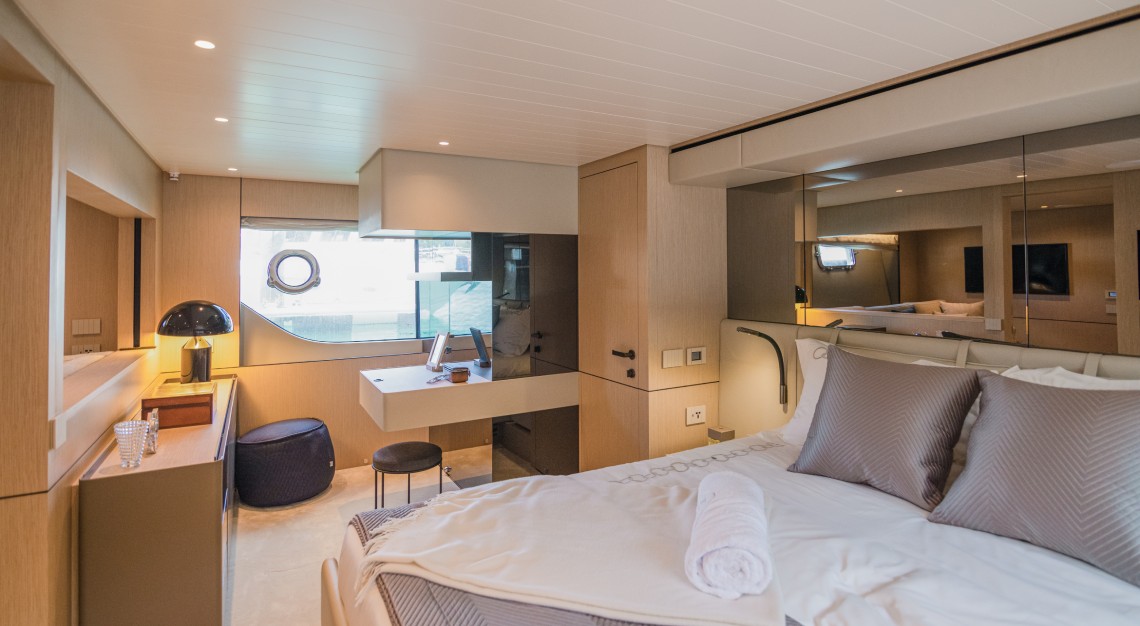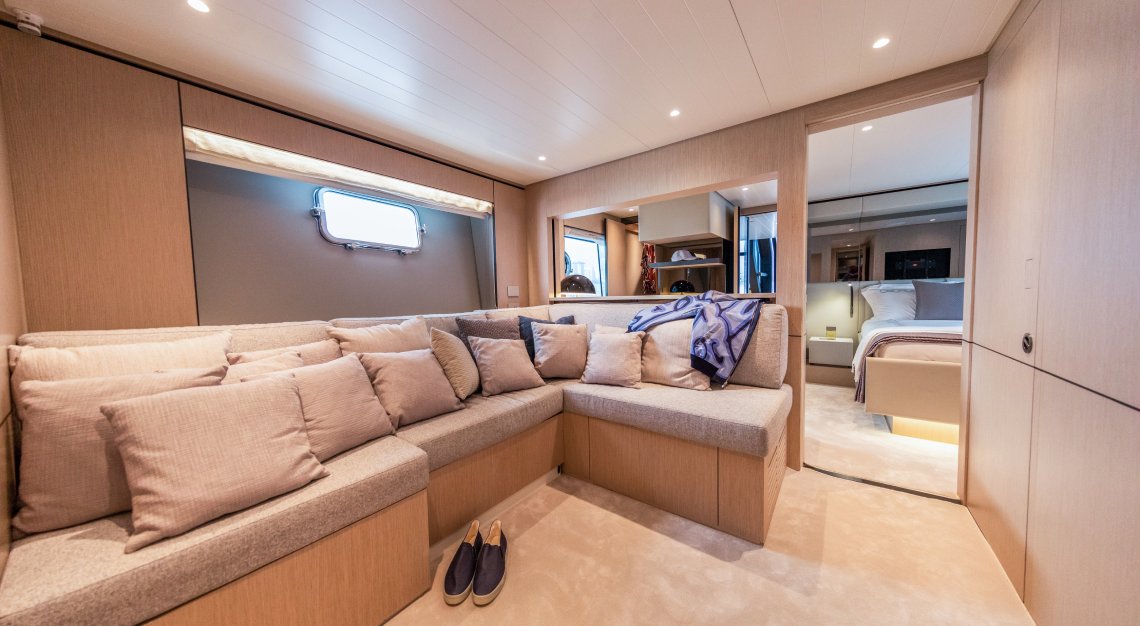 According to the owner's preferences, the multifunctional room can serve as an extension of the owner's suite, such as a private office, cinema or lounge. The inclusion of well-crafted, inconspicuous doors and partitions gives the owner an additional option to easily convert it into a separate guest cabin—perhaps even a comfortable playroom for families with young children. Multiple staircases provide convenient access to the main deck, where an integrated galley, dining area and helm station are located.
On a less composed vessel, this penchant for versatility easily translates to an awkward lack of privacy. Yet when executed on the BGX70, it's a thoroughly winsome attribute, making such an unorthodox arrangement seem not merely practical, but even de rigueur.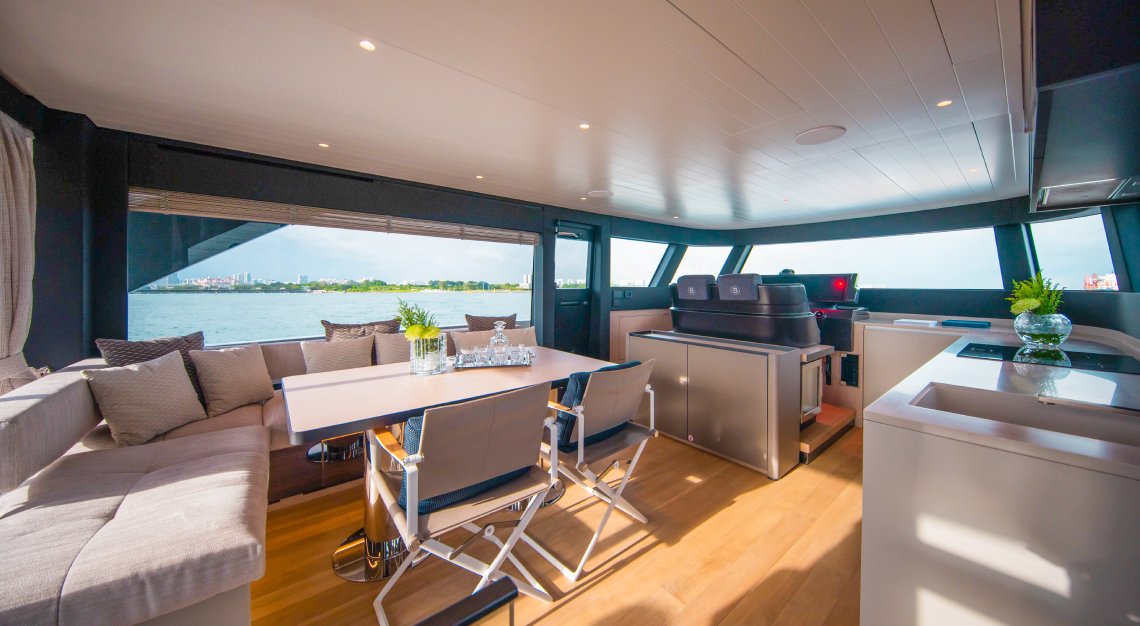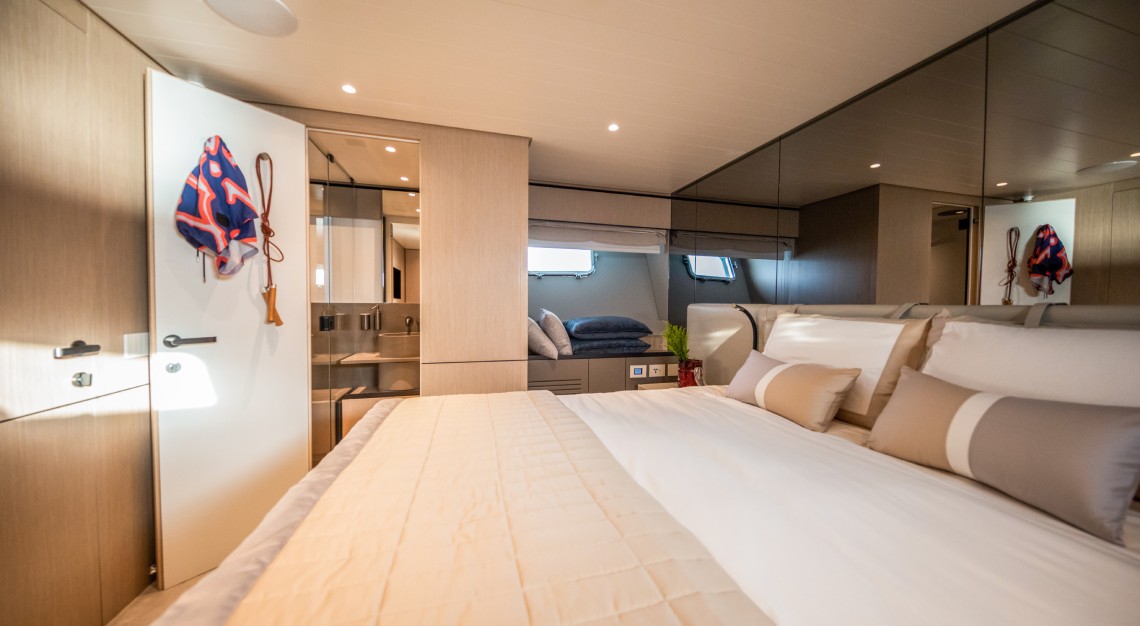 This efficient utilisation of space is made possible by a feat of engineering prowess, which sees the BGX70's pair of Volvo Penta IPS engines fitted neatly under the swim platform. With a range of about 700Nm, she'll take you as far as Phuket without having to refuel—aided by the option of lithium batteries capable of powering the air-conditioning and other onboard systems overnight, in place of the generator.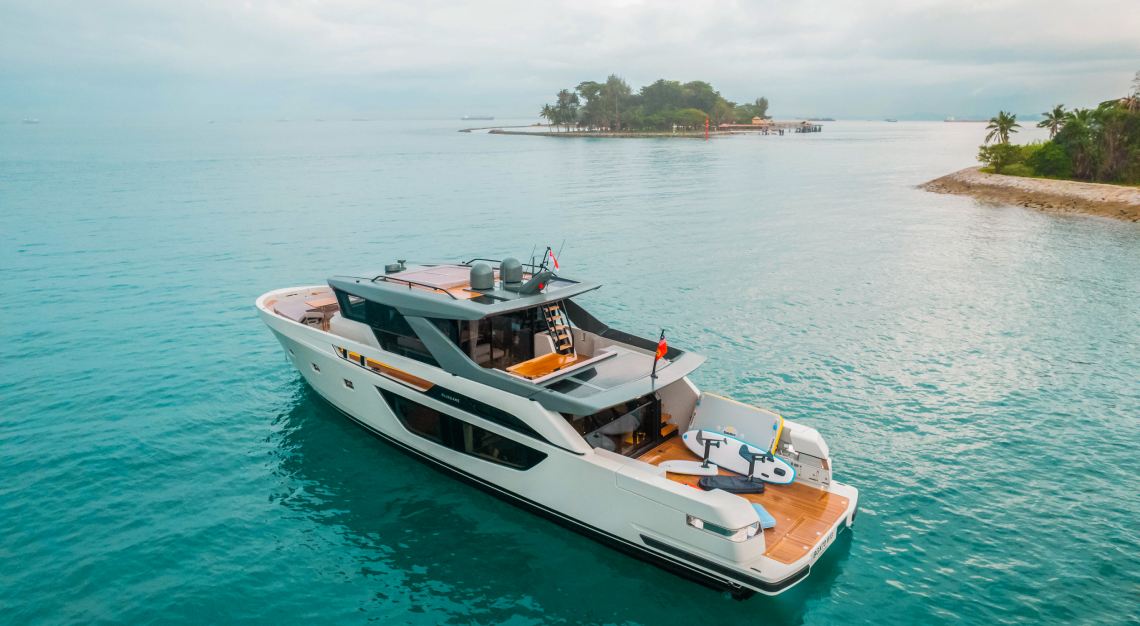 The BGX70's presiding sense of seamlessness is further amplified by a Portuguese bridge on the main deck, which leads to a spacious sunbathing area at the bow—replete with reclining sunpads and adjustable tables. A secondary social area can be found at the exposed 'flybridge', ensuring plenty of space for up to 16 guests onboard.
Given that this marks Bluegame's debut in the region, coupled with the fact that the shipyard has also released the new BG54—a more compact model compared to the BGX70—it's no surprise that more Bluegame yachts will eventually grace ONE°15 Marina Sentosa Cove. Now wouldn't that be a sight to behold?
This story was first published in the May 2022 issue. Purchase it as a hard or digital copy, or consider subscribing to us here