Matthew Fergusson-Stewart, Managing Director of SPUN Spirits, helps create the Lucaris Gràn Collection, a set of whisky glasses like no other
Glassware companies often offer a single whisky glass in their collection but the Lucaris Gràn Collection is a set of whisky glasses like no other. Each of the four glasses has been meticulously shaped and is designed to bring out the best characteristics of a style of whisky–something that a single glass cannot achieve on its own.
Lucaris is a premium label of crystal glassware borne from a collaboration between Ocean Glass of Thailand, Toyo-Sasaki Glass of Japan and Martin Ballendat of Germany. The Lucaris crystal is lightweight and lead-free, and displays wonderful clarity befitting its premium status.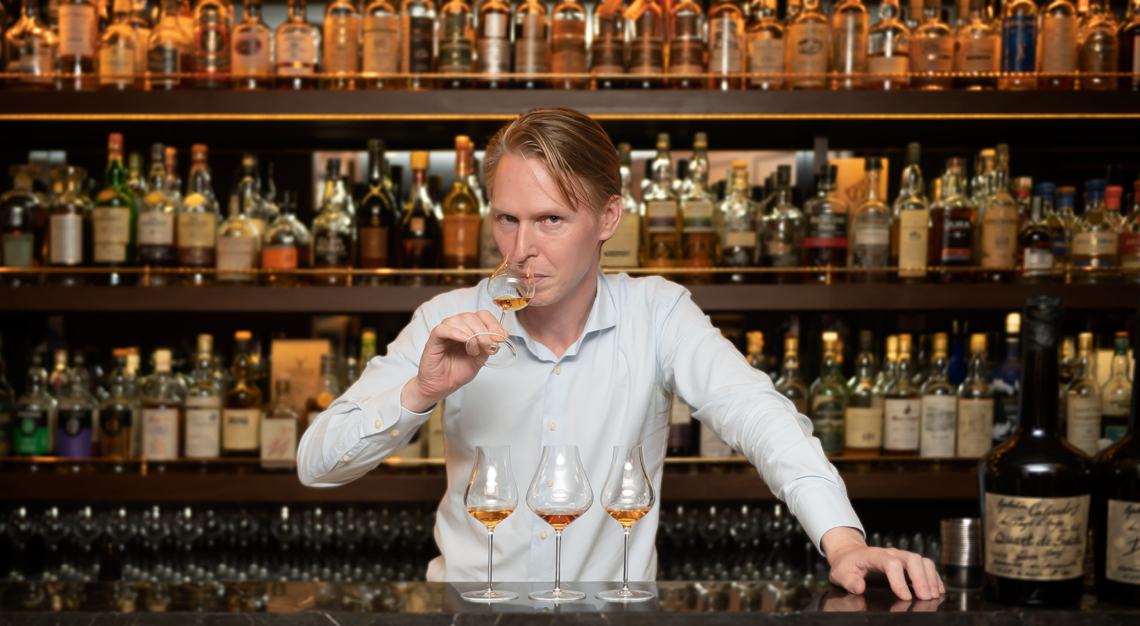 For this unique collection, Lucaris reached out to Matthew Fergusson-Stewart, Managing Director of SPUN Spirits and better known among whisky aficionados as the award-winning, former Regional Brand Ambassador for Glenfiddich. 
"I was approached by Lucaris to create a range of whisky glasses. While they specifically wanted a range rather than a single glass, the idea of tailoring glasses to specific whisky flavours came a bit later," Fergusson-Stewart explained. He postulated that there are different types of glass designed to work with different characteristics of various categories of wine, so why shouldn't it be the same for whisky?
Because whisky is a complex and diverse category, Fergusson-Stewart was faced with a challenge: is it possible to have a manageable collection that could work with the vast range of profiles, aromas and flavours? "We went through a few ideas on how to structure a range before we decided to attempt at the complexities of flavours. Interesting as it is, it was challenging to tackle."
While there is certainly a science underpinning the design process, Fergusson-Stewart wanted the glasses to be "elegant and usable for day-to-day enjoyment." 
"Some science was employed in the early stages, but after that, it was rigorous trial and error and comparative tastings with many whisky drinkers in different countries to ensure the experience was universal," he explained.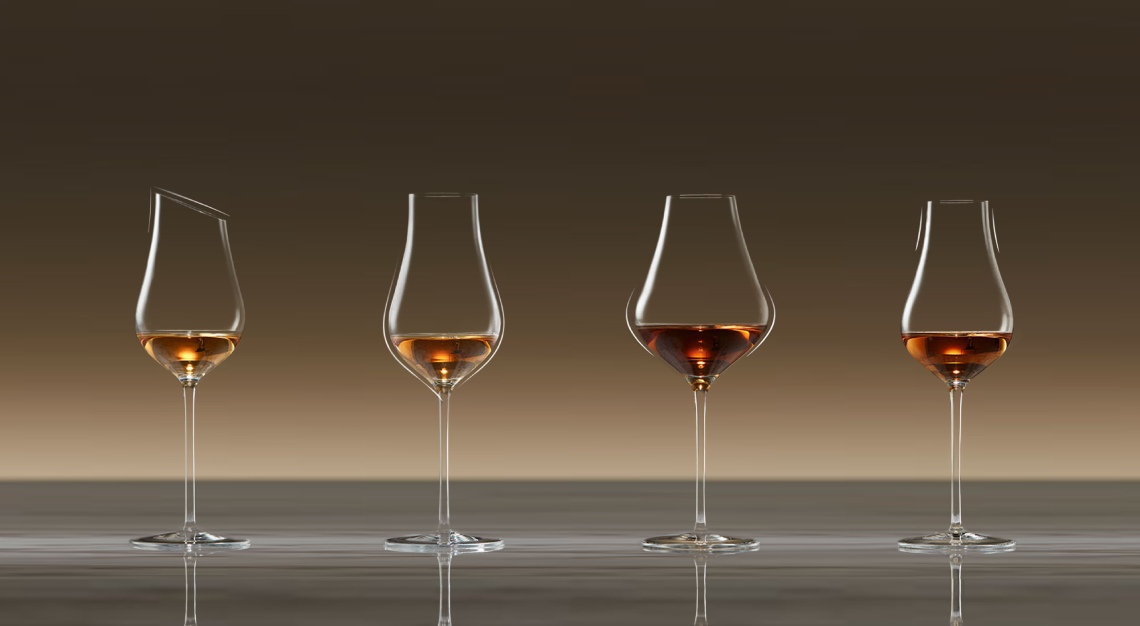 Experimentation became a watchword as each of the eventual glass shapes—The Delicate, The Classic, The Sherried, and The Peated—needed to work with a wide range of whiskies within the style. Fergusson-Stewart would spend a lot of time on tiny minute details, like getting the angle of the delicate glass lip perfect for maximum compatibility.
"For example, the Peated glass has a narrow top to better exemplify rich, sweet and earthy peat notes. Originally the top was even narrower, but it became difficult to pour in the whisky and impossible to clean the glass properly, so we had to experiment with different diameters. We eventually settled at a point that gave a great effect, but without the usability issues."
The work that went into The Gràn Collection did not go unnoticed as it picked up two major industry awards since its release: the iF Design Award in 2021 and Tableware Excellence Award in 2022. 
Recalling that whisky fans adopted the sherry copita as the standard serving glass (before the Glencairn became the face of scotch whisky glassware) in the early days, I asked how these glasses fared with other popular sipping spirits. "The glasses work quite well with other spirits, particularly brown spirits like rum and brandy," said Fergusson-Stewart. "Not all categories [of spirits] have the same flavour categories, but where they do overlap, the glasses are perfect." 
He explains that the Classic, Delicate and Sherried can work very well with different rums such as the range of El Dorado rums; Delicate for Equiano Light and Sherried for Equiano to pick up the nuances, while Peated complements mezcals like Dangerous Don.
I had to try it for myself, comparing them to the ubiquitous Glencairn glass and suffice to say, I was impressed. Compared to a regular Glencairn whisky glass, the Classic isn't too different, but that's to be expected as the shapes are fairly similar. However, it's easier to pick out the lighter notes on the Delicate and the presentation is entirely different. The same could be said for the Sherried, which pushes the dried fruit notes to the forefront, while the Peated ramps up the intensity of the peaty elements. The concept works, and very well, indeed.
It remains to be seen if The Gràn Collection represents another milestone in a rather brief history of whisky glassware, but at the same time, I don't see any reason why it shouldn't. 
An overview of The Gràn Collection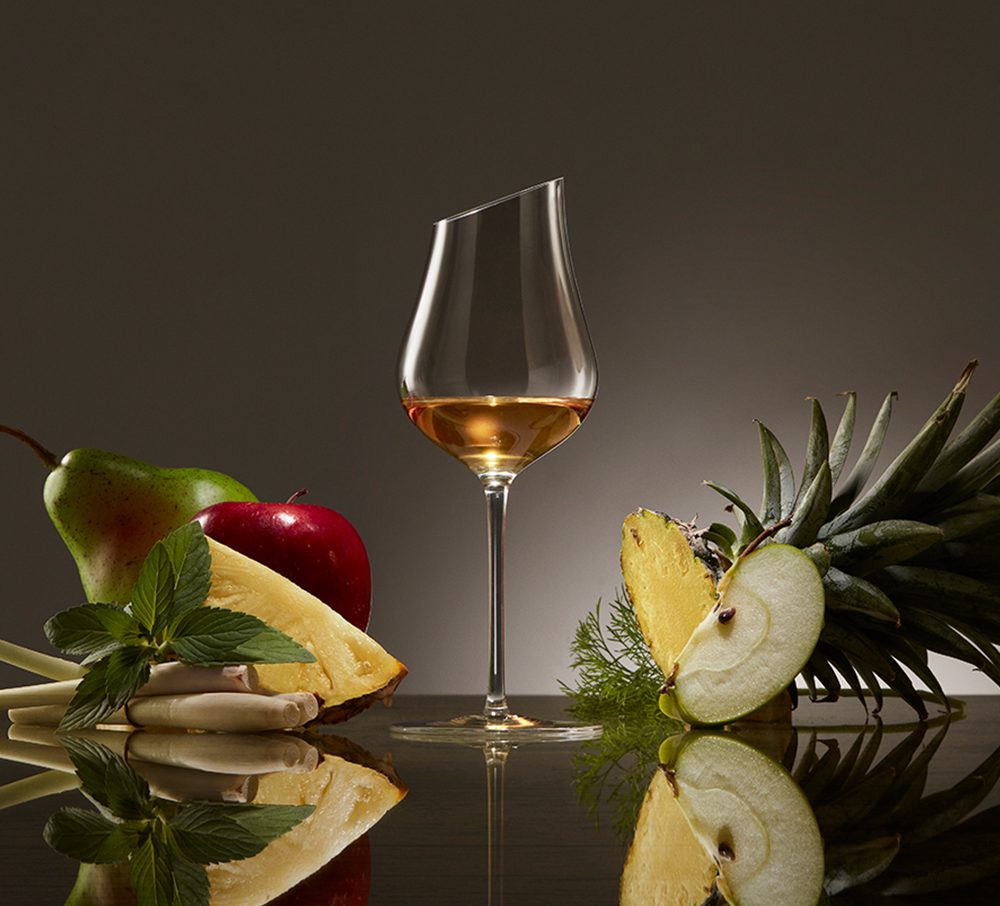 The Delicate
The angled rim is not only eye catching, it also emphasises the light fruity and floral notes in delicate whiskies, such as classic Irish whiskies, lowland Scotch whiskies, and lighter Highland and Speyside styles.
Recommended for: Glenfiddich, Benriach, Glenlivet, Proclamation and Grace O'Malley.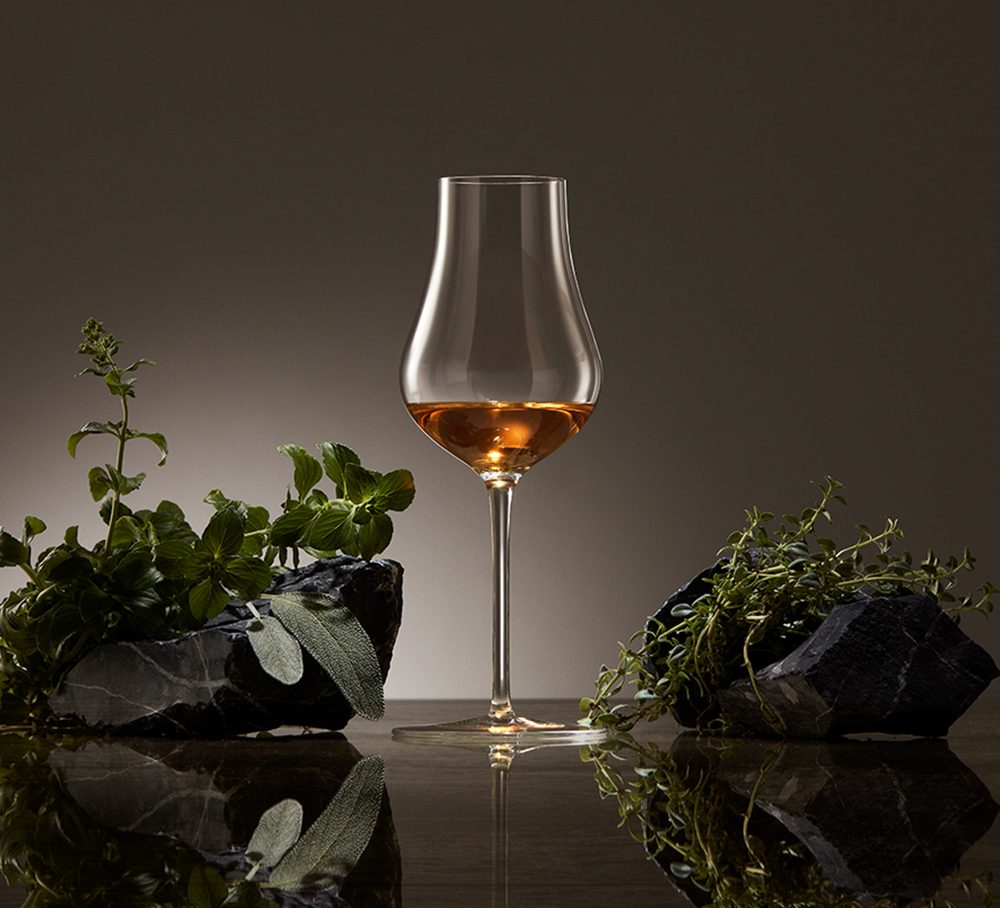 The Classic
A refined, familiar tulip-shaped glass for balanced whiskies such as blended scotch, classic bourbons, and balanced single malts.
Recommended for: Arbikie, Four Roses and Cooley.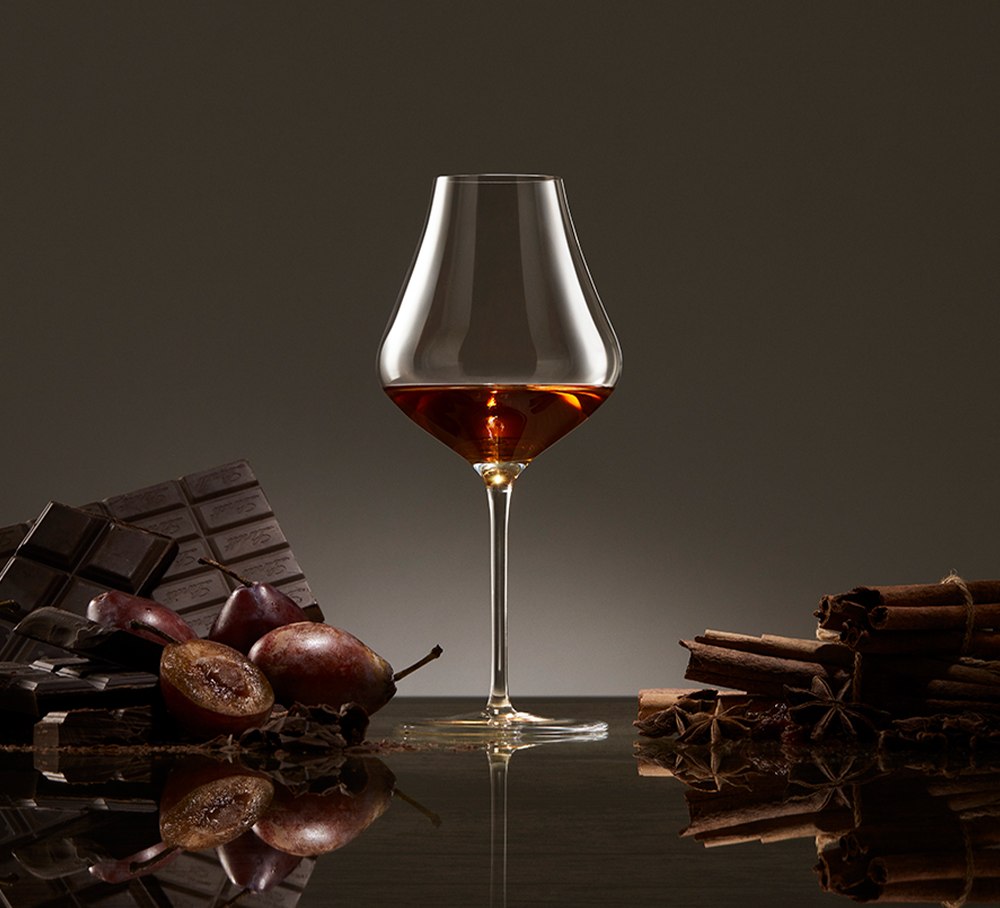 The Sherried
A wider bowl encouraging oxidation to bring out more rounded notes that sherried whiskies are known for.
Recommended for: Aberlour, Glendronach, Macallan, The Yamazaki and Glenfarclas.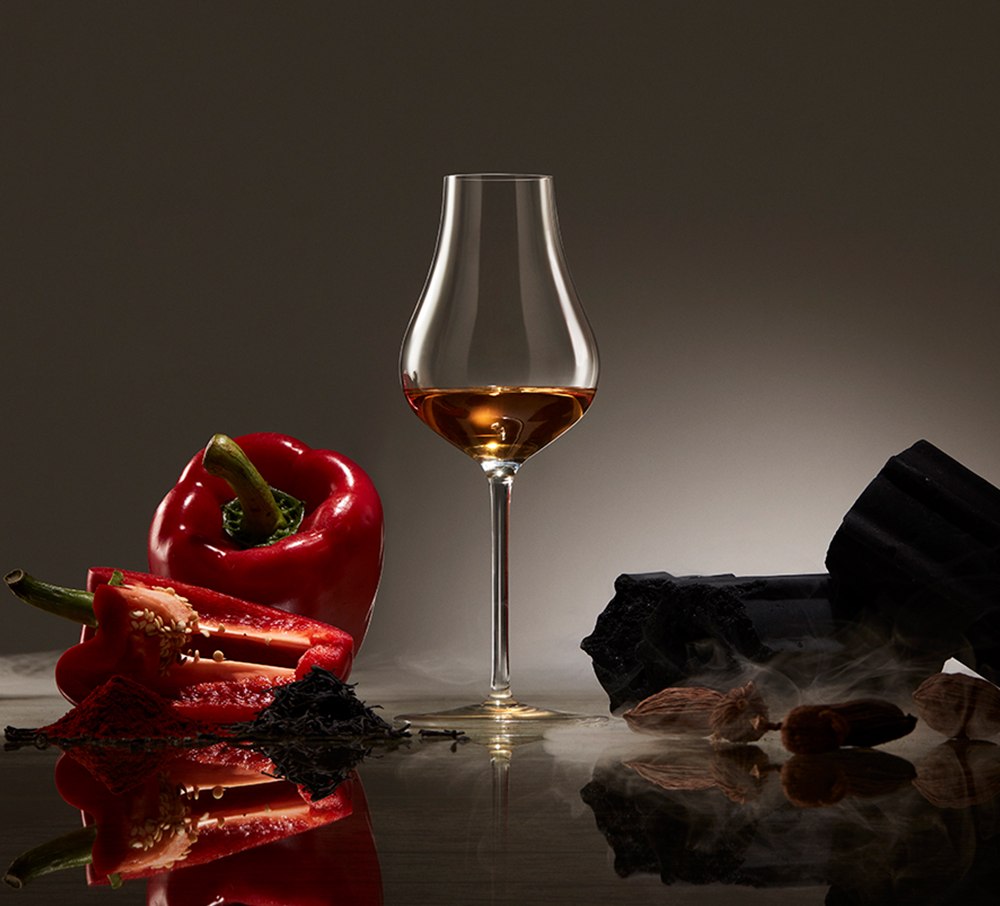 The Peated
A narrow rim that expresses the richer, earthier notes.
Recommended for: Caol Ila, Lagavulin, Laphroaig, Port Charlotte, Ardbeg and Talisker.