Last year, a few more chapters were added to The Macallan's storied legacy as the most coveted single malt Scotch in the world through record-busting auctions. Here is an exclusive on the phenomenon with a gentleman who has faced the challenges and experienced the ecstasy in his whisky journey to unite the rarest of single malt collections
In 1926, several events occurred, some greater in significance than others. Among them: the first transatlantic phone call took place between London and New York, the Crown Prince Hirohito ascended the Chrysanthemum Throne following his father Emperor Yoshihito's death, and Chiang Kai-shek was appointed the national revolutionary supreme commander of China.
In the year when Harry Houdini also performed his last illusion, The Macallan distillery, in its 102th year of founding, filled a newly distilled spirit into an ex-sherry cask brought over from Jerez. This was cask number 263, and this was when it would lay for the next 60 years, through war and rock and roll.
In Craigellachie, Speyside, the Easter Elchies House stands as The Macallan's point of origin, built of quarried sandstone at the turn of the 18th century for Captain John Grant. When local farmer and school teacher Alexander Reid decided to set up a whisky-making business in 1824, he took up a lease of eight acres from the Earl of Seafield here, a land in which the river Spey flowed through, bringing the pristine waters for the making of The Macallan's base spirits which would be united with malted barley and distilled into The Macallan spirit. It was here that Reid founded The Macallan in 1824, becoming one of the earliest licensed whisky distillers in Scotland.
Since those seminal years, The Macallan – now in its 196th year and with its futuristic bat cave-styled distillery – has underscored its importance to the whisky landscape with its much coveted expressions. Many credit its reason for success as it eschews a volume and cost approach for quality, while numerous auctions have showcased how collectable its special editions are. In fact, in the short space of the past two years, The Macallan has attained the top three rankings of most expensive whisky ever transacted at auctions. And what is perhaps equally as noteworthy is the fact that all the top-three ranked bottles were brethren originating from cask number 263.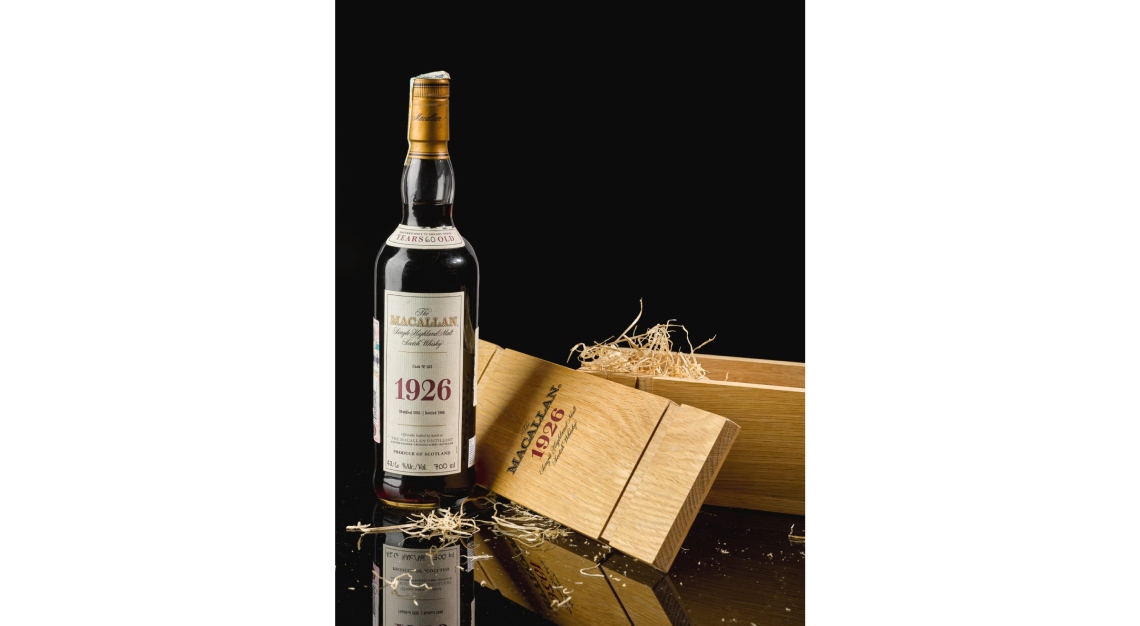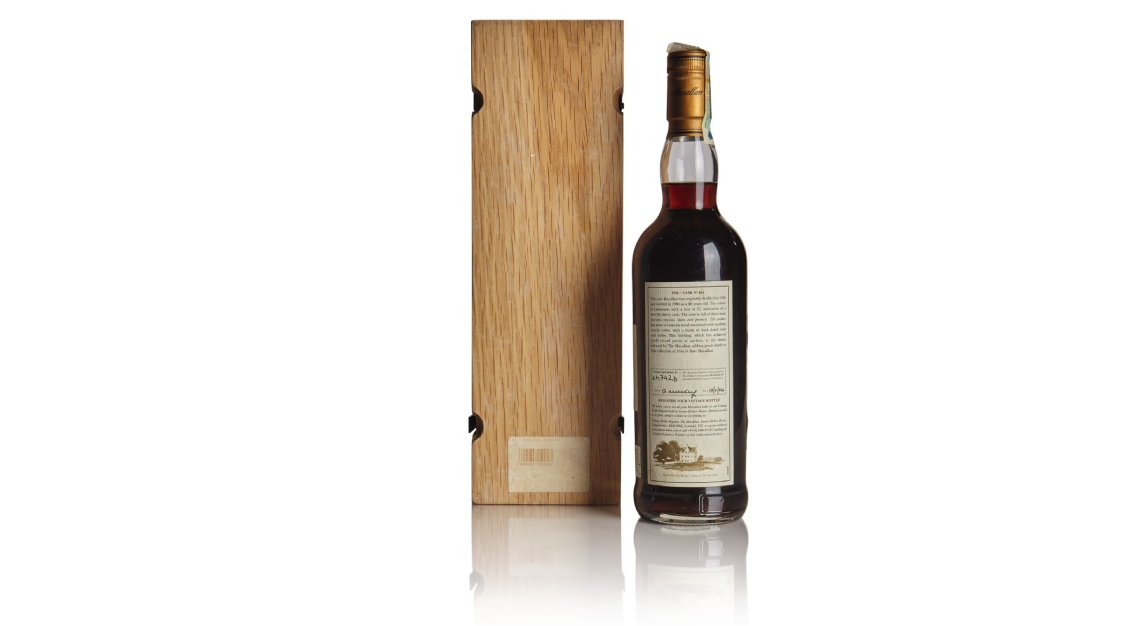 Enter Jacky Y Chen, Chinese entrepreneur and whisky lover who has, as of 24 October 2019, staked his claim to the most expensive bottle of whisky ever sold at an auction. His purchase of The Macallan Fine and Rare 60 Year Old 1926 was hammered down at Sotheby's for £1.2 million / S$2.18 million (S$2,730,124 including commission and VAT).
The result, which far exceeded the lot's pre-auction estimate of between £350,000 (S$636,011) and £450,000 (S$817,729) was no surprise, with the Valerio Adami version of the 1926 going at Bonhams Whisky Sale in Edinburgh for US$1.05 million (S$1.42 million) a year ago. This feat was quickly followed by a £1.2 million (S$2.18 million, including buyer's premium) winning bid at Christie's London in November of the same year for another bottle of the 1926 which features a hand-painted Easter Elchies House by Irish muralist Michael Dillon – in the process, it became the first bottle of whisky ever to break the million pound sterling barrier at an auction.
To understand the fascination behind these record-setting lots, one needs to necessarily journey back to 1986, when cask number 263 was disgorged of its contents. With the effect of angels' share from its 60-year maturation, only 40 bottles of the 1926 Fine and Rare were produced by The Macallan's master distiller at the time, Sandy Curle. From this batch, 12 bottles were affixed with a label designed and signed by Sir Peter Blake – the pop artist who had also designed the Sgt Pepper's Lonely Hearts Club Band album cover for The Beatles – with another 12 done by Valerio Adami, an Italian graphic artist whose works are mostly influenced by pop art.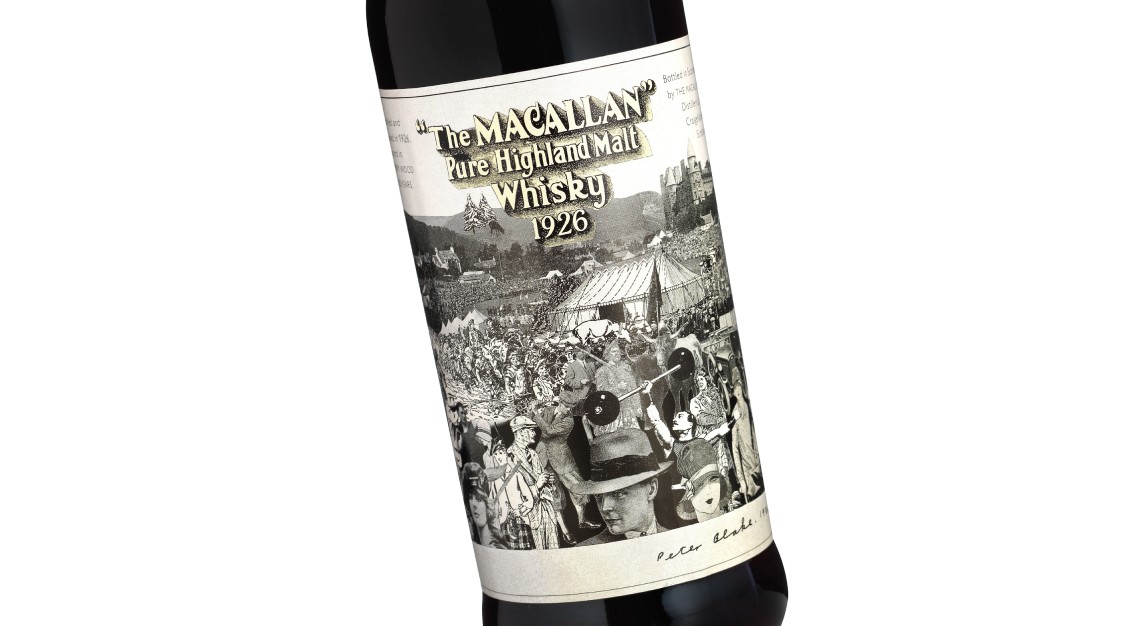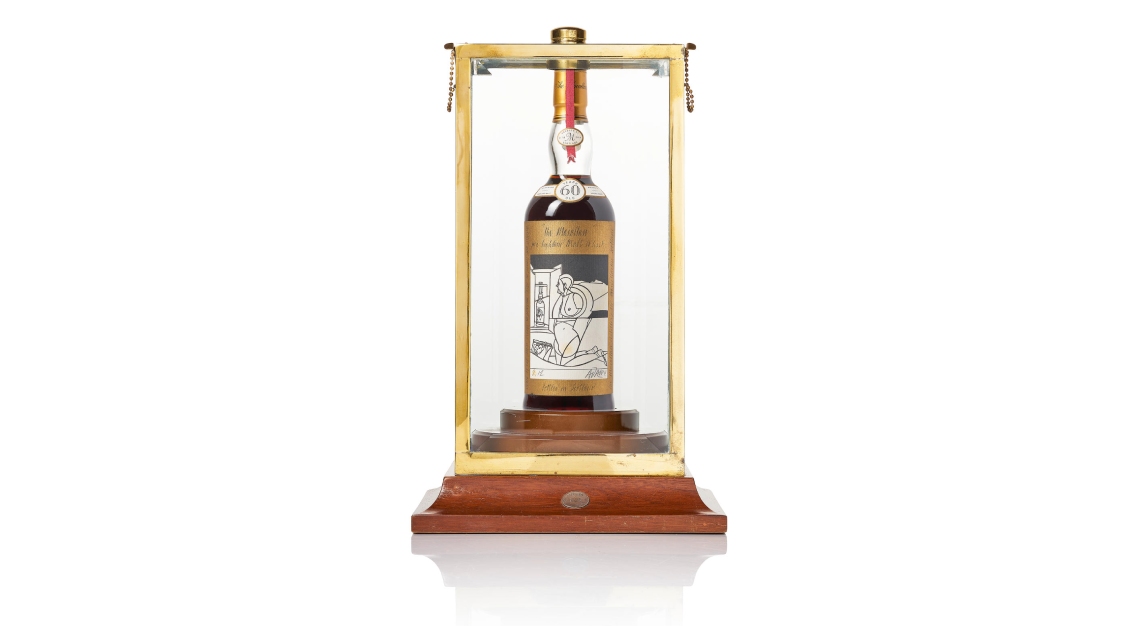 Meanwhile, the Michael Dillon bottle was one of two bottles sold individually and given private labels as a one-of-one, with the remaining bottles affixed with the Fine & Rare label, making them the oldest in the Fine & Rare series by age and vintage. These 40 bottles were meant to be offered as corporate gifts to The Macallan's most valued clients (at approximately £20,000 / S$36,329 per bottle), who would have to complete an application with a stated allocation of one bottle per continent. Since then, these bottles have become the most sought-after bottles of whisky in the world, with stories of their appearance always followed by eye-watering sums. A set of the Blake and Adami version was sold by Dubai airport wine and spirits retailer Le Clos for US$1.2 million (S$1.62 million) in 2018, which worked out to be US$600,000 (S$811,806) per bottle.
"From the beginning, I used to collect art," says Chen, adding, "and I realised that the price of art is tied to history."
For Chen, the idea of being able to have, and hold, this moment of history with the 1926 was perhaps the most significant. "It is a whisky which was birthed between the two World Wars. That is why The Macallan 1926 became the most important one for my collection, because of its rarity and being witness to world and whisky history."
Chen's own journey with whisky began with wine collection at first, as was initially much fonder of the latter. "There was a time I didn't like whisky because I didn't understand it, until a friend of mine gave me a vintage sherried Karuizawa aged in a Mizunara cask," he says. Since then, his appreciation and love for whisky and its associated histories has seen Chen put together sets of The Macallan Fine and Rare from 1945 to 1976 and the Fine and Rare 50ml bottles ranging from 1937 to 1991.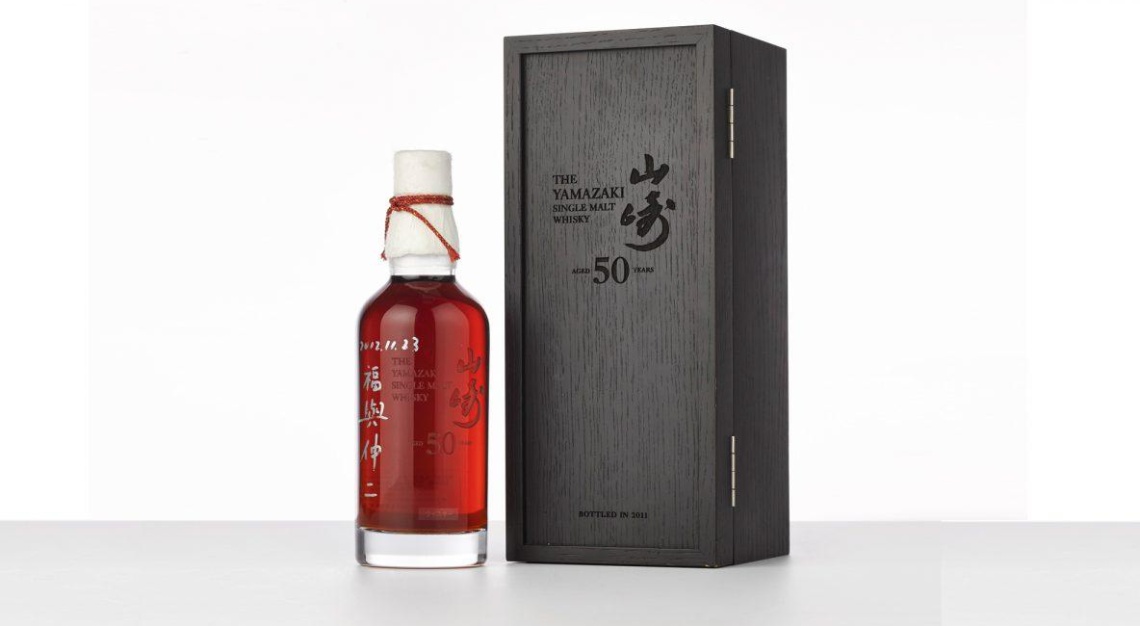 On the Eastern front, Chen has acquired all three editions of the Yamazaki 50 Year Old, in which the first edition (just one of 50 bottles) recently made its own waves at a Taipei auction, fetching a price of approximately US$430,000 (S$581,794).
"It's hard to call myself a collector, I would say that I like to invest in the ones which have special meaning to me, because if ever there was a whisky museum dedicated to the most important ones – the bottles which I've collected would feature in them." For Chen, just like how Suntory and its resulting Yamazaki have been pivotal in the history of Japanese whiskies, so too is The Macallan for its devotion and expertise in bottling its spirits at the peak of its ageing and remarkable taste and flavour profiles.
Chen, who still retains a fresh memory of The Macallan 1946, says that part of the reason for the price being high is in the fact that the whisky itself is extremely good. "I enjoy the Springbank Samaroli 12 Year Old  because it's really delicious, but that's at least US$20,000 (S$27,060) a bottle now, if you can find it."
In the lead up to Chen's record-setting bid on the The Macallan Fine and Rare 60 Year Old 1926 at Sotheby's last year, he had also uncovered the fact that at least one of the bottles from the 1926 release had been drunk with another destroyed in an earthquake. The one-off offer at Sotheby's was one of the few sold unlabelled for its eventual purchaser to design his own bespoke label, and represented only the second time such a variant was seen on the auction block – the first which was back in September 2001 and sold for £15,000 (S$27,228).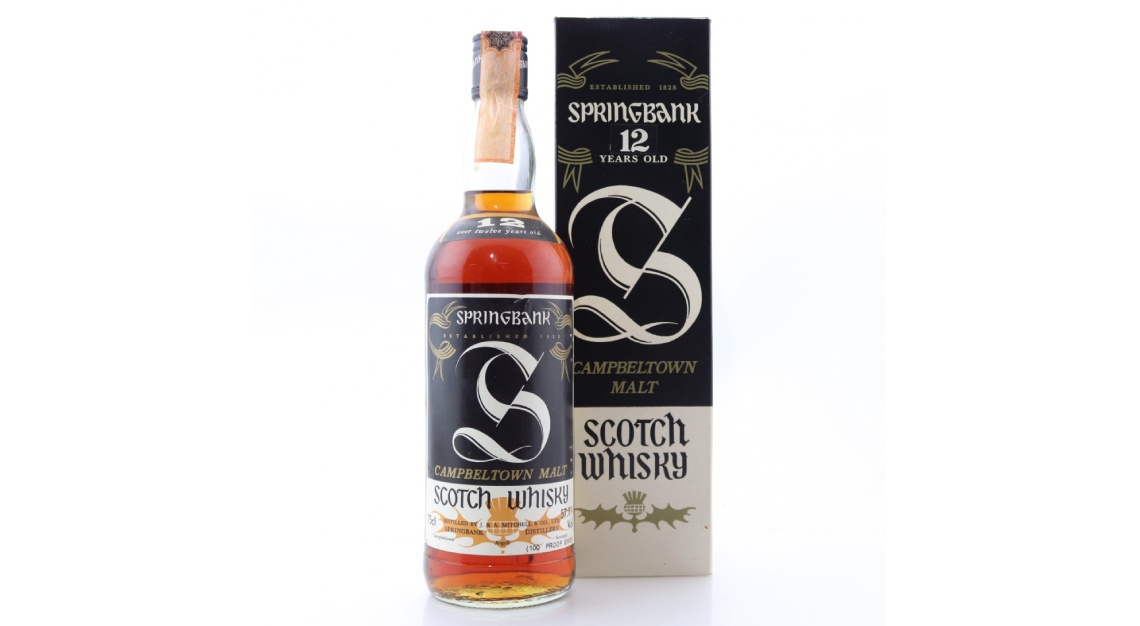 Chen was cautious at first, not wishing to break the £700,000 (S$1,270,649) mark. "It was not possible," he says, recalling that every phone was ringing on the auction floor with a lot of people racing for their auction paddles. Faced with the dwindling prospect of finding these bottles, and after over 30 rounds of bids, Chen realised that the price had already broke past the world record, and that he had to get it no matter what. He did, with Jamie Richie, Chairman of Sotheby's Wine hammering it for £1,502,400 (S$2,727,176).
"Oh my god, I was so nervous but so happy and proud because it was so damn hard to find," Chen says of his initial reaction after winning the auction. His exhaustive research had shown the provenance on this bottle to be particularly excellent, with it passing from the pioneer Russian collector before the Italian whisky collector Giuseppe Begnone and an American who had been the one to offer his whisky collection for sale at the October Sotheby's Ultimate Whisky Collection.
"The electricity in the auction room was palpable," Sotheby's spirits specialist Jonny Fowle said of the record-breaking moment. "There were cheers when the hammer fell on the Macallan Fine and Rare 1926. It has to be one of the most exciting moments in the history of whisky sales" To celebrate, a few glasses of The Macallan Red Ribbon 1938 was offered to the victor Chen and his table.
Having acquired this ultra-rare bottle, Chen moved quickly to secure the Sir Peter Blake from his Malaysian friend Jason Teo who had been the purchaser of The Macallan 60 Year Old 1926 (with a label designed by pop artist Sir Peter Blake) at another auction with the bottle's provenance traced back to Sir Peter Blake himself as the pioneer collector.
Now with both the 1926 cask label and the one designed by Peter Blake, Chen is setting his sights on completing his Holy Grail trilogy with the Adami. "I have no idea what I will be doing next – just finding these bottles are so difficult," he says, adding with a wink, "I did hear that there is one Adami in Singapore."