Headline-grabbers include fuel consumption numbers of 2.6 litres per 100km and a 51km electric-only range
If I'm being completely honest, the Panamera 4 E-Hybrid Sport Turismo occupies a bit of an odd place in the lineup. To start with, it's a station wagon (or if you want to get technical about it, a shooting brake), which already makes it a bit of an oddity in the vast Porsche range, where there are an innumerable number of variants and subvariants.
Not for lack of trying, mind you. Porsche tried to make a shooting brake a production reality more than three decades ago, when it gifted a one-off car based on a 928 to Ferry Porsche for his 75th birthday in 1984.
Making it even odder is how this Panamera is a hybrid. Again, not very strange on the face of things, since Porsche has been doing hybrid Panameras for a while now, and there's also the small matter of the 918 Spyder hypercar.
But why I say the Panamera 4 E-Hybrid Sport Turismo (phew, that was a mouthful) is an oddity is because there are not one, but two plug-in hybrids in the Panamera range. Well, four, if you count the pair of non-wagon hybrid Panameras.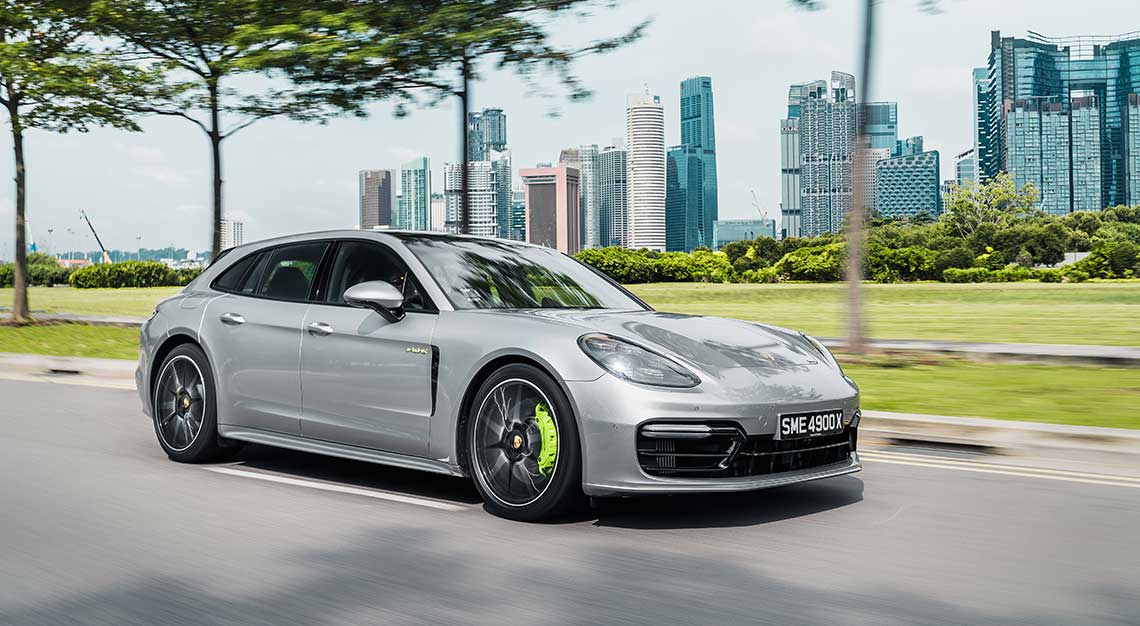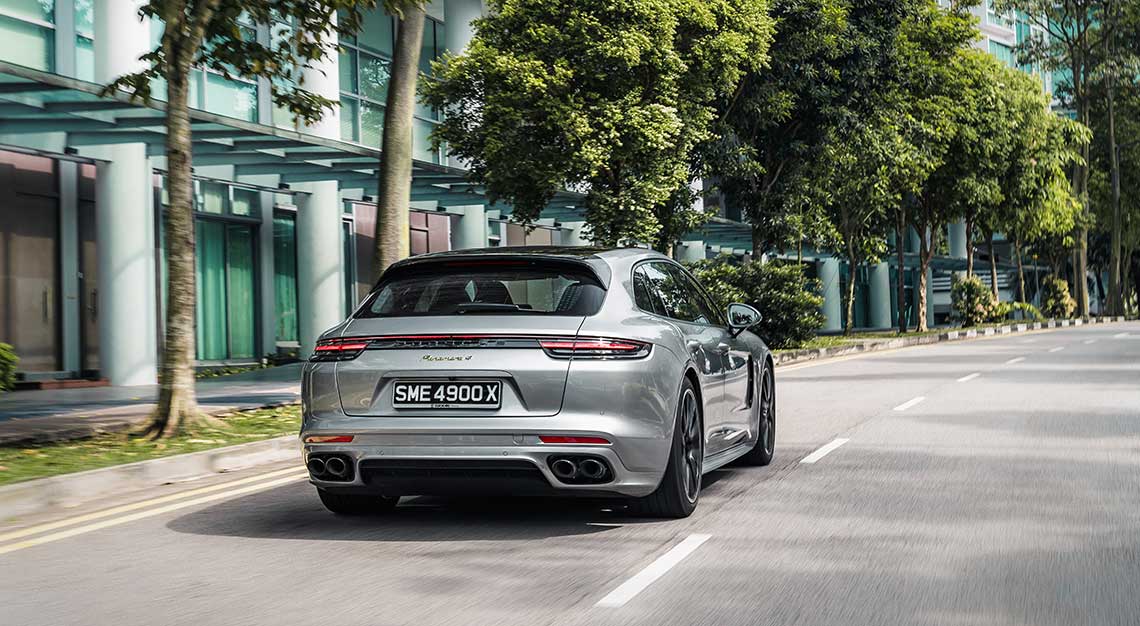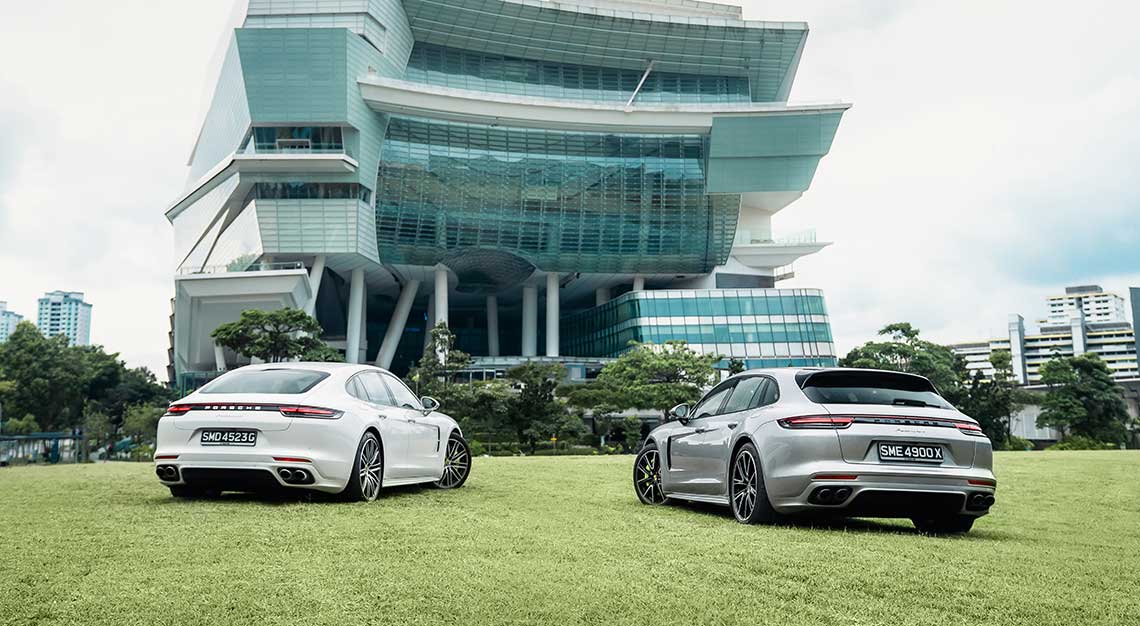 But anyway, where this particular Panamera sits is in the middle of the line-up, at some half the price of the S$800,000-odd Panamera Turbo S E-Hybrid Sport Turismo. But where the Panamera hybrid twins differ is in their remit. While the Turbo S model (well, actually this is also turbocharged; don't ask, it's complicated) is built to be a 680hp, supercar-baiting, 'bahn-storming cruise missile, the non-Turbo variant is built for… frugality? I think?
It seems that way on the surface, at least. Its claimed consumption figure is 2.6 litres / 100km, with a big part of that down to how it can run entirely on electric power for 51km at speeds of up to 140km/hr. Obviously, that number is hugely optimistic, and out in the real world, its electric-only range is more in the neighbourhood of 30km, which is still fairly decent.
If you're sensible with the car and keep the batteries topped up regularly (a full charge takes around six hours with a conventional charger, or two-and-a-half hours with a quick charger), a trip to the pumps could become an extreme rarity indeed. Like a once-a-month sort of rarity.
That's not to say the 'regular' Panamera hybrid is a slouch in the speed department. This is a Porsche, after all, and even the slowest Porsches are at the very least brisk. The 2.9-litre twin-turbo V6 coupled with an electric motor produces a total system output of 462hp and 700Nm, the latter number available from just 1,000rpm, thanks to the always-on nature of the electric motors. Zero to 100km/hr happens in 4.6 seconds.
Equipped with a V6 engine that produces an identical power output, the non-hybrid Panamera 4 Sport Turismo has 330hp / 450Nm and a century sprint time of 5.5 seconds, with the optional Sport Chrono pack dropping that time to 5.3 seconds.
On the Panamera 4 E-Hybrid Sport Turismo, the Sport Chrono pack (that brings, amongst other things, launch control and a rotary driving mode knob on the steering wheel) is standard, as is the inclusion of adaptive air suspension. There's also acid-green brake calipers and similarly coloured accents, Porsche's signature shade for its hybrid cars, dot the interior of the car.
However, despite being more powerful and having a superior power-to-weight ratio than regular Panamera 4 Sport Turismos (176hp/tonne versus 204hp/tonne), the E-Hybrid somehow feels more sluggish.
Perhaps it's down to how the E-Hybrid variant weighs 385kg more, for a positively porcine 2,265kg kerb weight. It's positively porky and while that's fine in isolation, if you drove both cars back-to-back, you'd definitely notice the reduced willingness of the nose (something the all-wheel-steering can't really mitigate) and split-second ponderousness off the line.
Mid-corner grip, thankfully, is still monstrous and the E-Hybrid feels like it corners on rails. And with the added instant boost from the electric motors, it'll fire itself out of corners quicker than the non-hybrid variant.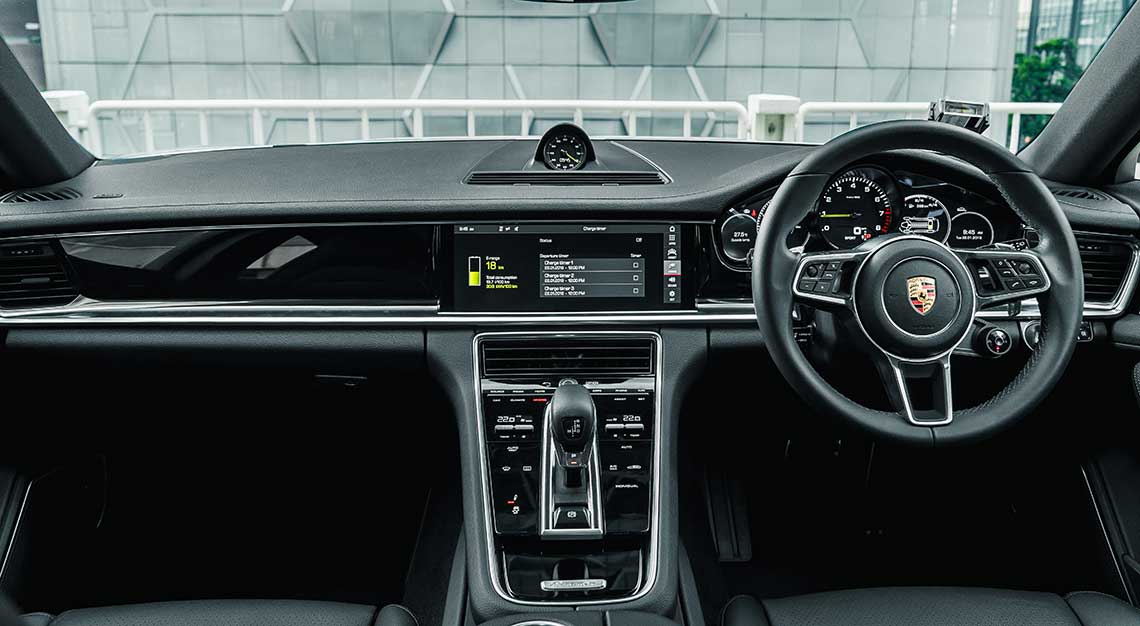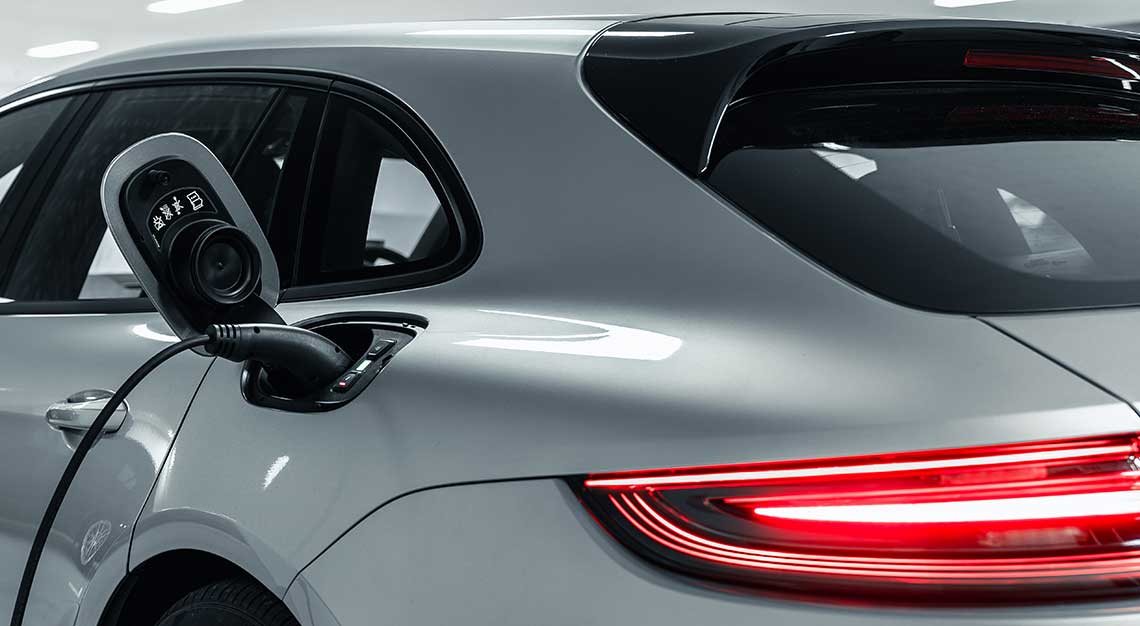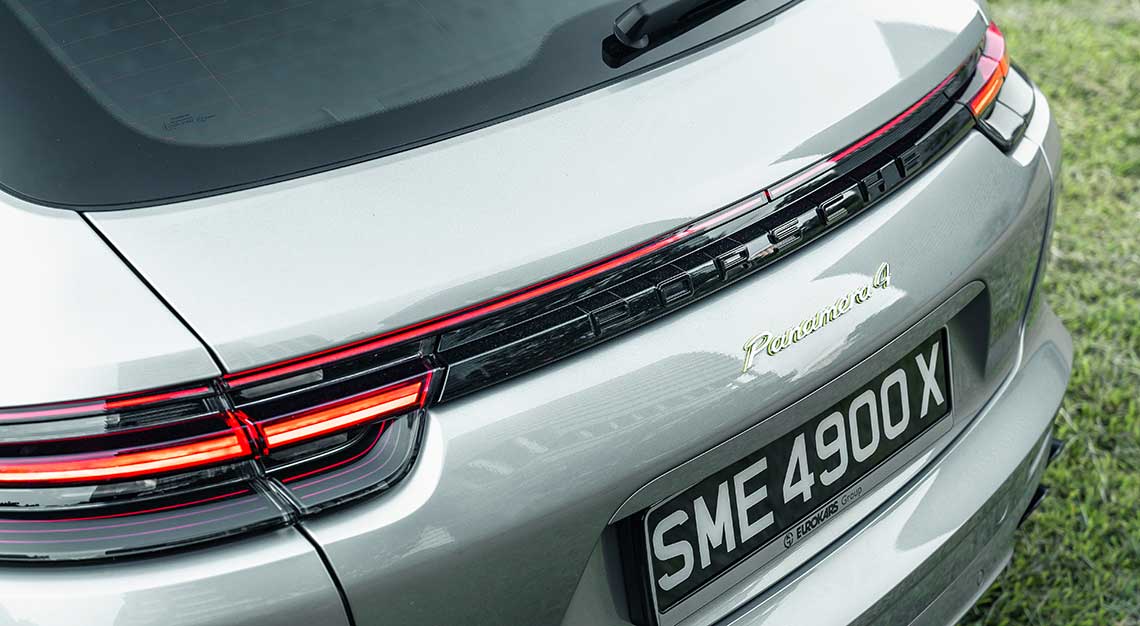 Special praise, too, goes to the car's steering. I've long maintained that Porsche has one of the best all-electric power steering set-ups in the business and it's again evident here. Pinpoint accurate and with remarkably consistent weighting no matter the speed or steering angle, it's utterly magical.
And I have another little gripe – the transition between the regenerative and mechanical brakes isn't exactly smooth, a point especially noticeable when coming to a stop.
Being a hybrid, the regenerative braking function is called upon first, to scavenge kinetic energy back into the batteries, with the car's massive green-painted calipers only called upon after.
Even with constant pressure on the brake pedal, I could feel the regenerative brakes reaching the limit of their ability to recover energy, then having to depress the pedal further to bring the mechanical brakes into play in order to come to a complete halt. It's a bit like having a warped brake rotor, and true enough, it's not exactly a deal-breaker, but it does make for avoidably jerky progress in cut-and-thrust traffic. Oh, and one more thing. Along with the added weight of the hybrid systems, that also brings added things to package, which means the car's boot space goes down by nearly 100 litres, to 425 litres.
And so, this brings me back to the question I asked at the start: who exactly is the Panamera 4 E-Hybrid Sport Turismo aimed at? A Porsche whose main redeeming feature is frugality just seems a little, well, odd. I mean, if you're the sort that can even consider a Porsche, saving in fuel costs over the course of a year doesn't seem to me like a top priority. And besides, it's a wash in the end anyway, what with the E-Hybrid costing around S$40,000 more than conventionally powered models.
Sure, you do get the (much) better fuel economy, plus some other bits you'd have to pay money for, but my head is telling me the E-Hybrid isn't a sound financial choice. But then again, if you think about it, no Porsche is. On that note, the E-Hybrid does come with the hilarity of visiting the pumps once a month (depending on your average mileage). And call me shallow, but those acid-green accents really are quite attractive.