Prized for their size, shape, and unrivalled lustre, Tiffany & Co. Bird on a Pearl features Persian Gulf pearls sourced and acquired from the collection of Hussein Al Fardan.
Worn and adored by jewellery lovers across all generations, the Tiffany & Co. iconic Bird on a Rock brooch comes in a vast spectrum of gemstone types, from dazzling tanzanites and sapphires to fascinating morganites, tourmalines, aquamarines, and more. Since its creation in 1965 by famed Tiffany & Co. designer Jean Schlumberger, this whimsical bejewelled bird with a tuft of gold plumage up on its head has charmed millions without veering away from this iconic design.
This year, however, the American jeweller decided to shake things up a little, by reimagining the Bird on a Rock with a gemstone it has never before adorned: Pearls.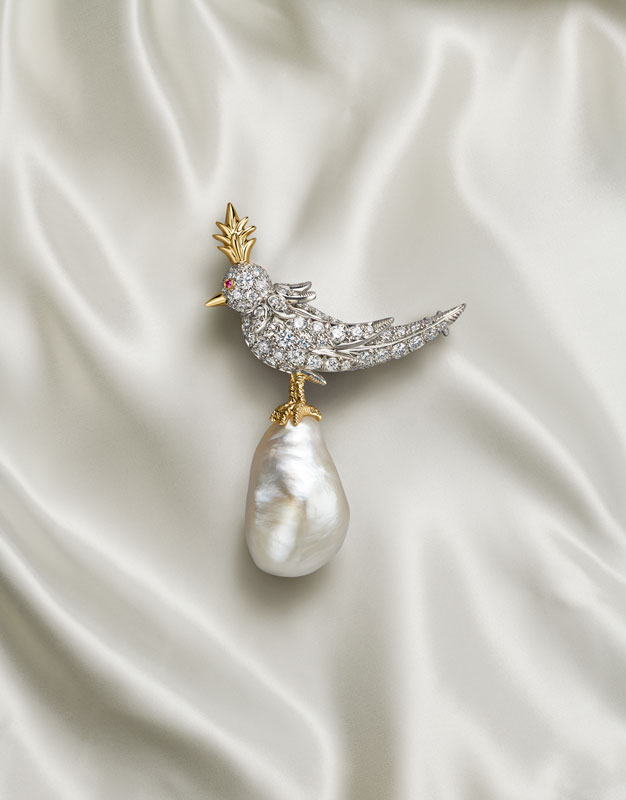 But to reimagine such a sacrosanct jewellery creation as Bird on a Rock meant that Tiffany & Co. needed to consider very carefully what could be changed and what needed to remain the same.
The jewellery house also had to ensure that the gemstones selected could match up to the lore and majesty behind one of Jean Schlumberger's most revered designs. Fortunately, this new capsule collection named Bird on a Pearl checks off all the right boxes for a modern interpretation of an historically important jewellery piece.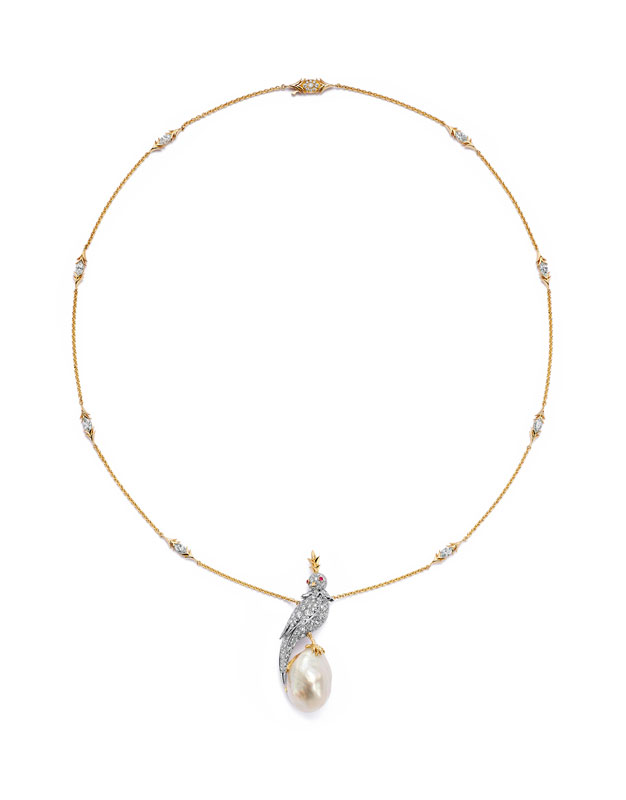 Working with one of the oldest and most successful traditional pearl merchants in the Gulf, Tiffany & Co. had been given the rare opportunity to delve into the largest private collection of natural pearls in the region – that of Hussein Al Fardan, a consummate pearl connoisseur and fervent advocate of Persian Gulf pearls.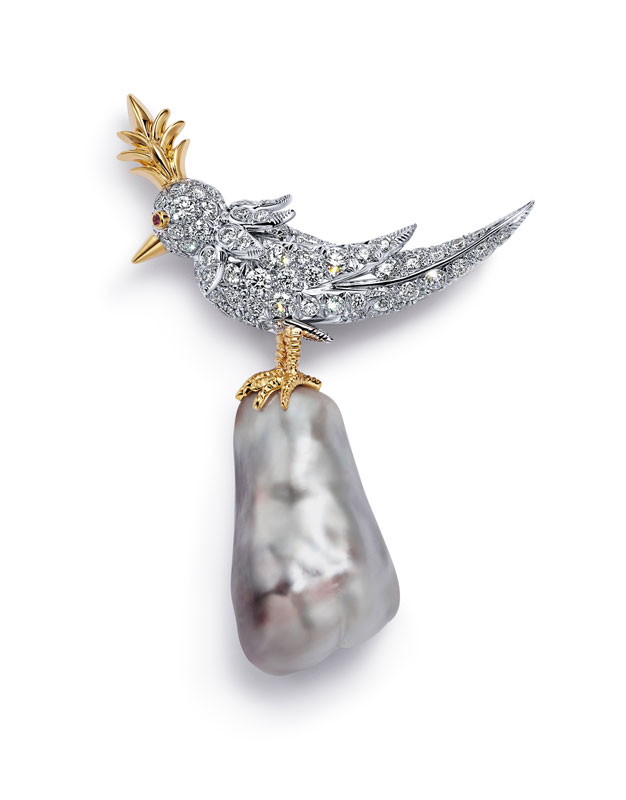 According to the GIA, the Arabian Gulf was the world's first source of natural pearls and remained so for centuries. Natural pearls from the Gulf are notable for their transparent and high-lustre nacre. Together with pearls from the Red Sea and the Strait of Manaar, they have been referred to as "oriental pearls" and are highly valued.
Flights of Fancy
From the Al Fardan collection, Tiffany & Co. created 21 unique Bird on a Pearl jewels including necklaces, earrings, rings, and of course, brooches, all in platinum or platinum and yellow gold. The collection made its debut at an exclusive event in Doha, Qatar in February 2022.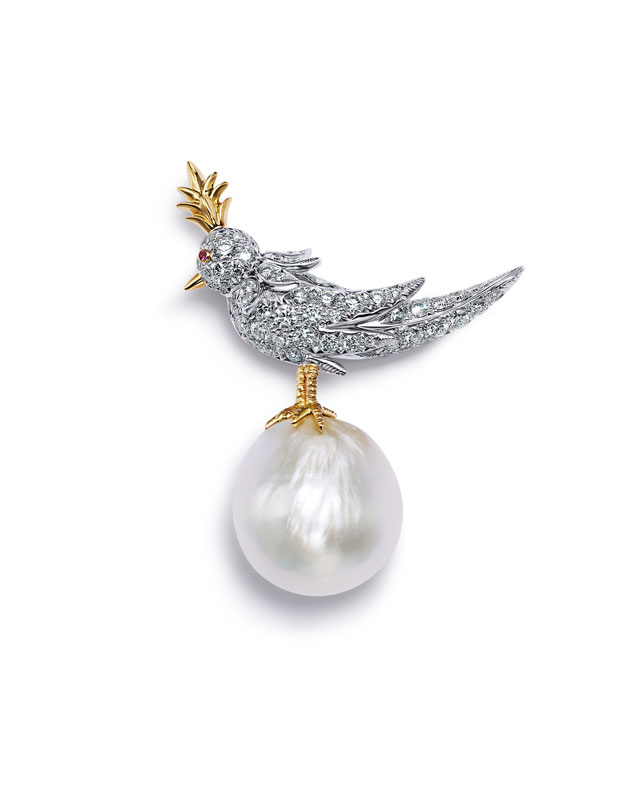 Seven Bird on a Pearl brooches took the spotlight, with some perched atop baroque pearls and others button or near-round pearls. One particular specimen of over 35 carats exhibited a beautiful silvery orange brown tone while the others were gloriously white.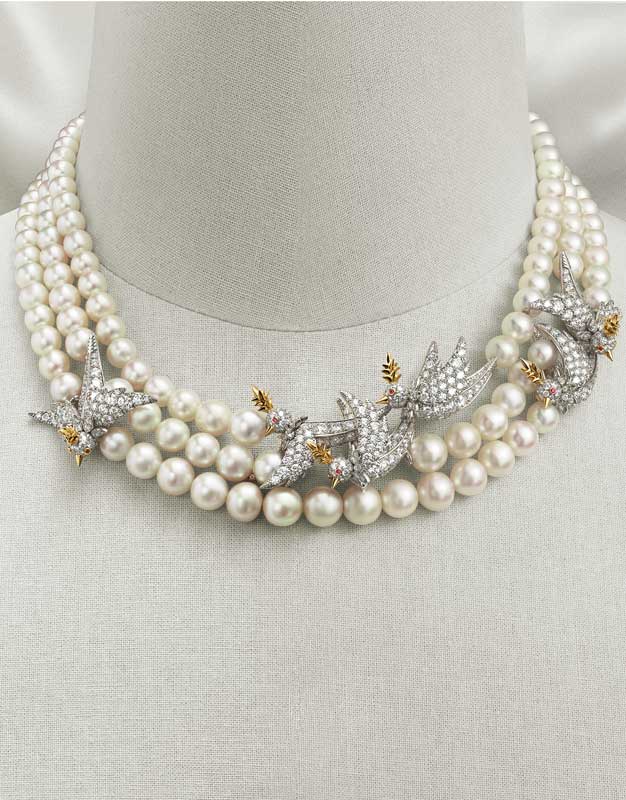 The Bird on a Pearl necklaces were also especially memorable. Taking centre stage is a three-strand necklace made of graduated natural saltwater white cream pearls of over 316 carats in total. Six darling little birds flutter all around the necklace, as if taking their pick of the best gems among them all.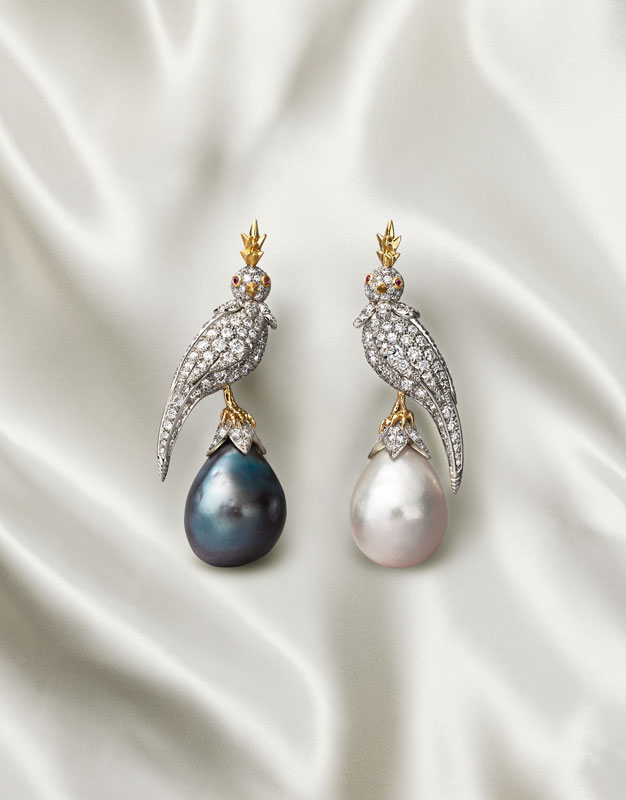 Next, the collection debuts an adorable new front-facing bird sculpture that invites you to see it from a different perspective. Appearing completely calm and relaxed, these birds adorn baroque pearls in white or dark grey, and can be worn as a pendant or a pair of earrings.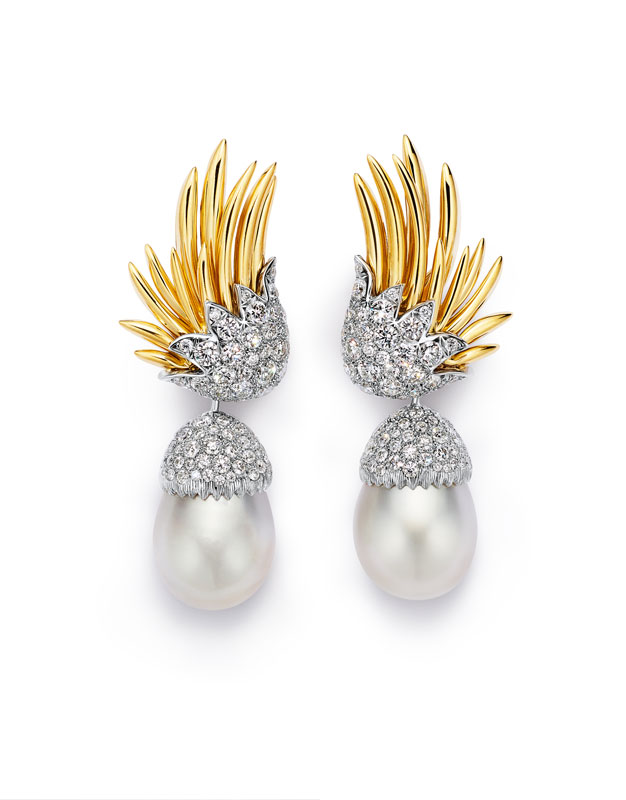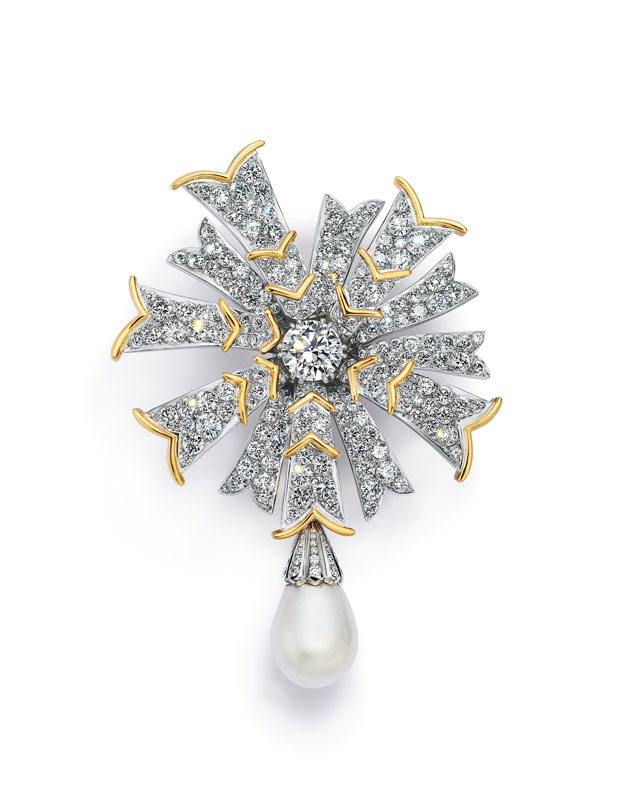 More classical designs offer a tangential connection to the Bird on a Pearl theme while paying tribute to the quintessential Jean Schlumberger aesthetic.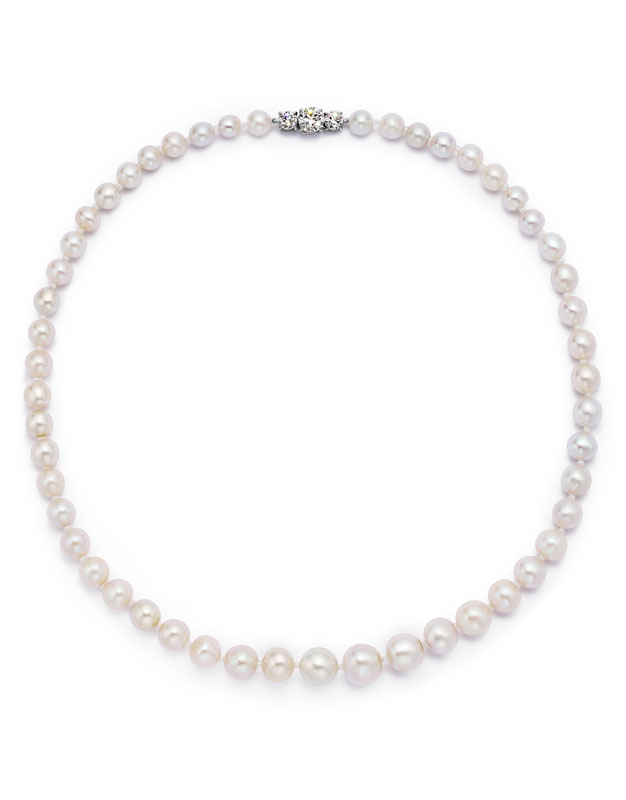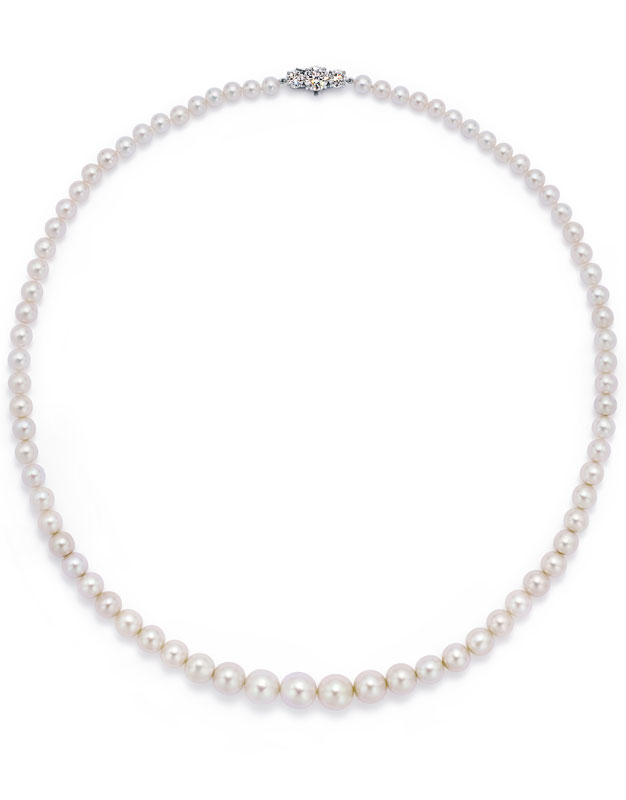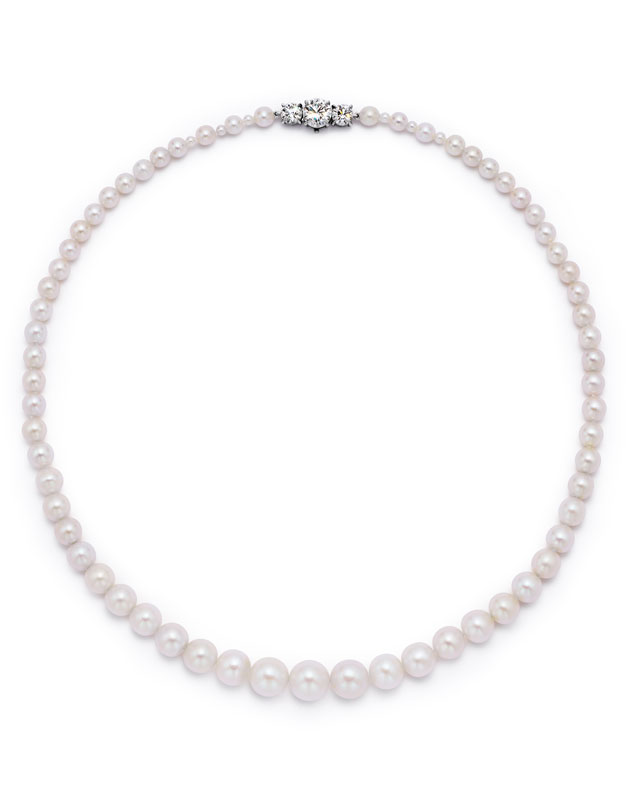 Rings, brooches, earrings, and timeless single-strand pearl necklaces in subtly gradated hues such as cream, light cream, and white. Drop-shaped pearls accentuate Schlumberger signature creations like the Ribbon brooches and Flame earrings.