The Air Force 1 x Tiffany & Co. 1837 was met with negative reception despite anticipation from the announcement of their collaboration
Collaborations seems to be essential to luxury brands these days, at least according to LVMH. Brands like Tiffany & Co. are now set in motion to be part of the cultural zeitgeist and to engage with a younger audience, which brings us to the Tiffany & Co. collaboration with Nike. It's no jewellery, but with this pair of shoes, one can proudly own something from Tiffany & Co.
The collaboration had the perfect tagline for their ad campaign—A Legendary Pair—and the launch garnered a total of 1.4 million likes on Instagram as soon as they made the announcement. According to data from Launchmetrics, US$11 million in media impact value (MIV) was accumulated within five days, with social media accounting for 76 per cent of the buzz.
The pair itself is a black Air Force 1 with sterling silver AF1 logo badges on each heel and black laces. It will be packaged in a trademark Tiffany blue box with accessories like a shoe horn, shoe brush, dubrae (ornament tag), and a whistle. The black shoes complement well with Tiffany blue, and believe it or not, the pair can easily fit into one's everyday style.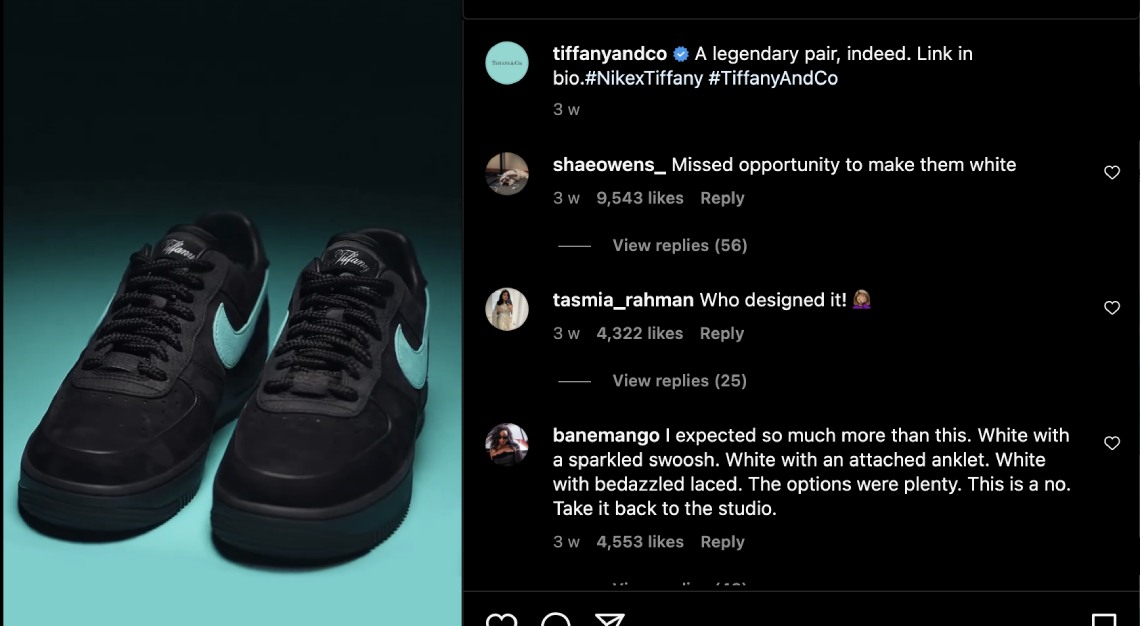 The pair was also met with mixed reception, veering towards the negative. Naysayers expected more personalisation from Tiffany & Co. to set it apart, but this doesn't mean people won't buy them. It is still a good pair of shoes and it being a limited edition, why not show it off and hope for an even better collaboration the next round. Tiffany & Co. will continue to engage with the youth of Generation Z, but perhaps they should include more personality into similar projects. Strong reactions that translate into sales can only go so far.
A global release of the Air Force 1 x Tiffany & Co.1837 will take place on 7 March 2023 and will retail for S$599. The accessories retail around SGD 329 to SGD 625. Fans can get notified on the Nike SNKRS app ahead of its release, while online signups for the opportunity to buy the sneaker will be available at Tiffany & Co.  for a limited time starting on 3 March 2023.